What is a CMMS? Definition and Working of CMMS System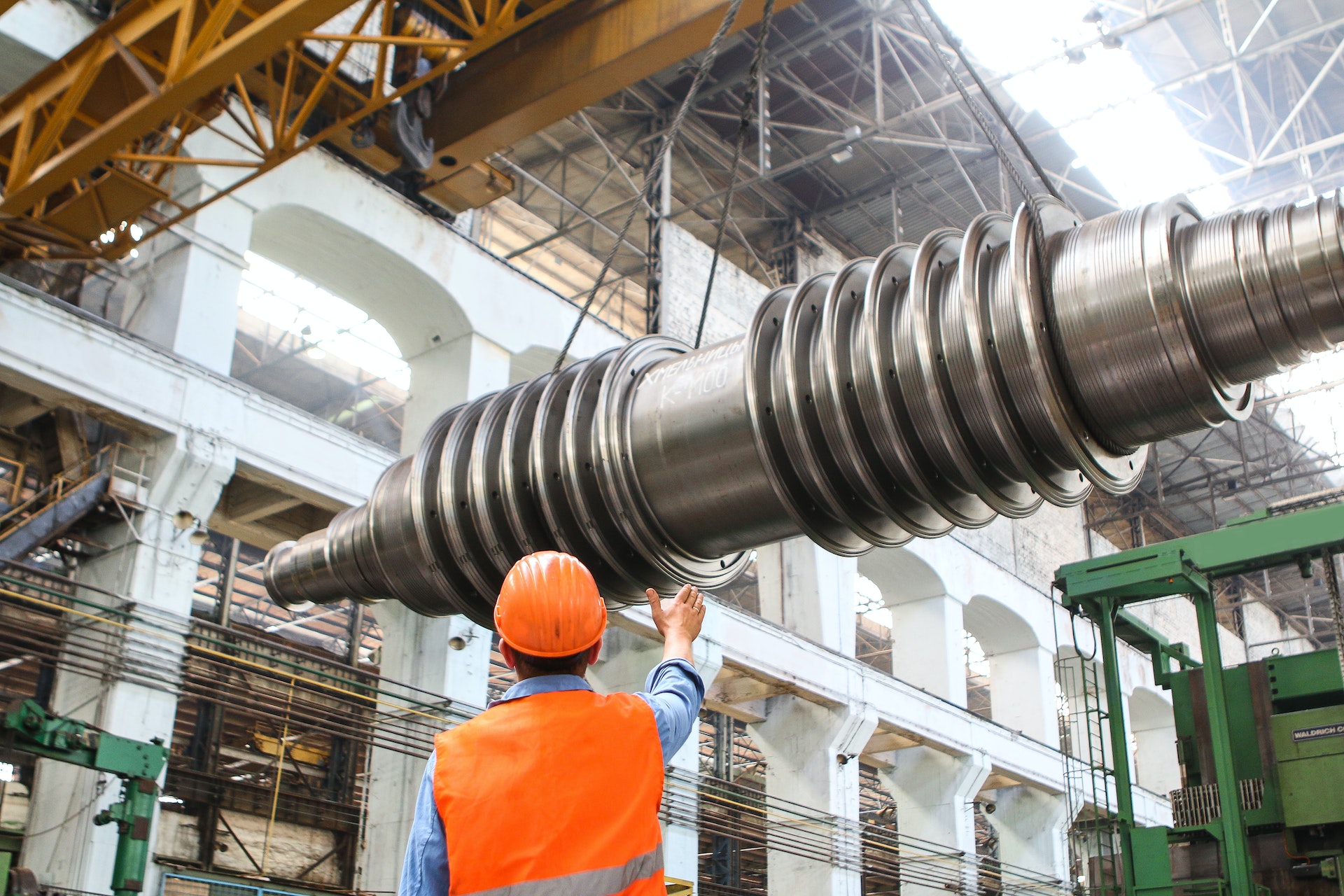 You may have heard about 'what a CMMS is' being thrown around without fully understanding what it means, which refers to software designed to set down asset data, maintenance activities, and work order management.
Previously managers in commercial organizations spent a load of time correlating the asset and data in the paper record to create schedules for the team.
Creating the work order often takes more time, which works inefficiently and decreases the business's reputation. Implementing the platform benefits customers, workers, and industries.
Let's take a look to get a complete understanding of what is CMMS.
What is a CMMS?
CMMS stands for Computerized Maintenance Management System, a software that records maintenance information and paves the way for smooth operation. It is a communication tool to process service operations from the centralized platform.
It optimizes equipment use, availability, running time, facilities, and operations. It supports the service team to organize service operation-related activities quickly.
Let's break down the word to get a clear answer on how do you define CMMS?
Computerized
Computerized software allows recording and managing data in a single database. In the 1980s, companies used paper records to maintain operation and inventory data and update the data upon work completion. With the growth of technology and computers, this solution was born. It provides many features to store and maintain data that help the organization with preventive maintenance and create work order flow with an effective schedule plan.
Maintenance
Maintenance is managing and maintaining the organization's assets and resources with an effective strategy. This helps with efficient equipment working without downtime and increases the organization's production without wasting money. Effective inventory management plays a crucial role in ensuring smooth operations. It involves efficiently scheduling equipment for allocating resources, managing inventory and associated costs, handling repairs, and calculating downtimes.
Management
Management is administering business practices to create more profit with effective management. The digital solution plays a significant role in business operations. It gives detailed information about reports, schedules, deadlines, and operation levels with real-time data in the dashboard. And it also allows organizations to access and retrieve data for accurate work planning.
System
It is the set of integrated devices designed to create, receive, store, manage and process every single bit of information with high accuracy and in a meaningful and user-friendly way is called a system. The solution allows users to complete operations with reduced cost and time. It produces reports and documents to analyze service activities with preventive maintenance tasks. By understanding each term, you can better understand CMMS maintenance meaning. Let's check the CMMS overview through the diagram below.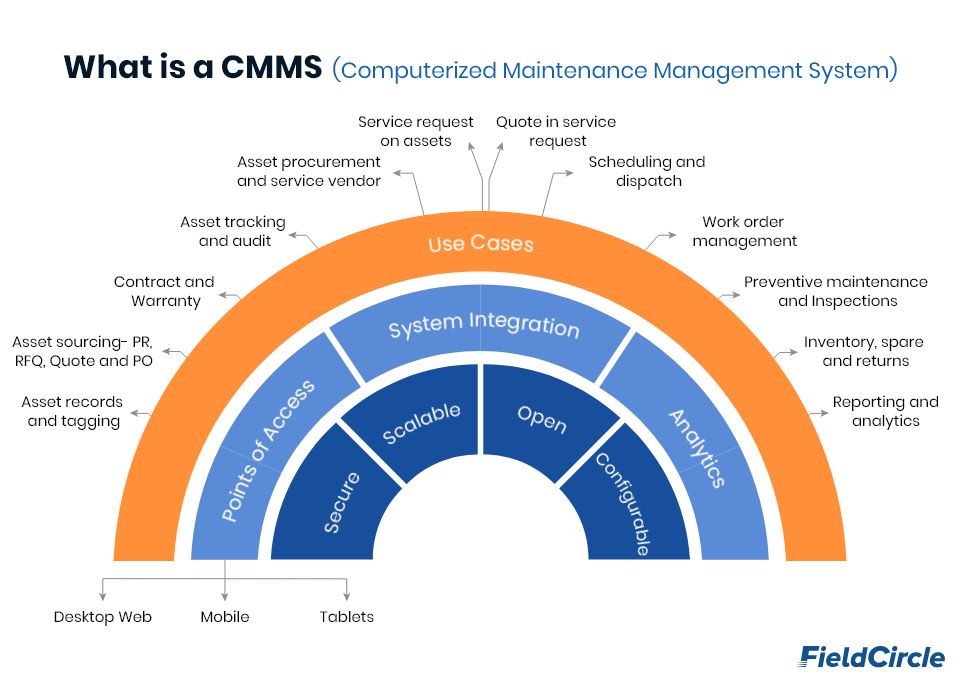 You may also read: Benefits of Using CMMS Software for Your Business
Why do you need a digital service solution?
Every organization has to decide when it comes down to service or repair. The management tool helps determine which issues need care and which will need repair, provided with the estimated time and cost required.
This supports the team in deciding what to do. With real-time data and different lookout conditions, the digital solution helps to keep track of and compare all the specifications. This is why you need a CMMS system:
Predict problems before they arrive
Automate tasks
Take out the audit headaches
Workflow visibility
Regulatory compliances and
Allowing to focus on high-priority tasks to maximize efforts.
Market Outlook:
The increasing demand for this digital solution in small and medium-sized industries makes the CMMS market contribute more.
The estimated revenue of computerized management solutions in 2021 is US$ 1,526.3 Mn. With a compound annual growth rate (CAGR) of 8.8% for 2022-2031, the market is expected to reach US$ 3,816.6 Mn by 2032.
The vendors are continuously developing advanced platforms to catch up with the new industry of technology evolution with Artificial Intelligence(AI) and the Internet of Things(IoT).
The application provides solutions to manufacturing, education, logistics, transportation, retail, hospitality, energy and utilities, the local and federal government, and others.
Top Signs- It's Time to Buy CMMS
Your needs have changed
Almost every new solution user starts here. Whether they have used paper records, a database, or in an Excel sheet, it is not just working, and they need more.
Your equipment fails regularly
The outdated method your company is using is reactive service, and it needs to be replaced with proactive services. It is challenging to keep track of data in the spreadsheet. The platform eases the process significantly.
Incomplete maintenance on time
At the time of missed spare parts due to inappropriate data affects the production's success. Ordering the spare parts at an emergency time requires dealing with multiple approvals for the budget.
Ready to go on mobile
Mobile technology allows every person in the team to access the data in real-time, and record information on the spot of service operation wherever they are.
Transparency and visibility
The manager struggles to get accurate information about the operator's working hours, location, and recently completed tasks. This squeezes the manager's time; to know what is happening in the project. The digital tool monitors the progress of each task with related information in a single dashboard.
The Factors Inhibiting the Adoption
Lack of Involvement
The platform's downfall occurs when the people using or interacting with the application are not involved in getting the right solution. When the lead users are not engaged in the process, they don't meet the requirements, and then they will get biased thoughts about the program's efficiency.
Complexity
Plan for early training of the lead users. This eliminates the complexity of the tool. The digital application with the centralized workflow will work well, but only when the users are trained and followed up with the solution correctly.
Implementation problem
Some solution projects fail due to the wrong implementation of setting up the program. Once done correctly, it is easy to use, but the proper configuration is central to setting it up. Seek help from a vendor professional team to implement the CMMS software without any trouble.
Hindrance to change
The solution changes the operation of the team, and some feel uncomfortable with the shift. The workers who have spent a certain way cannot change suddenly; they will not completely understand it and feel challenged to rely on it. A clear and comprehensive training plan will solve this problem.
When the above problems are solved, the application attracts a return on investment, improves uptime, and improves users' lives.
Final Thought
A computerized maintenance management system has many benefits that help to reduce downtime in small and medium-scale industries. It focuses on a proactive approach rather than costly repairs. The equipment's life term can be increased with preventive maintenance works.
It not only benefits the organization but also helps with the safety of the workers. By understanding the CMMS meaning, companies can streamline their processes and reap the numerous benefits it offers.
Book a Personalized Demo
Learn how your businesses can use FieldCircle to achieve more efficient, transparent, and profitable service operations.
30 Days Free Trial
No Credit Card Required
By submitting your details, you agree that we may contact you by call, email, and SMS and that you have read our terms of use and privacy policy.