Top 22 Benefits of Using CMMS Software for Your Business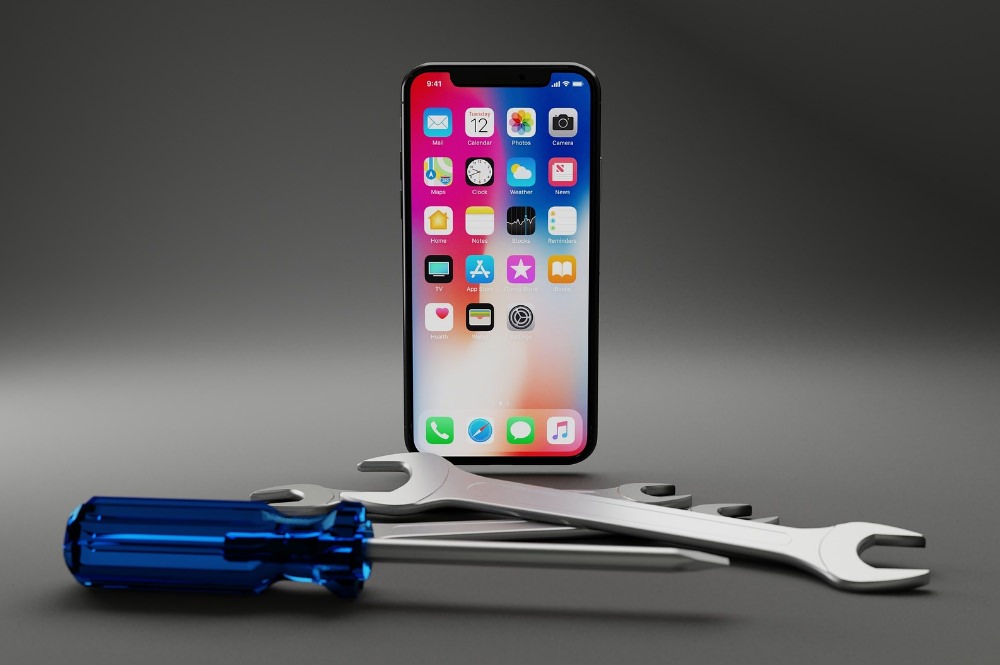 The benefits of using CMMS software in your organization are definitely worth the investment and can help you to lower costs, boost asset efficiency, and boost production by managing work orders, preventative maintenance, and inventories.
Managing and keeping track of all the assets in an organization is a challenge. It may be a time-consuming process that is prone to human error. Thankfully, businesses have started using CMMS software solutions that eliminate the tedious work and boost general effectiveness, helping to boost the bottom line in the process. The amount of time that is saved by the software is also significant. The benefits of using CMMS software are listed below.
What are the Benefits of Using CMMS Software?
Reduce the cost of maintenance
By understanding how much time and money are spent on each repair request, you can easily manage all of your maintenance, labor, and inventory expenses using a CMMS. With this information, you can identify team-wide issues and make adjustments that can save your department money and boost your bottom line.
Make maintenance decisions based on data
You can customize the data collected in your CMMS to assist you in managing the KPIs. To justify costs and labor expenditures, decide when to replace an asset, and identify the resources required for your maintenance department to operate efficiently, you can use data such as total maintenance repairs, hours spent on work orders, average resolution times, and maintenance and inventory costs.
Manage inventory items
The lack of an organized system for handling spare parts causes many organizations to have shortages or even high costs when it comes to maintenance inventory management. You can simply track and control every item in your inventory using a CMMS. You will be able to decrease inventory shortages, increase storage space, and lower expensive ordering costs by managing low quantities, connecting inventory with work orders, and even ordering more directly from the system.
Track and report expenditures
Facility maintenance can have a lot of related expenditures, such as acquiring new components or using an outside vendor. With the benefits of web-based CMMS software, you can keep track of these expenses as they arise, monitor spending, provide reports for senior management, and defend the necessity for future budgeting.
Keep track of employee hours
The benefits of using CMMS software not only allow you to manage maintenance expenses, but also allow you to track your team's hours, figure out the labor costs related to each work order, and get a better understanding of how your team is doing. You may fix and strengthen any shortcomings in your processes with the use of this information, which will ultimately lead to greater efficiency.
Forecasting and financial planning
An organization must have access to financial information to manage expenditures properly. An ideal answer is provided by CMMS, which can produce cost data for each asset in the plant. These reports, which contain critical data like the overall expense and expenditures associated with purchasing and maintaining such assets, will be essential for planning and forecasting.
Increase the equipment and asset life span
This is an excellent method for your organization to have complete insight into how the equipment is working, which one requires maintenance, and which parts need replacement and to implement routine inspections of your equipment and assets. You can consistently maintain your assets with the help of equipment maintenance software. In the end, this helps them live longer, operate at their best capacity,
Implementing routine inspections of your equipment and assets is a great way for you and your team to gain full visibility into how each item is performing, which items need attention, and which parts might need to be replaced. The maintenance software allows you to maintain your assets consistently. This ultimately extends their lifespan, helps them work to their optimum efficiency, and reduces the frequency of unexpected breakdowns.
Predictive maintenance via data collection
A data-driven factory prefers this predictive maintenance strategy, so your CMMS will gather information about inventory usage, maintenance, repairs, and inventory utilization to decide when maintenance projects should be carried out. This method warns maintenance teams of coming issues before they arise. This leads to minimal downtime and maintenance that fixes the problem rather than merely taking place on schedule.
Convenient recordkeeping
When managing inventory with a CMMS, you can simply track the cost of spare parts and generate reports to further evaluate the information. This makes ordering and using parts more effective. CMMS makes compliance audit tracking simpler by streamlining maintenance and repair tracking. You may gather all of your necessary supplies in one centralized place.
Fewer equipment breakdowns
Your equipment can run effectively if you regularly monitor preventative maintenance chores in a CMMS, which can ultimately cut down on unscheduled downtime. Additionally, your CMMS will be able to determine the mean time between failures (MTBF) for each downed piece of equipment, assisting you in anticipating and preparing for the upcoming breakdown.
Meet compliance and safety regulations
When conducting an audit to determine whether an item is being properly maintained, CMMS software is helpful since it retains an extensive record of all the maintenance done on each asset or equipment in your facility. Additionally, it enables you to keep important data about each equipment you own, like product requirements documentation, warranty details, safety manuals, and much more. Your team has easy access to this information, making it simpler for you to adhere to compliance and safety standards.
Organize maintenance in a centralized location
All of your service orders, preventive maintenance, inventory, equipment, and other items are kept in maintenance management software, which serves as a one-stop shop. As a consequence, it's straightforward to link equipment or inventory items to work requests and scheduled maintenance jobs. This ensures optimal asset efficiency, inventory levels, maintenance schedules, and other factors. Your maintenance staff will find it much simpler to access maintenance with a mobile CMMS because they can access tasks on their phone or tablet.
Increase productivity
Your team will submit, track, and handle requests more quickly with intuitive CMMS software, thereby boosting productivity. In fact, according to industry analysts and unbiased research, CMMS solutions may recover 10 to 50 percent of lost productivity annually. Maintenance staff spend less time monitoring requests, allowing them more time in their day to accomplish their work, and organizations that employ CMMS systems for their facilities management operations have experienced a drop in work order response and resolution times.
Boost the efficiency and accountability
Your team may get a better understanding of prioritized activities and allocate the maintenance plan by centralizing all maintenance and facility operations. This increases responsibility and efficiency for your whole team by enabling each team member to keep updated on their daily activities and providing you with insight into their work. The CMMS administrator for your company also has a thorough understanding of what is happening at each facility and when.
Plan and keep track of preventative maintenance actions
You may develop an organized, proactive maintenance plan with the help of a CMMS, enabling you to perform routine maintenance on your buildings, assets, and machinery. Software for preventive maintenance increases productivity and increases asset longevity.
Process simplification and improved workflow
CMMS software enables real-time updates to the requesting users while routing requests to qualified technicians or staff members. Additionally, the system enables you to design an approval procedure that adheres to the chain of command in your company, guaranteeing that no request is overlooked. The addition of work order attachments, such as images or videos, and the creation of checklists for technicians to use while performing preventive maintenance tasks are two additional features that help workflows.
Performance Improvement
The benefits of CMMS solutions in terms of efficiency and safety are numerous. They make it possible for businesses to adhere to regulations and get a real-time view of their operations. A CMMS's safety feature may keep an eye on equipment and systems and notify any irregularities remotely. Continuous monitoring offers managers more understanding of the performance of their company, even when this knowledge isn't always actionable.
The benefits of using CMMS, for instance, can spot patterns like rising energy consumption, poor efficiency, worn parts, etc., and take appropriate action. CMMS may automatically notify technicians when a component is getting close to the end of its useful life when used in conjunction with predictive maintenance tools. This allows them to take prompt preventative action before a breakdown occurs.
Employees have access to comprehensive reports on every job completed, and managers may use this data to better understand how various teams are collaborating.
Increase visibility
It may be challenging for maintenance managers to stay on top of the maintenance activities taking place when it comes to work orders, preventative maintenance, event schedule, and more. All of these tasks are centralized with a CMMS system, providing you with more insight into the activities and how your staff is doing.
Upgradeable or out-of-date?
It is simple to determine whether any of your equipment needs to be updated or rendered obsolete. Each asset's track record supports the effective management of systems and equipment, and the choice of an immediate upgrade or replacement. Preventing failures with the use of approaching defect detection helps to save both time and money.
Better communication
The CMMS features help to increase communication inside teams, across departments, and even with external suppliers by keeping all employees in line and on the same page. By reducing the amount of labor that isn't essential, better communication frees up more time for the things that are most important to you and your business.
Keep a record of all historical data
A CMMS is not only excellent for tracking all of your ongoing facilities and maintenance tasks, but it is also the best option for retaining a thorough archive of all of your previous data. This information may include the volume of finished work orders, maintenance expenses, labor hours, downtime, and more. These kinds of CMMS benefits are helpful for facility audits and budget planning.
Increased Reliability
One of the essential benefits of using CMMS software is increased reliability. CMMS technology systems offer more features that improve the management and planning of maintenance work. This comprises tools that let maintenance managers plan preventative maintenance based on the specific time, date, or equipment usage on certain standards or diagnostic information.
By using a data-driven CMMS software strategy, you may maximize your preventative maintenance budget while ensuring full coverage. The use of CMMS also enables managers to prioritize preventative actions across assets for the greatest effect by analyzing previous failure occurrences to identify any common characteristics that raise the likelihood of failure (and minimum cost). Additionally, built-in warnings provided by CMMS systems notify employees when a failure risk threshold is crossed, enabling early detection and resolution of possible problems before they turn into failures.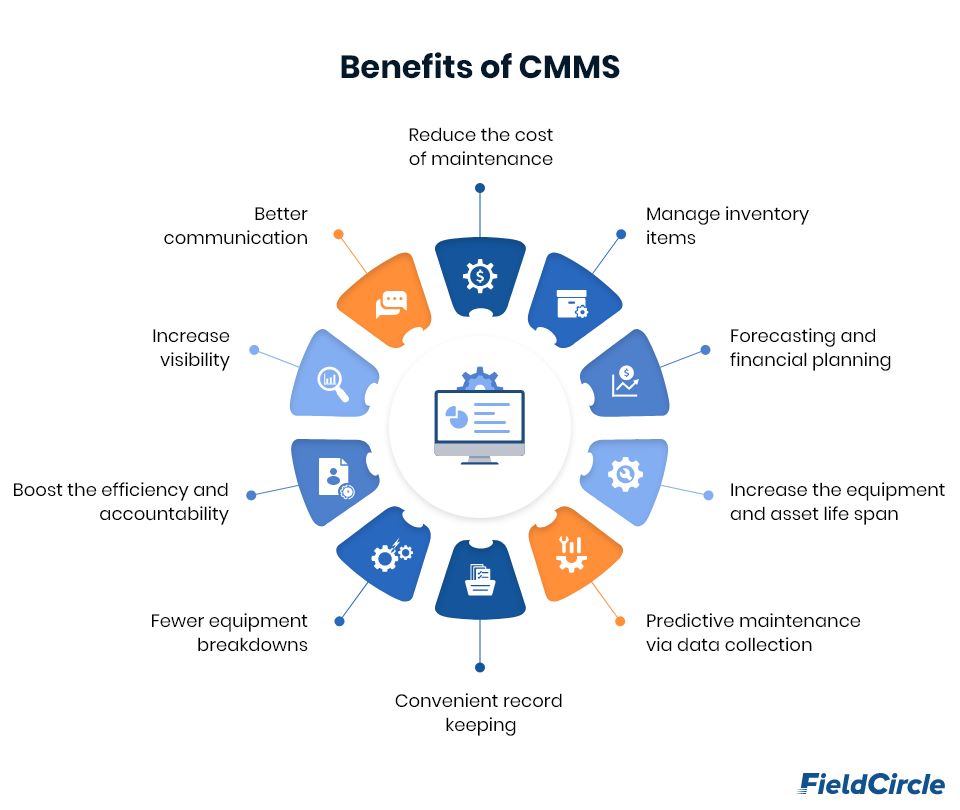 Conclusion
The CMMS software benefits may alter everything for you and your company, offering various CMMS software advantages from lower costs to higher efficiency. With a highly flexible CMMS solution for maintenance managers and professionals, you can stay ahead of your maintenance operations for your organization.
Book a Personalized Demo
Learn how your businesses can use FieldCircle to achieve more efficient, transparent, and profitable service operations.
30 Days Free Trial
No Credit Card Required
By submitting your details, you agree that we may contact you by call, email, and SMS and that you have read our terms of use and privacy policy.