Top 18 Industries That Benefit Most From CMMS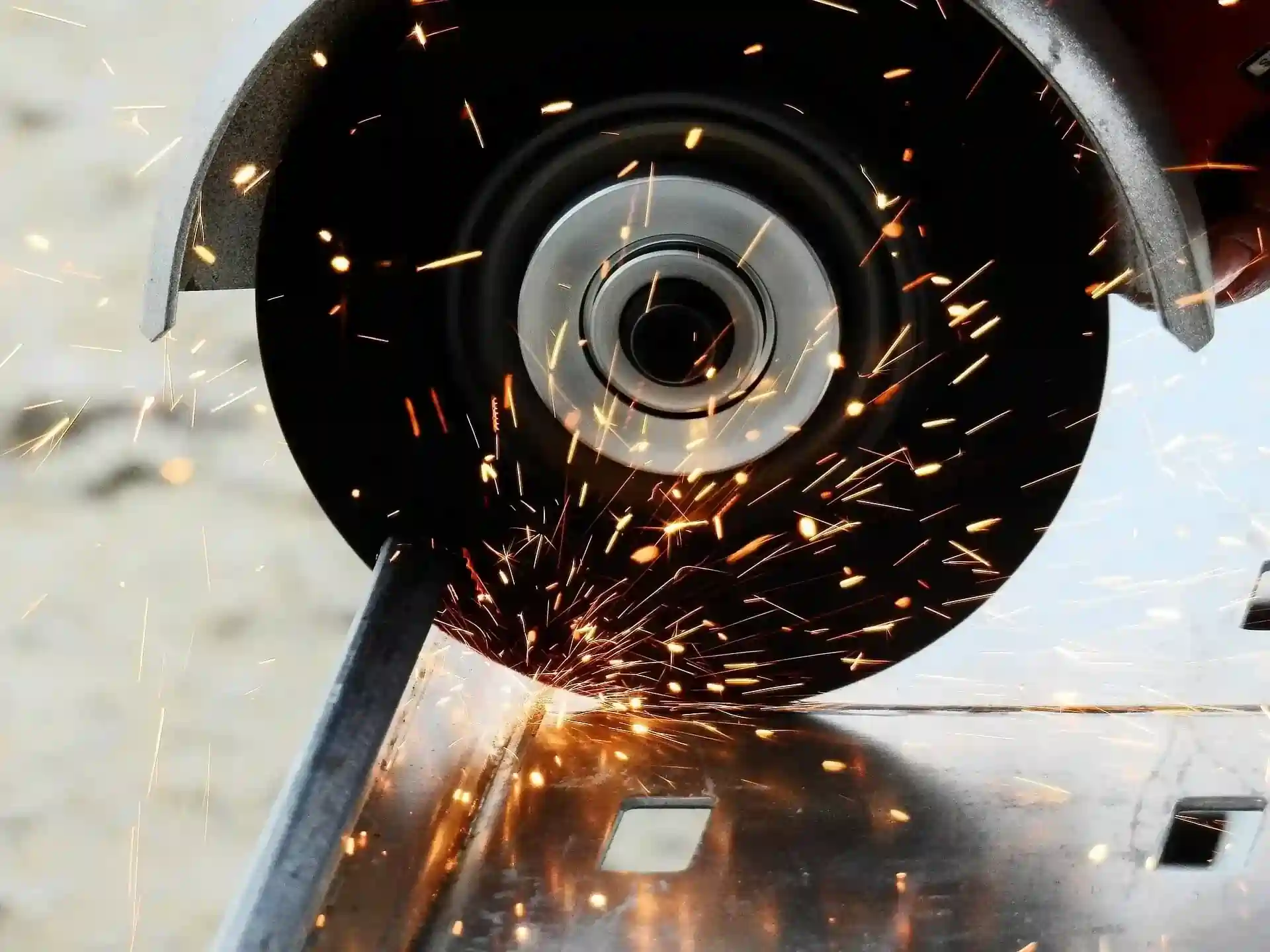 Several industries, like manufacturing and production, transportation and logistics, banks, construction, hospitality and recreation, retail, etc., benefit from CMMS software. It is a centralized platform customized to achieve maximum productivity via maintenance management.
List of Industries That Benefit Most From CMMS
Here are some major industries that benefit from maintenance solutions:
Manufacturing Industry
In the manufacturing industry, where downtime and equipment failures can have severe consequences, implementing a manufacturing CMMS becomes crucial. Manufacturers cannot afford frequent equipment failure. Shutdowns and downtimes create delays in the manufacturing process and even failure to deliver orders within time. The preventive maintenance software for manufacturing helps the manufacturing industries by implementing several different maintenance procedures, maintaining spare parts for inventory levels, and completing maintenance task scheduling, work orders, and planning. By leveraging CMMS for manufacturing, manufacturers can effectively regulate their operations and ensure compliance with industry standards.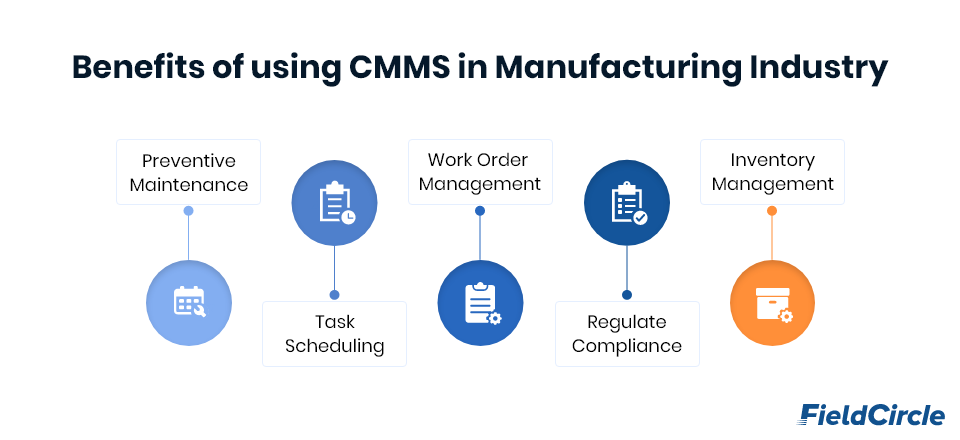 Oil and Gas Industry
Large, costly, and complicated oil and gas facilities are dependent on heavy-duty machinery like pumps, refrigeration appliances, turbines, transformers, and generators, to mention a few. For maximum efficiency and lower costs, businesses must maintain all this equipment smoothly and unhinderedly. The maintenance solution for the oil and gas industry is used to minimize expenses, satisfy safety and regulatory requirements, and oil and gas service applications remove a significant portion of unplanned equipment maintenance and respond completely and quickly to crises.
Mining Industry
Organizations in the mining sector need expensive, highly specialized, and complicated equipment to conduct their operations, just as in the oil and gas sector. These machines are maintained properly for peak performance, dependability, and equipment longevity. Unexpected downtime or malfunctions can cause serious problems like bottlenecks, setbacks, workplace accidents, and even millions of dollars in losses. Mine operators use maintenance applications to maintain the equipment's dependability, efficiency, and safety.
Power Generation Industry
Power plants are a heavily regulated sector with tight standards and guidelines for efficiency, production, and security. Because of the hazards involved, the management and maintenance requirements that power plants must adhere to are non-negotiable. Power plants, unsurprisingly, require a comprehensive maintenance procedure that a maintenance tool may control. The solution assists them in maintaining compliance, managing their personnel, maintaining employee and public safety, and maintaining machine performance.
Shipping Industry
Ports carry most of the world's products, and container ships are loaded and unloaded at ports. Equipment failures or malfunctions can cause cargo damage, resulting in large financial losses for all parties. A management solution for transporting ports and terminals ensures that tools like forklifts, reach stackers, and mobile cranes get the necessary maintenance. Preserving top-quality equipment, lowering cargo damage, and eliminating container mistreatment improve asset reliability.
Fleet Management Industry
Keeping a fleet running while upholding a high safety standard and minimal maintenance expenses may be difficult.
Fleet managers can emphasize employee and asset safety while cutting costs associated with downtime.
Additionally, it can manage the inventory of components, track and identify shop and vehicle expenditures, and identify and manage warranties.
Communication & Data Centers
The most important factor for data and communication centers is uptime. Response times and customer satisfaction suffer when breakdowns happen. Mission-critical assets must be adequately maintained to guarantee maximum performance and reduce downtime, including servers, communication lines, and backup generators. This result is made possible by using the best CMMS software.
Aviation Industry
Airports include a large area, several buildings, and a variety of equipment that must be maintained, including HVAC (heating, ventilation, and air conditioning) systems, for the comfort and safety of passengers and conveyor belts.
Airport managers may lower labor and energy costs, manage inventories, improve the performance and lifetime of equipments, and guarantee the security of both workers and visitors by utilizing a digital solution.
Food and Beverage Industry
Processing food and beverages is a highly regulated sector with strict health and safety regulations. A CMMS is used to lessen wastage and the likelihood of product recalls and assure food and beverage goods' sanitation, safety, and traceability. The organization can maintain or increase production levels and, consequently, increase revenues by performing effective food processing plant maintenance.
Healthcare Industry
Benefits of CMMS to healthcare extend beyond revolutionizing hospital maintenance management. It caters to the unique needs of patient safety and successful outcomes in the healthcare industry. In healthcare institutions, vital equipment like defibrillators, patient monitors, ECG machines, computers, sterilizers, and surgical units play a critical role. Implementing CMMS for hospitals ensures that these essential assets are properly maintained, reducing the risk of equipment failure during critical moments.
With the implementation of CMMS healthcare, these essential assets are meticulously maintained, operating with precision, effectiveness, and accuracy. This proactive approach ensures equipment reliability and contributes to an environment where patients can receive the highest level of care. It is a game-changer for healthcare facilities, enabling them to uphold their commitment to patient well-being and optimal operational performance.
Facilities Industry
In the Facilities Industry, especially in the case of hotels, building managers face unique challenges in maintaining tenant and guest satisfaction due to the large number of people involved and the diverse competing requirements of these individuals.
Property managers in the hotel industry often rely on digital applications specifically tailored for hotels to manage maintenance tasks and minimize asset downtime. With CMMS for hotels, building managers can efficiently organize maintenance orders and ensure the smooth operation of critical assets such as boiler rooms, breaker switches, computer networks, locks and doors, HVAC equipment, lighting/plumbing, parking structures, vehicles, cameras, and more. This specialized solution enables hotel managers to proactively address maintenance needs, enhance guest experiences, and optimize operational efficiency.
Educational Facilities
Numerous facilities are frequently present in schools, colleges, and universities, and hundreds or thousands of staff members and students use them daily. Maintenance managers and maintenance specialists may stop asset downtime before it happens. It may also manage preventative maintenance plans for equipment, including air conditioning, computers, gym equipment, generators, sprinkler devices, and buildings.
Farming and Agriculture
Farms can succeed or fail depending on the equipment's preparedness at key times because farming is a seasonally driven industry. When there is little room for error, a management solution aids farming businesses in staying on top of equipment maintenance. This is especially useful when the pieces of machinery and equipment are expensive.
Sports Industry
The condition of the seats and the playing field will likely be the major surface-level emphasis when discussing sports arenas and stadiums. Remembering that stadium and arena upkeep involves much more than just these two items is vital.
It helps managers plan and monitor maintenance for lighting, scoreboards, bars, sound equipment, and restrooms of sports facilities.
Recreation Industry
These facilities must protect the rides, enclosures, stages, and other public spaces. Throughout the busy season, well-run theme parks do ongoing preventative maintenance. The off-season is when theme park maintenance picks up since less traffic allows for meticulous care, tear-down, and rebuilding. Adopting equipment maintenance tracking solution is crucial for theme parks and zoos to maintain visitor safety and satisfaction, as accidents may be terrible regarding injuries, fatalities, and bad publicity.
Retail Industry
The retail industry is constantly under pressure to provide satisfying client experiences. A single service fault might result in a significant loss for the company. For every retail firm, the goal is to make customers happy. A single error in the company's interactions and customer experiences might result in enormous losses. As a result, every retail establishment must uphold a specific quality to meet the client's high standards.
The usual paper-based technique complicates the industry's operations; finally, the manual system costs the company money rather than providing advantages. The solution includes automating the process and keeping track of every task. Spend less money by doing routine preventative maintenance that extends the life of the retail store's machinery and equipment. Retail managers can plan maintenance activities with the centralized solution, and maintenance staff receives timely notifications so they never forget a scheduled activity.
Retail managers can effectively schedule maintenance work, which lowers labor costs. A good schedule clears uncertainty and increases work visibility, transparency, and traceability. A retail manager may monitor many locations, and even offer remote access. This improves the retail industry's effectiveness, comfort, and simplicity of maintenance management.
Government & Municipal Organization
Civil unrest or rioting may break out if the municipalities' services are interrupted. Therefore, proper care is given to sewage and water lines. Time and effort are wasted with traditional paper-based maintenance management. The paper also adds needless complication and burden to the maintenance effort. Maintenance work is made simple and effective with computer maintenance management application. Municipalities use it to:
Track every issue with the maintenance from a single spot.
Keep track of all the maintenance tasks.
Can submit complaints from a remote place
Can notify the maintenance worker via email or text to remind them to do the planned maintenance.
Preventive maintenance guarantees the asset's life for the municipality.
IT Industry
The primary elements of the IT sector include machinery, computers, and electronic equipment. These long-term assets must operate without a hitch to produce the intended results. Regular maintenance is essential because an interruption might result in workflow disruption and productivity loss. The advantages of the solution for IT are:
They may monitor the condition of the assets and machinery.
Schedule maintenance tasks and create work orders.
For a quicker resolution, immediately create problems and take rapid action.
Review the data and information to aid in making educated decisions.
Conclusion
We could conclude that a centralized management application can be utilized successfully in many sectors. It streamlines the maintenance process and guards against asset failure and breakdown. It enhances the organization's workflow. It would be more accurate to improve daily operations and cut downs.
Additionally, it offers a report that is crucial for making important company decisions. Asset management and inventory management are other uses. It uses cloud-based technology, to keep all the data on the server secure. It is accessible from every location in the world. Finally, the it takes the business's production to a new level and efficiency. It may help you take your firm to a whole new level.
Book a Personalized Demo
Learn how your businesses can use FieldCircle to achieve more efficient, transparent, and profitable service operations.
30 Days Free Trial
No Credit Card Required
By submitting your details, you agree that we may contact you by call, email, and SMS and that you have read our terms of use and privacy policy.