Types of CMMS Software – Which One is Suitable for Your Needs?
There are two types of CMMS software: on-premise and cloud-based. The option you choose will have a significant impact on your business. In recent years, companies thrive to keep a challenging pace with the industry and economic trends. To maintain a competitive edge, business owners need to find ways to increase efficiency mindfully. A computerized maintenance management system(CMMS) is a solution that constantly helps companies to meet their objectives.
The CMMS market is also keeping pace with the increasing number of available vendors and the product line they offer. For those new to maintenance management systems, CMMS is described as highly sophisticated software that utilizes data to overview the maintenance operation with the status of each piece of equipment. In terms of functionality, CMMS offers the ability to track work orders, schedule maintenance, generate reports, and provide preventive maintenance.
Although there are many CMMS products available in the market, the key difference is based on the way in which the software is deployed. Based on these criteria, the two types of CMMS systems are formed, "on-premise" and "cloud-based".
Types of CMMS software
On-premise CMMS
An on-premise CMMS is an in-house system that handles maintenance and inventory management that runs via a physical server located on-site. You typically pay upfront for the installation of the software and are responsible for setting up firewalls and IT infrastructure on your own servers. It also requires additional costs for software upgrades or the purchase of newly added software. This type of CMMS system was used before the arrival of high-speed internet and CMMS software-as-a-service products.
Cloud-based CMMS
Unlike on-premise CMMS, a cloud-based CMMS is managed by the provider itself; they run on the servers owned by the software provider. Cloud-based CMMS is sometimes referred to as web-based CMMS. With this software, new updates happen automatically. You get all the new features of the software without installing a new version. And the hosted infrastructure is managed by the provider. With on-premise, the new updates should be installed by yourself with additional expenses. Businesses can get this model from the CMMS provider with a time-based subscription plan. With cloud-based CMMS businesses can focus more on the core responsibilities while avoiding the need to recruit additional IT staff to manage the software.
On-Premise vs Cloud-Based CMMS – Comparison
When deciding between both types of CMMS on-premise and cloud-based, the following are the pros and cons you should consider,
Security
The security of the system depends upon the integrity of security measures and the consistency adhered to by the end user. Cloud-based CMMS have advanced data encryption that will be updated over time as required. With the web-based CMMS, third-party data centers are used to ensure the customer's data security.
Vendors providing cloud-based CMMS will run frequent tests to check the vulnerability that the customer data is not accessible by others. While the on-premise may be quite vulnerable compared to the cloud-based because it may be accessed by global hacking threats but they rely on the security software purchased by the company as well as the in-house employees and the vigilance of system users. With cloud-based type, firewalls, security upgrades, maintenance, and antivirus software are provided by the vendor, but with on-premise type, these things should be manually managed.
Accessibility
On-premise type can be installed and configured on the company network and the software is accessible within the facility. This limits the maintenance management activities done on the field, which makes information and work order status inconsistent. In contrast, cloud-based CMMS software application allows the team to track, manage and respond from anywhere, and on any device with the help of an internet connection. Without the need of going to the office, this saves time and helps to increase productivity.
Mobile access
One of the most alluring features of web-based CMMS is the ability to interact with other devices, such as tablets and mobile phones, as well as camera and scanner plug-in tools. When taken as a whole, these elements improve the maintenance system by enhancing its functionality and enabling on-site maintenance management tasks. Instead of using paper and pen systems, updating the program from a PC, or with mobile access allowed personnel to access their mobile CMMS while fixing or doing preventative maintenance on equipment. When it is implemented properly, there are significant efficiencies realized.
Short implementation times
Getting everything and running an on-premise solution with your team's help takes a lot of time and energy. While web-based CMMS is done in a short implementation time and you can put more energy into maintenance management instead of software implementation.
CMMS costs
Cost plays a significant role in the decision-making process when making any significant purchase. Knowing the upfront and ongoing expenses of the CMMS systems is essential, especially when choosing between on-premises and cloud-based systems. On-premise platforms often have three times the yearly licensing rate of web-based systems, starting with the up-front fees. There are no additional system fees, therefore this amount is a one-time payment. On the other hand, a cloud-based system has a reduced initial cost, but over time, the long-term expenditures related to licensing fees are higher i.e., the maintenance department would pay an annual subscription/license price.
On-premise CMMS platform needs hardware, firewalls, antivirus software, and an IT staff member to maintain and manage various parts of the system's operation. It includes installation, data entry, updating, security, and employee training. While in cloud-based CMMS extra expenditures are not necessary for software updates, system upgrades, security, tech support, as well as training for in-house data input and employee onboarding. Everything is included in yearly license fees, except on-site inventory audits and staff onboarding. On-premise systems give CMMS buyers complete control, but cloud-based systems rely on continuous vendor relationships to maintain data availability.
Convenience
The key advantage of on-premise CMMS is that they give businesses complete control and system customization. These CMMS program characteristics could be crucial for companies that are expanding, going through a transition, or that don't exactly fulfill the criteria for cloud-based solutions. On the other hand, employees may utilize cloud-based systems without any prior technical knowledge other than the ability to click or tap a device, which is recognized to be user-friendly.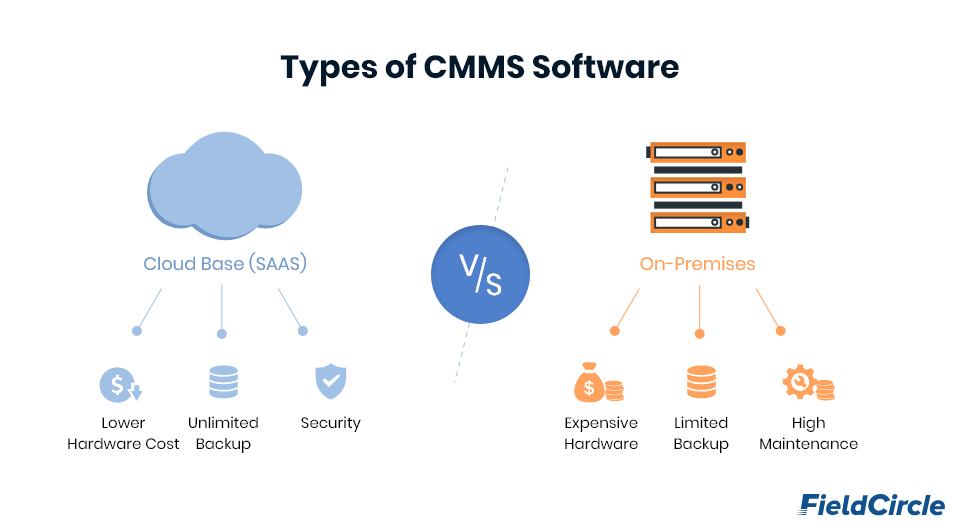 Advantages and Disadvantages of On-Premise CMMS
On-premise software boasts the following advantages:
Dedicated staff for maintenance and support
Get control over the data and system within the company network
Critical data is stored and handled internally
Large companies with strict regulations prefer on-premise software because it gives more control over their data and process.
On-premise software has broader customization and can integrate with other systems.
Although the cost is higher, on-premise software pays well over time.
Disadvantages of on-premise CMMS are:
This type takes longer implementation time.
Implementing on-premise software is complex with its installation and configuration needs.
The company is responsible for the IT infrastructure to run the software with ensured resource availability.
The upfront costs of on-premise are higher
The cost to set up the infrastructure is high
Configuring, testing, purchasing, and implementing the server costs more than the CMMS price.
On-premise CMMS is costly and time-consuming for maintaining and upgrading.
For any updates in the software, maintenance teams will be responsible for implementing those updates.
In this type, additional charges are applied for upgrades and features. If your team doesn't have the required skill set, an additional cost of external hiring may be required.
Advantages and Disadvantages of Cloud-based CMMS
Advantages of cloud-based CMMS:
The total cost of ownership and upfront costs are low compared to on-premise
Infrastructure requirements not required
Software license costs do not apply to cloud-based
Can access the CMMS system at any time and anywhere
Best for start-ups and SMBs that don't have more capital and IT resources, or technical experts
More security advantages with cloud-based systems
Less likely to be affected by viruses because of no local data and regular security updates.
Increased reliability and availability by hosting with multiple servers
The application, server, and network are monitored 24/7, 365 days a year.
Automatic data backups- Backed up continuously without manual coordination and synchronization
Information is stored off-site to prevent unexpected disasters in different locations.
More flexible and scalable- The software is scaled according to the needs and timeline. You can start from low to high as you grow.
Disadvantages of cloud-based CMMS:
Need high speed and stable internet connection
If the connection is not secure and fast the software will experience difficulties in working
Customization is not available
More security precautions are needed for the cloud-based type
Changing back end process is not possible
Limited within the cloud solution since it is built for a variety of industries
Since it is not hosted with an intranet, additional work needs to be done to ensure the security parameters.
On-Premise CMMS is Great for Companies With:
Mission-critical equipment: Internet connectivity is not a barrier to accessing maintenance information for mission-critical equipment.
Needs for condition monitoring: Businesses can utilize their networked equipment to start condition-based maintenance (CM) or predictive maintenance (PM) work orders when it is set appropriately.
Customization requirements: On-premise CMMS gives the company more control and is easier to interface with other systems.
Strict compliance requirements: Custom security solutions can secure auditing data more effectively.
Cloud-based CMMS is Suited for Companies With:
Limited IT resources: There is nothing to install with cloud-based maintenance software. All configuration, data security, and product upgrades are managed by the CMMS provider.
Mobile accessibility requirements: Any internet-connected mobile device, such as smartphones and tablets, can access cloud-based CMMS.
Non-sensitive maintenance data: Cloud storage is a good choice if no special data security measures are required. Vendors promise data security and availability.
Which is Better: Cloud-based vs On-Premise CMMS Systems?
Despite the differences between the two types of CMMS on-premise and cloud-based, both are focused on streamlining maintenance management and impact the company on how it performs and manages its operations. The answer depends on the needs of finance, security, and technical suitability. Before deciding between on-premise and cloud, carefully consider the advantages and disadvantages of both types. Don't just simply look at the costs, consider the factors including customization, security, compliance, and control.
After the decision between the types of CMMS, business owners need to thoroughly investigate the CMMS suppliers and their offerings. They should also analyze each vendor according to their demands, corporate goals, staff resources, and budget. Although the trend is toward web-based CMMS, on-premise solutions are still an excellent choice. Having a selection of system platforms just increases the alternatives available.
Book a Personalized Demo
Learn how your businesses can use FieldCircle to achieve more efficient, transparent, and profitable service operations.
30 Days Free Trial
No Credit Card Required
By submitting your details, you agree that we may contact you by call, email, and SMS and that you have read our terms of use and privacy policy.