Comparing CMMS, EAM, CAFM, and Fleet Management Software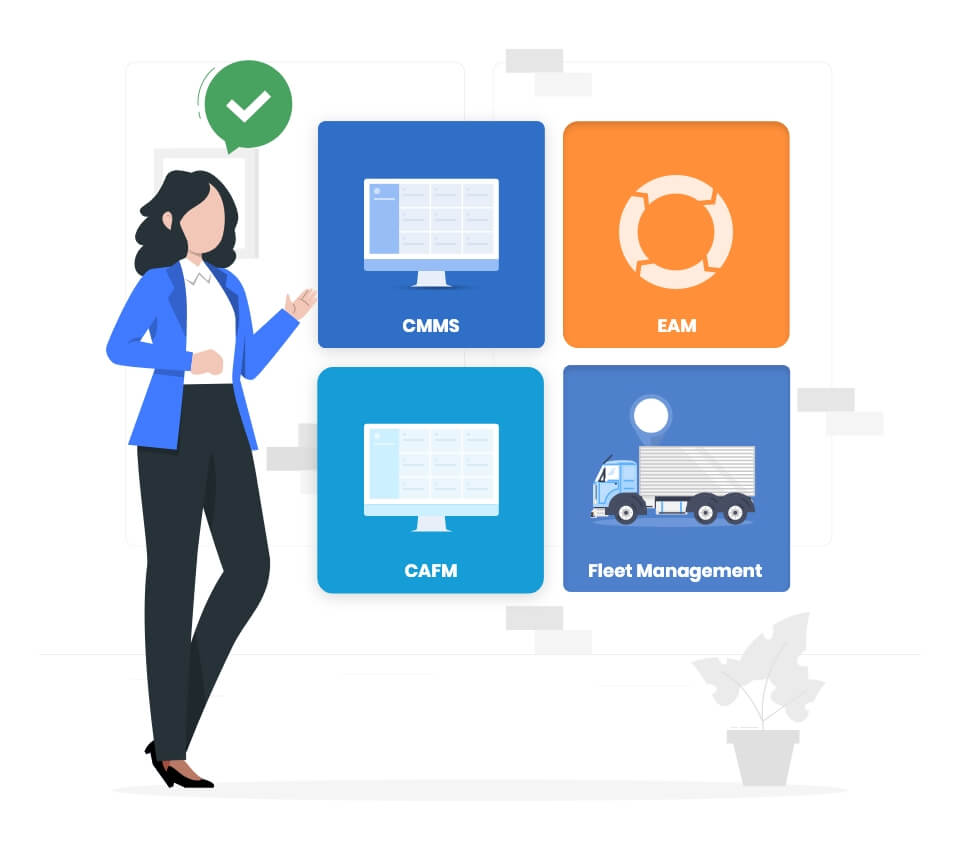 Are you trying to find the difference between CMMS, EAM, CAFM, and Fleet management software? With so many acronyms surrounding management software and solutions, it is difficult to understand the difference between each one of them. These are software solutions that are designed to help organizations keep track of their assets and facilities, and make the most out of their investments.
According to a recent survey, nearly 60% of organizations use two or more software solutions to manage their assets and facilities. A research from Fortune Business Insights shows that "The global facility management market saw a valuation of $1,260.36 billion in 2022, and is expected to soar to $1,856.44 billion by 2029, boasting a compound annual growth rate of 5.7%."
But what if we told you there's a way to simplify the process and improve efficiency? That's where CMMS, EAM, CAFM, and Fleet Management software come into play. In this article, let's try to understand the differences between CMMS, EAM, CAFM, and Fleet management software so that you can determine which is right for your organization.
What is CMMS (Computerized Maintenance Management System)?
The computerized maintenance management system is software that focuses on maintenance operations. It offers insights into the maintenance process and works order with preventive maintenance schedules. It is the centralized platform for all the databases of an organization's maintenance activities.
The CMMS software keeps track of maintenance tasks and data. It is suitable for organizations with heavy equipment usage. Ultimately, CMMS is a specialized software that focuses on unique maintenance needs. Built by a good maintenance operations solutions company, it can fetch innumerable benefits for a business.
The primary functions of a CMMS
Following are the primary functions of CMMS in maintenance management process
Maintain asset records
Asset tracking in CMMS is a feature with which the asset details and maintenance records are maintained accurately. It provides maintenance schedules, word order plans, and details about maintenance technicians and work history.
Drive preventive maintenance
CMMS manages the workflow of the maintenance cycles. With preventive maintenance procedures, the downtime of the equipment can be reduced.
Streamline work order management
CMMS platform provides workflows to manage and report on all work orders. It helps to track the work order status in real time.
Provide visibility
CMMS software keeps track of suppliers, spare parts, descriptions, and parts numbers. It also alerts about inventory falls, which helps in the automatic ordering process to level up the stocks.
What is EAM (Enterprise Asset Management)?
As the name suggests, Enterprise Asset Management software focuses on managing assets. It provides a complete lifecycle of asset management. It helps to keep track of things like maintenance, accounting, and updates. It is generally considered the superset of CMMS software that targets the asset features. It can do what computerized management does and then some others.
The primary functions of an EAM
The main functions of Enterprise Asset management includes,
Plan and analyze the asset life cycle
EAM starts from financial planning to disposal, it manages the entire life cycle of the assets. It maintains every single information about the asset at each stage. Including records, maintenance records, compliance, and disposal details.
Configure asset workflows
EAM offers asset management to drive production for production teams, optimize uptime for maintenance teams, and asset profitability for finance teams and compliance teams to ensure safety. With EAM one can track inspections, warranties, and work order status.
Asset uptime with profitability
EAM has a full view of the asset, it is equipped with asset uptime and profitability. Each value of an asset needs to be updated continuously for accounting.
What is CAFM (Computer Aided Facility Management)?
The CAFM platform focuses on the physical workplace and everything on it. It supports facility management with information technology. This software handles floor plans, space usage, and more. In other words, the software is predominantly administrative by tracking and managing data rather than streamlining the activities.
The primary functions of a CAFM
Following are the important functions of CAFM platform,
Provide cost clarity
CAFM provides details about the expenses that are spent and identifies where it can be improved by proper maintenance and shows service records for all the facilities.
Evaluate assets
CAFM displays asset condition to the facility managers, equipment status, work history, and warranties. CAFM has a complete understanding of equipment repair and maintenance work.
Space planning
The software contains detailed floor plans of office space including desks, assets, and equipment. The facility manager can ensure the efficient utilization of space and workers' accommodation.
Selecting contractors
Facility managers need to locate contract employees with the necessary qualifications to execute some work orders. CAFM software also includes some contractor databases with location and contact information.
What is Fleet Management Software?
Fleet management software allows the fleet manager to have all the information about the performance of the fleet. The database helps to improve efficiency and drive down the cost of the fleet. The fleet management software is similar to the CMMS platform but it focuses on the needs of fleet managers. It has added features like telematics, GPS, and fuel cards.
The primary functions of a fleet management software
Here are the primary functions of fleet management software,
Vehicle tracking
For fleet managers, real-time tracking is very important.GPS supports fleet administrators to track vehicles, equipment, and inventory. Here are some insights to increase fleet efficiency with vehicle tracking.
Customizable Alerts
Real-Time Location Tracking and
Route Optimization
Fuel management
For fleet managers, efficient fuel consumption is an important priority. It plays a major role in overall fleet expenses. Fleet management software helps to monitor fuel consumption in real time and provides deep insight into the time and duration of refueling and drains.
Performance and retention
The software helps to analyze driver behavior and performance. This feature assists in KPIs, SLA, and other metrics. The managers can also customize training programs using real-time footage and reports.
Trips and mileage
Mileage tracking reports calculate mileage for individual vehicles and your fleet as a whole. This helps to monitor the execution of routes with efficient mileage and minimize fuel consumption.
What is the difference between CMMS and EAM?
EAM is a combination of service and system for controlling operational equipment and assets. It includes asset maintenance, work management, and supply chain management and ensures health and safety at work. Their work is to manage and optimize the entire lifecycle of the asset. EAM has a wide range of applications, of which CMMS is a small part of it.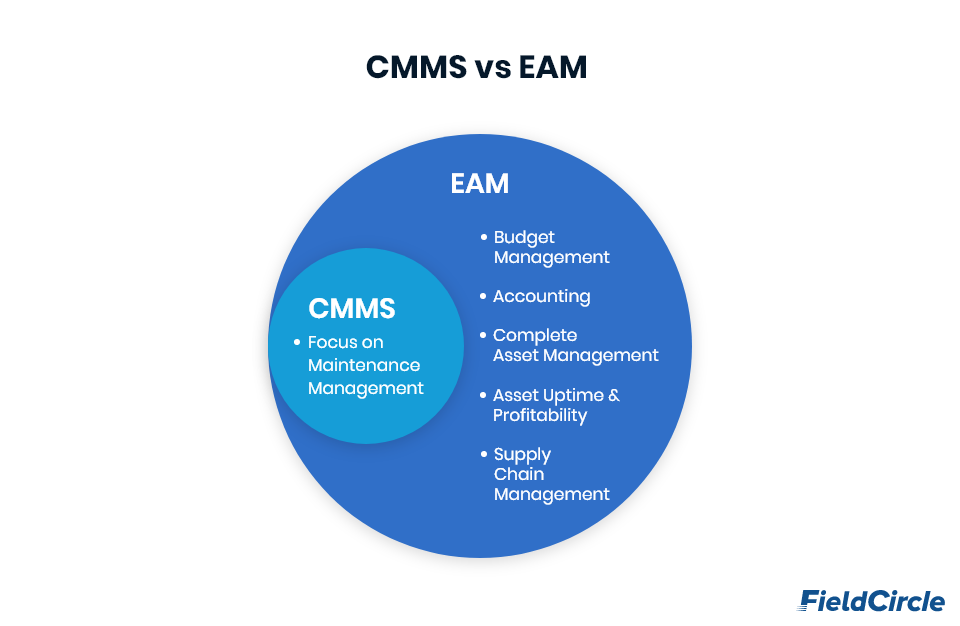 The difference between both software is, EAM offers a wide range of functionalities while CMMS concentrates only on the maintenance management processes. If the EAM has a connection to the CMMS, this takes over the centralization of asset information.
While the EAM software deals with the complete lifecycle of the asset from the phase. But the CMMS platform focuses on the maintenance and repair of the equipment, but this is included after the purchase. On the other hand, the EAM software concerns the installation and design of the process. The CMMS software is sufficient for smaller companies, and it is cheaper than the EAM systems.
| EAM | CMMS |
| --- | --- |
| EAM focuses on increasing the lifecycle of the asset. | CMMS focuses on the maintenance of assets. |
| The main objective of EAM is to increase the quality and usage of the asset with reduced costs. | The main objective of the CMMS is to monitor the working condition of the assets. |
| EAM is best for medium to large-scale companies that want to manage maintenance, plan, report, and organize functions. | CMMS software is good for small companies that want to track work orders with maintenance reporting. |
| EAM software provides warranties for each asset. | CMMS does not provide warranties for each asset. |
| EAM software tracks and records data about repairs and restore assets. | The CMMS software does not track and record data about assets. |
| Monitors energy meter and real-time meter readings. | Do not monitor energy meters and real-time meter readings. |
| EAM software is not only used by the maintenance team and technicians but also by the budgeting team, safety compliance, accounting, IT department, and so on. | CMMS is only used by the maintenance and technicians team. |
| EAM manages multiple sites and locations. | Usually, CMMS manages single locations or limited sites. |
| EAM has more features and functionality than the CMMS. | CMMS is less focused and has fewer features and functions than the EAM. |
| EAM software provides budget management, fleet management, document and image management, and so on. | CMMS does not provide budget management, fleet management, document, image management, and so on. |
What is the difference between CMMS and CAFM?
Let's talk about the most common and confusing acronyms of management software CMMS and CAFM.
The CMMS and CAFM software are traditionally popular options to many facility managers; they prefer to have both CMMS and CAFM. The demand for facility management has changed, and the team needs software for a multitude of different tasks. Both have different sets of features, functionality, and area of focus, but which suits your needs?
Generally, a CAFM platform deals with streamlining facility management and maintenance operations. It provides information to the facility manager and external service providers that relate to the work area. The information provided by this software includes,
Space management and occupancy
Cleaning cycles
Servicing and maintenance operations
Mapping of an entire building
The CMMS software and CAFM have one thing in common: They both have a database and a user interface. The database consists of all the necessary information that can be called up with the user interface. The main difference we can see with both of them is that CAFM is static and a CMMS is dynamic. Computer-Aided Facility Management Software possesses all the information about the property including the rooms and facilities.
On the other hand, CMMS has a database that mainly contains information about the operational activities that support maintenance. It is always on the move that's why it is mentioned as dynamic. CAFM space and asset management function acts as a common tool for facility management, but it lacks a user-friendly interface and proactive approach to other modern solutions.
| CMMS | CAFM |
| --- | --- |
| CMMS software mainly focuses on managing maintenance operations and assets. | CAFM focuses on how the organization's facilities are working. |
| It also handles maintenance requests. | It handles physical workspaces and everything present in it. |
| It keeps records of all the maintenance tasks, history, and everything related to the maintenance activities. | It keeps records about overall facilities and manages how they are used. |
| It allows streamlining and automating maintenance tasks with a preventive maintenance schedule. | It streamlines repair work and tracks word orders. |
| It helps the maintenance managers to maintain assets, manage word orders and make data accessible, and so on. | CAFM helps to find the asset condition, hire contractors and provide cost clarity, etc. |
| CMMS does not provide any information about the performance and costs spent on assets etc. | It provides information about the performance and cost spend. And allows the facility manager to control every aspect of the facilities. |
| It cannot track the movement of the assets. | It tracks the movement of the assets. |
| CMMS does not provide information about space planning, occupancy, and management. | It allows space planning, space utilization, and space management. |
| A computerized maintenance management system software does not handle and manage floor plans and creation. | On the other hand, CAFM handles and manages floor plan creation. |
What is the difference between CMMS and Fleet Management Software?
The purpose of fleet management software is to maintain information about the vehicles, maintenance, and locations and track driver safety with a reduced fleet manager workload. It checks on how often these vehicles get inspected, maintained, and taken off to get work done. It is also similar to CMMS software but provides additional features for fleet management.
Both CMMS and fleet management software provide the same set of features like a maintenance calendar, maintenance history, work order management, and so on. The difference is in fleet utilization, the ability to connect with a GPS tracker for every vehicle, and performance metrics. Fleet management systems require user-friendly and connected applications. It should also have a database to store all the asset information.
If you are a manufacturing company, the best choice will be computerized maintenance management system software, whereas, for truck companies and some other companies that handle more vehicles, the better software will be fleet management software
How does CMMS software fail to support fleets?
Fleet management software comes with a lot of aspects. They provide,
Driver's details
Specific training
License checking for drivers
Reporting on defects
Which one should you choose?
It is not like which software is best: the question is when to go for CMMS and when to continue with CAFM, EAM, and fleet management software. This is based on the company's needs and available resources. Getting the right software will put you in the position to make a smart move for your company.
The efficiency of using these platforms enables the company to have valuable facility management. Get in touch today with our experts to evaluate the feasibility of each of these software types for your business.
Book a Personalized Demo
Learn how your businesses can use FieldCircle to achieve more efficient, transparent, and profitable service operations.
30 Days Free Trial
No Credit Card Required
By submitting your details, you agree that we may contact you by call, email, and SMS and that you have read our terms of use and privacy policy.