How Do I Choose The Right CMMS Software? The Questions To Ask Yourself
How do I find the best CMMS software and how is it useful for my organization? The computerized maintenance management software (CMMS) is specially designed to manage maintenance operations in a centralized location. The CMMS stores critical data to track work orders, asset information, preventive maintenance reports, and other relevant information. It is designed to improve productivity, increase uptime, and increase the efficiency of maintenance operations.
How Do I Find The Right CMMS?
The questions to ask yourself when you are planning to get the right one.
1. Does the system allow you to create, track, update, and assign work orders with a single click to guarantee the problems are resolved right away?
2. Can the system design a web form so that other users, such as your vendors, employees who don't have logins, and employees from other systems, can submit work orders for approval at any time and anywhere?
3. Is it possible for your team to build a chain of approvals using the system depending on factors like work order type, priority, or location?
4. Can the system quickly create maintenance schedules for preventative work, supplies, labor, costs, and attachments needed for review?
5. Can it plan and carry out routine inspections to get a full picture of asset health and spot problems early?
6. Will the system automatically notify you and your personnel when material or inventory levels are low?
7. Will the system allow you to create reports and charts with a single click? Can you view the information how you need to?
8. Will the system allow you to keep track of important data about your assets in one location?
9. Does the provider provide ongoing assistance, training, and implementation?
Steps to Find The Right CMMS
Let's talk about the steps to find the right CMMS out of many alternatives.
Define your objectives
Start by evaluating your current maintenance processes to determine your organization's specific requirements and objectives for a CMMS. Determine any difficulties or inefficiencies. Consider the capabilities of your present work requests and work order software, the size of your business, the sorts of assets you have, the number of maintenance tasks and procedures you need to handle, and any particular standards or regulations you need to adhere to.
Next, think about the goals of having maintenance planning and scheduling software. Increasing asset longevity, decreasing maintenance costs, cutting downtime, and boosting maintenance efficiency are all common objectives for industrial businesses.
Use this knowledge to direct your evaluation of the top CMMS systems. Once you have a good understanding of the requirements of your organization, select the best option that satisfies your needs.
Compare and research various CMMS
Look into providers of CMMS systems. Compare each vendor's offerings. Look up reviews and comparisons of various maintenance planning tool suppliers online. Take into account the following important elements when investigating and evaluating various CMMS solution options:
1. Make sure the software provides the tools and capabilities your business needs to support and automate the maintenance procedures and objectives that are unique to your organization. This may include functions like work order management, asset management, preventative maintenance, and reporting and analysis tools.
2. Pick software with an intuitive user interface and detailed instructions that are simple to use and navigate. Your staff will find it simpler to adapt and utilize the program daily as a result.
3. Software with a solid track record of dependability and uptime should be used. This will make it possible for your repair activities to go off without a hitch.
4. Pick a software provider that provides thorough assistance and training materials, including online tutorials, user guides, and technical support. This will ensure that your team can utilize the program properly and will assist them in becoming familiar with it.
5. Evaluate how much various software choices will cost, taking into account both one-time license fees and continuing subscription prices. To decide if the price is reasonable, take into account the software's possible advantages and how it might assist your firm in achieving its objectives.
By considering these important factors, you can choose the right CMMS that is suitable for your organization's needs and goals.
Shortlists and Evaluate Potential CMMS
Start by doing some research and evaluating various possibilities in the aforementioned considerations. Once you've narrowed down your list of software choices, ask for demos or samples of each one so you can see how it actually functions.
Make sure you give the details about your organization's needs and objectives to the software vendor. By knowing this, the seller can better adapt the demo to your needs. You should have a solid grasp of how the CMMS can assist your maintenance operations after the demo.
Make a shortlist of your potential CMMS program alternatives using this information. Now, you should have a basis for additional consideration and decision-making.
Review the Features of CMMS
How do I choose the best CMMS software? Review the features of the potential CMMS software by considering the following key factors,
Asset management
The software should be simple for you to oversee and monitor the operation of your company's assets, including their location, state, and maintenance history. How effectively would the maintenance planning and scheduling software assist you in managing your inventory of spare parts?
A mix of asset management and inventory management is asset inventory management. It necessitates juggling a lot of moving pieces, like the creation of standard operating procedures. When your business expands and you need to track additional machinery and parts, can the top CMMS systems grow with you?
Preventive Maintenance
Using an automated maintenance schedule and established criteria, the CMMS should provide preventive maintenance, enabling you to schedule and track maintenance work. Consider checklists for inspections and safety audits, for instance. Improved asset tracking should also be considered to cut down on malfunctions and unscheduled downtime.
Preventive maintenance (PM) strategies that are well thought out result in significant savings. In fact, studies suggest that preventive maintenance can reduce a facility's maintenance expenses by up to 18 percent.
Work Order Management
You should be able to create, assign, and track work orders in the CMMS, as well as view their statuses and the resources assigned to them. When implemented correctly, a consistent work order process supports mechanics, asset managers, and maintenance teams in staying on top of maintenance to boost productivity.
A work order management system is one of the most crucial SOPs a business can have when it comes to the maintenance departments. In the modern global economy, equipment dependability is crucial for success. You could say that reliable business operations depend on work order systems!
Reporting and Analysis
You should be able to track key performance indicators and make data-driven choices regarding your maintenance operations using the software's real-time key performance indicators (KPI). A good CMMS software helps maintenance managers ease the work with dashboards, thorough reports, and analytical tools. You may also track equipment downtime, mean time to repair MTTR, mean time between failures MTBF, and overall equipment effectiveness OEE, to mention a few crucial KPIs, with reporting.
Inventory management
The maintenance planning tools must offer effective parts and inventory management, depending on the size of your business. The top manufacturing companies maintain and manage their inventory using inventory systems and management, from placing buy orders to monitoring points of sale and part usage. Inventory accuracy is essential in today's market given the difficulties in the supply chain. Your team members will be able to make independent decisions if they can quickly recognize the assets you have, their locations, and their values.
Integration with other systems
What type of CMMS solution should I consider? To provide a smooth and effective workflow, the software should be able to integrate via API with other Systems, such as the enterprise resource planning (ERP) or customer relationship management (CRM) systems used by your organization. Can you connect your accounting system to CMMS purchase orders? For instance, the maintenance management software eliminates the need for excel spreadsheets and other printed copies.
Overall, CMMS software should give tools and capabilities to manage and optimize your maintenance operations, support your organization's unique maintenance processes and goals, and streamline facility management activities. Your maintenance planning tools scheduling capabilities should easily transition your maintenance operations, from proactive maintenance to reactive maintenance.
Ask for references and case studies
Ask for references from other businesses that have frequently utilized the program and can comment on it. You may learn more about the software's performance in actual use and how it has supported these businesses in achieving their objectives by chatting with them.
Case studies are comprehensive reports or documents that have great detail on the software's use in other organizations and the advantages it has brought. These can be excellent sources of knowledge. They can give particular examples of how the software has supported businesses in enhancing maintenance procedures and achieving their objectives. In general, references and case studies can offer insightful information about how the software has performed for other organizations. And it can assist you in determining whether it is the best option for your company or not.
Costs and Benefits of CMMS Options
Compare the CMMS's overall expenses narrow down the options,
The price of CMMS software may also include the cost of establishing and instructing your team on how to use it, as well as one-time license fees and continuing subscription payments. Examine the costs about the advantages that the program might offer, such as increased asset lifecycle, decreased downtime, and better maintenance efficiency.
Create a budget for the software that accounts for both one-time and ongoing expenses. Take into account the software's long-term cost, which includes any required hardware or software upgrades, ongoing training, and maintenance.
In general, CMMS should have the following features:
Process streamlining in maintenance management
Give the tools and capabilities necessary to manage and optimize your maintenance operations while supporting the unique maintenance processes and objectives of your organization.
Your CMMS scheduling capabilities should easily transition your maintenance operations, from proactive maintenance to reactive maintenance.
Vendor Profile and Support
Take vendor credentials into account. You want a vendor who has expertise and experience in CMMS. The vendor's financial stability is something else to take into consideration. The vendor needs to be chosen because a maintenance planning and scheduling software project can need a significant investment of time, resources, and money. References, shipping, payment methods, source code, and warranty are additional factors to take into account.
Verify if the vendor has a plan in place for showing the program. You must be aware that the software will benefit you, without a doubt. Training is another element of vendor support. This minor expenditure, whether it is made on-site or at the vendor's facilities, can wind up saving you a lot of money and hassle in the long run. The vendor's system support, upgrade guidelines, and overall system cost are other factors to take into account.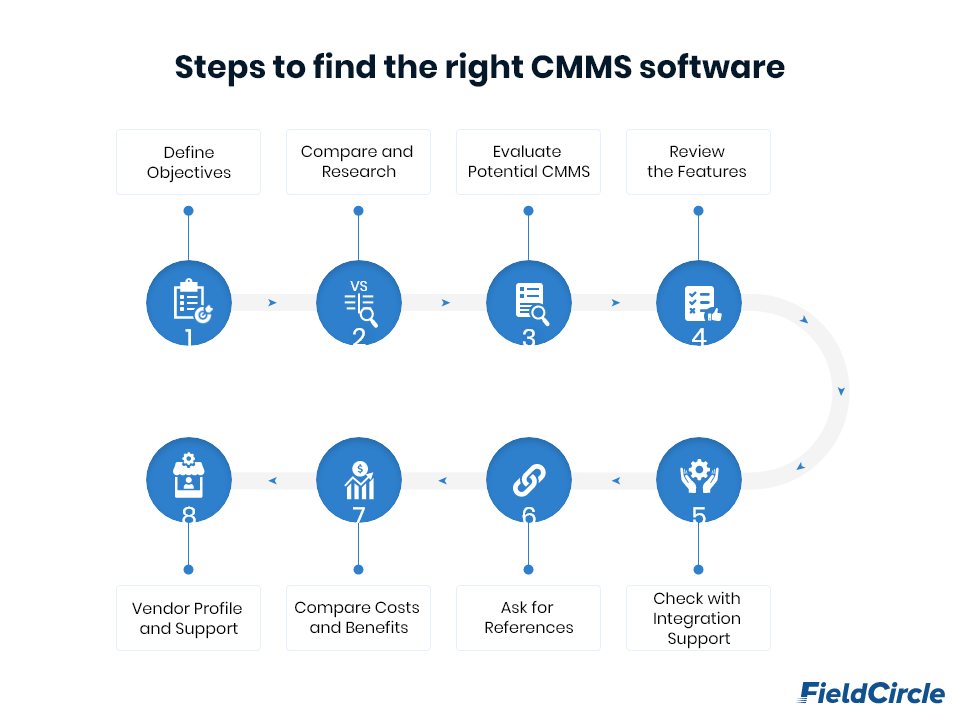 The management of the maintenance function can be greatly enhanced in terms of efficiency and effectiveness by carefully planning and choosing the right computerized maintenance management systems. The system that emerges should immediately pay for itself through cost savings and service enhancements.
Book a Personalized Demo
Learn how your businesses can use FieldCircle to achieve more efficient, transparent, and profitable service operations.
30 Days Free Trial
No Credit Card Required
By submitting your details, you agree that we may contact you by call, email, and SMS and that you have read our terms of use and privacy policy.