Why is CMMS Software Training Important For Successful Maintenance Operations
CMMS software training is important for the successful operation of a Computerized Maintenance Management System (CMMS). Maintenance technicians and managers who are responsible for carrying out intricate operations and managing heavy machinery should understand the need for training, more than anyone else.
Research shows that about 60-80% of CMMS implementation fails due to the lack of training. CMMS software training plays an important role in providing knowledge of the software features and functionality. With this, the organization can improve the skills of the employees, leading to increased productivity, efficiency, and performance.
How to use CMMS software?
CMMS software is the one-stop solution for handling all the maintenance processes, which allows the user to conduct daily maintenance tasks and work. With its exceptional feature, it acts as a central repository for all the maintenance data, work orders, inventory management, and other key information. When you have a CMMS maintenance management system, you can track work activities, asset lifecycle, and inventory usage. With efficient planning and scheduling, CMMS software improves the overall efficiency of the organization.
CMMS can be used for a variety of purposes, but it is typically used for managing and tracking maintenance processes. It helps to manage the company maintenance activities, inventories and vendors, more effectively and efficiently. It is used to track maintenance processes and monitor the health of the company. To use advanced CMMS software, you need to install it on a computer or laptop, or even on a mobile phone.
After the successful installation of CMMS software, the next step is to provide training to your staff about its features and functions. Apart from traditional classroom training, many CMMS vendors provide interactive online sessions and hands-on instruction.
Reasons why CMMS software training is important
Here are a few reasons why CMMS training is beneficial to your employees.
Basis of interface
When you are at the beginning stage of using maintenance software, it will be overwhelming at the start. The first stage of training is to learn the basics of the CMMS software interface from a professional trainer. Because, there are a lot of buttons, different colors, codes, pages, icons, text fields, and more. Learning the software interface is the critical step in training. Without a strong knowledge of the software interface, it is difficult to grasp the entire features and functions of the software.
Thorough features
Another reason for getting CMMS software training is to get in-depth knowledge of the software features. There are many valuable features available in the CMMS, creating and scheduling work orders, managing inventories, and assets, preventive maintenance, and more. These features help to increase the productivity of the company by reducing downtime and costs. These features are used in a daily routine, so it is better to have a clear understanding of all these features.
For smooth operation
CMMS software is used for managing maintenance operations smoothly. It is difficult for untrained employees to operate the software, and this causes various problems. When an untrained employee makes a mistake within the system, it causes a break in the operation. This break will accumulate more costs. Let's take an example, if an untrained employee initiates a repair work order, but does not convey it to the particular employee, this will not initiate the repair work. If the work is on a high-priority schedule, the problem will get worse. Now the repair work will take more time to resolve. This leads to increased downtime with costly repair work. When an employee learns to work reliably with the software features, errors can be reduced.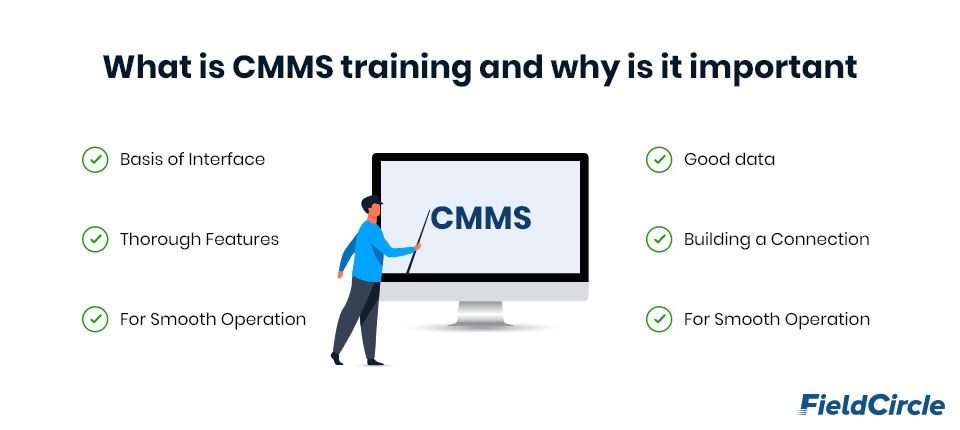 Building a Connection
Training allows getting a strong relationship between the users and the software company. This ensures that the company's maintenance management is in strong and secure hands. It gives the chance to know more about the software and the individuals behind the software.
Save Time
Investing time in training is important at the beginning stage of using any software. Learning how to use the software on your own may be time-consuming and difficult. Training helps to enhance the skills of the employees and the knowledge of a workflow. Without proper training, an employee can miss the important aspects of the software. This is why CMMS training is important. Besides all these, training makes the efficient working of the employees and saves time in the future.
Good data
Training helps to learn the best techniques for entering data daily. The foundation of a successful CMMS is good data. No matter how effectively you use your CMMS, you will never achieve true, lasting success if the data is poor. The supply chain can be improved by using good data entry and maintenance practices, which also streamline maintenance procedures.
The Advantages of Undergoing CMMS Training for successful CMMS implementation
Undergoing CMMS training will bring specific advantages to the company and its employees.
1. Helps everyone to adapt the software quickly.
Employees using traditional maintenance management methods refuse to accept the advanced software once it is introduced. Training helps them to know the advantages of using software that make work easier and improves processes and reduces their work burden. This supports them to adapt the software knowing how valuable it is.
A formal training program allows one to understand the benefits of CMMS. Because of this, they accept the technology more openly. When the employees understand the value of the program, they will work hard to understand it, so that they can use it effectively.
2. Allows knowing ins and outs of the software
The CMMS software consists of a variety of features that many users will find difficult to use or even find. This could be challenging for employees who are not aware of advanced technologies and software. Undergoing training before the full implementation of the software ensures an understanding of the tools and interface before they start.
From creating work orders and managing, preventive maintenance schedules, history, and reports, to organizing assets, and spare parts, your employee should know how to do all these after the introductory training program. With sufficient training, your team will get well-versed to use the software, and they feel more confident in using the software.
3. Uniform usage method
Another benefit of having CMMS software training before implementation is that everyone follows the same way of using the software. When you let them study on their own they will develop certain procedures or techniques that are not appropriate to use. These methods cause errors that affect important data and can turn bad for many operations.
This ensures that everyone is using the best practices for using the CMMS program. Aside from these, expert CMMS software helps to reduce the incidence of errors which helps to set up the team for success. This is the reason why training is important for successful CMMS implementation.
4. Promotes the efficiency of software implementation
Your team can avoid making severe mistakes and wasting hours by receiving adequate training. They may quickly learn how to utilize the CMMS software correctly and effectively, allowing your company to quickly start enjoying all of its advantages.
5. Creates opportunities for questions
CMMS software training creates the possibility to ask questions, and this is a crucial step in getting the organization's buy-in. In a CMMS training, various questions will come up in line.
How to do- This question will cover everything discussed in the training or identify a task or feature that is missed in the part of training. It provides value to the training session to address it.
Why doesn't it- This is basically like a complaint question that arises as a common fear of change. This question provides a great opportunity to describe a specific feature that added advantages to the maintenance work.
Do we have to In every CMMS training session, one person will ask if they can operate outside the system? The answer to this question is with a definitive, No. A CMMS software is only effective with the data within it.
General CMMS training guidelines
Make sure that each trainee receives enough assistance to feel comfortable and confident in what they are learning. A worker may regress, lose confidence, and ultimately contribute to project failure if they receive a small amount of the training. Everyone who uses, maintains, or supervises CMMS should participate in the training process.
Accept all training assistance provided by your vendor. You could choose to make a contract with your vendor for follow-up training services or programs and additional training assistance. Remember that training may initially appear like an expensive venture, but it will ultimately prove to be incredibly beneficial and cost-effective.
New users should get the entire course, as the staff changes happen over the system's lifespan. The newly installed CMMS should be thoroughly tested to ensure that it functions as intended during the training process. To support performance and future improvement, trainee feedback should be noted and examined. The CMMS's overall acceptance will increase as a result of actions taken in response to trainee feedback, which will also lead to system improvements.
Final words
When you consider buying CMMS software, keep in mind to inquire about the training process. Some vendors offer onsite or virtual training and others offer video tutorials, workshops, and webinars. Training is not an initial step, it will continue throughout the CMMS lifespan. Invest more time in training and ensure that every employee is attending regardless of free or paid. Training technicians and maintenance managers prove the successful implementation of CMMS software.
In final, it is critical to understand that CMMS software training should be an integral part of the overall company plan. This will help you to create a productive and healthy environment for your employees. In the tech world, it is necessary to have the right skill set to compete with competitors.
Book a Personalized Demo
Learn how your businesses can use FieldCircle to achieve more efficient, transparent, and profitable service operations.
30 Days Free Trial
No Credit Card Required
By submitting your details, you agree that we may contact you by call, email, and SMS and that you have read our terms of use and privacy policy.