CMMS Implementation Steps: The Guide To Successful Implementation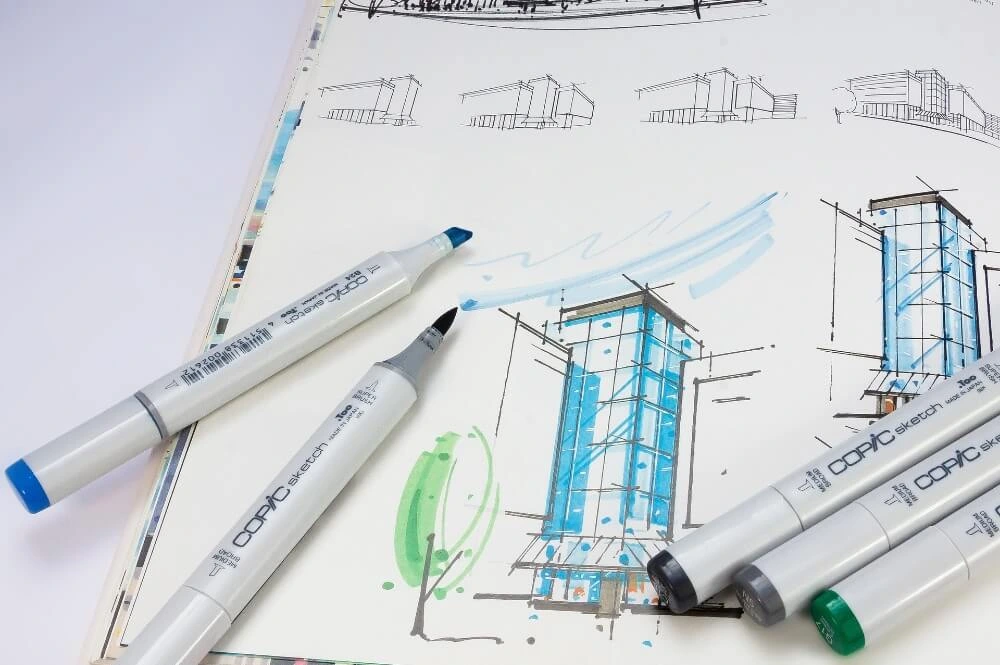 Utilizing the right CMMS implementation steps is not an easy task, and there is a lot your organization needs to consider to get it right when implementing CMMS software. Statistics show that around 70% of computer maintenance management software fails to implement properly.
Then how to implement a CMMS system? And how should your organization make it ready for implementation?
Here are the basic reasons why CMMS implementation plan fails
Project planning and preparation is not clear
Training, resources, and budget inadequacy
No clear objectives
No clear strategic benefits
Lack of leadership and vision
In this article, we'll provide the CMMS implementation steps for ensuring success in your organization's maintenance management.
Why do organizations need to implement CMMS?
Computerized maintenance management software provides many advantages and plays an important role in the maintenance management process. Ultimately, the objective is to manage the maintenance activities and minimize costs while keeping the assets running. The data stored in the CMMS includes work completion details, equipment and asset details, inventory data, and so on, this gives the power to achieve company goals and benefits.
CMMS Implementation Steps To Follow
These CMMS implementation steps will help you to develop a solid foundation for your CMMS to run smoothly.
Choose the right maintenance management software
The correct CMMS software can make the difference between time and money being wasted and successful implementation. It's crucial to consult the users of the software before making a decision. In this approach, you can rate your performance, identify your flaws, and work out what's to blame for them.
The CMMS software systems are intuitive and made to assist teams in managing maintenance plans, observing facility lifecycles, and managing spare parts inventories. However, the correct platform will rely on your organizational needs. Additionally, it should be simple to install, configure, and offer 100 percent server availability and dependability.
By taking into account these elements, you can be confident that as you proceed with the CMMS setup and utilization process, you won't encounter any obstacles.
Select an expert and develop a broad implementation team
It is crucial to make sure everyone understands your objective, your vision, why you need the system, and why you want to use maintenance management software. Choose an expert who can assist you in rallying support from other department specialists from diverse fields and inviting them to join the implementation team. Consider hiring someone with expertise in purchasing, materials management, software engineering, and other useful fields. By broadening the implementation team, you can demonstrate to everyone how the CMMS will benefit the entire organization, especially the bottom line.
Director-level team to authorize funding in implementation.
Maintenance leaders, the system administrator, project manager including someone to manage documentation requirements.
Subject-matter expert and IT staff member for proficiency.
Implementation specialists.
Educate the team with CMMS
Establishing a core team with thorough knowledge of system operation is important. These participants will become CMMS specialists and future instructors. Examine maintenance issues and ongoing procedures together. How can you improve the situation? What does improvement resemble? To get the team up to speed and guarantee system optimization, your CMMS vendor or other subject-matter experts might offer upfront training.
Work on operating procedures and workflows
The main important CMMS implementation step is documenting the standard operating procedure. Examine your current processes carefully. Before deploying your CMMS, you must first map out your fundamental workflows, including your planning, maintenance scheduling, and coordinating procedures. It is essential to define work activity process flows to make sure that work is completed and properly documented.
Utilize workflow diagrams, and the steps of task execution to visualize your maintenance operations. You may use the data confidently and come to data-driven conclusions when all users adhere to the procedure. Remember that either your new maintenance management platform will need to adapt to existing practices. Or you will need to embrace new business procedures to make it work.
Standardize your data and rules
Lack of clarity in procedures gives more challenges in implementing CMMS. You must decide precisely how you want to format items, including how you describe assets and how you record asset maintenance work, to share, exchange, and understand data effectively. By putting rules in place, you enable data uniformity.
The areas you want to define when implementing CMMS
Field attributes
Data like descriptions, conventions
Maintenance codes for accounting
Priority work orders and categories
This offers a proper way to rank and arrange the important assets with critical analysis.
Planning for implementation
When creating a world-class maintenance operation, the details matter. Defining, establishing, and identifying the components of your CMMS launch is the next phase. Establish a timetable and strategy for progress while defining success, that is, the essential elements of success. Get all technical issues resolved, such as data collection, interface design, and integration with other departmental data systems and third-party systems, such as payroll, accounting, and procurement.
Data validation
Before adding data to your CMMS, develop a plan. Start with the essential asset data and add further information later. If you're importing data from another system, conversion protocols need to be established and implemented, and lots of cleanups are necessary. Decide in advance who will be in charge of this phase and how you want to check high-quality data. Once the technical aspects have been resolved, it is time to gather data, proceed with your execution plan, and implement the standards you established.
System configuration
Before uploading outdated and useless data to your CMMS, it is essential to clean and purge it to ensure clean, quality, and dependable data. Once you start adding new entries, maintaining cleanliness becomes just as important. If at all feasible, avoid manual inputs. They take a lot of time and are quite prone to user error. To be able to handle and manage everything in one location, data kept outside of the CMMS, such as spreadsheets and paper documents, should be uploaded or digitized and included.
Streamline preventive and corrective maintenance, and make processes and procedures simple to understand while setting the system for users. If using the CMMS is difficult and frustrating for your maintenance crew, you'll lose buy-in and perhaps compromise actionable data.
Inaccurate data entry lowers data quality by:
Gradual degradation of the software's components.
Creating erroneous reports and unreliable, useless data.
Removing the use of historical asset data to guide repair/replacement choices.
Reduced CMMS functionality that produces a lower ROI than anticipated.
Maximize training opportunities
The people in charge of providing CMMS user training are essential for encouraging the maintenance staff to use the system. The system's potential and ability to revolutionize maintenance operations can be readily explained by a selected group of outstanding communicators and trainers. This strategy may reduce expenses, but initial high-quality training increases the likelihood of implementation success.
You should take advantage of any online training possibilities, such as how-to videos, workshops, camps, and webinars if your CMMS vendor provides them. The effectiveness of onsite and online training can be greatly increased by their combination. If at all possible, in-person meetings with subject matter experts can help increase team enthusiasm, and concerns about using the system, and spark ideas that could support ongoing improvement objectives.
Go-live
Many organizations choose to implement a CMMS in different phases with their unique dependability journey. Every organization's implementation process is not the same. By integrating the CMMS software gradually, you can address pinpointed issues at a rate that fits your organization's capacity as well as expand the system as it expands.
Running a pilot program in one place first can support a phased rollout strategy if your firm has numerous locations. You can find out what functions well and poorly by putting the system to the test at one facility. A trial run gives you the opportunity to precisely tailor the CMMS to your needs and objectives.
Auditing the process
The process of implementing a CMMS is ongoing, and there is always room for improvement in maintenance operations. Determine what is effective and what needs to be changed. The system requires maintenance after it is put into place, just like your assets do. Setting up key performance indicators (KPIs) enables you to monitor your objectives for ongoing improvement.
Use historical data from the CMMS to:
Make judgments about the maintenance process and asset breakdowns and their causes.
Create reports to communicate your team's progress and accomplishments to the leadership.
Determine what needs to be improved.
Continuously provide training to avoid the emergence of negative habits and insufficient data.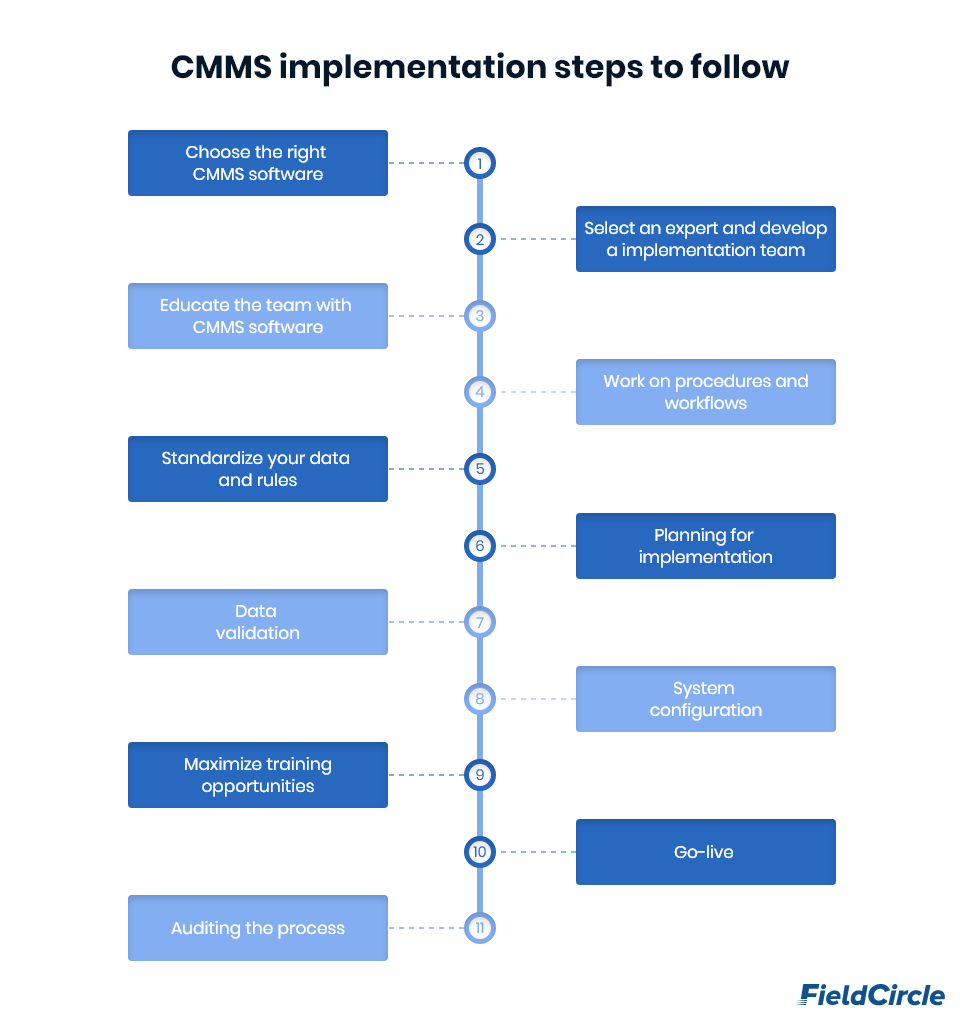 The Pitfalls with CMMS Implementation Steps
Including current maintenance issues
Although maintenance systems must constantly evolve, inefficiencies and redundancies can build up over time. When an incomplete maintenance program is entered into a CMMS, an abstraction is produced that obscures the situation and gives the impression of control while yielding insufficient gains. As part of the CMMS investment, a maintenance program evaluation at the strategic, tactical, and operational levels should be conducted before implementation.
The operation's maintenance goals should be strategically examined in light of the new opportunities presented by technology. A leadership team should examine the fundamental assumptions behind plant dependability, capital intensity, and maintenance expectations. It is important to acknowledge the need for infrastructure changes in the future to enable system scaling and adaptation.
From a tactical standpoint, assumptions about failure modes and criticality analysis need to be reviewed. The results of the initial criticality and failure impacts may be less than ideal, as a result of the introduction of new plants and altered layouts. Similarly to this, the company can need new procedures, even if that means discarding or changing current ones to fit the new paradigm.
Operationally, maintenance managers should assess the effectiveness, detail, and duplication of planned maintenance work. It's also crucial to know how accurate work-hour estimations are. A complete spare inventory should be created, and supplier registers should be cleaned up to verify completeness and currentness.
Ignoring office communications
The introduction of a CMMS represents a significant transformation for maintenance departments, but it also has an impact on those working in production, warehousing, and finance. The integrity and efficacy of the rollout are at risk if a structured change management approach is not implemented. For trouble-free integration and the success of an optimized solution, the participation and assistance of all departments are essential. The secret is open, regular communication supported by a readiness to hear, consider, and act upon complaints and any suggested modifications.
It's significant to interact with committed representatives from the impacted departments and lay out the advantages of CMMS for them. People won't support the process improvement and data integrity initiative if they don't grasp the strategic necessity of the implementation or if they perceive a threat from the change.
Introducing a thorough training program helps people become familiar with the new system. Important information is released, and any staff issues and required procedure changes are addressed. Without routine activities, technicians and operators should notice a change and have more time for responsibilities with greater impact and greater interest.
Not taking inventory optimization into account
Implementing a CMMS frequently has tasks and schedules for planned maintenance as its main focus. Nevertheless, the inventory and warehouse divisions have chances to increase equipment availability, liberate capital, and streamline operations. A contemporary CMMS's inventory feature enables optimum inventory and restocking levels with better spare parts and tool availability.
Inventory modifications are possible with a thorough grasp of component mean-time-between-failure and mean-time-to-repair. Inventory optimization identifies supplier performance concerns, component dependability, and trends in plant failure while liberating idle capital.
Operationally, the store department can pre-prepare servicing and spare-part kits to support the planned maintenance jobs as the CMMS schedules maintenance. Additionally, they can guarantee the calibration of specific tools and equipment to enable availability on maintenance days. These tasks prepare the resources required for each PM activity, allowing maintenance technicians to concentrate on their job. Enhancing technician efficiency shortens the time that equipment is out of service for maintenance, directly affecting equipment availability.
Lacking Future-Proofing
As technology develops, industrial transformation is happening faster. Even though we are now halfway through Industry 4.0 and Industry 5.0 is on the horizon, many articles today refer to Industry 4.0 as something new. What Industry 6.0 looks like is the topic of the current debate.
If companies in asset-intensive industries ignore the speed and significance of this technological shift, they risk losing their competitive edge. When a company wants to use a CMMS for the first time, it's critical to make sure that it can benefit from new technologies.
The industrial internet of things, big data, 6G connectivity's low latency, advancements in wireless sensors, machine learning, and artificial intelligence have all come together. Prescriptive maintenance has already been implemented in major industries like oil and gas and aviation, opening up predictive maintenance for small-to-medium-sized businesses. The time and disruption spent on a new CMMS implementation do not need to be repeated in a few years, so a new CMMS and the supporting infrastructure must be designed to adapt.
Investing in a CMMS entails more than just digitizing a maintenance program that uses paper forms. It opens the door to the possibilities for predictive and prescriptive maintenance when combined with Industry 5.0 technologies, machine learning, and artificial intelligence algorithms. Delegating the rollout of the new CMMS to middle management or treating it like a transaction is not an option given the revolutionary opportunity. It should be viewed as transformational instead, requiring a thorough change program that is supported at the highest level and entailing a cautious review of maintenance strategy and tactical implementation.
When a new CMMS is implemented poorly, a company runs the risk of making costly errors, adding to its administrative workload, and not getting the ROI they need. With careful views of company objectives, budgets, and resources, the business owners will get an idea of CMMS implementation best practices. An expert CMMS system will boost dependability and production, enhance worker safety, lower maintenance costs, and effectively reroute capital spending when used strategically and properly.
Book a Personalized Demo
Learn how your businesses can use FieldCircle to achieve more efficient, transparent, and profitable service operations.
30 Days Free Trial
No Credit Card Required
By submitting your details, you agree that we may contact you by call, email, and SMS and that you have read our terms of use and privacy policy.