The Ultimate Guide to CMMS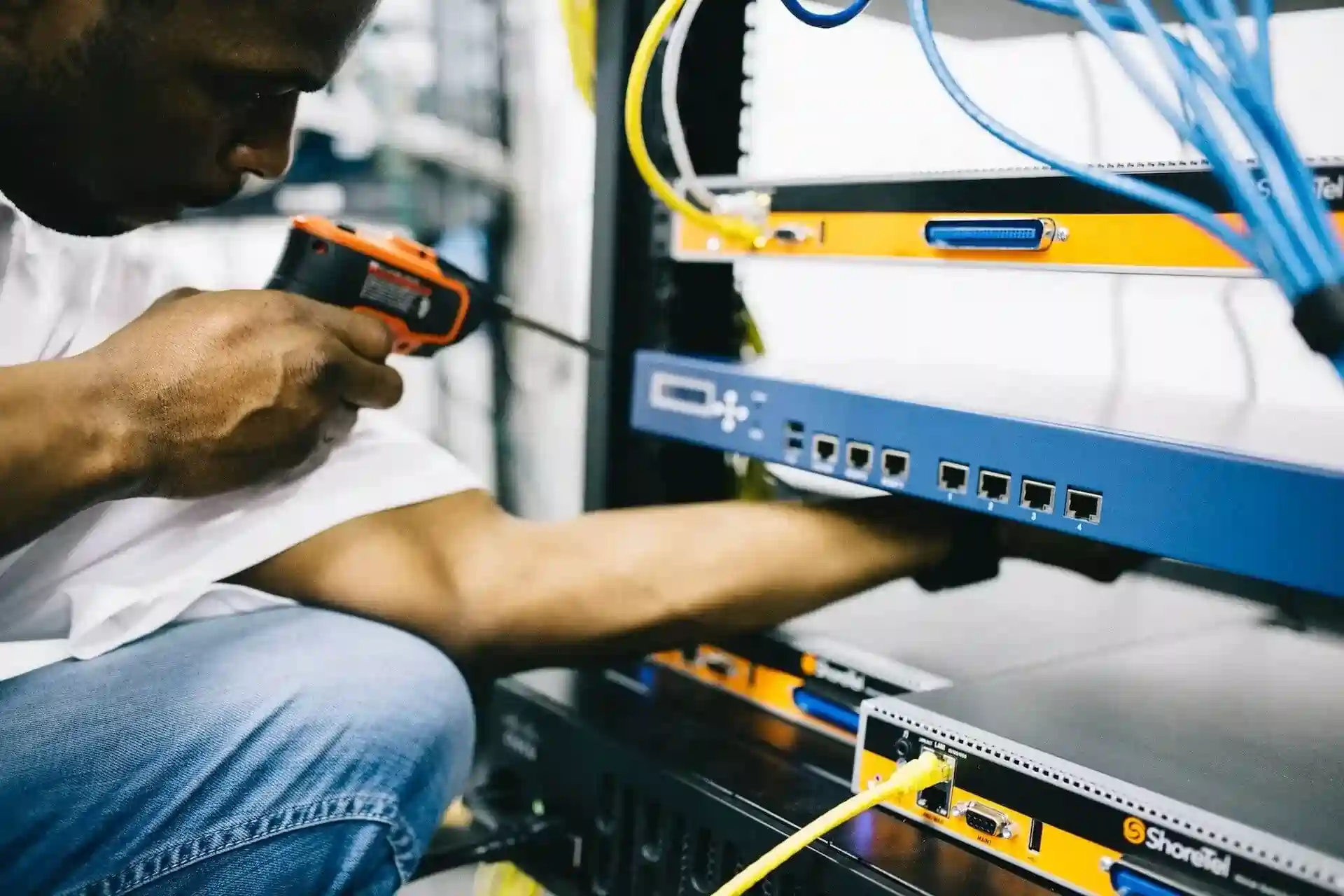 Computerized maintenance software or CMMS is a widely used software to manage maintenance processes. Let us take a deeper look at the reasons behind the increased popularity of this software by maintenance service providers.
Maintenance management is a challenging process. If not done properly, the resulting impact could be increased downtime, potential loss of revenue and profitability, and reduced productivity. One of the most challenging aspects of the maintenance process is service delivery. It is because usually machines are deployed at client locations or at sites far off from the office premises.
Servicing those machines requires scheduling and dispatching of field service technicians who must be skilled and equipped with tools to remove the faults in the machine. Field technicians are a key resource in the entire maintenance management process. Most companies fail to manage this resource effectively and thus face severe consequences including loss of profitability.
But the face of maintenance management has changed extensively over the years due to the use of next generation technologies, such as Cloud, mobility, IoT, AR and VR, artificial intelligence, and machine learning.
These technologies are often conflated to build incredibly powerful computerized maintenance software solutions. The CMMS software solution enables maintenance service providers to process data collected from the equipment and raise automated service requests based on the anomalies and patterns detected by the software.
Here we will dive deeper into what is CMMS, how do you define it, and what are it's benefits, starting from understanding how it came into existence, the factors behind its exponential rise in the maintenance service industry, and its key features and functions.
What is a Computerized Maintenance Software (CMMS)?
CMMS is designed to enable effective planning, tracking, and managing maintenance operations with transparency, visibility, and efficiency. CMMS has in-built capabilities to automate work order management, preventive maintenance, scheduling and dispatching, and overall workforce management. A computerized maintenance software solution enables defining, maintaining, and measuring KPIs and performance metrics.
Maintenance service providers improve wrench time, reduce downtime, and help in managing more productive maintenance teams and achieve operational excellence. The key objective behind using computerized maintenance management software is getting 360-degree visibility into maintenance operations, inventory management, vendor management, purchase requisition, and PO management.
CMMS facilitate end-to-end visualization of work order management to improve accountability and ownership in the maintenance process. It interprets data in multiple formats to help leadership teams better understand overall equipment effectiveness (OEE) and make informed decisions about reducing downtime, improving asset availability, and maximizing field teams' productivity, and reducing operations costs.
A brief history of maintenance and how CMMS has changed
Automated maintenance management and real-time visibility into maintenance operations were major challenges before the CMMS era. Operational tasks were overwhelming due to the extensive use of paper files and spreadsheets. The whole process was not only scattered but was error-prone and required regular manual intervention.
According to IBM, the earliest versions of CMMS were launched in the 1960s for large enterprises. To maintain a computerized record of maintenance tasks, technicians used punch cards and IBM mainframes. A decade later, punch cards were replaced by checklists submitted to CMMS by technicians at the end of their shifts.
By the 1980s and 1990s, computerized maintenance software system witnessed major improvements with the introduction of faster, affordable, connected, and more distributed computers. In the 2000s when web connectivity saw exponential growth, CMMS began to transform into a product of today, with enhanced capabilities to track and monitor field service operations and equipment statuses.
The core functionalities of CMMS have not changed a lot from the earlier history of CMMS. However, modern CMMS systems are built upon next-generation technologies such as IoT, artificial intelligence, machine learning, AR and VR, digital twin, Cloud, and mobility solutions. The software is highly capable to track the real-time condition of the equipment as well as predict future issues, which is helpful in planning and management of maintenance operations.
What is CMMS used for?
CMMS find a place in companies with maintenance operations but what is CMMS used for? Generally, asset-intensive industries used maintenance management systems to plan, track, and manage their maintenance operations. Typical maintenance operations include scheduling preventive maintenance tasks, dispatching service technicians, inventory management, and inspection.
CMMS software automates these processes, thus providing 360-degree visibility into operations, enables real-time tracking of field activities and stock levels in inventory, including the availability of specific equipment, and provides a dashboard with data analytics capability to translate data in charts and understandable statistics.
How does a CMMS work?
CMMS programs are backed by databases that collect and store a variety of information, which is further processed and accessed using various technologies such as cloud and mobility. The information could vary from the following categories.
People
CMMS software can store employee and associated equipment data. Using advanced AI engines, this data can be used to assign particular tasks to service technicians, assemble crews, organize their shifts and schedules, and manage compensations and expenses.
Work Order Management
CMMS usually collects data from assets, which is transmitted through sensors embedded in the equipment. This data is then processed to create automated work orders, which are then broken down into jobs and assigned to service technicians. CMMS software generally is integrated with field service management software to create a streamlined view of job allocation, field activities performed by service technicians, and statuses of the job and overall work order, including priority, order type, action taken by personnel, and material used.
Asset and Equipment
Field service-based organizations use equipment maintenance software to store, process, access, and share equipment and asset information to locate and track the asset availability and performance. This information may vary from manufacturer model and serial number to associated costs and codes, and downtime statistics to warranties and contracts.
Material and Inventory
Warehouses may vary in number and location. With CMMS software, you can track storage areas, stock levels, inventory costs, and manage suppliers. Additionally, you can send and receive notifications and alerts for replenishments.
Reporting and Analytics
CMMS software plays a greater role in the audit and decision-making process through generating reports. Users can create various types of reports to understand what's happening around in the business and make evidenced-based decisions.
Reasons why businesses use CMMS
CMMS helps most asset-intensive businesses to resolve complex maintenance challenges, leading to a more streamlined process, increased visibility, and improved productivity. Following are some of the reasons to use CMMS.
Preventive Maintenance
Scheduling maintenance on a periodic basis to reduce asset downtime is widely known as preventive maintenance. The maintenance strategy is helpful in ensuring that all assets are in check which means performing to their optimum level. It is very easy to schedule preventive maintenance tasks as recurring events–just schedule once and get reminded about the schedule as and when needed.
Operations Continuity
Asset downtime could be a costly incident. One of the key reasons for using the CMMS is the ambition to reduce asset downtime and ensure operations continuity. The software is designed to conduct regular health-check of assets, which helps in ensuring that key assets are always available and operational interruptions remain in control.
Data Silos
Isolated or disconnected data structure could obstruct the visibility into data, resulting in poor visibility into the process which directly affects the decision-making. Computerized maintenance management software provides 360-degree visibility into processes, thus empowering the leaders to take evidence-based decisions.
Productivity Problems
Low productivity indicates profit leakage. From a production perspective, ensuring that every team member working to the optimum level is necessary for the success of the process. CMMS software provides data-driven insight into what factors of productivity are working in favor and what is going against the wave.
Experience management
Today great experience is not just limited to customers but to employees as well. No matter who is using the asset–customer or employees–all of them deserve a smooth experience. When a CMMS helps in removing redundant processes from the work order, increases downtime by facilitating preventive maintenance scheduling, and empower employees with data analytics and automation, it directly contributes to a greater experience for customers and employees.
What features does a CMMS have?
Commonly, features of CMMS software cover all the asset management processes. However, the advancement of the features depend on technologies it is built upon. Greater the technology, the more advanced are the features.
Most of the computerized maintenance management software solutions integrated with cloud, mobility, IoT, artificial intelligence, machine algorithms, and AR and VR. A typical CMMS has the following features.
Work order management
This process covers all the smaller tasks that must be performed for the complete service request resolution. Work order management being a key feature of CMMS becomes very easy to manage thus leading to faster resolution of service requests. CMMS provides an integrated view of every aspect of service management, including:
Action taken on service requests
Current status of the job
Service technicians assigned to complete the job
Time taken to complete the job
Material used
Documentations
Customer feedback, if any.
One software sums up all your service activity so that you can have a good view of your operations and make evidenced based decisions.
Asset and Equipment
Extensively used in asset-intensive industry to track the location, availability, and performance of the asset and equipment, the maintenance software is the life-line of asset management operations.
The software contains an enterprise asset tracking module which enables users to keep all asset related information in one place. The information ranges from:
Assets in various hierarchies
Asset conditions
Location of the asset
Preventive maintenance schedules associated with the assets
Documents related to the assets such as SLA, video/image files, warranty, and contracts
CMMS generally has a powerful database to store and process this information for granular reporting and KPIs.
Preventive maintenance
Backed by IoT, AI, and machine algorithms technologies, CMMS triggers preventive maintenance works based on usage-based events or calendar-based intervals. CMMS can fully automate the preventive maintenance scheduling process depending on the technologies.
For instance, if the software is integrated with IoT and AI capabilities, it could directly process the data generated from the sensors of the equipment, track the patterns and anomalies, and schedule the preventive maintenance for them by matching skills-availability-tools data fed in the system. It can further manage sequencing of the PM work orders, maintenance logs, and send push notifications to service technicians about upcoming schedules.
Mobile CMMS app
Mobility solutions are integral to the CMMS. Mobile maintenance apps are generally part and parcel of the CMMS which enables access to CMMS data through mobile apps from iOS or Android devices.
This data could be anything from assigned jobs to preventive maintenance schedules, and notification about upcoming schedules to knowledge base articles, service manuals, contracts, warranties, and a range of historical data. It becomes easy for the service technicians on the job site to access this information in real-time and make smart decisions.
Spare parts inventory management
CMMS enables automation to manage all aspects of spare parts inventory, including submission and approval. With the CMMS tool, it becomes possible to send POs, RFQs, and RFPs. It is also easy to set minimum stock levels and receive alerts and notifications when volume reaches thresholds. Users can also add and update spare parts, receipts, and POs from work orders and locate the inventory from different sites.
Workforce management
CMMS benefits in the context of workforce management must be looked at from two sides: the first is the direct role played by the CMMS tools in workforce management. Job scheduling software assigns the right tasks to the right technicians. CMMS tools generally contain AI-based engines that run skill-technician-availability-location algorithms to select the right person for the job. It makes a complex task easy, which otherwise would have been a time-consuming process. Besides, CMMS tools have features to manage technicians' shifts and timesheets.
The indirect impact of using the CMMS tools on the workforce is high motivation in levels of teams, less frustration, better communication and collaboration with each other, and increased trust in the organization and its process since there is less human intervention, which results in fewer biases and opinions.
Reporting and analysis
CMMS tools allow creating custom key performance indicators (KPIs), based on which users can automatically generate and update reports and view and download them in multiple formats, such as Excel or PDF. CMMS software solutions are equipped with data analytics capabilities to translate data into information.
Types of CMMS Software
CMMS is categorized into two ways: web-based (also known as cloud-based) and on-premise. These two ways determine what CMMS could do for your business.
Web-based CMMS
Web-based CMMS (sometimes referred to as cloud-based CMMS) is managed by the provider. The provider manages all the IT, hosting, backups, and security, and the software update happens automatically, you get all the latest features and the most secure version without any installation. The benefits of cloud-based CMMS are the ability to enter maintenance data from anywhere, easier to implement, scale up and down, and easy to manage.
On-premise CMMS
An on-premise CMMS is an in-house software system that is installed and runs on your company's server. The company has full responsibility from the purchasing of the product to the execution above and beyond. With on-premise CMMS, you will be responsible for network configuration, software installation, install any updates or security patches, as well as any ongoing maintenance to hardware and supporting software systems.
What industries benefit from CMMS?
CMMS helps many organizations track work orders, manage assets, and schedule maintenance. Many industries benefit from CMMS by saving time, reducing costs, and also helping to improve efficiency, reduce downtime and collect data. Let's see which industries use CMMS software to achieve their maintenance goals.
Manufacturing
Machine breakdowns, high operation costs, loss of productivity and working hours, and delayed work orders are the main challenges of the manufacturing industry. Replacing the manual process with the CMMS helps to track the life cycle of the assets to improve the return on investment and increase productivity and uptime. This would enhance operational efficiency and check the smooth operation of the manufacturing unit.
Recreation
Recreation facilities such as athletic clubs, sports arenas, amusement parks, and zoos require CMMS program for managing fitness equipment, maintenance for stadium seats, scoreboards, and ensuring the safety of amusing rides and animal cages. The well-equipped CMMS ensures preventive maintenance and prevents the chance of breakdown.
Government
Government needs a maintenance management software for the smooth work of maintenance management since they deal with a huge amount of facilities and equipment. The paper-based method creates complexity with the piles of paper and provides inaccurate data management with time-consuming work. The secure and smooth operation of the CMMS regulates asset life, and budgeting resources, and improves future planning.
Education
Educational institutions like schools, colleges and universities consist of various facilities such as computers, networking hubs, libraries, parking lots, clinics, labs, and more. It is crucial to address the problem immediately, in case of failure, there will be an interruption in learning. With the preventive maintenance schedules, the CMMS helps the administrators to track and enhance transparency.
What are the benefits of a CMMS?
Increase productivity
With easy-to-use CMMS, employees can track, access, submit and resolve tasks, which ultimately improves productivity. This facilitates the management to decrease downtime, work order response, and resolution times.
Facilitating predictive maintenance
As CMMS collects data about repairs, maintenance, and inventories usages, it predicts the maintenance tasks. This helps the manufacturers to prevent equipment failure by providing alerts for the maintenance teams.
Manage work orders efficiently
The important work of the maintenance team is to process the work orders. With seamless work order requests with the CMMS, the manager can receive and prioritize work requests 24/7.
Streamline processes and workflows
CMMS processes the work requests of particular staff or technicians by sending real-time updates from the users. The system creates the approval process for the user without any delay and ensures all the requests are seen.
Reduce equipment downtime
CMMS acts as a great investment in reducing equipment downtime. The software alerts when the parts require any replacement or maintenance. This prevents the breakdown of the equipment and increases productivity.
Manage inventory
The structured CMMS system for inventory management easily tracks and manages the inventory items. This reduces the inventory shortage and increases storage space.
Decrease maintenance costs
Fewer breakdowns with proper equipment maintenance automatically decrease maintenance costs. This improves the overall life of the machines with a lower likelihood of getting new ones.
Increase safety and reduce risks
The equipment at the repair stage can cause life-threatening risks to the operators. The Inspection software help makes health, safety, and environment audits, and maintenance software can keep track of and rectify the risks by confirming the acceptable boundary of the equipment with all the safety measures.
Characteristics of a good CMMS
The purpose of the CMMS is to track, organize and manage maintenance needs. When it is implemented properly, it creates good uptime, streamlined process, and improved production. When it is not implemented correctly, the ineffective system will lead to unproductivity.
Good CMMS software:
Is user friendly
Holds your team accountable
Lowers the manual work
Manages company assets
Creates maintenance management dashboard
Provides actionable real-time records and
Is easy to set up
How to implement CMMS?
Companies struggle to implement CMMS successfully, many buy the software thinking it will solve every maintenance problem. Computerized maintenance management software is just a component that helps with reliable maintenance operations. Implementing a successful CMMS system possesses a set of plans and steps to take care of. It is necessary to understand the implementation steps before rolling out the CMMS in your organization.
Find out the outlook of your project
The main reason for implementation failure is the wrong selection. Check out the scope of your project before you select the CMMS program. Start asking questions to get the good one, what exactly does the CMMS want to take care of? What are the features needed for your business? How does the CMMS help your business? Will it provide interfacing with other systems?
Get support from management
The management team doesn't know the proper conception of initial works and ongoing resources in the project. Besides the cost of the software, some charges include maintenance, training, and data entry. Make sure to check these costs are included in the estimation of the budget required for your project. This helps to get the full commitment of the project.
Plan and prepare for the change
Plan your implementation from start to end. Determine who is going to get the data and what types of data are going to be stored in the system. Figure out every part and make a work table with remark notes to reduce confusion. Don't think that every employee could accept the CMMS, some fear that the tool will replace them in the future. Provide suitable knowledge to the workers on how CMMS will bring a positive impact in the future.
Training to main users
The sophisticated application requires training for the employees using the software. This helps each other to understand the different terminology to meet their specific requirements. Training is the main component of the user engagement process. User engagement and adoption make the successful implementation of the maintenance software.
Data gathering and entry
The effective gathering of the data (model type, serial number, costs, warranty, parts, parts information, preventive maintenance, and procedures) with the committed resources is the key component of the implementation plan. After the successful gathering, determine the effective method of entering the necessary values into the CMMS.
Go live
Once you have laid out the projects, it's time to kick live. At the end of the implementation plan, it is important to check in with the CMMS vendor and discuss things about analytics and reporting, user adoption, and anything that feels difficult with the implementation. The implementation team needs to collate all the requirements, prioritize, and recommend follow-up steps.
How do I choose the right CMMS software?
Here are the essential steps to choosing the right CMMS for your organization.
Define your goals
It is important to identify all the departments that work across the maintenance system. With this insight, you can easily evaluate the different features and select the CMMS that supports your organization's maintenance operations. Identify the problems you are going to solve with CMMS. Some of the suggestions are,
What is the main maintenance problem you are trying to solve?
Are you looking for preventive maintenance?
What kind of reports are you expecting?
Do you manage spare parts inventory?
What kind of software requirements do you have?
If you have clear answers to these problems, you can get the right CMMS application with ease.
Web-based or on-premise
This is an important choice that affects the implementation costs and resources. Let's have a quick look at both types of CMMS software.
Cloud-based CMMS
Does not require any software or hardware installation
Decreases upfront costs
Backups, security, and upgrades are handled by vendors
No support is required from your internal IT department
On-premise CMMS
You are responsible for all software updates
Added features with additional cost
Need dedicated IT staff for support
Controls all sensitive data internally
Find all the features you need
You need to make sure that the CMMS features satisfy all your business needs. The key features to look at in CMMS software include,
Asset management
Preventive maintenance
Maintenance work history
Work order management
PM Schedulings
Have a detailed discussion with the vendor about the cost, and features and request a demo.
User-friendly and scalability
The software should be simple to use and easy to understand with minimal training and with the perfect interface to all the features that are required for your business. Choosing the right software with scalability saves a lot of money by considering the future growth
Mobile compatibility
Picking the software with mobile access gives you massive time savings by tracking and managing the tasks in real-time from anywhere. This expands the efficiency and productivity of the team. Make sure your CMMS vendor has both iOS and android friendly apps.
How to Calculate CMMS Return on Investment (ROI)?
Return on Investment (ROI) is calculated by how much CMMS value has gained relative to the amount of investment with CMMS, in a specific time period. Simply,
CMMS ROI = (CMMS value – CMMS cost) / CMMS cost
To calculate the ROI of CMMS, figure out CMMS value and CMMS cost. CMMS value denotes the potential gain obtained from the maintenance operation and CMMS cost is the purchasing price of the software including implementation, maintenance and other additional costs.
Comparing CMMS, EAM, CAFM, and Fleet Management Software
CMMS vs EAM
Enterprise Asset Management software(EAM) is the combination of system, software, and service for the management and control of equipment and assets. Planning, scheduling, work management, and maintenance occur in EAM, it covers the entire lifecycle of assets. Computerized maintenance management software is a small part of EAM, it focuses on the centralization of automated maintenance management systems.
CMMS vs CAFM
Computer Aided Facility Management software (CAFM) deals with the physical workspace and space planning. It starts with detailed floor plans and creates wellness checks. But computerized maintenance management system only contains the operational activities related to the maintenance operations. CMMS and CAFM both contain the database and user interface.
CMMS vs Fleet Management Software
The standalone cloud product, fleet management software includes multiple functions that optimize the work vehicles from a central platform, it is similar to the CMMS software. The major function of the software is to minimize the risks and increase efficiency with vehicle tracking, maintenance, supply chain, and speed management with fuel monitoring. Whereas CMMS helps to increase asset reliability, and equipment life by standardizing workflows and maintenance operations.
What is the best CMMS software?
FieldCircle CMMS: The feature-rich CMMS that drives your maintenance operations with more effective proactive and predictive characteristics. The benefits of the software include,
Work order management
Asset tracking, tagging, and audit
On-demand reports
Track spares and inventory
Centralized inspection/repair data
Fiix: The AI-supported CMMS that helps in maintenance management to stay ahead of the preventive maintenance schedules.
The core features of the product include,
Customizable dashboard
Detailed reporting
Parts and supply management
Streamline communication
Eases maintenance planning
Hippo: The easy-to-use software available for multiple locations and unlimited users with a simple interface and web-based deployment. The strength of the software includes,
Inventory and parts management
Equipment management
Maintenance request portals
Vendor management
UpKeep: Mobile-based asset and computerized maintenance software suitable for manufacturing, transportation, and property management. The users of this software get benefits from,
Workflow automation
Simple integrations
Filter reports
Maintenance checklists
Cost and depreciation tracking
Limble CMMS: The user-centric platform designed to help maintenance team work request with mobile phones. The software is accessible in both cloud and on-premise installation. The strength of the software includes,
Preventive maintenance schedules
Creates plans based on data
Custom dashboards
Empower maintenance teams
Fracttal: The mobile software CMMS with specialized reporting and advanced asset management. The core features of Fracttal include,
Mobile app and integrations
Maintenance calendar
Work order management
Asset tracking
How much does CMMS cost?
The cost of the computerized maintenance software varies based on different services, subscriptions, models, and features. Here are the typical pricing plans:
Per user, per month subscription plan
In this type of plan organizations only pay for the number of employees using the software. The CMMS provider typically charges companies based on the Software-as-a-Service (SaaS) pricing model. This plan is best for small to medium-sized organizations with basic operations and limited users.
Per-month subscription plan
Companies with an unlimited number of users can choose the monthly subscription plan. Businesses with extensive operations and large worksites prefer to buy this plan. Typically vendors can offer some discounts that pay upfront at the beginning of the purchase.
Permanent licensing plan
Large and global organizations prefer to buy cloud-based permanent licenses. Usually, the license fee is higher than the subscription fee and doesn't cover software updates. This plan offers unlimited users with multiple workspaces.
The companies looking for computerized maintenance software should also take note of the additional costs associated with the software. These expenses include maintenance, training, implementation, and basic support.
Integration of CMMS and ERP
CMMS and ERP have become the necessity for success to achieve greater efficiency and improved production cycle. Integrating cmms with erp in a single system results in numerous benefits, they cut the downtime and enhance the profit margins. The modern CMMS can make use of maintenance data in every organization. Integrating with ERP provides undeniable benefits of improved collaboration and streamlined processes.
The enterprise resource planning software (ERP) integrates data from every department of the company (accounting, sales, production, human resources, inventory, and so on). APIs and integration with ERP will make the absolute working of CMMS maintenance software.
What is CMMS training and why is it important?
CMMS training provides support and implementation guidance to enhance the skills of the employees and expand their knowledge for a successful CMMS maintenance program. The training covers work order management, preventive maintenance scheduling, inventory and asset management, downtime, and performance tracking. Following are some of the advantages of CMMS training.
Acceptance
Training improves user acceptance, which is more important when introducing new software in an organization. The proper training will lead the team to get the actual benefit of the software.
Improves agility
In CMMS software, it takes hours to perform simple functions without experienced guidance. The guidance in the training saves ample hours of guesswork.
Saves trial and error
The team will waste time and money by implementing trial and error methods. By skipping the training, users risk not understanding the best practices of the software.
Data entry
Training provides an effective way to enter data on a daily basis. A good data entry process streamlines the workflow of the maintenance process.
Vision
Training provides the proper vision to the users by implementing the software more effectively. It helps to unveil the complex and less known features to obtain full advantages.
Responsibility
Training strengthens the management responsibility to work CMMS in the right technique. Well trained operators can implement CMMS smoothly and climb up the efficiency ladder quickly.
Note: Training is the open-ended process throughout the lifetime of the CMMS.
Leveraging the value of CMMS with Best Practices: How to get the most out of your CMMS software?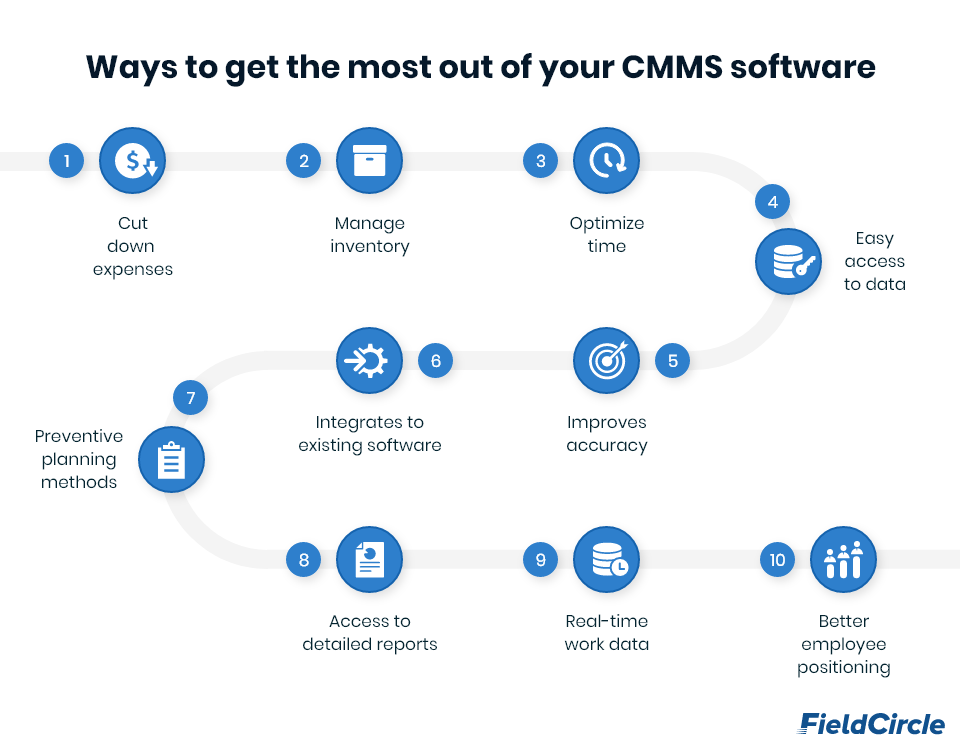 Cut down expenses
With seamless work order schedules, computerized maintenance software reduces equipment failure and all expenses related to maintenance. For example, the software supports planning inspections and preventive maintenance tasks, so that the problem rectifies at an earlier stage and avoids breakdown expenses.
Manage inventory
Tracking inventory in real-time notifies the minimum and maximum quantities of available parts. Ordering in advance saves time and you don't want to wait for the parts. This avoids last-minute ordering and shipping costs.
Optimize time
A good CMMS software module provides quick access to daily tasks. The manager need not create a work order in advance as the software creates it automatically.
Easy access to data
The computerized maintenance software provides centralized information that covers the entire report. It is easy to check the maintenance history, product details, and warranty in a few clicks. This will bring the credibility of your company to the users.
Improves accuracy
Standardized and automated process in the CMMS reduces manual data entry and eliminates inaccuracy. This improves the performance of the maintenance team by eliminating mistakes from the precise data.
Integrates to existing software
Integrate CMMS into your existing system, to get the most out of it. Good integration strengthens the values of data and supports the dynamic work of the maintenance team.
Preventive planning methods
The better structure of preventive maintenance eradicates the unexpected breakdown and repair of the equipment. Knowing the equipment workload, pipeline of inspections, and waiting for repair is important, it saves the cost of maintenance ahead of time.
Access to detailed reports
Optimizing your operation in a single dashboard with detailed reports will increase productivity with well-informed decisions. Effective software provides good and reliable data with actionable insights.
Real-time work data
Good maintenance management software provides effective real-time work data for employees. This gives the productivity and performance of each employee and allows for better planning of futuristic tasks.
Better employee positioning
Organizations with the latest working software attract desirable candidates to work, increase demand from customers, and entice the growing market. Furnishing the company with CMMS automates maintenance processes with spontaneous improvement in work efficiency.
Future trends – CMMS and associated industries
The complete ability to support work order management, predictive maintenance, and equipment uptime gives basic insights into CMMS. The Maintenance system trends are all around us, let's check the upcoming trends associated with computerized maintenance software.
Into the cloud
Every user likes to connect the CMMS beyond their office. Each company wants to add "cloud" as part of its CMMS solution package. Businesses want to make sure the information is safe, secure, and accessible.
Artificial intelligence(AI) & Internet of Things(IoT)
Smart devices are the future of the world. Businesses using IoT and AI can leverage the data it generates to support maintenance management. The integration of IoT with CMMS is to gather better and high quality data.
Mobile CMMS
Mobile CMMS app provides streamlined and real-time data directly from the source. This accurate flow of data helps the company to make correct decisions and grow better and smarter.
Workstead safety
Maintenance and safety departments are the top priority and important theme concept in 2023 CMMS. This concept enhances the communication and contribution between the employees to execute the right tasks at the right time, to improve efficiency, and to create a safe workplace for the employees.
Information becomes the focus
Data is the central part of the maintenance management system, it is complex, clear, and trustworthy that a company manages. What a company needs is information that drives the actionability of data.
The adaption, flexibility, and innovation reflect the CMMS values and help the vision of improvement and evolution. When your business is looking to purchase CMMS, investigating the software and trends is the key to improving your business's success rate.
Book a Personalized Demo
Learn how your businesses can use FieldCircle to achieve more efficient, transparent, and profitable service operations.
30 Days Free Trial
No Credit Card Required
By submitting your details, you agree that we may contact you by call, email, and SMS and that you have read our terms of use and privacy policy.