How Much Does a CMMS Software Costs?
CMMS software cost is something that is considered whenever an organization plans to invest in maintenance management software. When you have several choices that practically offer the same features and advantages, the key to choosing the best one is by doing a CMMS software price comparison. Of course, the groups must also adhere to the financial restrictions. Let's first define CMMS software and how much CMMS software costs.
A CMMS software: What is it?
An organization's ability to streamline business processes, particularly in maintenance, inventory management, asset tracking, and asset management, is enabled by CMMS software. In addition to these, CMMS software can perform a plethora of other tasks. Let's examine what the CMMS software can do for you.
Preventive Maintenance
Regulatory audits
Work order management
Asset management
Asset tracking
Inventory Management
Task and Maintenance scheduling
Reports and analytics
One of the greatest benefits of getting CMMS software is that it lowers the maintenance costs for a facility. Additionally, it assists businesses of all sizes in correctly managing their equipment and raising the efficiency of their maintenance personnel.
There are two main types of CMMS: web-based software (also known as Software as a Service), which is Internet-based and managed by an outside provider, or on-premise software, which is installed on your machines and managed by your internal IT personnel.
Understanding your company's needs and goals is crucial before investing in CMMS software. The most important inquiries that you must make are listed below.
Does the vendor have any experience in your industry?
How much will CMMS software cost?
How does the tool work and is it updatable?
How long will the deployment take?
What training and support are provided?
Is it easy to use?
What types of maintenance reporting are offered?
This article will simplify the process of estimating the cost of deploying a new CMMS package by outlining some of the key elements and key factors that affect costs for businesses of all sizes and sectors.
How does CMMS software pricing work?
Nowadays, with the rise of digitization, businesses are less interested in paying a one-time price for the software. With the growing trend of cloud and digital environments, most businesses approach CMMS systems pricing with Software-as-a-Service (SaaS) based subscription pricing models.
Although each CMMS supplier has their unique pricing philosophy, we can comprehend the pricing techniques primarily in three categories depending on industry players.
Pricing Models for CMMS
The number of users, the number of CMMS features, and the deployment strategy all affect how much CMMS suppliers charge for their products. The three most popular pricing schemes are listed below:
Per user, per month subscription plan
The majority of maintenance personnel are in the field, hence CMMS solutions are typically provided via the cloud with mobile-friendly user interfaces. Because of this, CMMS vendors frequently bill businesses using a software-as-a-service (SaaS) pricing model. Companies only pay for the number of staff members who actually utilize the program when they subscribe on a per-user, per-month basis.
Depending on the number of functionality and the categories of users, such as technicians, managers, and system administrators, these plans frequently have several tiers. A technician, for instance, might require work order management features but not business analytics. On the other hand, a manager might require both capabilities. Small businesses with simple operations and few users should choose this option. A maintenance portal may be offered by some plans, where anyone may make a work order request.
Per-month subscription plan
A per-month membership plan typically includes a maximum number of users and workstations as well as a specific set of services. Some providers may give an unlimited number of users, which can save money when you have numerous employees that require access to the software.
The advantages of a monthly subscription plan are greatest for companies with significant operations, numerous users, and work locations. Vendors may give discounts to businesses that pay all at once at the start of every year, rather than every month. Additionally, for a nominal monthly cost, some plans allow you to extend the number of supported worksites.
One-time perpetual licensing fee
Payment of a one-time perpetual license cost is an option for businesses who need extensive adjustments and wish to deploy the CMMS solution on-premise. Access is often granted to an infinite number of users and work sites with this option.
The perpetual license charge is paid in whole during implementation and is significantly greater than a subscription fee. Future software upgrades are typically not included in the charge.
Additional CMMS software cost costs to consider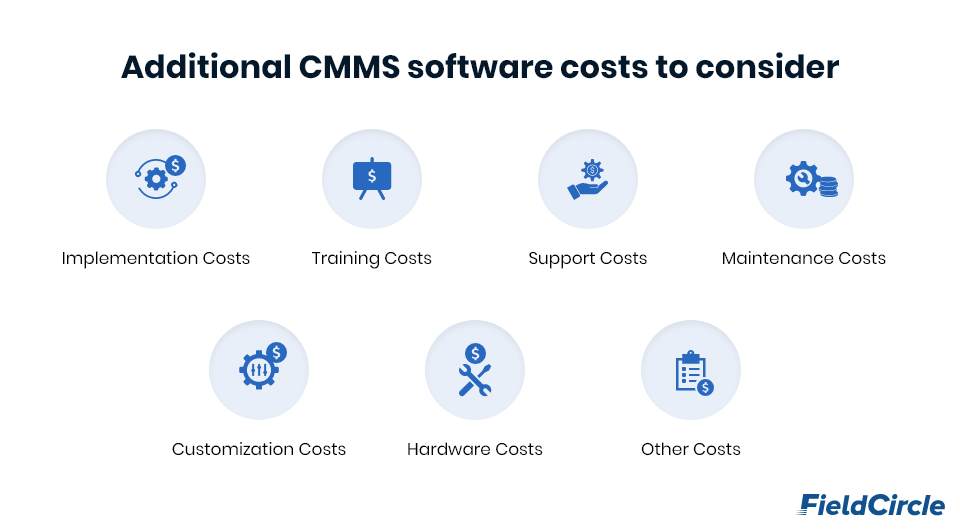 When choosing a CMMS solution, businesses should take into account maintenance software costs that go beyond the subscription or licensing charge. The following expenses should be considered:
Implementation – Depending on the vendor and the kind of deployment, implementation costs may vary (cloud or on-premise). Consultants, hardware setup, software customization, data migration, and integration with third-party software (like enterprise resource planning systems) or equipment monitoring devices, like IoT devices.
Training – Users are most likely to be tempted to forgo training to save money. This is a serious error because training is your assurance that your software investment will pay off. Depending on the sort of training, training prices might vary greatly in the classroom, computer-based training, simulation, on-the-job, and so on. Most providers offer web-based training services without charge, however, in-person training may cost extra or necessitate purchasing the most expensive pricing tier.
Support – Subscription plans typically provide basic support like knowledge bases and email support. However, companies might only offer more expensive feature packages access to priority assistance or a specialized customer service manager.
Maintenance – CMMS software frequently needs regular maintenance, which includes updates, software patches, and security upgrades. Upgrades usually come at an extra cost for businesses that buy perpetual licenses. With subscription CMMS software pricing, maintenance is frequently free or less expensive.
Customization – If any custom programming is necessary to adapt the software to your requirements, an estimate based on a per diem charge of around $800 to $1,500 is typically supplied. Customization is strongly discouraged since it might be challenging to get enough long-term vendor support and because it might obstruct the path for upgrading when new versions are available. Instead, search for an affordable CMMS software solution that can be scaled and customized to meet your demands both now and in the future.
Hardware – Hardware needs can range from extremely small to extremely large, depending on the state and size of your current infrastructure. The cost of the hardware might quickly rise if you have to upgrade or add user workstations, file servers, networks, telecommunications equipment, and peripherals to make room for the new CMMS.
Other – When updating or deploying a new CMMS software, other budget factors are occasionally overlooked, such as cabling, facility upgrades, telecommunications, and especially increased staff requirements.
Different Tiers with CMMS vendors
Most CMMS vendors discuss the different customer tiers. Large, capital-intensive businesses with hundreds or even thousands of maintenance workers make up the top tier – Tier 1. These businesses can be found in paper, mining, oil and gas, and other resource- and process-related industries. Millions or tens of millions of dollars are spent on CMMS packages.
On the other end of the scale, Tier 3 companies are those with repair shops with 15 or fewer tradesmen. A different group of CMMS suppliers often targets these businesses and sells its software for between $25,000 and $1,000.
Between the two extremes is where Tier 2 consumers fall on the continuum. The CMMS providers serving this customer base frequently overlap significantly with vendors aiming for the tier directly above or below them.
CMMS software cost- Based on features and functions
CMMS software has generally become less expensive and its functionality has dramatically increased. CMMS software typically uses less disk space, is simpler to install, and operates more quickly even on older computer hardware. Because the software is less complicated, learning it takes less time.
The depth and diversity of features, particularly as they pertain to a certain industry, are what you acquire by upgrading to high-end packages. To manage projects, calibration, service desk, dependability, linear assets, cases, and other complex tasks, for instance, many high-end systems will have sophisticated modules. The ability to budget by specific account code, advanced warranty tracking, and more options for automatically diagnosing equipment issues with condition monitoring and a troubleshooting database are just a few examples of how even basic features can have complicated alternatives.
A subset of these features is typically included in low cost CMMS software packages. Such as the ability to budget only by the month, the ability to accommodate tool requirements using the standard inventory control system for parts, the ability to handle warranty information using a reference field on the equipment record, and the capacity to record meter readings to determine when PM is necessary.
The cost of CMMS software systems varies widely in price. The cheapest CMMS software package will start from $500 to $1000, but this won't be customized to meet the needs of your business. On the other hand, customized maintenance management software for large and multi-site organizations can cost up to ten thousand dollars.
Final Thoughts
Knowing the bottom line is necessary to compare CMMS systems pricing accurately. These considerations must be taken into consideration because not all CMMS software is the same and because CMMS suppliers frequently sell systems as packages. Match the overall cost of CMMS software solutions carefully to your desired features, chosen format, and additional optional services like onboarding and implementation, and lastly, match these to your budget. You can guarantee the best ROI on CMMS for your company by conducting a thorough search and interacting with vendors.
Book a Personalized Demo
Learn how your businesses can use FieldCircle to achieve more efficient, transparent, and profitable service operations.
30 Days Free Trial
No Credit Card Required
By submitting your details, you agree that we may contact you by call, email, and SMS and that you have read our terms of use and privacy policy.