CMMS: 17 Key CMMS Features to Look For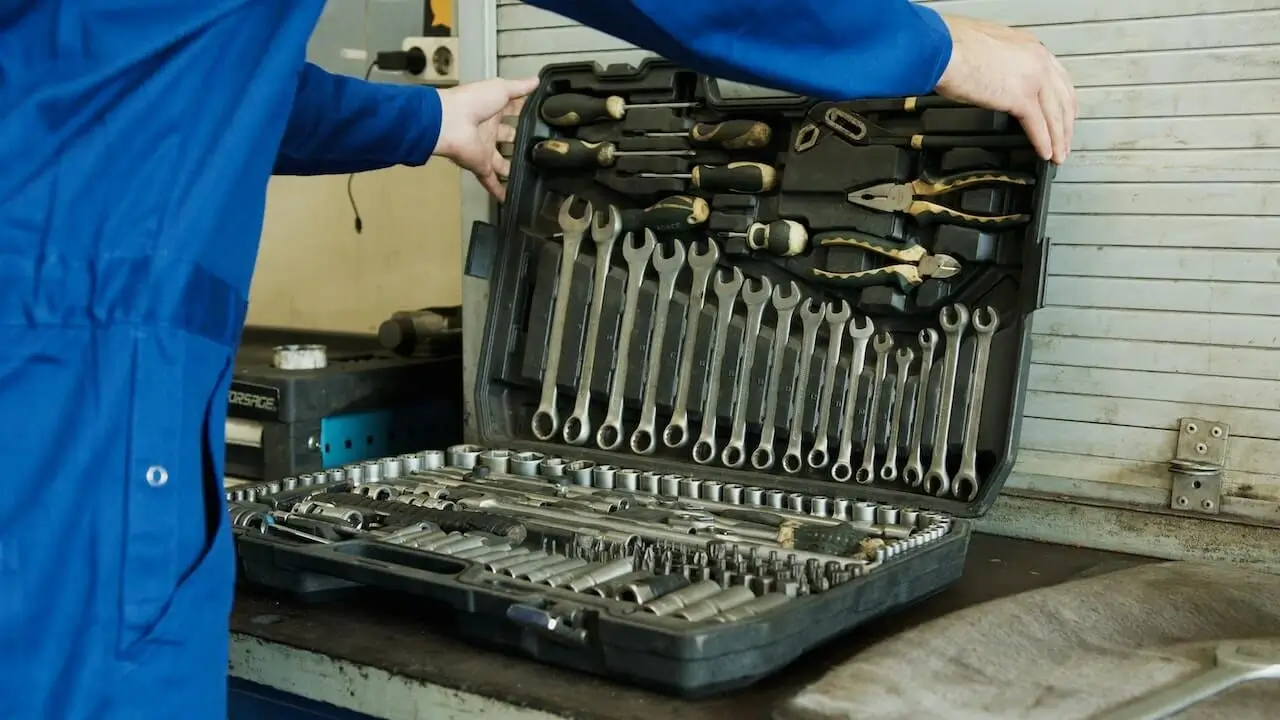 Basically, CMMS features help you to track and manage maintenance operations across multiple business locations, and support the maintenance managers to access the required information from any device wherever they are. The computerized maintenance management system is integrated software that brings different features into a single platform.
Here in this article, we're going to see the important CMMS features. These features help you to analyze when purchasing CMMS for your business maintenance operations.
List of CMMS features
Scheduling maintenance
The basic and important feature of CMMS is the maintenance scheduling process. This feature helps the managers and technicians to handle the maintenance operation smoothly when there is an abundance of maintaining assets. It is difficult to remember which one is given maintenance and which one is not. The automated CMMS program reminds the team with notifications about upcoming maintenance needs. So it is easy for the technicians to prepare in advance.
Managing work order
When the order of the work is not defined properly, then it is completed like a first-in, first-out process. This method raises many issues when the work order comes on an urgent need. Due to ineffective management with improper work orders, critical work is not completed on time. To solve this problem, work order management is important in maintenance work.
The CMMS feature provides all the details such as work priority, the time needed to complete the work, technician availability, and so on. This type of information is provided for both regular maintenance work and repair needs with the work order. This helps the technicians to complete the maintenance work effectively.
Maintenance logs
The maintenance logs help the technicians to understand what is the actual problem of the asset. This supports the technicians to find the right and alternative solutions for the problem which the equipment is facing. Everything that your assets and equipment are facing including the problems, and their solutions all these types of information will be stored in maintenance logs. This helps to save time for further operations if needed.
Checklists of maintenance work
Basically, checklists are used to confirm what activities need to be done, so that the users do not forget any activities at all. This is what the maintenance work checklist does. Some technicians under pressure may forget to do basic maintenance activities.
The CMMS helps them to update the status of each task that needs to be done in the work order checklist. This also lets the manager know what is happening with the daily work.
Proactive maintenance
The proactive maintenance strategy helps to identify the root cause of the issue before they become a complex one. Every piece of equipment faces degradation at some point in time, and this causes inefficient operation. A solid proactive maintenance strategy helps to extend the life of the equipment and ensure that they are performing well.
Tracking inventory
Usually, organizations used to keep track of inventory with excel and spreadsheets. As they are not effective to keep track of inventory, lots of errors and mistakes were there in the inventory. To rectify such types of errors, CMMS is used. Inventory is essential for technicians to perform maintenance operations, as they need to replace the old parts, if the inventory is not available, effective maintenance cannot be done by the technicians and the whole process will be repeated when the stock is reloaded. The software also alerts the stock manager about the low inventory and helps to send a re-order.
Reports & analytics
For every organization reports and analytics data are important to calculate the company's growth. The ideal CMMS software contains reports related to the work schedules, work order history, preventive maintenance works, asset history, labor skills, and other required information. This helps in budgeting, investigating information, and auditing activities. Understanding the activities, patterns, and time spent on each task helps to know your own KPIs.
Vendor management
This CMMS feature allows users to keep track of suppliers and buyers of the equipment and spare parts. Users can access all the information about the vendors, including contract details, prices, and deals. This saves the time of checking the equipment manufacturers and vendors.
Purchasing
The purchasing feature is integral to CMMS modules. Once the work order for specific maintenance action is ready, the purchasing feature initiates the materials and parts needed to supply for maintenance operation. Suppose an item is unavailable, the system notifies the maintenance manager about the shortfall, and the manager adjusts the work schedule accordingly. These types of CMMS features help to avoid unexpected delays.
Incident management
Without having to create a work order, this CMMS feature enables users to submit accidents, anomalies, operator notifications, notices, and other information. Maintenance managers may stay organized and on top of all maintenance work with the support of this tool. Users can set up workflow activities or keep track of work orders associated with a specific task.
Safety management
Safety is a major duty for every unit. Industrial accidents caused by unexpected equipment failure or other maintenance-related problems are often reported. In this sense, the CMMS may record the safety plan and compliance requirements for each asset operating in the unit. Additionally, with the CMMS, regular maintenance tasks will be created to ensure that every asset receives routine maintenance. The software will track every material in the unit to prevent mishaps brought on by neglected hazardous materials.
Integration with other systems
Numerous business system integrations are provided by the majority of CMMS software programs. The most popular interfaces are project management software, asset tracking systems, and accounting software (such as QuickBooks, and Sage 50). These integrations allow users to exchange data between the various platforms. For instance, you may use the information in your CMMS to automatically produce invoices in your accounting software.
Labor and resource management
Maintenance managers monitor the labor hours used for maintenance tasks using CMMS. Reports displaying the labor costs for each job, asset, or work order may be produced using this data.
Additionally, maintenance employees' work is scheduled and sent to their sites using the program. Sometimes, it may be connected with time and attendance software to track employee working hours and find available workers for scheduling.
Document management
The usage of a CMMS as a document management system(DMS) is also possible. For storing and organizing your manuals, schematics, blueprints, and other documentation about your assets and equipment. This CMMS feature is very helpful for business owners to manage everything in a single platform.
By using this software, anyone can quickly locate the data they want by using a DMS. When working with complicated equipment, it can help you to save a ton of time and frustration.
Dashboards
The effective approach to getting data from your CMMS is by using a personalized dashboard. You can track KPIs, see work requests and asset data, and quickly evaluate inventory levels with the help of a decent CMMS dashboard. Additionally, it is simple to set up and use, so you can begin going right away.
Mobile access
For many businesses, accessing online systems via mobile devices is important. A CMMS platform with mobile access guarantees that maintenance personnel have access to all the information they want when working on different sites. This implies the information is correctly recorded within the CMMS, there is no need to make calls or send emails to confirm specifics. If you're considering purchasing a CMMS, having a responsive mobile interface is an important aspect to consider because it may significantly increase maintenance productivity and save your business a lot of time.
Facilities maintenance
An organization's facilities and assets are an important resource of the CMMS. The goal of facility management is to manage structures, areas, and people in an easy way. Supervising these with the help of facility management helps the managers to stay informed about issues when they emerge, instead of holding on until they become serious. This helps you save money over time and makes sure that your facilities are in great shape.
Automatic meter reading is the process of automatically gathering use, diagnostic, and status information from water or energy metering systems (AMR). The data is subsequently sent to a central database where it is utilized for analysis, invoicing, and troubleshooting.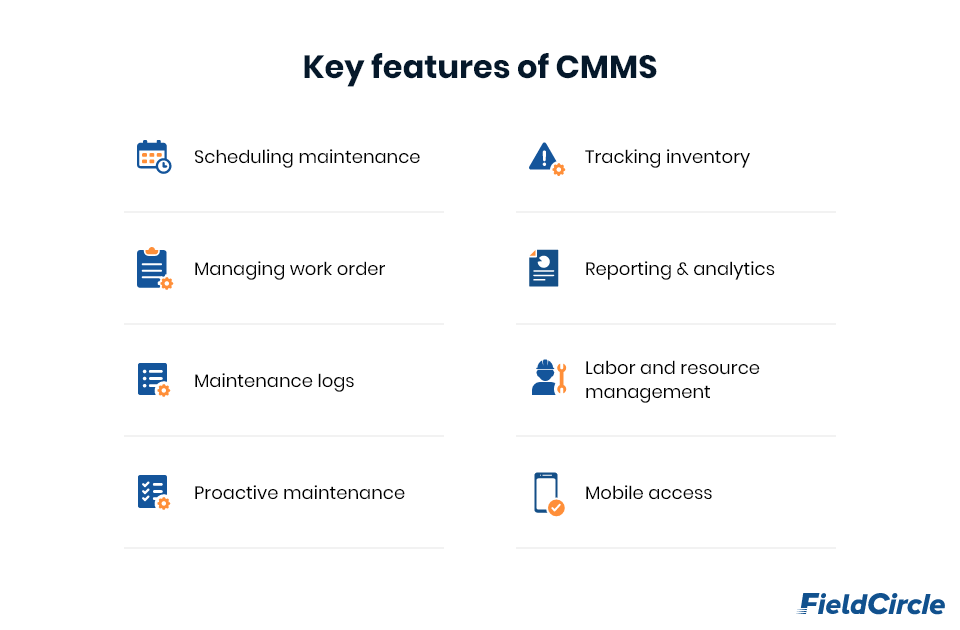 What is the most unique and powerful feature of CMMS?
These are the most unique and powerful features of CMMS software decided by the survey taken from the business owners. Work order management (86%), preventative maintenance management (71%), and asset management (69%), were the top three most desired features. Inventory management (by 52%) of the businesses surveyed, and role-based permissions (by 47%) of the businesses. 15% desired mobile access capabilities, 23% wanted purchase features, and another 23% wanted predictive maintenance.
Why is CMMS Essential?
CMMS software is crucial to reduce machine downtimes, it is the major objective of any maintenance department. Downtime is reduced when asset availability increases. Knowing more about the machinery helps the technicians to get rid of repairs more quickly. By automating manual chores, productivity may be improved and more maintenance can be performed, which reduces the frequency of equipment breakdowns.
A CMMS's accurate inventory management guarantees the right equipment in the right numbers is always available to support preventative maintenance. This is another CMMS feature that helps to reduce downtime. Reports provided by CMMS give the ability to access your team's performance and identify areas for improvement to increase the effectiveness of maintenance. This may save money and improve your bottom line when you can significantly reduce downtime.
What Functions Does A CMMS Contain?
A maintenance manager should think about a variety of factors before picking the CMMS program. In such an instance, it will include the fundamental functions included in any high-quality maintenance management software, such as work order management, scheduled maintenance planning, inventory management, asset management, maintenance reporting, and a mobile application.
You can handle the bulk of maintenance difficulties by using the functions of CMMS. Consider the challenges that your maintenance team deals with daily. There are countless problems, including backlogs, failures, missing parts, and cost overruns.
Summary
Companies may control and manage the manufacturing facilities, tools, and equipment utilized in everyday operations with the use of CMMS. A software product must meet the following criteria to fall under the category of maintenance management systems:
Manage various asset kinds across several locations.
Maintain an inventory of the replacement components, maintenance tools, materials, and supplies that are needed.
Plan maintenance tasks including replacement, repairs, and inspections.
Control and distribute manpower and replacement parts to maintenance activities.
Reports and analyses on mechanic productivity, maintenance costs, and asset usage are provided.
Ensure that the asset complies with all applicable safety and environmental laws.
For field service technicians, provide a mobile-friendly interface or mobile applications.
Organizations can increase an asset's life at a low cost by using CMMS, which help them to plan and manage their assets and related maintenance expenditures.
Book a Personalized Demo
Learn how your businesses can use FieldCircle to achieve more efficient, transparent, and profitable service operations.
30 Days Free Trial
No Credit Card Required
By submitting your details, you agree that we may contact you by call, email, and SMS and that you have read our terms of use and privacy policy.