What is Field Service Management: A Comprehensive Guide To Field Service (2023)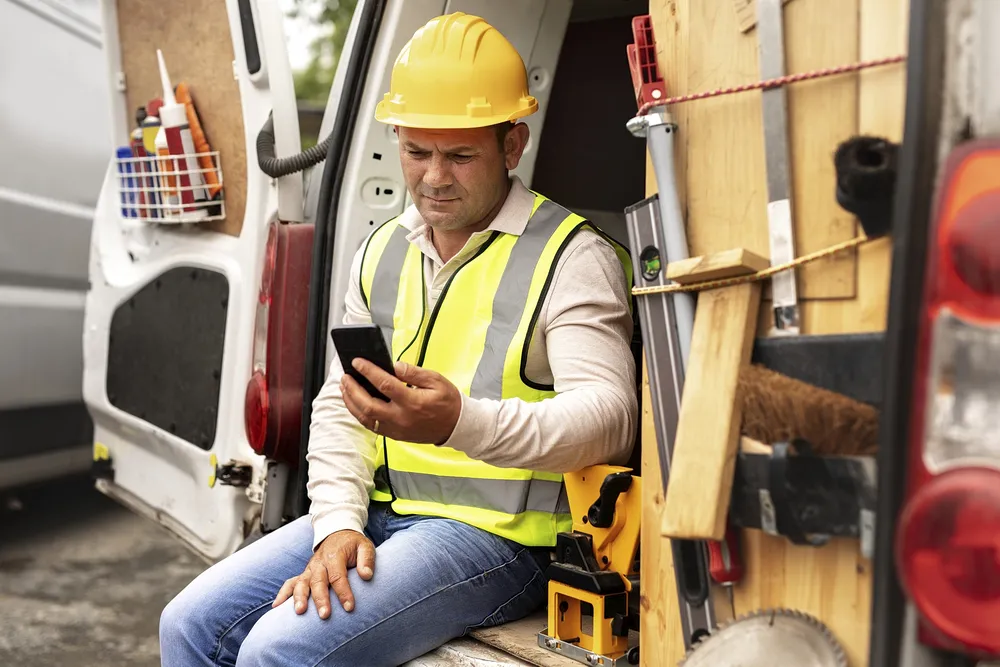 Field service management involves workers being dispatched to a job site to perform a task. The task depends on the type of operation. For instance, it could be a maintenance service delivery, quality testing, or installation of equipment or machinery.
Most of these tasks fall under the post-sales services category, which manufacturers often consider a burden. Generally, independent service providers used to provide these services. Still, with the rise of outcome-as-a-service model, manufacturers today are more driven to deliver these services independently.
But this does not mean uprooting independent on-site providers from the business landscape, such as plumbers, electricians, roofers, and construction workers. In the coming era, we will see a more effective collaboration between manufacturers and service providers with aligned values toward customer service and customer experience.
However, they often face challenges such as increased cost of operations, bad customer experience, and profit leakages, ultimately bringing them to square one–service delivery being a burden. The recent technological developments in the field, such as using site service solution powered by AI-based engines and data & analytics tools, have addressed most of these challenges with practical solutions.
In this guide, we will answer "What is field service management". You will discover all aspects concerning field management, including dispatching, order, inventory, scheduling, and contracting, and the role of site operations platform in making these tasks streamlined and efficient. It will be interesting to find how field operations tool enables cost- and value-driven benefits out of field operations.
What Is Field Operations Service Management?
Let's start with the definition of field service management. Site service management is a process of effective customer service delivery in a planned and controlled environment. It covers a wide range of tasks, starting from acquiring information about the service requirements, scheduling and dispatching of field workers, execution, and monitoring and reporting of service delivered.
Businesses generally use field operations solution to manage these processes easily, efficiently, and transparently. A typical site operations tool contains features to streamline the work order to deliver the services effectively. Some of the key benefits of using field service software application are:
Work order management: Work order includes a set of tasks that must be completed to ensure the successful delivery of the services. Depending on the service type, a work order generally consists of many processes, such as scheduling, inventory management, and invoice and payment solutions. What site service solution does is provides a centralized view of the entire work order, allowing the teams involved in the field operations delivery to have a consolidated view of the service status.
Schedule optimization: Optimization of the field service scheduling software is intended to remove redundant activities from the process for the timely scheduling of workers, ensuring that the right technician is available at the right time at the right place with the right tools. Site operations application optimizes scheduling processes that meet the tasks' timelines, including product deliveries, work execution, or dispatching terms.
Adequate inventory, resource, and contract supervision: The site service solution is widely used for getting more control over inventory. The platform lets users visualize the entire list, manage stock-in and stock-out, and set alerts and notifications about stock levels.
Total invoice and payment control: Invoice and payment management processes are integral to on-site service operations. However, businesses generally use independent solution to manage their accounting platforms. But this creates information silos and affects the decision-making process. Most site service solution either have tools to record invoices generated and payment collected or could be integrated with the site operations business's internal finance and accounting interfaces.
Real-time information for decision-making process improvement: The automation tools collect and process a vast amount of data, allowing for making informed decisions and improving turnaround time.
Reliable customer-centric management: Building a robust customer-business relationship that drives customer loyalty and could be translated into revenue and profitability is the core objective of on-site service operations. By bringing transparency, efficiency, and visibility into the process, site service solution enables service managers to foster a solid customer-business relationship.
On-the-go dashboards and visualized analytical dynamics: Visual objects, interactive charts, and diagrams in the dashboard of a site operations application could interpret each indicator or operational factor. For instance, you may request the construction contract value conducted for the last five years to drive strategic decisions about the new tendering procedure.
Components And Features of Field Operations Service Management
The site service management is subject to step-by-step tasks, broken down into daily business activities with strategic goals that must be achieved within a particular time frame. The entire on-site service operations have several key components that are differentiated based on service type. So, what does a field service company do? Typical services operations have the following functions:
Scheduling and dispatch: Field operations workers are scheduled for the job, where the job could be service delivery, quality testing, or equipment installation. Scheduling and dispatch processes aim to ensure that the technicians or field workers reach the job site with the right tools and at the right time so that reworks on the job are not required and tasks are done with 100% accuracy and efficiency.
Work order management: A consolidated process, from raising the service request to the closure, is called work order management. For instance, HVAC service agencies may get a call from a distressed customer about the poor functioning of the equipment. It depends on the agency whether they manually register the request for servicing of the equipment or use automated tools like site service management to keep a digital record of the service request and the actions taken on them for increased transparency.
Assets and equipment management: Tracking tools and equipment to conduct a periodic asset health check reduces downtime and increases the service life of the assets. Modern assets and equipment have IoT capabilities. Consequently, they are trackable and generate loads of data that could be processed to generate insights.
Customer management: Nurturing business customer relationships is a fundamental part of site operations, as it offers a glimpse of company culture to customers and simultaneously provides an opportunity for the company personnel to build a strong relationship with customers and upsell or cross-sell products.
Time-tracking and timesheets: Geofencing technologies today enable site operations organizations to integrate the employee time clock with digital maps, revealing the exact location of the technicians at a particular time. Increased use of digital timesheets in the on-site service industry enables service managers to keep a digital record of work hours, including time-stamped visits. It gives them a deeper into productive hours and helps them make informed decisions about scheduling, expenses, compensation, and benefits.
Contract and warranty management: Commercial relationships are legally bound and must be managed with attention to detail. Manual processes often put professionals in better situations, causing profit leakages, missed opportunities, and failure to keep deadlines. To avoid that, businesses have started using automated tools, which organize the contracts and warranties so that managers get alerts of upcoming contract renewals, SLAs to determine the service charges, and the ability to identify new upsell and cross-sell opportunities.
Claims and reimbursement: The work environment in the field is unpredictable. Several factors affect the daily workings of the technicians, such as schedule, client availability, detection of the fault in the equipment, and vehicle and fuel conditions. These disruptions impact the time and quality of service the field workers deliver. Straightforward claims and reimbursement management are imperative for field service workers' motivation and success.
Route planning and tracking: Selecting the most efficient routes to client locations has several benefits. The key benefits are saving time and fuel costs. While manual route planning and tracking processes could work for small teams, large teams would need automated route planners, which are generally integrated with site service solution.
Pre/post inspection reports: Creating inspection reports is helpful in SWOT analysis, leading to making better decisions in the future and driving more effective strategies. Modern site service management tools are integrated with high-end data analytics capabilities, which enable organizations to process asset, equipment, maintenance, and inspection data and create dynamic and visually-pleasant reports.
Preventive maintenance and inspections: Downtime is a dreaded problem in asset-intensive organizations. Preventive method is an effective strategy to curb downtime by conducting pre-planned and periodic service and inspection of equipment. Today, most equipment has sophisticated sensors that make the data collection process much more manageable.
RFQ and quote management: Tracking procurement procedures cover some activities, such as creating purchasing orders, requesting quotes, vendor selection, and getting the order at inventory. The chances of tripping off in the long process of RFQ and quote management are high and not unheard of, mainly due to the lack of visibility into the process. Many organizations today are adopting on-site service operations tools to move effortlessly and rapidly.
Invoice and payments: As payments are collected in the field, it becomes essential for the business to ensure accuracy while eliminating the time and communication gaps between office teams and field workers. Automation has effectively reduced this gap, making the invoice and payment processes more transparent, fast, and efficient.
Inventory management: A physical trip down to inventories at multiple locations is only sometimes needed. For instance, to know the availability of a tool in the current stock or to determine whether the stock has reached the site or not, physical presence is optional. This information could be easily shared on a centralized site service solution. Inventory management has changed a lot in today's time. Tracking stock levels, statuses of stock-in and stock-out, and receiving alerts and notifications for inventory replenishments have all become digitized processes.
Reporting and analytics. What is working and what's not, when is the right time to take action, and what more needs to be done to make the field teams more effective are a few questions that give sleepless nights to managers. Today, managers use site operations tools to find the answer to these questions in real-time, when it is not too late to take intense action. These tools are integrated with intuitive dashboards that enable interactive graphical data representation to stimulate decision-making factors.
Benefits of Field Support Service Management
Until a few years ago, site service management was considered a burden by manufacturers. It was a cost center for them, with no plausible investment benefits. As a result, the on-site service landscape was dominated by local individual players or authorized service providers, if the equipment were slightly sophisticated. However, new technologies and improved IT infrastructure have transformed the scenario. Manufacturers today are keen on using site service management as a new revenue source. Some of the key benefits of effective management of on-site service operations are:
Drive revenue and profitability:
The next-generation technologies have empowered manufacturers to track the product's performance, not by their life and functionality, but by the value they deliver to the users. This has introduced a new service model, popularly known as outcome-as-a-service. It enables the manufacturers to measure the "value" consumed by the product users, and charge them based on the usage, thus allowing them to figure out new ways to generate revenue sources and drive profitability.
Improved customer experience:
Field teams generally have in-person communication with customers. This sort of communication gives them a greater window of opportunity to paint a perfect picture of customer service–reflecting on the company's willingness to take care of customers and provide them with continued service, resulting in superior customer experience and increased brand loyalty.
Achieve product or service excellence:
While operational excellence is not directly correlated with site service management, it gives insight into the efforts required to achieve excellence in the product or service category. This happens due to the opportunity to form close relationships with customers through continuous monitoring of product/service performance and direct interaction with customers.
Increased transparency and efficiency:
The next-generation technology used in delivering on-site services to customers brings clarity into the purchasing process and insight into consumer behavior at different stages. By analyzing those touch points, companies can understand consumer sentiments and make massive transformations in their products and services, from improving the turnaround time by increasing efficiency levels or reorganizing the product or service structure to increase customer satisfaction.
The Most Important Stakeholders in Field Operations Service
On-site service management is a collection of processes. The end-to-end ownership of tasks with one person as a leader and the rest of the followers is close to impossible, mainly because the individual responsibilities of a task owner are critical. But thankfully, it is conclusive, which makes room for forging leadership roles, entrusting the person with the responsibility to ensure that every stakeholder in the process has completed their tasks with quality and effectiveness. The key stakeholders in field operations are:
Technicians: The field workers act as a bridge between field support service and customers. They are the ones who are entrusted with the major responsibility of closing the service request, raised by customers.
Managers: The role of the managers is to ensure that the right service technicians reach the right location at the right time. They are the gatekeepers, and guardians of the processes. Managers rely on on-site service tools and technologies to ensure that everything is where it needs to be, from tools in inventory to technicians at the client location and managing schedules and appointments to timesheets and expenses.
Management: Operations management leaders in a field support service organization have the tough task of interpreting the data collected from the platforms, reading through them, and making informed decisions. They must use the best tools and technologies to collect the right data for accurate and detailed analytical reports for on-the-go decisions and risk mitigation measures.
Back-office staff: They sit behind the fence to keep a tab on everything happening around the on-site service operations. They are facilitators–with discernible but significant contributions. People at back-office staff include CRM administrators, inventory managers, HRs, financial managers, etc., who support on-site service operations teams from behind.
Contractors or subcontractors: They are an extended arm of teams. Contractors, subcontractors, and vendors play an integral role in the quality of services delivered to customers. They are engaged at business levels to support field operations with tools, inventory items, and other products and services.
An Overview of Operations With Field Support Service Tools
On-site service tools are advancing with time. The next generation technologies have significantly improved the capabilities of field operations tools and thus have resulted in a major transformation in how services are delivered in the on-site service operations sector. Some of the key benefits of field operations tools are:
Operational excellence: Modern on-site service tools have successfully created a synthesis of scattered processes, back office teams, workers, inventory items, and assets, turning them into one functional, efficient, nimble, and fast on-site service operations.
Team empowerment: Service teams have truly advanced capabilities to complete their tasks on time. The key empowerment areas include dispatching, inventory management, route planning and scheduling. On-site service operationsteams face several problems due to a lack of visibility and transparency. Sophisticated site service management tools enable field workers to track their appointments, client availability, and tools for service delivery. They can select the most efficient routes, generate digital invoices, collect payment in the field, and track their visit-in and visit-out time to manage their productivity better.
Transparency and visibility: Transparency and visibility are axiomatic to field service management software. It is designed to increase visualization and accountability in the process. Using such tools makes the process streamlined by removing the redundancy and repetitive tasks from the processes.
Digitalization of field operations processes: No hard copies or paper works are required in the cloud environment deliverables. Minimizing paper works not only reduces manual errors but also speeds up the processes, leading to an increase in efficiency.
Collaboration: Effective collaboration between teams and back-office staff is key to the success of site operations. With the mobile app, collaboration is enabled across the organization, which is helpful in tracking statuses and taking action on them in real time.
Online and offline support:
What All Industries Have On-Site Operations Processes
Indeed, each industry or business entity with a scalable target audience and multiphased project activities must integrate the field support service solution. This technology harmonically adopts the determined tasks and proves its efficiency in the following economic sectors:
Machinery and equipment engineering and manufacturing: Vehicle, facility, or equipment production comprise different processes which should be adjusted to eliminate shipment delays or brand quality threats.
HVAC: Public utilities, including municipal or private manufacturers and distributors, oversee several vital business directions. The optimized site operations business could simultaneously treat the GIS surveys, leakage fixing, and individual service claims.
Oil and gas industries: The managers prefer to leverage this technology to investigate new mining landmarks and market scaling opportunities.
Construction: From the architectural design certification to commission works, any building holding could be aware of the project implementation stage and coordinate the skilled teamwork.
Facility management: Team, resource, and finance mobilization become effective and tolerant of the project budget size.
See more industries acceptable for site service solution integration
Biggest Challenges Businesses Face in Managing Field Operations
Before installing the site service tool, focus on the several field service management challenges that could jeopardize your ongoing business operations:
Permanent customer satisfaction. Remember to update the installed version and leverage new opportunities for meeting client expectations. In practice, follow the requirements of at least 20% of the total clients to keep the business competitive and profit-making.
Ultimate paperless processes. Choose the field operations platform with full report and visibility generation options. But for digital analysis fact-findings, you may reduce administrative costs and optimize the document management solution.
Measuring KPIs. It would help if you coped with SLAs (service level agreements), FTFR (first-time fix rates), other scheduling indicators, and customer satisfaction goals. For instance, a customer highly assesses your services and recommends your company to friends, colleagues, or family members if your staff solves the issues after the first call and during the previously agreed deadline.
Easy synchronization with the existing digital solutions. The best on-site service application should supplement CRM (customer relationship management) and ERP (enterprise resource planning) technologies using well-adapted desktop, mobile, and web APIs.
Discover more obstacles and complicated cases your business should overcome in managing the field operations
Best Practices Industries Follow to Optimize Field Support Service Operations
Under global management trends, industries should improve their off-site technologies and upgrade field operations operators. Here you find the affirmative techniques which give you a significant competitive advantage and engage more target groups:
Adapt mobile environment. Mobile devices allow us to work outside the office and collect data in real-time without redundant tasks or overestimated resources;
Big data integration. The business scaling perspective requires following software trends that align your managerial activities with cloud environment solutions and vast volumes of information processing;
Customer service prioritization. Every operational optimization should be customer-centric and put their needs and claims as a priority;
Real-time inputs processing. The field management market is full of effective technologies ranked by their speed and time to process and transmit input data without omissions;
Streamlined communication adjustment. Communication with different stakeholders arranges the project management cycle by agile approaches. Therefore, the final product or task goal could be attained by fixed deadlines.
See more successful cases which contribute to your manager activities
How to Hire and Build a Great Field Support Service Team?
Creating a skillful team is a complicated issue any business could face. Thus, you need to involve the experienced outsourcing staff or train a company's unit skilled enough to handle the field operations proceedings. To this end, fulfill the following recommendations and build a healthy working environment:
Practice rewards and intangible stimulations. When integrating the field support service technologies, explain to the appropriate operators and senior managers the rewarding principles for scheduling, task performance, and client satisfaction purposes;
Encourage training sessions. Introduce periodic skill upgrading training for the staff in charge. These educational activities improve their knowledge and perfect their hard and soft skills;
Do not neglect traineeship. Engage the graduating students or trainees to join your team and differentiate the workforce capacities with mindset enthusiasts;
Peer-to-peer collaboration. The managers should be ready to demonstrate their professional achievements at the thematic events or during the internal cross-cutting meetings to achieve the overall goals;
Draft the hiring criteria. Set the so-called checklists to evaluate candidates for the field management sector.
Find out more secrets for building productive field service staff
What's a Field Support Service App: Benefits to Use It for Field Operations Businesses
If the on-site service solution does not support mobile or web services, do not integrate it with your exciting enterprise management technologies. Such engineering solutions give your business a range of benefits to performing off-site activities incredibly:
All reports in one smartphone. When your staff is assigned to check HVAC issues in place, you may generate the appropriate reports and provide complete surveys outside the office;
Comprehensive planner options. Each team member could manage individual tasks, orders, and deadlines synchronized with access-granted practitioners;
Transparent task execution with 24/7 support. Your on-site service operators could change the task status in place, and amendments are automatically saved even if the Internet connection is suspended.
Find the best on-site service app to explore your business's remote operations
Top 10 KPIs You Should Measure in Field Support Service Operations
You must distinguish the field support service performance indicators to estimate your business success goals or strategy effectiveness. The defined metrics guarantee your customer satisfaction and employee empowerment for the broader market niche ratio occupation:
Service request volume to sum up the tasks performed and analyze the priorities of the submitted calls.
First-time fix rate to measure the client satisfaction degree from the issue resolution during the first service visit.
Technician utilization to calculate the average time spent to fix the particular issue.
Inventory and spares turnover rate to keep accounting activities properly.
Number of a job done to track strengths of the techs assigned;
Repeat visit to assess the complexity of the issues and forecast their possible factors and consequences.
Average reply time to determine the dispatcher effectiveness;
Rescheduling ratio to indicate the reactive work number.
Staff satisfaction to identify the self-motivation factors affecting task performance.
Profit to estimate the financial capacity.
Discover the field service metrics to provide a comprehensive analytical survey of your operations.
Field Support Service Management Software Market
The field service management market occupied 3.2 billion USD in 2021, and market analysts expect its growth by 10.3 billion USD during the upcoming ten years. A range of external contributory factors explains such positive dynamics:
globalization of the economic processes;
burgeoning demand for the primary and secondary products;
extremely sharp ups of the digital technologies development;
reduction of the workload pressure on the employees;
optimization of the office working conditions;
the popularity of remote works;
time management improvement.
All these triggers stimulate site service solution engineers to upgrade their products and integrate new operational functions. As such, transnational corporations or local small legal entities could work with coherent management optimization solutions to:
motivate their staff in qualitative task performance;
execute more orders without shortcomings and delays;
align with the scheduled timelines;
save the finds by declining administrative and operational expenditures;
invest in further business scaling and client database expansion.
Consequently, the final goal of the merchants is to force the application deliverable to work for the business's profit-making results. Therefore, this solution keeps its market ranking for the upcoming decades.
What Are Some of the Drivers in The Site Service Solution Market?
The off-site supervision market has a great perspective to increase its rates and involve more industries for its products. By 2032, economists forecast its ratio growth by three times; however, the global business and innovation development tendencies could increase that indicator more times.
According to the ongoing analytical surveys, the FSM market drivers include:
Dependence on SaaS technologies. Cloud applications empower enterprises to keep vast volumes of information off-site. Therefore, these business entities seek solutions capable of managing numerous databases. Thus, the site service solution started occupying a significant market share and gradually replaced the management tool supplements.
Mobile environment enlargement. Smartphones are long-term trends in the solutions markets because they provide remote work anywhere and time. Thus, mobile industries facilitate the FSM development and become the ideal accompanying tools for the dispatching activities;
Cost-effectiveness. Any corporation strives to keep funds and invest them in future development. So, decreasing operational costs and project budget optimization are the primary triggers to encourage on-site service tool integration.
Find more FSM stimulation factors in our blogs
Site Service Solution vs. CRM Comparison
Talking in commerce language, CRM treats the pre-acquisition and lead conversion processes, and digital site service management is dedicated to improving post-sale activities.
In most cases, it could be harmonically integrated with the existing CRM or EPM embedded solutions. However, the filed service functions have some significant advantages beyond the customer management solutions:
Tailored business process automation. Unlike CRM mediums, digital site service management solutions cover the whole operational cycle, including staff, inventory, facility, sales, maintenance, and customer support operations;
Comprehensive financial management. Using the field operations platforms, managers could be calm about payments and transactions with contractors or regulatory bodies;
Improved time management. Task and order scheduling could be adjusted to satisfy the client's expectations;
Complete technician empowerment. The specialized workflow automation is optimized, increasing efficiency indicators due to cross-cutting operational principles.
See more specific similarities and differences between these two business process optimization technologies
How to Choose the Best Field Support Service Software for Your Business
The field support service managers are granted a large assortment of programming products to adjust the business planning, execution, and controlling mechanisms. However, a choice of the best digital site service management technology synchronized with the business specialization activities should be based on the following recommendations:
Check the available functions in line with your business needs;
Take care about the security options to protect your commercial secrets and customer data;
Prefer the analytical tools integrated into the digital site service platform;
Support the training programs to encourage the staff upgrading efforts;
Compare the outcomes and KPIs generated by each interface under consideration;
Manage solutions with profound forecasting capacities for visualizing ongoing business processes.
Discover the best on-site service applications particularities to embed your business digital infrastructure.
Accounting With QuickBooks and Field Support Service Management Software for QuickBooks
This effective accounting solution simplifies financial management activities. This technological automation solution allows each accountant or financial manager to perform multitasking activities and supervise the real-time stats. In collaboration with the digital site service management mediums, QuickBooks enables vendors and manufacturing corporations to:
Book resources and inventory tools;
Pay the scheduled taxes and fees in terms of the well-organized schedule;
Generate the analytical reports and dashboards to assess the ongoing workflow measures;
Estimate revenues and losses resulting from the possible investment operations;
Plan project budgets with justified schedules and intervention logic schemes;
Draft tactics and strategic, operational on-site service programs for SMEs and large corporations.
Get familiarized with more benefits granted from the QuickBook and site service solution synchronization in our blogs per particular industries
Worth Investing in Field Support Service Software? Calculate Your ROI
To calculate ROI from field support service tool, gather the crucial inputs which assess your business's financial, human, and inventory capacities. In particular, the ROI formula traditionally comprises the following parameters automatically calculated by the embedded estimation machines:
Manpower values include technician, administrative, and reporting team indicators. Staff size, standard work hours, and payment ratio are basic measurements to evaluate the labor performance of the FSM employees;
Primary resources consisting of fuel consumption and value to foresee the assets optimization plans;
Warranty services associated with spare components which supplement the operational activities;
After-sales revenues estimate the income per job or service and predict the customer satisfaction rates.
Explore your ROI value to assess your site service solution metrics
Top 10 Field Operations Software in FSM Market
The field support service industries can choose different site service solution products that differentiate their available package by the business size, scaling perspectives, and investment availability.
Upon a brief review of the on-demand dispatching and scheduling optimization technologies, draw your attention to the top ten cutting-edge deliverables which make your business processes transparent and effective:
Salesforce is a universal tool to drive commercial productivity and increase sales for any industry;
Jobber is a customized solution perfect for startups and small business entities;
Kickserv is a free field management tool to discover the aspects of the adjusted customer and job empowerment processes;
ServiceTrade helps arrange commercial operations;
FieldEdge is narrowly specialized solution for HVAC industries;
Housecall Pro is an excellent digital management solution to analyze the customer experience achievements due to off-site support;
ServiceTitan is the best alternative for construction industries and small-in-size vendors;
Field Nation takes the leading position in the site service management market and satisfies the investors with a flexible toolkit and multifunctional tasks;
ZuperPro is a field management platform easily managed on your smartphone;
FieldCircle is an all-in-one platform for optimizing tailored management functions and satisfying different stakeholders with valuable packages of available features.
See top site service solution for small businesses and enterprise facilities in our thematic blogging surveys.
What's the Future of On-site Service Operations
In the post-pandemic phase, the site service solutions are expected to deal with a spectrum of responsibilities and tasks, including:
Technological progress in SaaS solutions, Big Data introduction, AI optimization, and improving mobile APIs;
Remote work tendencies for scheduling adjustment and cost-effectiveness;
Decision-making flexibility under extreme global challenges;
Financial system review in light of the popularization of blockchain technologies;
No staff trends in retail and wholesale industries based on new Amazon offline stores.
Considering the site service management market ratio forecast for the upcoming 10-year period, any field support service manager should be ready to update the current planning and monitoring platforms. Such preventive actions help businesses stay competitive and fix any risky situation without bankruptcy-provoking triggers.
So, choosing the site service solution integration, consider the main features and your business development objectives to avoid expensive and weak technologies limited to specific functional capacities.
Book a Personalized Demo
Learn how your businesses can use FieldCircle to achieve more efficient, transparent, and profitable service operations.
30 Days Free Trial
No Credit Card Required
By submitting your details, you agree that we may contact you by call, email, and SMS and that you have read our terms of use and privacy policy.