Things to Look for When Buying Field Service Software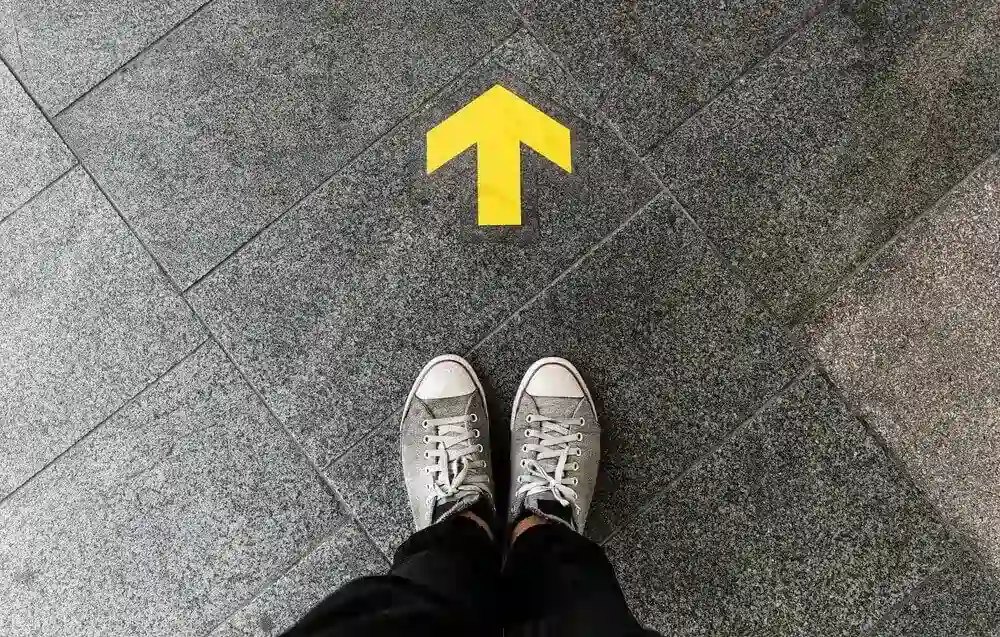 To stay ahead of the curve and keep costs down while keeping customers happy, businesses need to level up their game with technology. As the great Steve Jobs once said, "Innovation distinguishes between a leader and a follower."
And was he right? According to a PTC report, companies that embrace technology for field service operations management experience a whopping 40% increase in operational efficiency.
It implies that businesses that embrace technology and innovate in their field service operations are more likely to become leaders in their industry.
But here's the rub: choosing the right field service software is no walk in the park. Each organization faces its own unique set of challenges on the technology adoption journey. It's like navigating a maze with questions swirling in their heads, such as "What does our business really need?" and "Which software is the bee's knees for us?"
So, how does one choose the perfect product from the sea of FSM solutions out there? Just follow a few simple guidelines, and you'll be riding the wave of success with the best field management software for your business.
10 Things to Consider Before Buying Field Service Management Software
If you're looking for an answer to the question "How to choose field service software?" then before you reach for your credit card, it's important to consider these essential tips that will guarantee you select the right FSM solution. From avoiding common pitfalls to uncovering hidden gems, get ready to navigate the market. Let's roll up our sleeves and dive into these game-changing insights!
Does It Serve Customers in Your Industry ?
When it comes to choosing FSM, you need to hit the sweet spot where industry-specific features meet usability. It's like finding the perfect harmony between catering to your industry's unique needs and ensuring a user-friendly experience.
For example, suppose you run a home healthcare company. You have specialized requirements like care plan management and visit verification that can make or break your operations. So, when selecting the software, it's crucial to make sure it has been designed or configurable to meet your industry specific needs.
Here's where the magic happens: a recent survey revealed that a whopping 74% of respondents placed "functionality" or "ease of use" as their top priorities when making a buying decision. They recognized that a software solution tailored to their industry's needs, while being user-friendly, was the ultimate winning combo.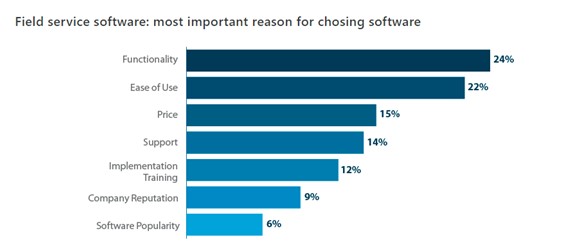 Source: Capterra
So, as you embark on your software journey, keep your industry and usability in mind. Seek out software solutions that not only cater to your industry's unique requirements but also make your life easier and more efficient. It's the perfect blend of serving your industry while ensuring a seamless user experience.
Core Features: The Good, the Bad, and the Overpriced!
When it comes to choosing the perfect software package for your business, you can't afford to overlook the importance of having the right field service features at your fingertips. It's time to dive deep and separate the essential from the excessive.
Given that features play such a large role in purchasing decisions, it's no surprise that businesses often switch software due to a lack of features. In fact, 58% of service businesses switch software because their previous system lacked the necessary functionality.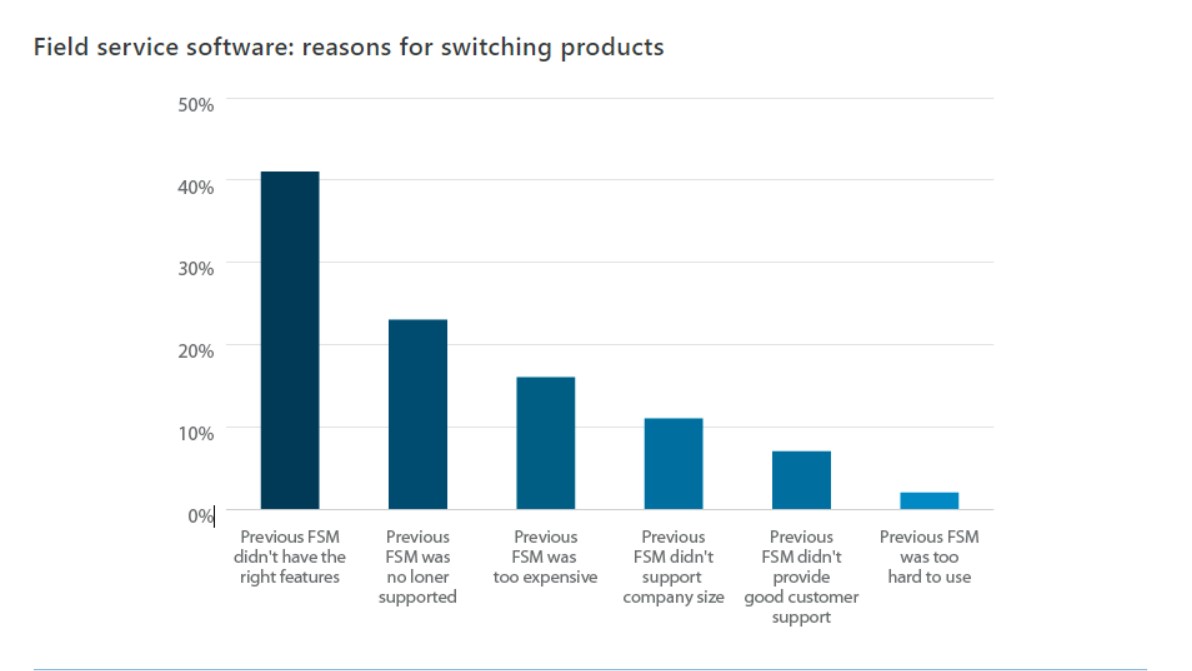 Source: Capterra
It's clear that having the right features can make or break your software choice.
If you are a plumbing company looking for software to manage your service operations. One of the key features you are need is an intuitive scheduling tool that allows you to effortlessly assign jobs to your team members. Now, picture your current software falling short in this area, leaving you struggling to coordinate your plumbers and resulting in missed appointments and unhappy customers.
Whether it's a robust inventory management system, seamless integration with your CRM, or a nifty mobile app for your technicians on the go, identify those must-have functionalities that will supercharge your operations. Don't fall for overpriced software with unnecessary bells and whistles. Focus on the core features that truly enhance your efficiency and customer satisfaction.
User-Friendly or a Total Nightmare?
It would be best if you chose a tool that will be easy for your employees to master. You do not need to stop your operations due to long training and lose profits, don't you?
You can ask for a demo or free trial to evaluate the product .see whether it's intuitive and easy enough for you and your team to use.
It would help if you also asked about training and support options. Some providers offer training programs to help your team members learn how to use their products. Some providers also offer 24/7 support if you have any questions or problems.
Don't Get Trapped: Beware of a Workflow Misfit!
Before you dive headfirst, let's talk about a crucial factor that can make or break your choice: workflow compatibility.
As the CEO of FieldCircle, Yogesh Choudhary shared, "Every decision-maker knows the importance of identifying inefficiencies in workflow processes. From start to finish, we need to uncover duplications and streamline operations for massive profits. Users within the system crave clarity: where they stand, what's expected, and what's coming next. Break the habit of mindless work and empower them with a bird's-eye view to suggest improvements and embrace change."
Imagine that you stumble upon a software solution that promises the world and seems like it could solve all your problems. But if it doesn't jibe with your business workflow or process, you are in for a world of pain.
Now, how do you know if the software can be customized to fit your workflows? Here are a few telltale signs to look out for:
Flexibility: Can the software be easily tailored to match your existing workflows? It should bend and flex to accommodate your specific requirements.
Customizable Forms: Can you create and modify forms within the software to capture the exact information you need? This is crucial for efficient data collection.
Integration Options: Does the software integrate seamlessly with your existing tools and systems? A smooth integration is essential for a seamless workflow.
Automation Abilities: Can the software automate repetitive tasks and streamline your processes? This will save you time and increase efficiency.
You need a solution that can be flexed and molded to match your existing workflow or process.It should be customizable, adaptable, and easy to configure. Whether you are dealing with intricate service schedules, complex work orders, or unique reporting requirements, that software better be able to handle it all without breaking a sweat.
Gets the Scoop on Your Business Performance!
Did you know that a staggering 60% of companies worldwide are already utilizing data and analytics to drive process and cost efficiency? This eye-opening statistic from MicroStrategy's 2020 study highlights the widespread adoption of data-driven decision-making.
Now, let's explore how data analytics and reporting can help you make informed choices when it comes to selecting the right service management software for managing your field operations. Imagine being confronted with numerous options, each vying for your attention and claiming to be the ultimate solution. It's a challenging situation, but fear not! Data analytics can be your guiding light amidst the overwhelming noise.
By delving into your business's data, you unlock valuable insights into your operations, customer satisfaction, and overall performance.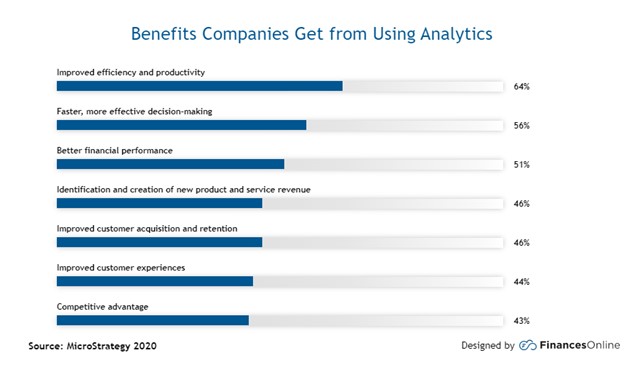 Think of it as peering into a crystal ball that reveals the true strengths and weaknesses of each software contender. Gone are the days of relying on guesswork or falling for flashy marketing tactics. It's time to embrace the power of data and make decisions that drive your business forward.
The below table showcases how to drop or choose the right FSM software based on specific criteria with more specific and distinct points:
| Tactics | Description | Choose | Drop |
| --- | --- | --- | --- |
| Performance Metrics | Analyze key performance metrics such as response times, resolution rates, and customer satisfaction scores to compare software options and align them with your performance goals. | If it consistently meets or exceeds performance goals. | If it consistently fails to meet performance goals. |
| User Feedback Analysis | Dive into user feedback and reviews using sentiment analysis tools to gain insights into the strengths and weaknesses of different solutions based on real user experiences. | If it has positive user feedback and reviews. | If it has consistent negative user feedback and reviews. |
| Integration Potential | Assess the compatibility and integration capabilities of different options with your existing systems and data sources to ensure seamless data sharing and avoid future complications. | If it seamlessly integrates with existing systems. | If it has compatibility issues or limited integration options. |
| Predictive Analytics | Utilize historical data and advanced algorithms to predict how different FSM software options will impact key performance indicators like productivity, cost-efficiency, and customer satisfaction. | If it shows a positive impact on performance indicators. | If it shows a negative or uncertain impact on performance indicators. |
| Cost-Benefit Analysis | Conduct a thorough cost-benefit analysis, considering both upfront costs and long-term return on investment, including factors like licensing fees, maintenance costs, training requirements, and potential revenue gains. | If it offers a favorable cost-benefit ratio. | If the costs outweigh the potential benefits. |
| Benchmarking | Compare the performance of available solutions against industry benchmarks and best practices to identify outliers with unique features or superior performance, enabling an informed and data-driven decision-making process. | If it outperforms industry benchmarks and best practices. | If it consistently lags behind industry benchmarks and best practices. |
With these specific points for both dropping and choosing FSM software, you can now clearly distinguish the reasons why a particular software option should be considered or discarded based on the given criteria.
How Secure Is Your Data? Don't Risk a Breach.
"As we've come to realize, the idea that security starts and ends with the purchase of a prepackaged firewall is simply misguided," says Art Wittmann.
And he's not just blowing hot air. Did you know that almost 83% of businesses expect a data breach to happen at some point? That's a scary statistic revealed by IBM Data Breach Report that should make you sit up and take notice. And it has been considered one of the common challenges for field service businesses.
Now, here's the lowdown: when you are in the market for field service applications, you need to grill those providers about their system architecture. Ask them about their data protection measures. Are they utilizing robust encryption methods? How do they handle access controls? You've got to dig deep and ensure that they've got your back when it comes to keeping your data under lock and key.
But hold on, there's more. Don't forget to inquire about their security policies and procedures. You need to understand how they operate and make sure you are comfortable with the way your precious data will be safeguarded. After all, it's your business's lifeblood we're talking about here.
Plan Your Exit Strategy – Can You Switch Software without the Drama?
We all know that life is full of surprises, and sometimes, you might find yourself needing to bid adieu to your current FSM app.
But, before you start imagining a clean break, let me hit you with a reality check: switching software can be a drama-filled rollercoaster ride if you are not prepared. So, let's talk about planning your exit strategy and avoiding unnecessary headaches.
One crucial question to ask those solution providers is whether they make it easy to migrate your precious data.
Get the scoop on their migration policy, and while you are at it, inquire about any sneaky additional fees they might slap you with. Sometimes, these service provider companies have more rules, and disconnecting from their system can be more challenging than joining them in the first place.
Do They Stay Ahead of the Curve?
So, what does it mean to stay ahead of the curve? It means having an FSM provider that's not afraid to roll up their sleeves and get their hands dirty.
They should be proactive in seeking out feedback from customers, continuously improving their product based on real-world experiences. They should adapt to new technologies and industry trends, so your business doesn't get left in the dust.
But just talk won't do. You need solid proof that a provider is actually walking the walk. That's where their roadmap comes into play. When you are grilling them, don't forget to ask about their plans for the future. Are they adding new features? Are they embracing cutting-edge technologies? Or are they stuck in a never-ending loop of outdated mediocrity? All these are essential questions you must seek answers to.
Give Them More Than Just Digital Requests!
You know that providing customers with an exceptional experience is the key to building loyalty and driving revenue. In their future of CX report, PwC shared a mind-blowing stat. They surveyed 15,000 consumers and discovered that 1 in 3 customers will stop doing business with a brand they love after just one bad experience.
When it comes to field service, your customers should be your number one priority, no doubt about it. You want to make sure they have a top-notch experience that will keep them coming back for more.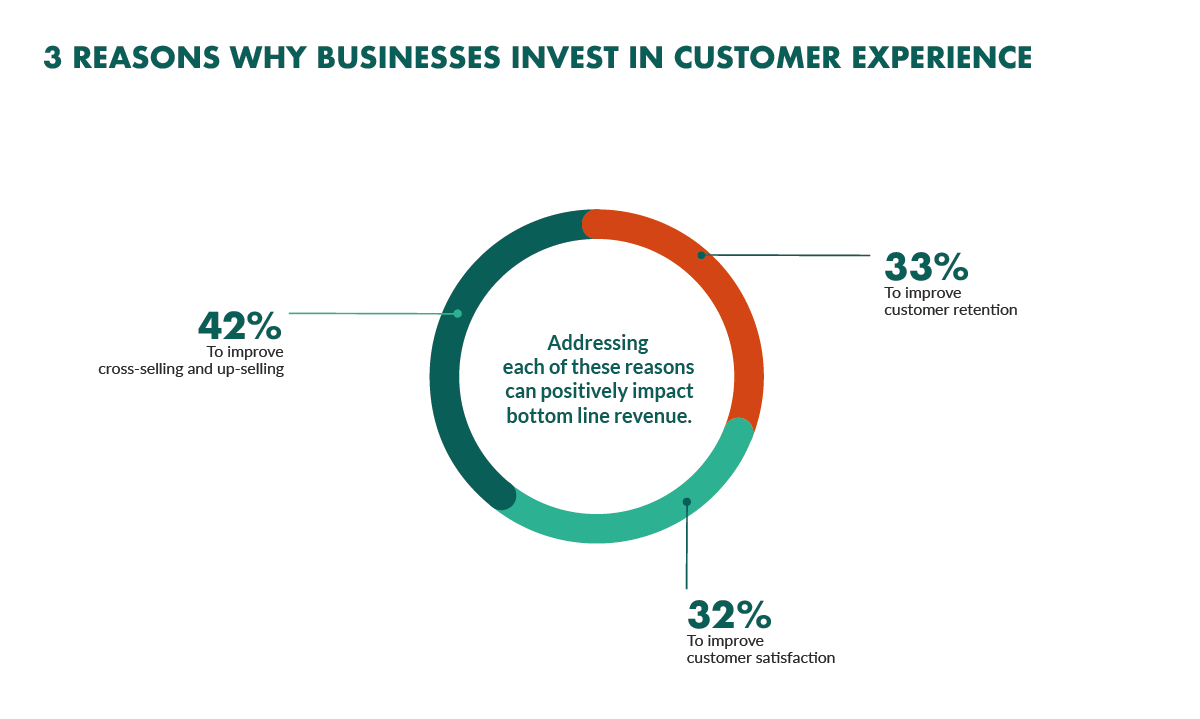 Source: Superoffice
So, here's the deal: when you are considering your options, don't just focus on what the software can do for you and your team. Take a step back and ask yourself, "What's in it for my customers?"
Now, here's a nifty tip: ask the software providers about the features they offer for your beloved customers. Are they throwing in online booking like a cherry on top? Because let me tell you, that's a sweet deal right there. With online booking, you can rake in double the profit while also saving your precious time.
But that's not all. Once they have booked their service, they can receive real-time updates on the status of their appointment. Ain't nobody got time for wondering when the technician will show up. It is only by choosing best FSM solution, your customers will know exactly when to expect your team to knock on their door.
Another crucial deal nowadays is looking for features like mobile appointment scheduling, real-time notifications, and easy communication channels. Because in this day and age, your customers expect nothing less than a smooth, hassle-free experience right at their fingertips. As 84% of businesses who claim to be customer-centric are now putting their focus on the mobile customer experience.
Is it Worth the Investment? Do the Math!
Of course, the cost is always a consideration when you choose right FSM software. You'll want to ensure you get the best possible value for your money.
Ask about the cost and what's included in the price. Make sure that you understand all of the fees that may be associated with the product.
You should also be curious about the expected return on investment (ROI). Don't hesitate to ask about any discounts or promotions that may be available.
These are just a few things on how to choose the right field service software for your business. You can be sure you are choosing the right product by asking the right questions.
The Step Forward
You need to know the difference between mediocre software and a game-changer. It's not just about streamlining your operations; rather it's about wowing your customers and keeping them coming back for more.
So, what should you keep in mind to ensure your FSM implementation is a roaring success?
Simple. Find a company that understands your unique needs, offers top-notch customer support, and provides a solution tailored to your business.
Book a Personalized Demo
Learn how your businesses can use FieldCircle to achieve more efficient, transparent, and profitable service operations.
30 Days Free Trial
No Credit Card Required
By submitting your details, you agree that we may contact you by call, email, and SMS and that you have read our terms of use and privacy policy.