Field Service Trends that Will Shape This Decade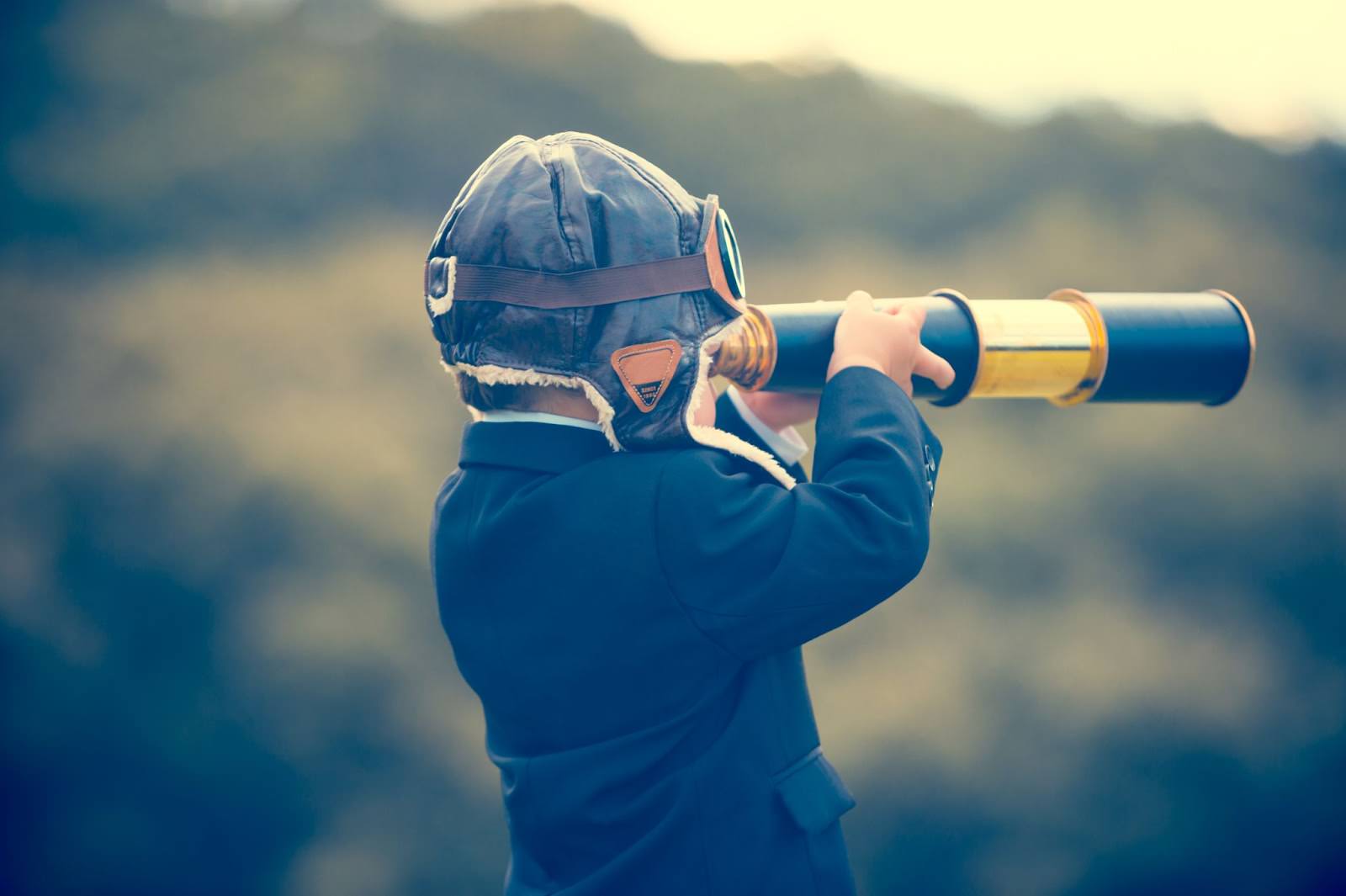 What will the future of field service look like by 2030?
For many, 2030 is a distant future, but for those who are responsible for shaping the direction of the company, it is not the time far away. And for that, they generally take critical decisions now to transform the organization and prepare for future transformation in field service management.
It keeps them aligned with disruption happening in the industry and helps figure out the white spaces where nothing much is happening at the moment.
On the contrary, as pointed out by the Silicon Valley tech entrepreneur, Kim Polese, "The short-term thinking disease is everywhere you look." It traps the leadership executives in determining tactical responses for the current challenges instead of taking action for the future of field service management. The difference in approach could be seen as:
| | |
| --- | --- |
| Tactical responses | Futurist responses |
| Defining priorities and allocating resources | Pursue research for new investments |
| Personnel changes—hiring, layoffs, quits, promotions, acquisitions, and organizational changes. | Workforce development for future needs |
| Makeshift technology changes that may impact ROI and business' key KPIs in present | Technology selection and adoption based on how technology will be used a couple of years down the line and not the current trends |
In order to make the shift, you must engage yourself in developing a "clear vision for industry's evolution", according to this HBR article. In that process, if we take a look at the current "sustainable innovations" in the FS industry trends, it would give us a preview of how the industry may evolve. Here is an infographic of current field service management trends that will shape this decade and trigger impactful evolutions in the next one.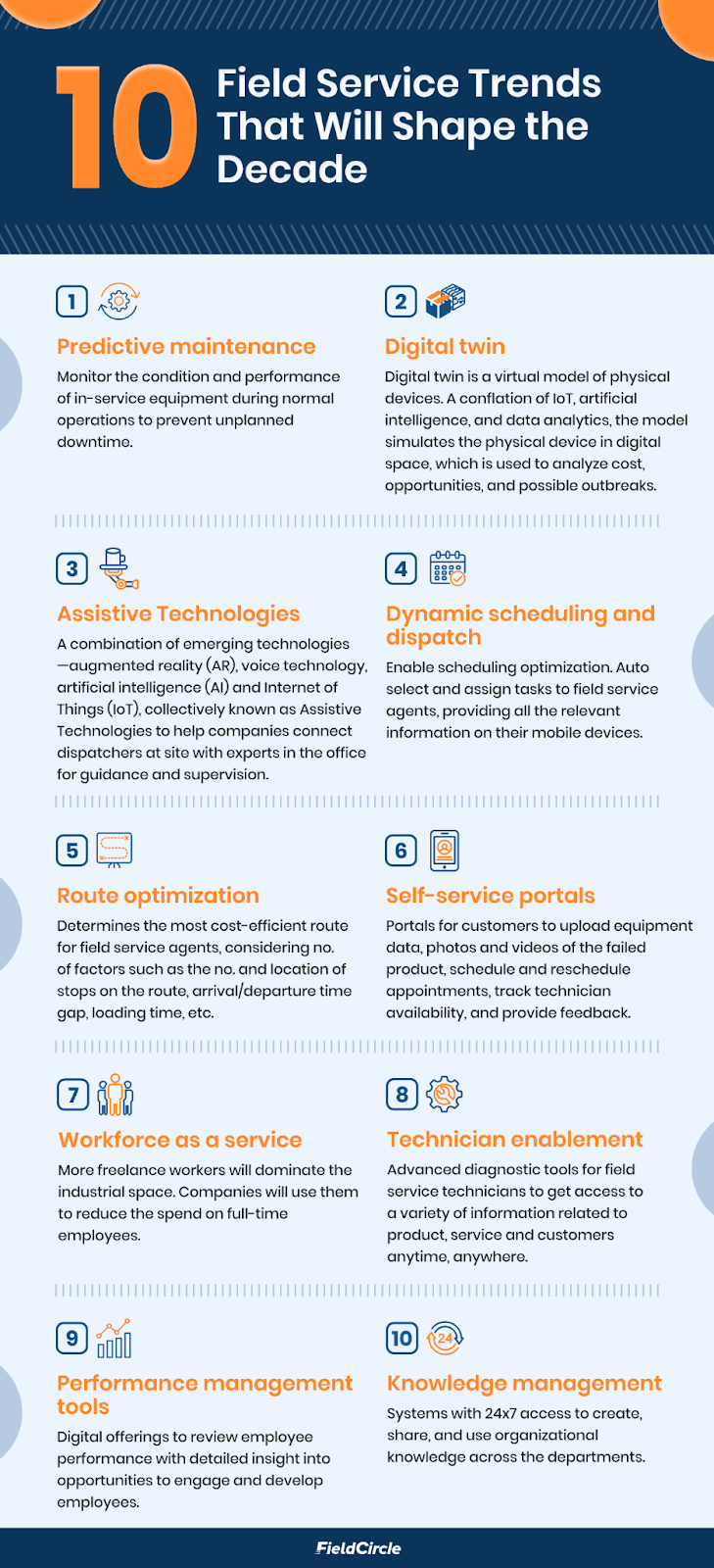 Let us dissect each of these top field service trends to see how they are setting in and the responses of the service leaders. By examining these technology trends in FS management closely, you can better understand their impact and how they shape the field service industry.
Predictive Maintenance
As per Precedence Market Research, the global predictive maintenance market size is expected to grow at a compound annual growth rate (CAGR) of 29.86% during the period 2022-2030, from USD 8.31 billion in 2022 to USD 67.21 billion by 2030. The increasing pressure on companies in MRO sectors to reduce the downtime and the cost of operations are the major factors that are driving this growth.
In this YouTube session by Google Work Space, Prashant Dinghra, Machine Learning Lead, Advanced Solutions Lab, Google Cloud, explains how you can create a hypothesis and build data models around it to develop predictive maintenance capabilities, mainly to:
Predict if equipment will fail in the next 'N' period
Predict if equipment will fail in the next 'N1', 'N2'…period
Predict if the equipment will fail in the next 'N' period due to the fault in the part 'X'
Predict the time to failure or remaining life of the equipment
Find anomalies
In the same video, Manju Devdas, founder, and CEO of Pluto7, also explains how predictive maintenance "makes your operations and monitoring team more productive" and saves money by reducing unforeseen downtime.
Digital Twin
Digital twin is a conflation of AI, ML, and IoT technologies to collect, process, and then drill down data to get actionable insight. It is basically creating a digital clone of the systems, products, and processes to analyze the implications of any action on them in the real-world environment.
The global Digital Twin market is expected to grow at a CAGR of more than 24.7% during the forecast period 2021 to 2026, as reported by IndustryARC. Interestingly, 42% of market growth is expected to take place in North America, especially in the automobile and aerospace industries. And most of the maintenance management programs and even asset management software have started incorporating asset performance with Twin models.
While it has a number of applications in product design and development and business optimization, maintenance operations is leading the segment by 24%, closely followed by performance monitoring.
AR and VR for Remote Assistance
As per Gartner, by 2025, nearly 50 percent of all deployments in service management will make use of Augmented Reality (AR)s tools.
In the service industry, AR and VR technologies are used to create a simulated environment derived from real-world scenarios. It enables service technicians to visualize and identify the problem beforehand so that they could go prepared at the client's location with tools and essential spare parts, while also allowing them to connect with certified experts from remote locations to seek guidance and support. AR and VR are thus turning out to be one of the important field service management market trends.
One of the biggest developments in remote assistance is Microsoft's Hololens. According to Alex Kipman, the person in charge of the HoloLens project, Hololens is for the "people that have been, in a sense, neglected or haven't had access to technology [in their hands-on jobs] because PCs, tablets, phones don't really lend themselves to those experiences." It will improve collaboration across locations and facilitate access and exchange of data to resolve the issues quickly and accurately.
Dynamic Scheduling and Dispatch
Scheduling and dispatch processes act as the connective tissue between technicians and the back-office staff. Any error or mismanagement at this point is quickly reflected as the loss of productivity and poor first-time fix rate.
In an article published by McKinsey on How Disruptive Technologies are Opening up Innovative Opportunities in Services, it is stated that "By using data and telematics to track technicians schedules in real time', companies can add 20 to 30 percent to the working day."
Similarly, Deloitte stated that companies are "Reducing costs by optimizing dispatch processes through employing information such as skills, proximity, priority, account allocations for scheduling and dispatch."
Automate Your Scheduling
and Dispatch Process
Increase Profitability
Reduce Costs
Route Optimization
As per Global News Wire, the global route optimization software market, estimated at USD 5.8 billion in 2022, is projected to reach USD 21.7 billion, growing at an astonishing CAGR of 17.9% over 2022-2030.
The growth rate signals how businesses are using geographic information systems (GIS) technology to optimize routes and save time and fuel costs.
Route optimization software solutions enable the users to select fuel-efficient routes, track drive time and prevent unplanned stops within the service delivery network. Usually, such solutions consist of a powerful route optimization engine that tests multiple scenarios to check the time and cost factors to make the best route recommendations.
Customer Self-service Portals
If we are to take Global New Wire's findings, then the global customer self-service solutions market is expected to grow from its USD 12.9 billion size in 2022 to USD 34.35 billion in 2027.
The rising use of self-service portals and apps is due to their ability to provide customers with information and tools that enable them to schedule technician appointments in their own time, locate technicians, and provide feedback on the job done by them. There are two incredible benefits of deploying self-service portals:
It provides more control to the customers in deciding on when and how they want to be served.
It could help you build a community around your product/service to effectively engage your customers with more resourceful content and other activities.
Well, the self-service economy might grow much faster than you expect, considering that "70% of customers expect a company's website to have a self-service portal," according to Steven Van Belleghem, Global keynote speaker. A similar study conducted by DimensionData reported that "73% of customers prefer to use a company's website, instead of using social media, SMS and live chat for support."
Workforce as a Service
The global consulting firm McKinsey reported that there are approximately "68 million freelancers in the US." Most of the gig workers are supporting B2C models, working for companies such as Uber, Lyft, TaskRabbit, Instacart, Airbnb and Shyp. As the technology is evolving the FSM processes, the industry too is expected to see a rise in freelance technicians and contractors, leading to a significant field service business transformation.
In an article by IBM, titled "How the gig economy will transform service management," the company highlighted the significance of "field service predictions" in revolutionizing the way companies handle their workforce and predict outages. According to the article, implementing "systems to track work orders and records for all field infrastructure" enables companies to make more accurate predictions about potential outages and effectively deploy their workforce.
These platforms allow the service businesses to provide role-based permissions for anytime, anywhere accessibility of information to their freelance technicians. So, while the technicians could access information to complete service/repair tasks, companies have more control over who and how much information a freelance technician must see.
Technician Enablement Tools
To clearly understand technical enablement tools, you need to see the whole FSM process from the technicians' perspective. A human and not a resource and that requires an acceptance that they are prone to fatigue, frustrations, and mistakes. The next step post-acceptance is facilitating them with tools that share their burden and support them during tough times.
For instance, diagnostic tools could provide them with information such as service manuals, service history, suggestions for diagnosis and repair, and the relevant service manual to solve the issue accurately. As stated by Deloitte in the article, Smart Field Service "Creating the right experiences for your field technicians is essential in delivering delightful experiences for your customers."
Yogesh Choudhary, CEO at FieldCircle, elaborates on this as, "The people critical to your business success are out in the field and their empowerment can not only provide immense business and customer insights but can simply be transformative for your service business."
Performance Management Tools
A typical FSM process requires a performance evaluation of people, processes, and assets. Most organizations use KPIs or metrics to evaluate performance. Some of the most-used field service KPIs, according to the Field Service News report, include customer satisfaction, service revenue, mean time to repair, SLA compliance, field technician utilization rate, and service part revenue.
As the companies would move their processes online, it would increase the adoption of performance management tools to set, define, monitor, and measure KPIs, be it of assets or field teams or so on.
Valued at USD 19.32 billion, the global asset performance management market is expected to grow at a CAGR of 12.0% from 2023 to 2030. On the same line, the global field service management market forecast says its size is expected to grow from USD 3.173 billion in 2021 to USD 6.17 billion by 2028, at a Compound Annual Growth Rate (CAGR) of 11.7% during the forecast period.
Knowledge Management
The efforts to prevent the loss of knowledge with an aging workforce, high employee turnover, and operational complexity would increase in the industry. With a large retiring but insufficient incoming workforce, the talent crisis looms large in front of businesses.
It might be one of the reasons for enhanced steps to improve the knowledge management framework. Another critical reason for increased knowledge management efforts in the industry is improved first-time fix rate. By making critical information such as service manuals associated with work orders accessible for technicians in the field, companies have a better opportunity to ensure quick and accurate resolution of the problem.
An Afterthought
What seems "nice to have" may become a "must-have" in the blink of an eye considering the rapid changes in technology and the acceptance of technology solutions among consumers. And these disruptions often lead to businesses leaving because they fail to adapt and adopt.
Now is the time to start thinking about what may happen 4 or 6 or 10 years down the line in your industry and plan – to be ahead in the game, serve your customers better and build a business that is a disruptor. We have answered, 'What are the top field service management trends?' And by adopting these trends, businesses can remain competitive and effectively navigate the ever-changing landscape of service management.
So, it's crucial to stay proactive and keeps tabs on future trends impacting field service businesses.
Elevate Your Field Service
Game with FieldCircle
Increase Profitability
Reduce Costs
Book a Personalized Demo
Learn how your businesses can use FieldCircle to achieve more efficient, transparent, and profitable service operations.
30 Days Free Trial
No Credit Card Required
By submitting your details, you agree that we may contact you by call, email, and SMS and that you have read our terms of use and privacy policy.