5 Ways AR is Transforming Field Service Teams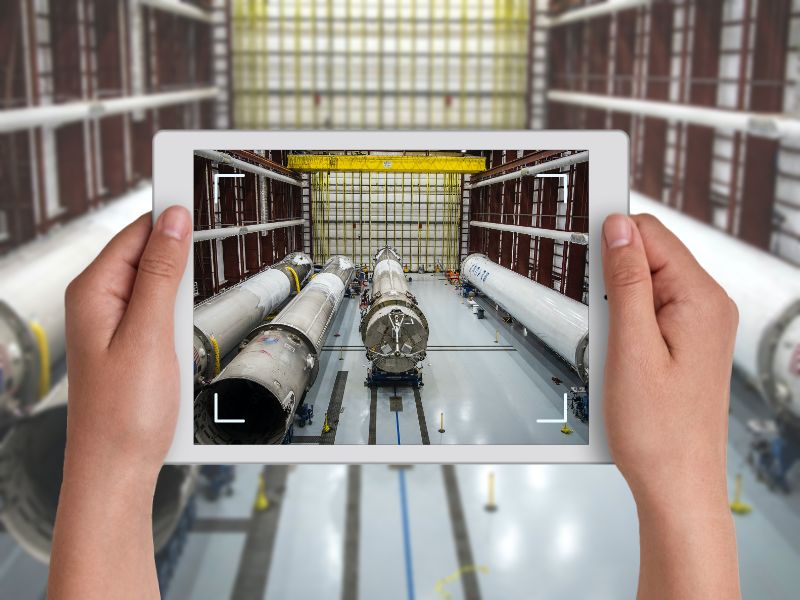 The service industry is all about providing a high level of customer satisfaction. As technology continues to evolve, companies are always on the lookout for new tools to improve their service and stay ahead of the competition. AR in field service is rapidly gaining popularity in the service industry, as it can enhance the capabilities of service teams and provide a superior customer experience.
AR offers solutions that can resolve a variety of challenges and help service teams quickly carry out repairs on-site, consult with colleagues, check a service case in advance, and better prepare for and accelerate field service.
Experts project that the augmented reality market will experience a compound annual growth rate of 48.6% over the next several years, with an expected increase to almost $98 billion by 2028, compared to $4.2 billion in 2020. This optimistic outlook suggests that augmented reality is here to stay and can potentially revolutionize the way an effective field management software provides services to and engage with customers, in combination with other technological advancements.
In this blog, we will discuss the ways augmented reality transforms your field service team.
Ways augmented reality helps field service teams
AR provides a range of benefits to service teams that enhance their efficiency, accuracy, and overall performance. Here we explore how AR is helping service teams in various ways.
Remote Access and Troubleshooting
AR technology provides service teams with remote access to devices and equipment. It enables them to perform real-time analysis and diagnostics of issues, even when they are not physically present at the site.
Service technicians can use AR glasses or headsets to identify the problem with the help of visual cues, annotations, and instructions displayed on the screen. Smart AR headsets have the potential to operate hands-free, this is even more promising. Recently, Google launched the second version of its AR glasses, Google Glass, which is powered by Android Oreo and features a better camera than the previous model.
The remote access feature also allows service teams to work collaboratively with customers to troubleshoot issues, reducing the need for expensive on-site visits. This approach saves time and reduces costs while improving customer satisfaction.
Easier Collaboration
Service teams can collaborate easily and effectively with the help of AR. This helps collaboration between less experienced technicians and off-site experts to mitigate challenges.
AR technology can provide technicians with a duplicate view of their work, allowing remote collaboration from anywhere. By allowing off-site experts to provide advice to on-site personnel, first-time fix rates can be improved, which is essential for great customer satisfaction. Additionally, computer-generated product information, including service manuals, diagrams, temperature and pressure readings, part numbers, and descriptions, can help remote workers make better-informed decisions.
They can also communicate with each other using voice commands, eliminating the need to type or hold a phone. This approach improves the speed and accuracy of problem-solving while enhancing teamwork.
Remote Workforce Management
AR technology can help service managers manage their remote teams more efficiently. Managers can leverage AR technology to dispatch the best-suited worker for each job based on their skills, location, and workload. Location tracking and automatic call-logging tools allow for efficient team management, enabling managers to optimize workforce utilization.
Field services augmented reality with digital support tools empower remote personnel to complete jobs faster and more efficiently, reducing the need for multiple visits and enhancing customer satisfaction. With AR and IoT technology, field-service teams can be more profitable by completing more jobs in a single day. Additionally, organizations can build and maintain an optimally performing remote workforce quicker, cheaper, and with less effort.
Broader Solutions
Augmented reality offers solutions beyond just remote assistance. For instance, AR technology can assist service teams in identifying equipment models, and past designs, and predicting their durability in different weather conditions.
This helps the team to suggest the appropriate time for replacing certain parts of the equipment, which ultimately leads to better performance and cost savings. It can also help teams to provide customers with virtual tours of facilities, showcase new products and services, and highlight features and benefits.
Moreover, AR field technology provides a broader solution by enabling customers to fix equipment issues themselves through real-time video streaming with technicians or field managers. His approach improves customer engagement and enhances the value of service offerings.
Training of Service Teams
Traditional training methods are costly and time-consuming, and it is challenging to keep up with the rapid pace of change. Fortunately, AR provides a solution to these challenges. AR technology can be used to train service technicians. By leveraging augmented reality field service with virtual tools, team managers can provide comprehensive training to service technicians, regardless of geographic or time barriers.
By providing AR glasses or headsets, technicians can receive on-the-job training that enhances their skills and knowledge. It can display visual cues, animations, and instructions that guide technicians through procedures, and reduce the risk of errors and accidents.
Final Words
AR technology is not a substitute for experience, it offers a comprehensive solution to field teams and managers' jobs. Its simplicity and remote support capabilities have made it a valuable tool for service teams, leading the way into the future of work. As the AR field service continues to grow, service teams can expect broader solutions and increased efficiency in their day-to-day operations.
So, whether you're a manager looking to optimize your workforce, or a technician seeking to improve your skills and performance, incorporating a tool like FieldCircle could be the key to unlocking a whole new level of success.
Book a Personalized Demo
Learn how your businesses can use FieldCircle to achieve more efficient, transparent, and profitable service operations.
30 Days Free Trial
No Credit Card Required
By submitting your details, you agree that we may contact you by call, email, and SMS and that you have read our terms of use and privacy policy.