Landscape Scheduling and Management Software
Landscape Scheduling and Management Software to automate scheduling, track field force on-the-move, monitor jobs in real-time, and reduce turnaround time of service requests.
How FieldCircle Can Transform Your Landscaping Business
FieldCircle is an exclusively designed mobile scheduling and invoice management software for landscaping companies and contractors after careful consideration of their jobs that majorly includes landscape designing, installation, maintenance, irrigation, addressing erosion and drainage problems, hardscaping and lighting services
Service Manager
Designer
Supervisor
Worker
Accountant
Customer
Applicability and Benefits
Easy work order allocation based on availability of workforce and other resources.
Managing multiple landscaping projects effectively.
Track the consumer requirements and reaching the high level of customer satisfaction.
Managing queries, quotations and pricing of various projects at a centralized location.
Smoothly tracking equipments and tools used for delivering service.
Easily getting real time job notifications from designers, supervisors, workers, managers and customers.
Analyzing analytics and reports to get better insights.
Applicability and Benefits
Creating, saving and sharing the landscape designs and tracking the updates on the same effectively.
Applicability and Benefits
Monitoring of field worker and easily maintaining the record of their performance.
Applicability and Benefits
Instant communication related to work.
Better accountability of work.
Applicability and Benefits
Easy Invoice management and providing real time updates to the staff members of the same.
Estimate the expenses by analyzing the past expenses.
Applicability and Benefits
Tracking the progress of work in real time.
As one of the best mobile scheduling and invoice management software for landscaping companies, our solutions make scheduling, work order management, customer management and invoicing process seamless.
Landscape Management Software for Improving Sales Efficiency
A feature-rich landscape business management software changes the way you manage your business. Our landscape project management software is designed to manage the entire landscaping task right from automating the entire process to analyze proposals with the right delivery margins. The software also offers real-time reporting feature.
Get Your Business Automated With FieldCircle Landscape Scheduling Software
Our landscape scheduling software is a smart solution for contractors and companies. The software solution not only manages scheduling and dispatching but also allows automatic generation of invoices. This software for landscaping contractors is an offering from a company that has attained a dignified place in the industry.
Choose Landscape Management App for Business Empowerment
Automate your entire landscape business with FieldCircle's software for landscaping companies. The program allows easy tracking of field technicians and thus keeping a tab on their whereabouts. There are custom fields that make it easy to track specific information required at any given point of time.
Read More
Landscape Management Mobile App Solution
FieldCircle landscape management mobile app is available on both iOS and Android (smartphones and tablets) and provides users on-the-go access to relevant modules based on respective roles and permissions.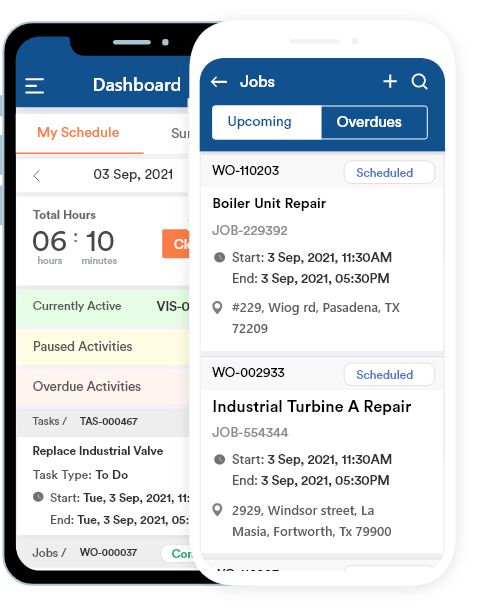 Controlled Access

Allowing employees to perform their field / non-field work activities on-the-go, on-time and smartly.

Geo-tagging

Geo-tagged clock-in/clock-out, work-orders / tasks etc.

Data Submission

Paperless submission of timesheets, job reports, payment info etc.

Collaboration

Instant messaging and alerts / notifications for various activities.

Online and offline support

App saves all the data when in remote or low reception areas and auto-syncs while having good connectivity; ensuring data security and integrity.
Why Choose FieldCircle
With its user-friendly web portal and mobile app, you could eliminate all the manual work and move to paperless reporting via managing customers, estimation, employee scheduling, invoicing, and analytics. It's all in there and much more.
All-in-one solution at your fingertips
Improved efficiency and revenue
Data security and protection
Schedule Demo
Drop your details and we will be in touch for a personalized demo.