Landscape Management Software
Equip your team with the best landscape management software and make your business more profitable and customer-friendly.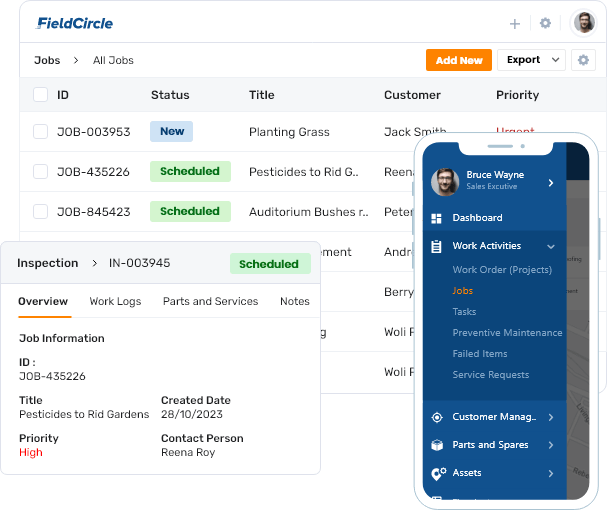 Give a digital boost to your landscaping business
and drive profitability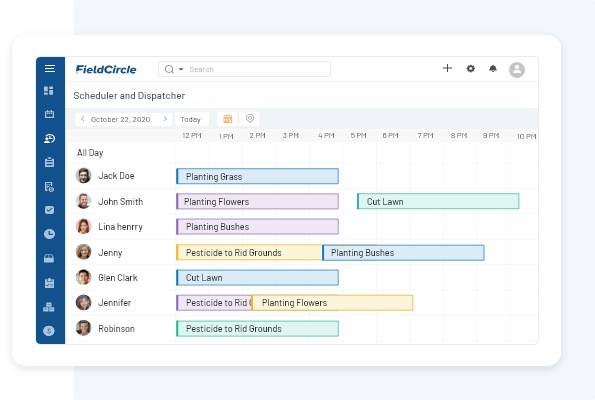 Enhance the speed and accuracy of operations
Automate scheduling & dispatch to send right workers at the right job
Track and monitor field activity on a specific and goal- oriented basis
Bring your invoice and payment process online, collect payment faster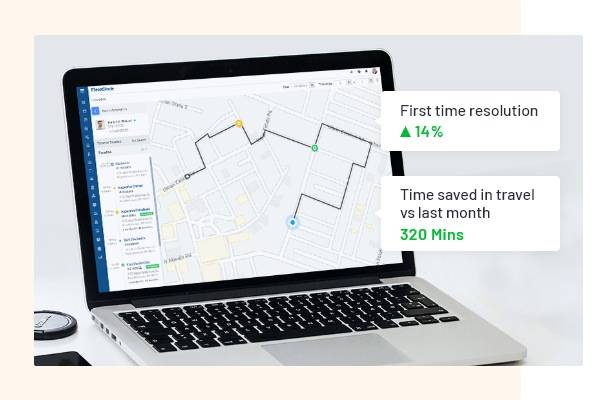 Reduce the cost of service delivery
Improve first-visit resolution, save cost on return visits
Optimize routes and control fuel costs
Automate repetitive tasks, let your techs attend more service calls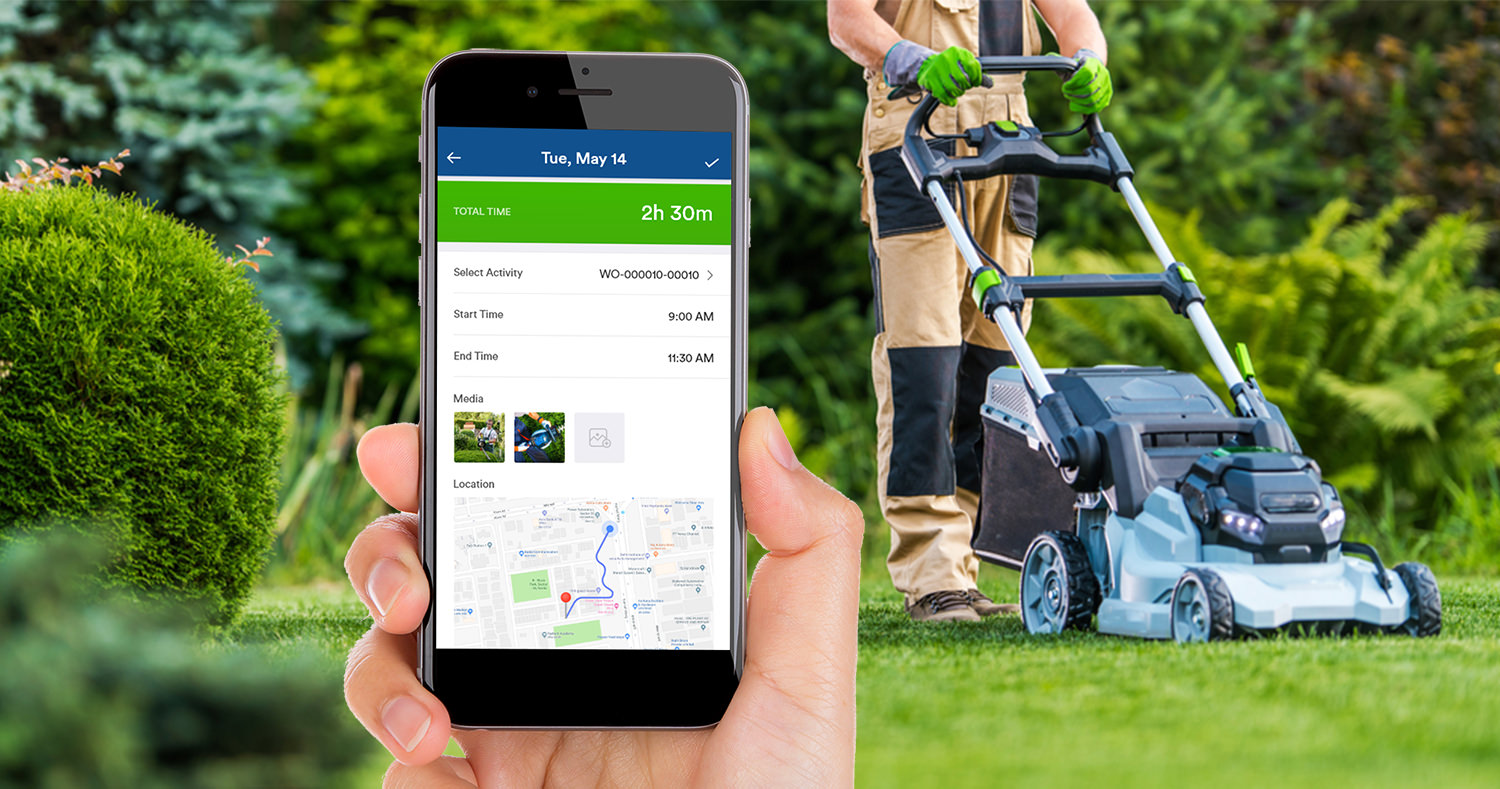 Manage, monitor, and measure performance
Define, track, and monitor performance metrics
Intuitive dashboard with reporting capabilities
Automatically generate performance reports
Simplify operations with top landscape management and scheduling software features
Landscape Management Mobile App Solution
FieldCircle landscape management mobile app is available on both iOS and Android (smartphones and tablets) and provides users on-the-go access to relevant modules based on respective roles and permissions.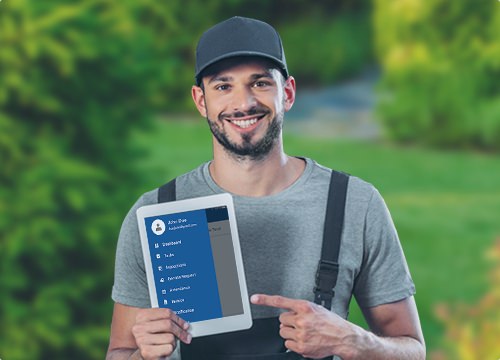 Full functionality to let your field teams access visit information
Enable them to create & send invoices right in the field
Integrated location intelligence capability to optimize routes
Track and monitor field activity to take actionable measures in real-time
Landscape management software to optimize your workflow
A feature-rich landscape business management software changes the way you manage your business. Our landscape project management software enables businesses to transform their service operations to operate more efficiently. Combined with time tracking, automated scheduling, invoicing and billing, and customer information management options, the software helps landscaping professionals drive down the cost and increase profitability.
Get Your Business Automated With FieldCircle Landscape Scheduling Software
Our landscape scheduling software is a smart solution for contractors and companies. The software solution not only manages scheduling and dispatching but also allows automatic generation of invoices. This software for landscaping contractors is an offering from a company that has attained a dignified place in the industry.
Choose Landscape Management App for Business Empowerment
Automate your entire landscape business with FieldCircle's landscape business management software for landscaping companies. The program allows easy tracking of field technicians and thus keeping a tab on their whereabouts. There are custom fields that make it easy to track specific information required at any given point of time.
Read more
Learn how YourSpace grew its revenue by 28% with FieldCircle
Why they prefered us
Simple and easy to use interface
Complete hand-holding in onboarding and importing data
Proactive and humble team that care for their success
Over 200 customers trust us to drive revenue growth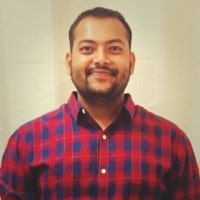 Sandeep Aggarwal, Director and Co-founder
Dentalkart
Achieved 35% increase in revenue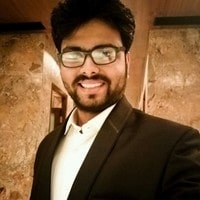 Dhiyavasu Bhadauria, CEO
EventGraphia
Increased team productivity by 22%
Book a Personalized Demo
Learn how your businesses can use FieldCircle to achieve more efficient, transparent, and profitable service operations.
By submitting your details, you agree that we may contact you by call, email, and SMS and that you have read our terms of use and privacy policy.
FAQ
Why should I use landscaping management software?
Landscape management software gives you more control over your business operations. They enable you to operate at maximum efficiency, increase productivity, improve field team and back-office collaboration, and obtain visibility into how your operations are functioning in real-time. You can automate key processes such as scheduling and dispatch and routing to invoice and payment systems to reduce turnaround time, eliminate redundancy, and save cost.
How does FieldCircle's landscaping management software help my business?
FieldCircle's landscaping management software is an all-in-one solution to schedule your field workforce, organize work orders, and manage inventory, invoice, and payments at fingertips. It takes manual work out of your operations, allowing your team to focus on their core job, get more done in a short span, and deliver awesome service experience to customers. You could reduce wastage of resources and save on time to do more jobs in a day to increase profitability.
Why should we choose FieldCircle over other landscaping management software?
FieldCircle's landscaping management software supports your workflows to use a highly configurable set of tools essential for addressing the number of challenges in the processes in the pipeline. It has been designed for a broader user base in every function of a business, from field teams to office executives to customers, contractors and subcontractors. The best part is it is fully customizable and scalable with modules that grow with your growing business.
Does FieldCircle have recurring jobs feature-most important aspects of landscaping management software?
Yes, you could easily set your preferences for the recurring jobs and those jobs will reflect on your calendar whenever scheduled. Simultaneously, the concerned team members will also receive the notifications for the job, along with all the details that you have stored.
Does your landscaping software integrate/sync with QuickBooks?
Yes, we provide full support to synchronize your data between QuickBooks and FieldCircle. With just a few clicks, you can export and import data from one application to another to keep your field teams and accounting department in sync.
Does your landscaping software have integration or APIs available?
Yes, we provide integration support to all popular systems, applications, and APIs including your own customized APIs to help you connect your data and make it more consistent.
What time is the support team of FieldCircle available?
We are available from 6:00 am ET- 6:00 pm ET.