Unlock the Value in Your Operations with our
Equipment Maintenance Software
Manage your heavy equipment maintenance operations in a more proactive and predictive way using FieldCircle's equipment maintenance program configurable to your business needs.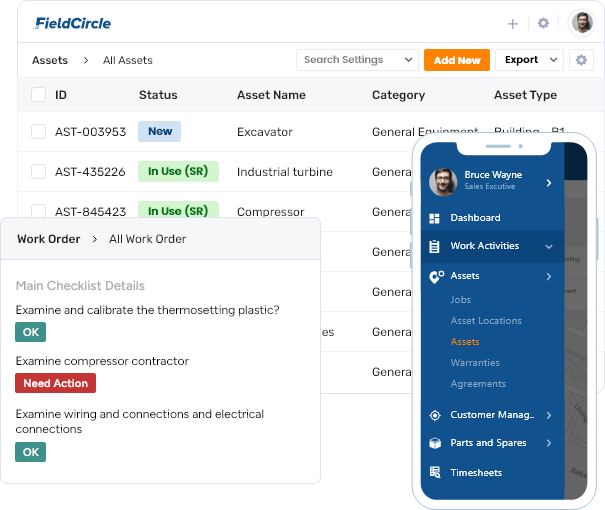 Features That Drive Growth and Profitability
An equipment maintenance program that has got you covered with all the features you will ever need.
Equipment Maintenance Software
Manage Assets and Their Service Operations
Equipment management and tracking
Manage all your equipments, their warranties and maintenance contracts at one place
Keep a track of expiring warranties, contracts and set-up notifications
Manage historical functional location logs and asset movement
Increase operational efficiency and team productivity
Manage entire equipment and machinery service lifecycle on a single platform
Visualize everything: equipment, service activity on assets, warranties and contracts
Equip technicians with all asset data, historical service records and improve first time fix rate
Get insights using data and make informed decisions
Receive more detailed service requests, plan spares in advances to prevent service revenue leakage.
Achieve improved operational performance with comprehensive reporting of work orders, PM/ inspections, and failed items on assets.
Get dashboard that enables evidence-based analysis of field service data to make informed and better decisions
Equipment Maintenance App – Manage Operations On-the-go
Drive operational effectiveness and achieve greater efficiency with our equipment maintenance app.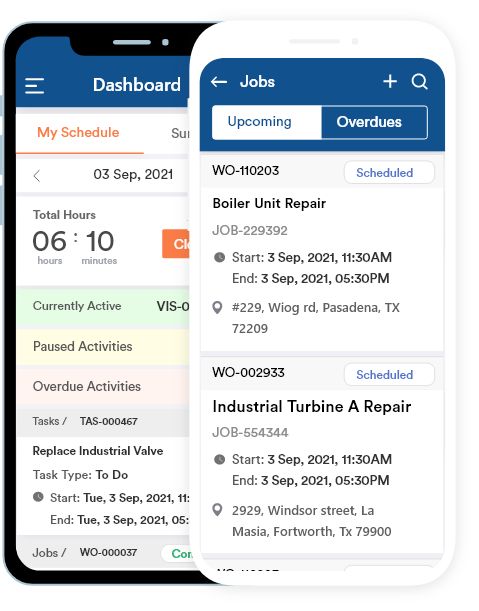 Allow seamless data exchange between your field teams and back-office staff to keep them in sync
Enable your field teams to track their schedule, job and customer details, and receive notifications on their mobile device
Make equipment details such as service contracts, warranties, asset detail and historical service logs easily accessible for field teams to resolve issues faster
Enable your teams to create, organize, and manage data throughout the service lifecycle to build company knowledge and use them effectively
Trusted by customers across the globe
Businesses from various domains like OEMs and manufacturers rely on our top-rated equipment maintenance software to manage their maintenance operations more efficiently and profitably.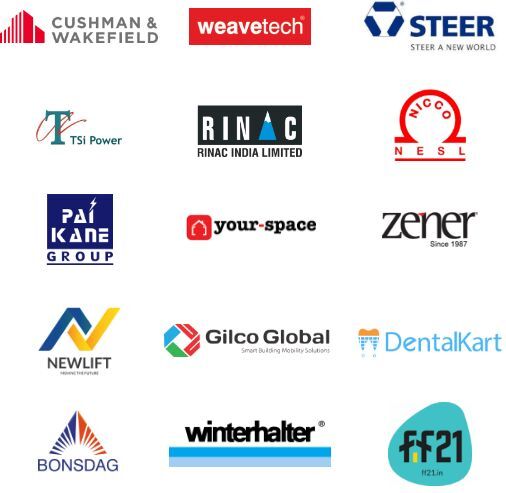 Why they chose us
Highly configurable to our business processes
Simple and easy to use interface
Complete hand-holding in onboarding and importing data
Proactive and humble team that care for their success
Blogs
Our featured blogs sharing insights on field force automation, applicability and latest trends in industries
+Show blog
Book a Personalized Demo
Learn how your businesses can use FieldCircle to achieve more efficient, transparent, and profitable service operations.
30 Days Free Trial
No Credit Card Required
By submitting your details, you agree that we may contact you by call, email, and SMS and that you have read our terms of use and privacy policy.
FAQ
Why use FieldCircle's equipment maintenance software?
FieldCircle's software can help you solve critical challenges around asset management and their service operations. It enables you to bring all your equipment information including location, spare parts, service history, associated contacts and work orders, and service manuals on a single platform. You could visualize the entire service journey from the first contact to the service delivery, track and monitor every aspect of service operations, and get actionable insight to make informed decisions.
Why should we choose FieldCircle over other heavy equipment maintenance software?
FieldCircle software is highly configurable to your workflows. It streamlines your operations while allowing your team to work the way they want.
Does FieldCircle have contract management and preemptive maintenance features- most important aspect of our equipment maintenance management software?
Yes, FieldCircle provides you all the tools to manage SLAs associated with an equipment/customer. You can track the equipment usage in real-time, create a work order, and then schedule a maintenance before the equipment fails.
Does your equipment maintenance program integrate with QuickBooks?
Yes, you can integrate FieldCircle with QuickBook to keep your field teams and account departments in sync.
Do you have an equipment maintenance app? What all platforms it's available on?
Yes, FieldCircle provides an equipment maintenance app for field teams. You can download the app for iOS from the App Store and Android from Google Play.
How can Equipment Maintenance Software help your business?
Equipment maintenance and management software digitize the process of managing equipment to bring transparency, optimize equipment utilization, and enhance productivity. Equipment maintenance software helps in maintaining digital records of equipment from acquisition to disposal, allowing the asset managers to plan and schedule preventive maintenance to cut unscheduled downtime and increase equipment reliability.
The key benefits of an equipment maintenance software are:
Effective equipment maintenance planning (Preventive as well as breakdown) and scheduling
Improved wrench time and more productive equipment maintenance team
More efficient equipment maintenance operations
360 degree visibility into your daily maintenance operations
More streamlined spare sourcing and spare parts management
Improved equipment maintenance operations profitability
Breakdown predictability and more revenue opportunity
Equipment maintenance software with an integrated equipment maintenance app enables service technicians to track tasks assigned to them and access historical data in the field.
What are the common features of Equipment Maintenance Software?
Equipment tracking: Keep all equipment information in one place to get an accurate picture of asset value over time, see what assets need frequent maintenance, and facilitate collaborative asset management activities with equipment maintenance and tracking app.
Preventive maintenance: Schedule preventive maintenance at certain intervals, time, or based on past maintenance activity, assign maintenance tasks to service technicians, and mobilize resources faster for successful completion of tasks.
Equipment maintenance mobile app: Enable service teams to view upcoming maintenance tasks and data associated with equipment such as service contracts, repair jobs done in past, and payment history. Allow your teams to upload and access documents from the field and maintain logs.
Inventory management: Track and manage items across the organization at multiple locations, manage your stock, purchases, and quotes submitted by the vendors, and set alerts for stock thresholds.
Analytics and reporting: Collect and analyze equipment utilization and maintenance data to make data-driven, informed decisions, define KPIs based on what you see and track the performance and progress of your teams on those metrics.
What are the benefits of Equipment Maintenance Software?
Equipment maintenance & management software is used in heavy machinery, electrical, oil & gas, HVAC, healthcare, and so on to optimize equipment maintenance processes. Key benefits of equipment maintenance software are:
Gain visibility: Get a holistic view of equipment performance, work orders statuses, preventive maintenance schedules, and purchase orders to better understand your service operations and make more effective budgeting decisions.
Maximize transparency: See who is doing what in the business, what has been done in the past, and who has done it through transparency introduced by the equipment maintenance management software.
Extend asset lifecycle: Use historical and real-time data to see what equipment needs frequent maintenance, understand equipment utilization trends, and determine the frequency of preventive maintenance schedule for increased asset performance.
Reduce inventory wastage: Track the stock from purchase to disposal journey, check what you need to order beforetime, and set up stock thresholds to prevent inventory-related downtime.
Typical cons/disadvantages of using Equipment Maintenance Software?
Distraction from core activities: A complex tool may increase the burden on service teams through time-consuming data entry processes. Make sure that the software you are buying is easy to use and promote efficiency.
Steep learning curve: Lack of proper change management efforts also increase the learning curve among users, making them reluctant to use the software.
Key criteria/factors to consider while buying Equipment Maintenance Software
Easy of Use: No matter how great a tool is, if no one in your service teams wants to use it, then it cannot benefit your business. The number one priority of buying equipment maintenance software is that it should be easy to use across platforms and teams.
MoSCoW: It is a prioritization method defined by Must-have, Should-have, Could-have, and Won't have now or wishes. For effective implementation of this method, give due weight to every department that would be affected by the equipment maintenance software purchase.
Technology stack: Use configurable maintenance software that adapts to your processes. Choose a software with a combination of technologies that make it scalable, ensure faster time to market, and is secure.
What are the top Equipment Maintenance Software trends for this decade?
Servitization: Adoption of "outcome as a service model" to deliver maintenance services would increase the use of the combination of technologies such as wireless connectivity, sensors, and data analytics to determine the "outcome."
IIoT: Use of smart sensors and actuators will drive the IIoT for data collection, data sharing, and data analysis, leading to data insight to help in making informed decisions.
Augmented reality for remote maintenance: It would allow users to get a view of the maintenance site, thus enabling them to provide digital assistance to the field teams, thus saving time and resource cost.