Insurance Management Software for Adjusters
Reduce claims management cost and shorten claim lifecycle with our Insurance Management Software for adjusters.
How FieldCircle Can Transform Your Insurance Business
FieldCircle reduces the operational cost of the claim management process that includes scheduling representative, work order management, customer management and invoicing process and makes the entire business organized and efficient.
Manager
Insurance Assessor/Subcontractor
Customer
Applicability and Benefits
Manage Insurance Assessor scheduling and timesheet.
Get reminders in case of expiration of licence of insurance assessor and take immediate action.
Send notifications to the customer regarding the scheduled visit of insurance assessor.
Easy verification and validation of customer documentation through the centralized system.
Applicability and Benefits
Save time by helping Insurance Assessor to locate the customer location through route mapping.
Instant submission of assessment report.
Applicability and Benefits
Receive notifications regarding the scheduled visit of accessor.
Get the claim status in shorter time.
As one of the best work order management and scheduling software for insurance assessors, our solutions make scheduling, work order management, customer management and invoicing process seamless.
Leveraging Insurance Agency Software for Improving Sales Efficiency
With FieldCircle's insurance agency software, service provider companies has the advantage to adapt to the rapidly changing environment. The software allows you the freedom to move with a speed matching with industry's demand. Our insurance agency management software has the most modern and accessible technology available in the industry.
Manage Your Business Efficiently With Insurance Agent Apps
Differentiated products are the ones that mark their success in the industry. FieldCircle's insurance policy management software is the one with features like risk and compliance management, customer relationship management, etc. The suite of features offered with our insurance agent apps is just great to thrive in today's insurance marketplace.
Insurance Agent Mobile App for Business Empowerment
FieldCircle's insurance agent mobile app is highly configurable having a client-centric interface that manages policy administration life cycle of your insurance business. The comprehensive insurance estimating software view leverages billing adjustment, information sharing, and risk control. The administration solutions are fully automated that ease the workflow and decision making.
Read More
Insurance Agent Management Mobile App Solution
FieldCircle insurance agent management mobile app is available on both iOS and Android (smartphones and tablets) and provides users on-the-go access to relevant modules based on respective roles and permissions.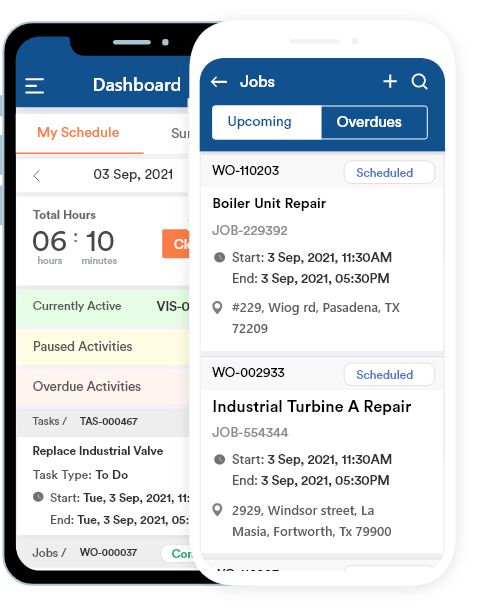 Controlled Access

Allowing employees to perform their field / non-field work activities on-the-go, on-time and smartly.

Geo-tagging

Geo-tagged clock-in/clock-out, work-orders / tasks etc.

Data Submission

Paperless submission of timesheets, job reports, payment info etc.

Collaboration

Instant messaging and alerts / notifications for various activities.

Online and offline support

App saves all the data when in remote or low reception areas and auto-syncs while having good connectivity; ensuring data security and integrity.
Why Choose FieldCircle
With its user-friendly web portal and mobile app, you could eliminate all the manual work and move to paperless reporting via managing customers, estimation, employee scheduling, invoicing, and analytics. It's all in there and much more.
All-in-one solution at your fingertips
Improved efficiency and revenue
Data security and protection
Schedule Demo
Drop your details and we will be in touch for a personalized demo.