Estimating software for Painting Contractors
Automate scheduling, plan, track, and manage field teams in real-time, and go paperless with Estimating Software for Painting Contractors.
How FieldCircle Can Transform Your Painting Contractor Business
Our mobile field service scheduling management and work order management software has been exclusively designed for companies providing interior and exterior of home and office painting services. The software enables them to manage operations at reduced cost and without errors.
Service Manager
Supervisor
Worker
Accountant
Customer
Applicability and Benefits
Allocation of work order without any hassle.
Real time inventory and stock tracking.
Easily reaching at customer destination through the worker route map.
Increasing customer satisfaction by providing effective service.
Advance analytics for making growth strategies and fulfilling the demands of service.
Applicability and Benefits
Reduce delays in service delivery to the customer.
Easily monitoring of field worker and their time spent on service.
Supervising the installation, maintenance, service, and invoicing by reviewing records.
Invoicing management and tracking payments at the customer location and real time updation of records.
Applicability and Benefits
Easy work management
Timely fulfillment of the tools and material requirements.
Applicability and Benefits
Easily analyzing cost and revenue through advanced analytics.
Applicability and Benefits
Settling customer problems quickly and effectively.
Customer gets value for money by smooth flow of work process.
As one of the best mobile field service scheduling management and work order management software for painters and paint companies, our solutions make painters scheduling, work order management, customer management and invoicing process seamless.
Leveraging Landscape Management Software for Improving Sales Efficiency
Remarkably accurate solutions can really be tough in painting estimation but FieldCircle's painting contractor software is the required solution to all such problems. Our all-in-one painting estimate software solution is especially designed with custom modules so that required field in respect to any given task can be added.
Calculate Profit Estimates Correctly With Software For Painting Contractors By FieldCircle
In case you are lacking with complete reporting of your on-field worker, invest in FieldCircle's software for painting contractors. The solution has built-in analytics and reporting features that make employee tracking an easier task for the contractors. This scheduling software for painters has trade-specific solutions for painting contractors.
Painting Project Management Software for Business Empowerment
Keeping track of your business spending is much easier with our painting project management software. Painter contractors app that allows mobile access is another exceptional features to automatically track the time employees are spending on-field for particular task. The software has specially been designed to improve estimating speed and accuracy.
Read More
Painting Contractors Mobile App Solution
FieldCircle painter contractors management mobile app is available on both iOS and Android (smartphones and tablets) and provides users on-the-go access to relevant modules based on respective roles and permissions.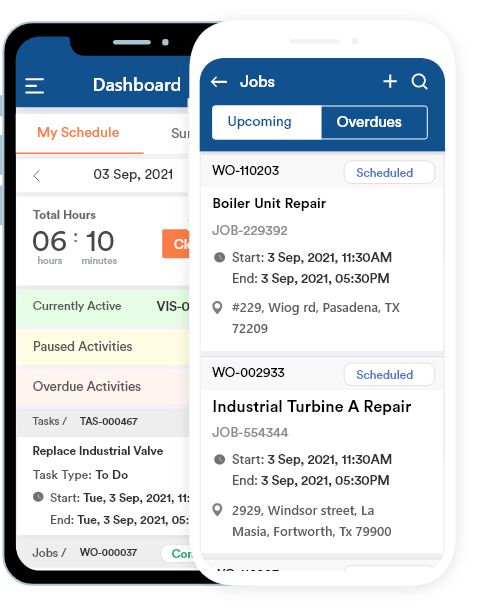 Controlled Access

Allowing employees to perform their field / non-field work activities on-the-go, on-time and smartly.

Geo-tagging

Geo-tagged clock-in/clock-out, work-orders / tasks etc.

Data Submission

Paperless submission of timesheets, job reports, payment info etc.

Collaboration

Instant messaging and alerts / notifications for various activities.

Online and offline support

App saves all the data when in remote or low reception areas and auto-syncs while having good connectivity; ensuring data security and integrity.
Why Choose FieldCircle
With its user-friendly web portal and mobile app, you could eliminate all the manual work and move to paperless reporting via managing customers, estimation, employee scheduling, invoicing, and analytics. It's all in there and much more.
All-in-one solution at your fingertips
Improved efficiency and revenue
Data security and protection
Schedule Demo
Drop your details and we will be in touch for a personalized demo.