Flooring Software
Bridge the gap between planning and execution with a flooring software that leads you to profitability and business growth.
No Credit Card Required
30 Days Free Trial
No Credit Card Required
From the back office to the field, manage every process
with few clicks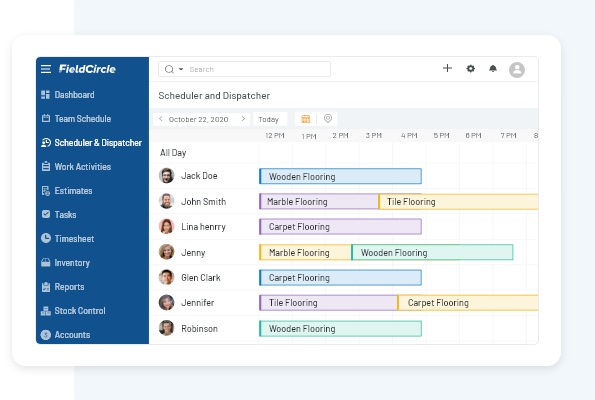 Control the "Now" in your flooring business
Optimize field workflows with automated scheduling & dispatch
Where is your field worker now—get the answer in just a click
Create and send estimates and invoices directly from the field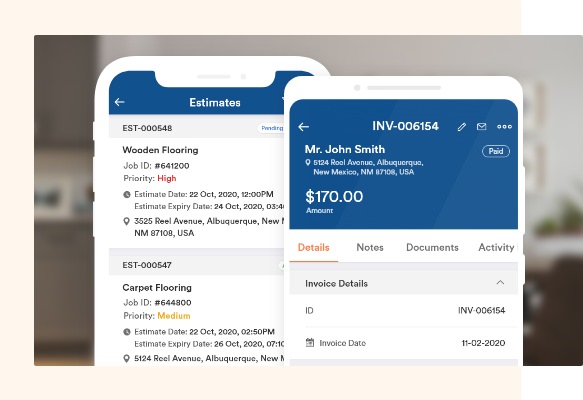 Speed up invoice to payment workflow
Create and send invoices with payment reminders via. email or SMS
Enable customers to view and pay the invoice using their preferred payment mode
Track, monitor, and record all payment activities and resend if required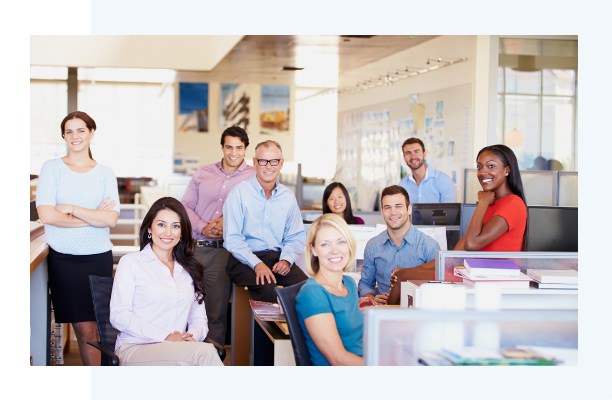 Happy customers through happy employees
Use location intelligence to select best route for field reps
Assign tasks based on availability to remove conflicts
Enable instant access to information and validation of data
Top FieldCircle Estimating Software features that remove friction from every aspect of your flooring business
Flooring Estimating Mobile App Solution
FieldCircle flooring estimating mobile app is available on both iOS and Android (smartphones and tablets) and provides users on-the-go access to relevant modules based on respective roles and permissions.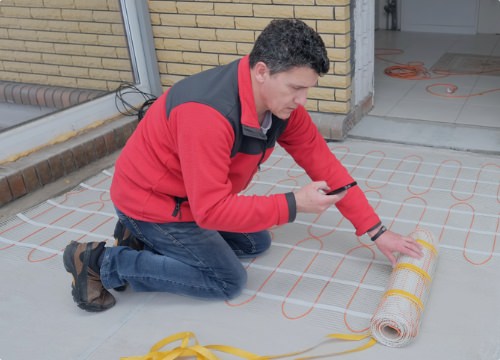 Make tracking schedules and locations easier
Provide them instant access to information, be it about client or inventory
Offer responsive support to team with emails and SMS alerts
Let managers track field activity and improve response time
Automate Your Business with Our Powerful Flooring Software
FieldCircle combines a range of project management tools, from scheduling to dispatching and route planning to budgeting. It is an advanced workflow automation software designed to help flooring businesses run their operations smoothly, error-free. Our software has an intuitive dashboard to get all the information on fingertips of employees, inventory, and finances—everything that makes your business.
Flooring Estimating App: Get Full Control Over Your Flooring Business
Capture your labor and material accurately with FieldCircle. This easy to use flooring business software empowers you to have full control over your flooring business by automating the work order so that you can get the full visibility into the system and get the insight required to make more effective decisions. Our Flooring Estimating Software is customizable to cater to the unique needs of your estimating process.
FieldCircle—The Best Flooring App Accessible from Any Device
We understand the challenges of field task and thus have designed the flooring business management software to help flooring companies manage all the components of the flooring job process. FieldCircle enhance the capabilities of the manager to track and schedule job at all the phases and manage dispatch and route planning, create and access reports anywhere, anytime.
Learn how YourSpace grew its revenue by 28% with FieldCircle
Why they prefered us
Simple and easy to use interface
Complete hand-holding in onboarding and importing data
Proactive and humble team that care for their success
Over 200 customers trust us to drive revenue growth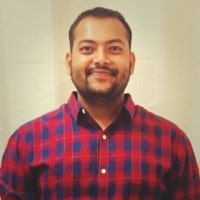 Sandeep Aggarwal, Director and Co-founder
Dentalkart
Achieved 35% increase in revenue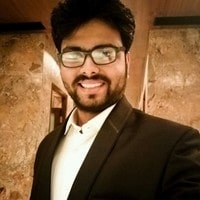 Dhiyavasu Bhadauria, CEO
EventGraphia
Increased team productivity by 22%
Book a Personalized Demo
Learn how your businesses can use FieldCircle to achieve more efficient, transparent, and profitable service operations.
30 Days Free Trial
No Credit Card Required
By submitting your details, you agree that we may contact you by call, email, and SMS and that you have read our terms of use and privacy policy.
FAQ
Why should I use flooring software?
Flooring software helps you streamline your operations, maximize efficiency, and significantly cut overhead costs. The software automates key processes such as scheduling and dispatch and invoice and payment systems, provides real-time visibility into work order, inventory statuses, and field activities. It enables you to generate actionable data insight to run an efficient and profitable business.
How does FieldCircle flooring software help my business?
FieldCircle flooring software allows you to organize and streamlines every aspect of your flooring business. You can create quotes, send invoices, e-sign and share proposals, manage contracts, track and order material, schedule appointments, and generate invoices online. With in-built project management capabilities in the FieldCircle software, you could plan and manage your entire work order associated with a customer online and use data insight to make informed decisions.
Why should we choose FieldCircle over other flooring business software?
FieldCircle flooring software is designed to do exactly what you want it to do. It transforms with your processes, grows as your business grows. You could pick and choose modules that are relevant to your business and then customize them to your needs.
Does FieldCircle have recurring jobs feature-most important aspects of flooring management software?
Yes, it is very easy to schedule a series of recurring jobs in FieldCircle. You can automate next-step in the process and send reminders to the staff without having to replicate details manually.
Does your flooring software integrate/sync with QuickBooks?
Yes, in a few clicks you can import and export your data from QuickBooks to FieldCircle. Our team provides full QuickBooks integration support ensuring that your accounting software and service departments are in sync.
Does your flooring software have integration or APIs available?
Yes, our team provides full integration support for systems, applications, and APIs to help you leverage the power of all-in-one service solutions for your flooring business.
What time is the support team of FieldCircle available?
We are available from 6:00 am ET- 6:00 pm ET.