Flooring Software
Flooring software for seamless operations. Monitor work order progress in real time, track your field teams, send notifications and keep customer information in one place.
How FieldCircle Can Transform Your Flooring Business
Our mobile field service scheduling management and work order management software empowers flooring businesses and residential and commercial tiling companies to plan, track, and manage their floor covering jobs and use a cloud-based system for job scheduling, inventory management, estimating, and invoicing and payments.
Service Manager
Supervisor
Worker
Accountant
Customer
Applicability and Benefits
Tracking inventory and its stock to fulfill service demands.
Easy monitoring of field workers and capturing their effective time in real time.
Reviewing the current and past service records for a specified time period.
Easy management reporting through customized reports.
Get insights of the business through the advance analytics and real time data.
Applicability and Benefits
No postponement in service delivery.
Work order scheduling based on worker's, customer's and equipment's availability.
Getting real time notifications on job updates from staff members.
Easily approaching customer through the worker route mapping.
Applicability and Benefits
Easy reporting or work in progress.
Easily communicating any delays, attendance and leaves.
Applicability and Benefits
Effectively manage and monitor payments through invoicing system.
Applicability and Benefits
Reaching high customer satisfaction by resolving customer issues on time.
Saving time by completing all the formalities and payments at the customer location only.
With our mobile field service scheduling management and work order management software for tilers and tiling companies, they can manage their service teams in a more organized and efficient way.
Automate Your Business with Our Powerful Flooring Software
FieldCircle combines a range of project management tools, from scheduling to dispatching and route planning to budgeting. It is an advanced workflow automation software designed to help flooring businesses run their operations smoothly, error-free. Our software has an intuitive dashboard to get all the information on fingertips of employees, inventory, and finances—everything that makes your business.
Flooring Estimating App: Get Full Control Over Your Flooring Business
Capture your labor and material accurately with FieldCircle. This easy to use software empowers you to have full control over your flooring business by automating the work order so that you can get the full visibility into the system and get the insight required to make more effective decisions. Our Flooring Estimating Software is customizable to cater to the unique needs of your estimating process.
FieldCircle—The Best Flooring App Accessible from Any Device
We understand the challenges of field task and thus have designed the software to help flooring companies manage all the components of the flooring job process. FieldCircle enhance the capabilities of the manager to track and schedule job at all the phases and manage dispatch and route planning, create and access reports anywhere, anytime.
Read More
Flooring Estimating Mobile App Solution
FieldCircle flooring estimating mobile app is available on both iOS and Android (smartphones and tablets) and provides users on-the-go access to relevant modules based on respective roles and permissions.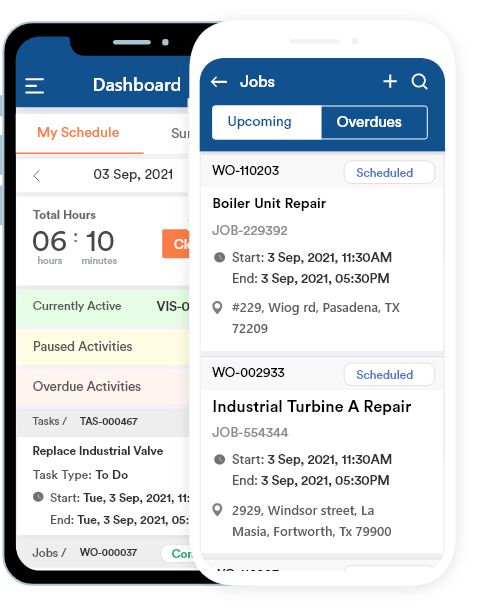 Controlled Access

Allowing employees to perform their field / non-field work activities on-the-go, on-time and smartly.

Geo-tagging

Geo-tagged clock-in/clock-out, work-orders / tasks etc.

Data Submission

Paperless submission of timesheets, job reports, payment info etc.

Collaboration

Instant messaging and alerts / notifications for various activities.

Online and offline support

App saves all the data when in remote or low reception areas and auto-syncs while having good connectivity; ensuring data security and integrity.
Why Choose FieldCircle
With its user-friendly web portal and mobile app, you could eliminate all the manual work and move to paperless reporting via managing customers, estimation, employee scheduling, invoicing, and analytics. It's all in there and much more.
All-in-one solution at your fingertips
Improved efficiency and revenue
Data security and protection
Schedule Demo
Drop your details and we will be in touch for a personalized demo.