Telecom Management Software
Manage your entire telecom network portfolio cost-efficiently and in real-time environment with our Telecom Management Software.
No Credit Card Required
30 Days Free Trial
No Credit Card Required
How FieldCircle Can Transform Your Telecommunication Business
FieldCircle enables telecom and telecommunication companies to track the movement of services engineers during field work such as setting up of telephone lines, internet connection and television broadcast. They can schedule jobs, monitor the progress of service delivery at the customer location, and view dashboard reporting of every activity in real-time.
Sales/Service Manager
Service Engineer
Accountant
Customer
Applicability and Benefits
Efficient allocation of engineers based on their availability and location.
Resolving customer issues quickly before, during and after sales.
Easy monitoring of field engineers and their productive time.
Easy tracking of job updates by engineers, managers and customers.
Generation of maintenance, service, installation, sales and invoice reports at any time for the specified time period.
Applicability and Benefits
Reducing difficulty in reaching at customer location through the engineer schedule on the map.
Provide real time update of job.
Applicability and Benefits
Compare regional statistics of profits.
Track payments and due payments from customers.
Applicability and Benefits
No delays in providing service due to the accuracy and integrity of data.
Increasing customer satisfaction by effective service and less customer response time.
With our extensive field service management and field sales management software for telecom and telecommunication companies, they can manage their sales and service teams in a more organized and efficient way.
Leveraging Telecom Management Software for Improving Sales Efficiency
FieldCircle's scheduling software for telecom companies has features to track multiple assets and service requests helping field staff reaching to the right location. The real-time location tracking feature of telecom management software serves as a window for managers to ensure field technicians are enroute for providing required services. Service app gives an easy mobile access to managers.
Bring Innovation To Your Business With Telecom Invoicing Software
Capturing overall flow of revenue is critical to every business. Without properly registered financial flow, profit visibility is almost impossible. FieldCircle's telecom invoicing software makes the task easier by offering a similar feature. This way the telecom asset management software allows professionals to manage the finances easily by keeping the track of the same.
Best Telecom Billing Software for Business Empowerment
Figuring out estimates is never easy until you have telecom billing software to calculate the same. But with FieldCircle's telecom app, invoice generation is just a click away. As per the services offered, adjustments can be done in the final estimates. Use FieldCircle's software to get customized and detailed invoices.
Read More
Telecom Mobile App Solution
FieldCircle telecom management mobile app is available on both iOS and Android (smartphones and tablets) and provides users on-the-go access to relevant modules based on respective roles and permissions.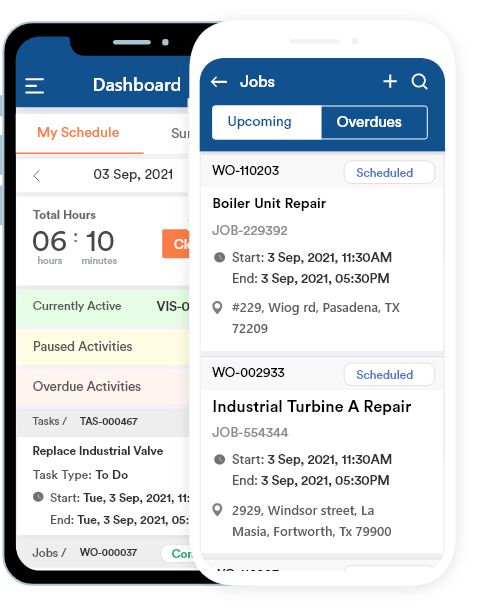 Controlled Access

Allowing employees to perform their field / non-field work activities on-the-go, on-time and smartly.

Geo-tagging

Geo-tagged clock-in/clock-out, work-orders / tasks etc.

Data Submission

Paperless submission of timesheets, job reports, payment info etc.

Collaboration

Instant messaging and alerts / notifications for various activities.

Online and offline support

App saves all the data when in remote or low reception areas and auto-syncs while having good connectivity; ensuring data security and integrity.
Why Choose FieldCircle
With its user-friendly web portal and mobile app, you could eliminate all the manual work and move to paperless reporting via managing customers, estimation, employee scheduling, invoicing, and analytics. It's all in there and much more.
All-in-one solution at your fingertips
Improved efficiency and revenue
Data security and protection
Book a Personalized Demo
Learn how your businesses can use FieldCircle to achieve more efficient, transparent, and profitable service operations.
30 Days Free Trial
No Credit Card Required
By submitting your details, you agree that we may contact you by call, email, and SMS and that you have read our terms of use and privacy policy.