Delivery Management Software
Delivery Tracking Management Software for eCommerce and logistic companies that empowers them to manage field operations more efficiently, transparently and profitably.
No Credit Card Required
30 Days Free Trial
No Credit Card Required
How FieldCircle Can Transform Your Delivery Management Process
Get control over your delivery system, increase efficiency of your team, ensure quick delivery and reduce errors with our field service delivery management software.
Sales Executives
Delivery Service Manager
Warehouse Manager
Supervisor
Fleet Manager
Delivery Staff
Accountant
Customer
Applicability and Benefits
Effective management of leads and services requests.
Communication tracking with the leads, prospects and customers.
Easily manage the quotes and queries with the prospective customers.
Applicability and Benefits
Sending updates to the customer by tracking delivery staff and shipment.
Applicability and Benefits
Monitor and control the inventory in the warehouse smoothly.
Applicability and Benefits
Assigning task on the basis of real time scheduling data of workforce, warehouse and fleet.
Optimum assignment of workforce and fleet to reduce time and cost of the service.
Easy pickup and delivery service by location tracking.
Analyze and generate report through metrics.
Tracking the customer communication at every stage of the service.
Applicability and Benefits
Sending real time updates to the customer on the basis of real time fleet tracking.
Route Management of the fleet to provide the optimum route for the fastest delivery of the shipment.
Monitoring fleet driver on a real time basis.
Applicability and Benefits
Provide status update of the shipment easily.
Easily collect proof of delivery and update all other staff members immediately.
Applicability and Benefits
Track the payment of the shipment.
Easily update the accounts by integrating the accounting tools with the system.
Applicability and Benefits
Getting real time status of the shipment.
With our extensive field service delivery tracking management software solution, ecommerce and logistic companies, they can manage their customer service and delivery teams in a more organized and efficient way.
Delivery Management Software for Improving Sales Efficiency
Real-time tracking and updates builds the most critical part of every best delivery management software. Our offering comes packed with similar feature to optimize route and reduce the delivery cost even when managers are handling multiple deliveries. With a suite of features, FieldCircle's delivery scheduling software will help achieve comprehensive benefits.
Business Visibility Is A Click Away With FieldCircle's Delivery Tracking Software
Our all-in-one delivery tracking software being a paperless system, works as a route planning system for all your tracking concerns. Right from arranging multiple deliveries with ease to instant notification with each electronic proof of delivery captured, our offering covers all the requirements to keep managers updated of every moment.
Choose Delivery Management App for Business Empowerment
Nothing could beat the accuracy of our delivery management app when it comes to offering a fast and cost-effective service. Our cloud-based delivery management system not only makes deliveries easier but also eases the monitoring of the same. This reduces manual assistance to a greater extent while automating the entire procedure.
Read More
Delivery Management Mobile App Solution
FieldCircle delivery management mobile app is available on both iOS and Android (smartphones and tablets) and provides users on-the-go access to relevant modules based on roles and permissions.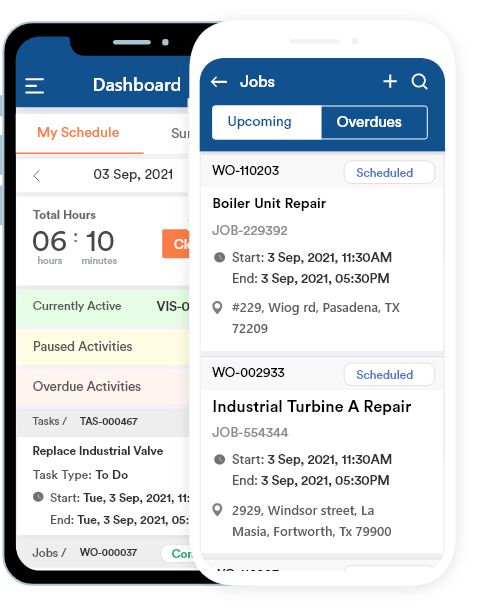 Controlled Access

Allowing employees to perform their field / non-field work activities on-the-go, on-time and smartly.

Geo-tagging

Geo-tagged clock-in/clock-out, work-orders / tasks etc.

Data Submission

Paperless submission of timesheets, job reports, payment info etc.

Collaboration

Instant messaging and alerts / notifications for various activities.

Online and offline support

App saves all the data when in remote or low reception areas and auto-syncs while having good connectivity; ensuring data security and integrity.
Why Choose FieldCircle
With its user-friendly web portal and mobile app, you could eliminate all the manual work and move to paperless reporting via managing customers, estimation, employee scheduling, invoicing, and analytics. It's all in there and much more.
All-in-one solution at your fingertips
Improved efficiency and revenue
Data security and protection
Book a Personalized Demo
Learn how your businesses can use FieldCircle to achieve more efficient, transparent, and profitable service operations.
30 Days Free Trial
No Credit Card Required
By submitting your details, you agree that we may contact you by call, email, and SMS and that you have read our terms of use and privacy policy.
FAQ
Why should I get Delivery Management Software?
Delivery management software solutions remove on-ground constraints to ensure timely and accurate delivery. The software runs various algorithms to track the best delivery person based on different criteria such as skill, location, availability, and inventory status to schedule the delivery. It makes the entire process of scheduling and dispatch easy, accurate, and transparent.
How does FieldCircle delivery management software help my business?
FieldCircle delivery management software is power-packed with location intelligence technologies and auto-scheduler. It allows the service manager to schedule jobs based on skill-location-availability matches that saves time and make the process more accurate. Its route planning engine further allows you to recommend the best routes and track the location, no. of stops, arrival/departure, and delivery status of the consignment. At the end you get a more transparent process, highly efficient and productive teams that work in a collaborative environment, and the visibility essential to make informed decisions.
Why should we choose FieldCircle over other delivery management software?
With FieldCircle, you get full control over your processes and how you want to organize and manage them. It is highly configurable to your workflow, thus allowing you to pick and choose the modules and transform your delivery operations to your best needs.
Does FieldCircle have recurring jobs feature-most important aspects of delivery scheduling software?
Yes, it is easy to set up preferences for recurring jobs. Once you set preferences, the details would be reflected in the delivery person's calendar and the person will be shown occupied on that time to prevent double-booking.
Does your delivery management system software integrate/sync with QuickBooks?
Yes, we provide QuickBooks integration to keep your field teams and accounting department in sync.
Does your delivery scheduling software have integration or APIs available?
Yes, our team provides full integration support for systems, applications, and APIs to help you leverage the power of all-in-one service solutions for your plumbing business.
What time is the support team of FieldCircle available?
We are available from 6:00 am ET- 6:00 pm ET.