Field Service Scheduling Software:
Scheduling and Dispatch in minutes, not hours
Scheduling and dispatch remain the most time-consuming task for most businesses. Improve efficiency and productivity with FieldCircle's advanced field service scheduling, route planning, and dispatch software.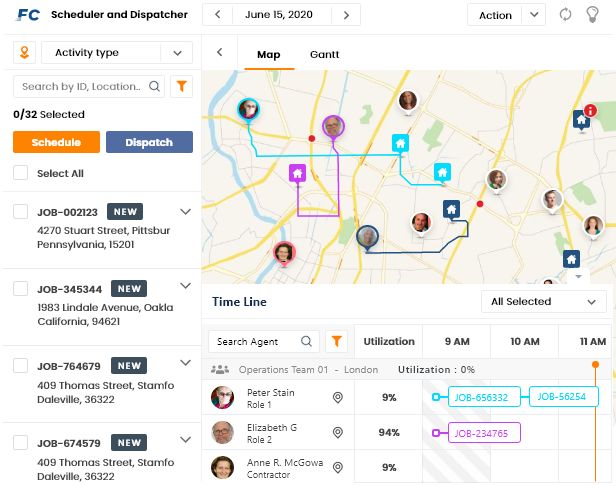 Your Scheduling and
Dispatch Process
Before FieldCircle
Losing time and efficiency due to manual planning

Higher Cost and Spend

Lost Revenue Opportunities due to lack of route optimization

Matching jobs with techs with lesser expertise

Manual Errors impacting revenue, cost and customer experience
After FieldCircle
Schedule and dispatch planning in minutes, not hours

Efficient work with least spend

Al driven routing helping techs attend more service requests

Right technician auto-matched with right job

System intelligence with no possibility of human error
Elevate Your Scheduling and Dispatch Game with Top-rated
Service Scheduling Software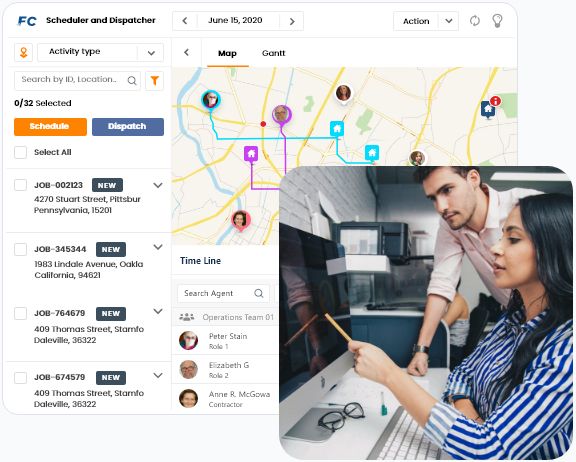 Save Time, Increase Team's Efficiency
Get more time in the hands of your office and field team! A modern service scheduling program that helps you achieve just that with smart algorithms implemented in our field scheduling system
Do dispatch in minutes not hours with powerful service scheduling software
Enable dispatch team with all the info, helping them make the best decisions while eliminating chances of any errors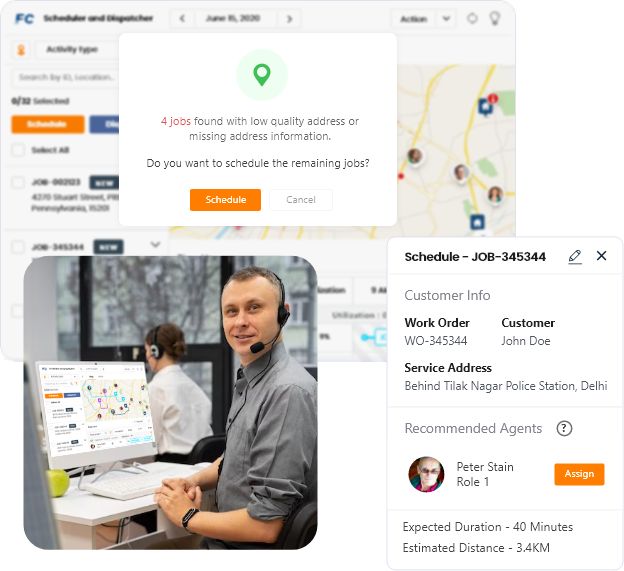 Reduce Cost Substantially, Increase Earning
More informed decision-making in the scheduling and dispatch process means reduced spend. Use our service business scheduling software to upgrade the way you schedule your technicians
Help your techs travel less, saving fuel cost and time with an effective schedule and dispatch process
Earn more by helping your techs attend more service requests leading to higher revenue.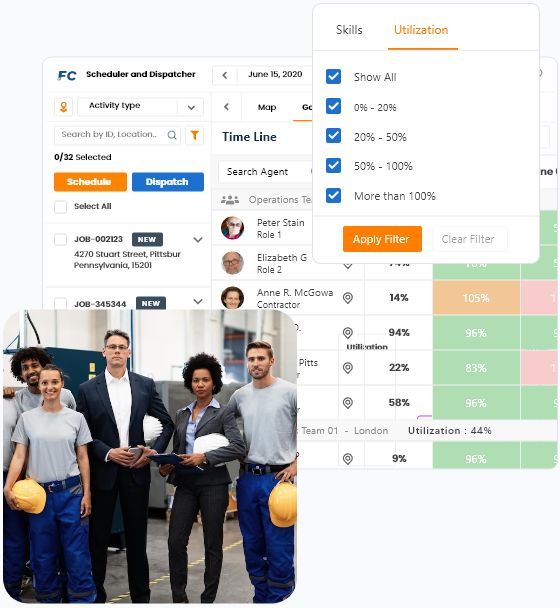 Eliminate Delays, Overbooking, and Underbooking
Utilization/overbooking/underbooking are the biggest pain for most schedulers and dispatchers. Our smart service technician scheduling software helps you identify gap and manage utilization to the next extent possible
Plan effective routing to attend to customers faster
Review technician utilization and get recommendation based on availability and utilization
Work On-the-go with Service
Scheduling App
Drive operational effectiveness and achieve greater efficiency in your scheduling and dispatch process with our field service scheduling app.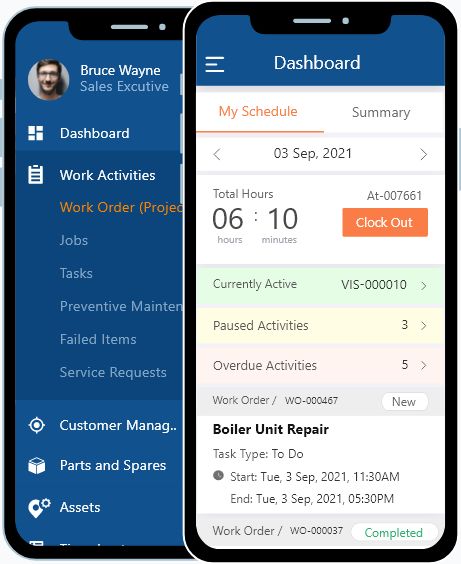 Most service businesses suffer because of poor scheduling and dispatch management. Consequences are bad utilization, wrong techs assigned to jobs, more time in the field and poor customer experience. Empower your scheduling and dispatch team with a field service dispatch app to achieve operational excellence.
Don't let your dependence on your laptop restrict you, dispatch using a mobile device with a modern service dispatch app
Get real-time location visibility on the scheduling app to plan better
Conveniently track check-ins, check-outs, time cards, and updates at every job status
Make quick decisions using the field service scheduling app based on job acceptance status updates by techs
A Service Scheduling Software Our
Customers Rely on
Businesses across a range of industries across the globe depend on FieldCircle's scheduling & dispatch management software to reduce time spent on the scheduling and dispatch process, and increase efficiency.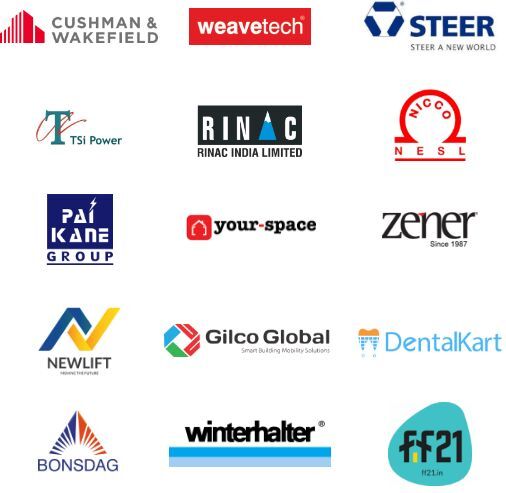 Why they chose us (In their words)
Winning customers' trust is difficult but we have been able to do that consistently. Our customers trust our capabilities as a service industry scheduling software and service scheduling app for the following reasons:
Highly configurable service scheduling software that fits to our business processes and not the other way around
Simple and easy-to-use interface, intuitive experience
Complete hand-holding in onboarding and importing data
Free training to our team helping them adapt to the scheduling and dispatch software
A proactive and humble team that cares for our success
Book a Personalized Demo
Learn how your business can use FieldCircle's field service scheduling software to achieve
more efficient, transparent, and profitable scheduling and dispatch operations.
30 Days Free Trial
No Credit Card Required
By submitting your details, you agree that we may contact you by call, email, and SMS and that you have read our terms of use and privacy policy.
FAQ
How does your service company scheduling software manage schedule changes?
With FieldCircle's field service dispatch software, you may quickly reschedule a job by either a drag-and-drop function or by clicking on the job and putting in the new schedule. The scheduling and dispatch team can monitor customer updates and plan to reschedule accordingly.
Can I assign a crew to a work order with your field service scheduling software?
Yes, our service technician scheduling software helps you pick an individual or a crew from your team to allocate to a job. You may do it at the time of schedule planning or before the dispatch.
Does your technician dispatch software recommend the best technicians?
Yes, our service dispatching software can match technicians based on skills and experience i.e. competency, availability, etc., and recommends the best three agents to work on that job.
What if a technician fit for that job isn't available in your technician scheduling software?
If a technician isn't available, our service tech scheduling software either won't recommend that technician in the first place or would recommend the next available technician who is best suited for that job.
Is it possible to do a job pool with FieldCircle's scheduling and dispatch software?
Yes, with FieldCircle's job dispatch software, you can pool jobs and plan crew allocations.
Can I send schedule change updates to customers with your field service dispatch software?
Yes, in our service business scheduling software, we have a strong notification engine where you can setup notification to be sent to customers for any schedule changes.
What are the benefits of using service scheduling software?
There are several benefits of using a service call scheduling software. Eg.
By automating scheduling processes with scheduling software for service technicians, you see improved efficiency and operational effectiveness
Improved customer service by offering online booking and appointment confirmation for service requests
A field service scheduling app helps achieve enhanced communication and collaboration among technicians and team members
With a service schedule software, you get real-time updates and notifications of schedule changes and cancellations to schedulers and dispatchers
Greater accuracy and reduced errors in scheduling that helps save repetitive work for scheduling team
Improved organization and time management
Increased revenue by minimizing scheduling conflicts and maximizing appointment bookings with service technician scheduling software
Easy access to customer information and appointment history
A services scheduling software for small business helps create Customizable scheduling options to fit the needs of small business
Integration with other business software, such as CRM or invoicing systems, helps streamline operations and provide a singular view
The benefits of scheduling and dispatch software for field service scheduling and dispatch operations aren't limited to these. The biggest benefits and impact can be observed in overall revenue and profitability.
FieldCircle—A Field Service Scheduling Software Preferred by Small Businesses and Enterprises
FieldCircle is an advanced service technician scheduling software that covers all the scheduling requirements of your service and maintenance business. It is highly efficient and incredibly simple to use. The software comes with an innovative scheduling and dispatch management feature that allows the users to plan and organize schedules, plan and optimize the route, manage cancels and rescheduling and perform all the dispatch work from single window.
Flexible, Affordable Online Field Service Scheduling Software Personalized For Your Business
Our all-in-one marketing and online field service scheduling software—FieldCircle is an easy tool to organize schedules and manage your field sales team in the field. The software makes employee scheduling and rescheduling accurate and more effective, as the scheduling manager can match the task with tools and skill set of the technicians and accordingly fix the appointment.
Get Our Field Service Scheduling App and Always Remain Up-to-date on Employees
Our field service app is an excellent way to remain up-to-date on employees. With real-time scheduling, intuitive dashboard, and route optimization capabilities, the application enables you to get the best from your resources. You can send reminders to keep the clients informed and easily cancel the appointment if required.
Does your services scheduling software integrate with Quickbooks?
Yes, our job scheduling software integrates with Quickbooks with a 2 way sync to help you manage your data seamlessly and save on redundant activities and data duplication.
How does integration work with your field service scheduling software? Does it have open APIs?
Our scheduling and dispatch software provides full custom integration support for all the popular systems and applications to sync and access your data across platforms and devices, and also have APIs available for all of our modules.