Waste Management Software
Perform collection to disposal processes at a reduced cost and in compliance with the health and safety regulations with waste management software.
30 Days Free Trial
No Credit Card Required
How FieldCircle Can Transform Your Waste Management Process
The work order and field service management software solution enables municipal corporations to provide necessary community services cost-effectively. Our software enables them to schedule dates and time for collection, transportation, and treatment of waste, manage contact information, reduce errors, save time and fuel, and maximize efficiency, productivity, and profitability.
Service Officer
Service Engineer
Contractor
Worker
Service Seeker
Accountant
Applicability and Benefits
Managing quotes, tender and project related documents at a place.
Managing accessibility through access control and role wise.
Allocation of work order based on availability of workforce, equipment and tools.
Monitoring field worker in an effective way.
Reporting in an effective way by customizing reports.
Advance analytics for making growth strategies, planning and fulfilling the demands of service.
Applicability and Benefits
Well timed job updates from workforce i.e. workers, managers and supervisors etc.
Applicability and Benefits
Lessen service delivery delays.
Effective coordination among multiple stakeholders.
Applicability and Benefits
Timely reporting and fulfillment of the necessary resources to fulfill the duties at work.
Tracking supplies to manage stocks of equipments and tools.
Applicability and Benefits
Get the required services on time with the high quality delivery of service.
Applicability and Benefits
Better payments, invoicing and reimbursement management by managing them at centralized location.
Estimating and planning the budget by analyzing the similar past projects.
Our work order and field service management software solution for municipal corporation makes them manage contractors, workers and field teams more efficiently.
Get the Best Waste Management Software at Affordable Cost
Today, waste management is a big headache for a country as well as society. Companies that are providing waste management solutions face various challenges in field activities. We have built advanced FieldCircle, which is an intuitive and user-friendly waste management software that automates the process of scheduling for waste collection, dispatching, billing, and monitoring to streamlining field activity.
Classify Hazardous Waste with Our Hazardous Waste Management Software
We have engineered FieldCircle to help businesses classify hazardous waste and plan out a better disposal method. Field service managers can classify the waste on the basis of description, properties, and waste codes. Our solution is scalable as it has been exclusively designed for growing businesses. Our custom waste management app enables location tracking, route planning and optimization, signature capture, and invoice generation.
User-friendly Waste Management Mobile App for Growing Businesses
We have built this advanced waste management mobile app after careful analysis of the industry users. The powerful tool not only helps to manage the on-field activities but integrations with back-office functions make it easier for the managers to get to know the task status in real-time. It is this feature which makes FieldCircle an excellent choice for growing waste management companies.
Read More
Waste Management Mobile App Solution
FieldCircle waste management mobile app is available on both iOS and Android (smartphones and tablets) and provides users on-the-go access to relevant modules based on roles and permissions.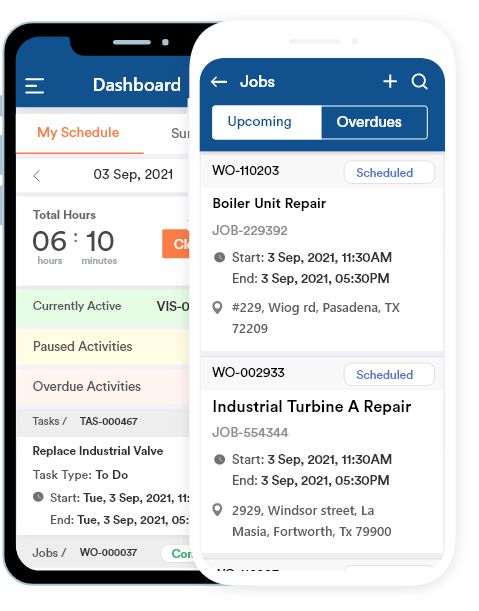 Controlled Access

Allowing employees to perform their field / non-field work activities on-the-go, on-time and smartly.

Geo-tagging

Geo-tagged clock-in/clock-out, work-orders / tasks etc.

Data Submission

Paperless submission of timesheets, job reports, payment info etc.

Collaboration

Instant messaging and alerts / notifications for various activities.

Online and offline support

App saves all the data when in remote or low reception areas and auto-syncs while having good connectivity; ensuring data security and integrity.
Why Choose FieldCircle
With its user-friendly web portal and mobile app, you could eliminate all the manual work and move to paperless reporting via managing customers, estimation, employee scheduling, invoicing, and analytics. It's all in there and much more.
All-in-one solution at your fingertips
Improved efficiency and revenue
Data security and protection
Book a personalized demo
Learn how other similar businesses use FieldCircle to win more customers and make their service team more productive.
30 Days Free Trial
No Credit Card Required
By submitting your details, you agree that we may contact you by call, email, and SMS and that you have read our terms of use and privacy policy.