Are Drones in Construction Management Business An Exceptional Idea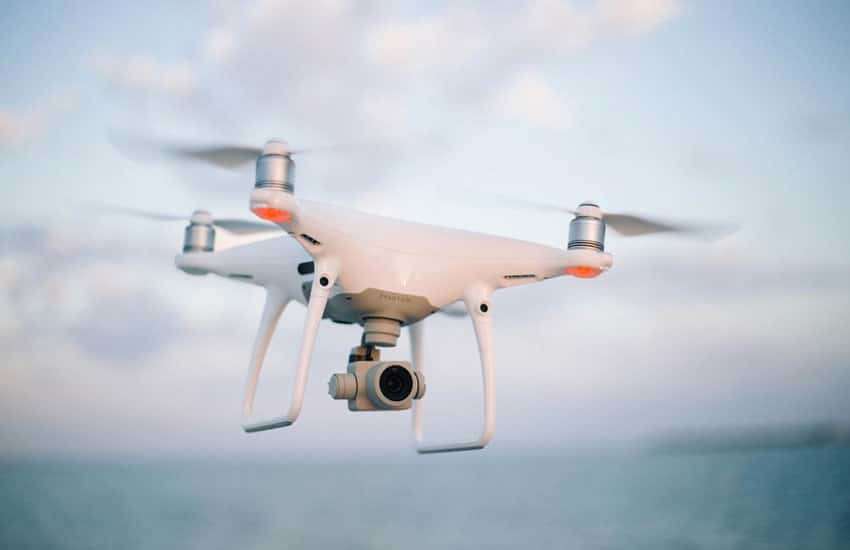 Drones on construction sites? How does the idea looks to you? Is it something far away from reality or it seems attainable? Well, you will be surprised to know that drone revolution is happening across the globe for a number of industry and the concept is doing great for construction business.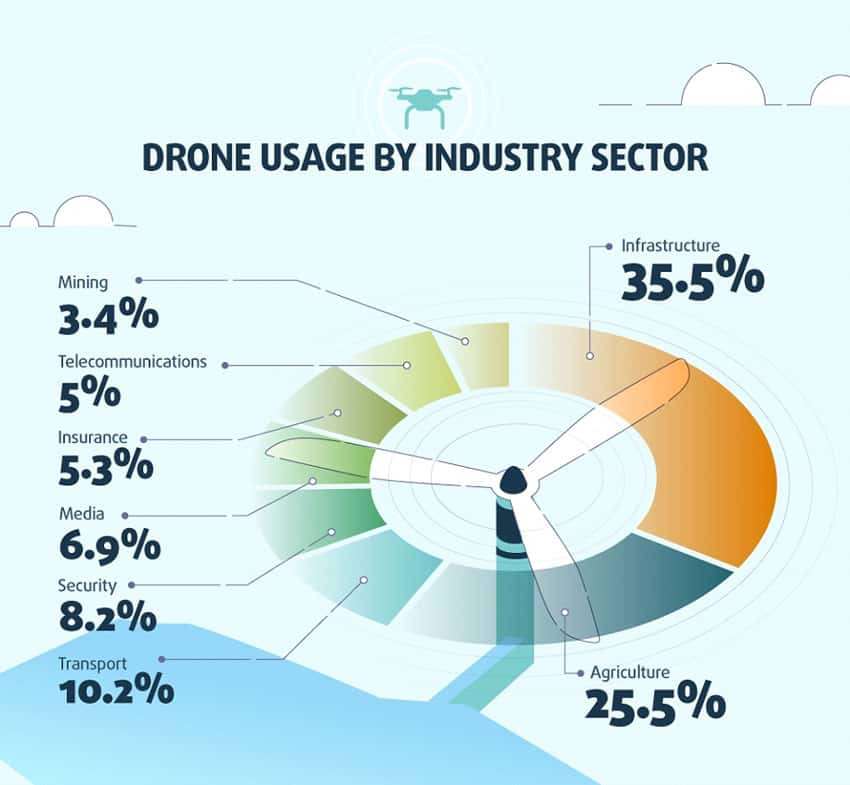 Source: geospatial world
Utilization of drones in infrastructure has immense possibilities. The capability of drones to provide aerial view of any construction site is one thing that offers it foremost importance. And construction industry is one such domain that is solely related to creating new architect. Drones in this sector can be utilized to add new possibilities to construction management software.
Management software for construction industry manages every minute detail either related to on-field construction (stats) to managing the daily work report of workers. On the ground basis it manages other important details also. How about integrating a feature that could add additional information (real-time) provided by drone through images? It could be a revolutionary idea for companies that are offering construction scheduling software.
Several researches have been done in this direction and here is a brief on what the data looked like:
Recent research from Gartner predicts 72% of companies are either using drones or planning to include one in their construction business.
Analyst claims that commercial drone industry will cross $5billion by 2020 and will replace the labor worth the value $127.3 billion.
Drones are playing a major role in agriculture industry to monitor crop growth
Now that we have talked so much about the possibility of drones in construction industry, here is a brief on how it can be used in the construction industry: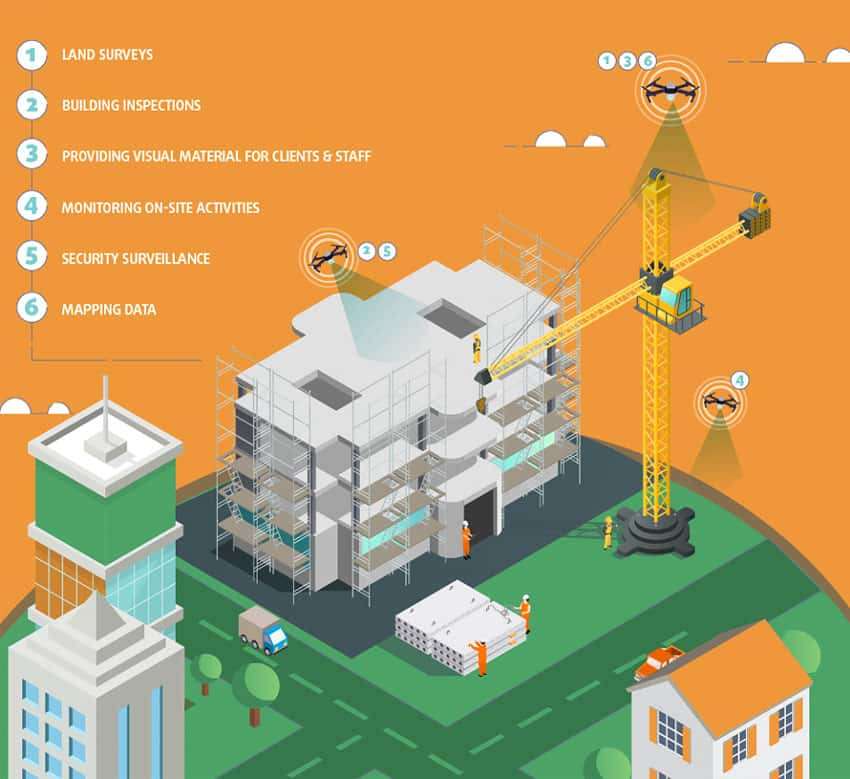 Source: geospatial world
Surveillance and Security
Drones let managers get the information on the actual condition of the job site. They are capable of shooting the real-time photographs of the on-field construction and offer the related information to the managers. This improves the job efficiency by providing every minute on-field detail to the managers. This helps the person-in-charge to monitor the on-field condition and the situation of the employees as well. All these scenarios help conclude the construction in a mannered way.
Drones can also be used for security reasons as well. The real time insights offered by drones on any construction sites can be used for surveillance. Besides construction, drones can also be used for personal security purposes.
Inspection and Surveys
Inspecting a construction site can be dangerous especially when workers need to inspect hard-to-reach areas. This is quite an invitation to serious accidents but not in a situation when drone is utilized. Drones allow construction companies and the workers to remain safe in such a situation by flying high in such areas. And when drones are on the field there is no requirement of human intervention in such a situation. They don't just do the job but they do it a lot faster.
Drones can also be employed to conduct surveys to compare the virtual design with the actual design. It also helps in eliminating the human error that could happen in the construction. This way major setbacks can be eliminated to happen to the construction site.
Accurate Land Survey
Accurate land surveys provided by drones helps to know the speed of the construction going on. This allows enough time and space to the companies to match up the pace as planned (if any process lags behind). Drones can also help get topographic surveys of the construction site in order to offer every minute detail. Topographics surveys by drones can be conducted a lot faster than other conventional processes.
Drones can also take photographs of the construction sites, which is another benefit of utilizing drones in the business. Such a facility cannot be offered by human assistance and thus using drones in the business is a great idea. Moreover, working with human assistance always involves accidents, which is not a case when we utilize drones for construction services.
How to Determine if your Business Really Needs Drones
Spending in drones can be an overpriced idea. Thus, it is of paramount importance to figure out if your business really needs one. For the same, do ask the following questions prior to investing in drones:
How much time manual land survey takes?
How safe the job sites are?
Does inspecting the site involves the risk of accidents?
Are you satisfied with current site inspection methods?
In case, the answer to any of these questions feels like you could do better in an area, do invest in a drone. It will help strengthen your business.
In the Conclusion
The concept of drones can be of great help for construction erp software. It may ask for a considerable expense but it is worth an investment. There could be immense benefit of utilizing drones in the business. Therefore, if you are involved in the construction business, do think about owning a drone.
FieldCircle is into transforming how global enterprises manage their field sales and field service teams. Our comprehensive and easy-to-use field service management software helps enterprises leverage the power of cloud, enterprise mobility, IoT, business intelligence and data analysis to boost the performance of your sales operations. Our intuitive field sales management software is tried, tested and trusted by numerous businesses around the world.
Book a No-Obligation Consultation
Drop in your details and an analyst will be in touch with you at the earliest.