5 Reasons You Need Mobile Apps for Field Service Management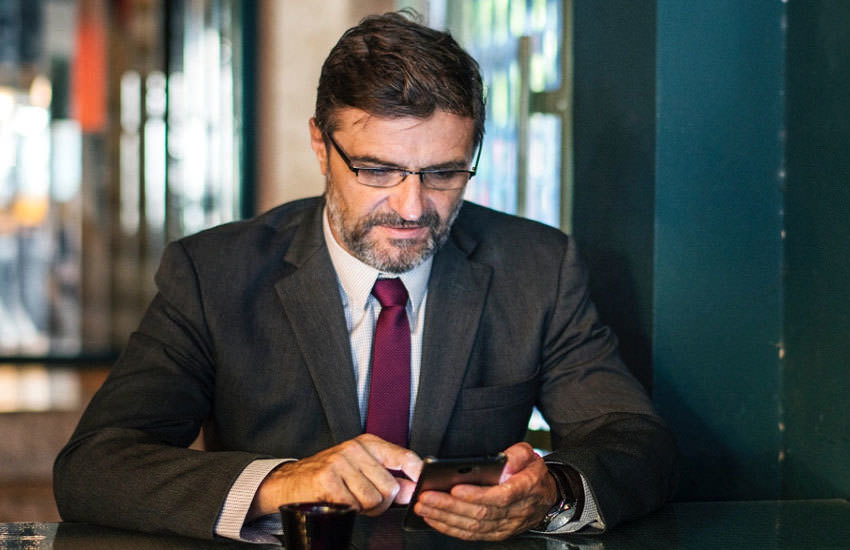 With competition at all-time high and customers expecting short response times, mobile applications can help field service firms consistently enhance performance and improve ROI. The five reasons discussed here well cover why you need mobile apps for field service.
Traditionally, a field services business's operating model revolved around employing technicians on field for installation, repair, and maintenance of equipment.
Steadily mobile apps began entering the arena, providing an opportunity to optimize the entire chain of operations, compelling field services providers to build app-driven strategies.
From operational improvement, mobile apps proved to be facilitators of lowering labour expenses, boosting cash flows, securing competitive advantage, maximizing productivity, and protecting profitability.
So, what began as an operational move, also became a strategic initiative.
Facts go in this direction. As per Quixy, 80% of field technicians believe that mobile technologies in field services can boost their productivity.
Today, an app for field service can provide the flexibility and mobility needed to maximise every service window.
In this article, we'll show you some of the high-impact ways that mobile field apps and Field Service Management Software can improve customer experience and streamline the operational delivery of your products and services.
Here are some insights on adoption of field service management solution by the major industries: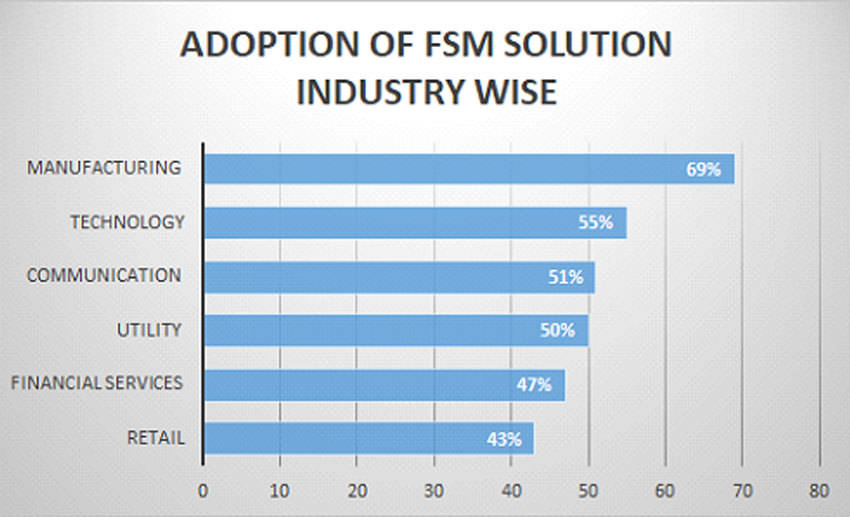 A glimpse of reasons to go mobile for field service automation requirements:
Mobile apps keep field technicians connected. They can easily establish the connection at any point of time or for any query
Mobile apps help build customer relationship and serve to their queries instantly
Field service mobile apps keep the information safe digitally and offer the ease of accessing the same anywhere anytime
The apps additionally help in accurate time tracking and expense reporting
Being mobile ready with your field service scheduling apps can offer these extended benefits. Have a look:
Why adopt mobile apps for field service management
Adopting the right-app for the field service management solution could be that decision, which can take a business from nowhere to the global arena. And, where there are so many benefits associated with adopting an application, there is no point in missing the opportunity. Here, we elucidate more on the importance of adopting apps.
Access to Real Time Data
Accessing the business data in real-time offers a number of added advantages to the field technicians. The best one being remaining aware of the updated dispatch and status.
The scheduling of the work becomes easier too when there are mobile apps for service technicians. Real-time data access also ensures the flow of the information in the right hierarchy as per the scheduling created in the application. It also facilitates real-time communication, which is the best.
One simple process in everyday field service operation where real-time data makes a difference is work order processing. When a user submits a request for maintenance of an equipment, with mobile apps, the field technician can right away go through the information about the equipment. With all requisite details such as make and model of the equipment, past record of service, and issues resolved, field technicians can prepare accordingly and proceed, bracing for probable occurrences during actual servicing.
More Organized Workflow
Field service management apps comprise a complex system and schedule tasks in a more organized fashion. The processes include sub-processes, activities, and tasks. From decades till date such services have always required human assistance. Adopting apps for similar purposes takes away the chances of error. It also ensures timely delivery of the scheduled work.
Why be generic as we have our own implementation to highlight the practical worth of mobile apps in streamlining field service workflows. It happened that a known online dental shopping destination, with over 35000+ products, was dealing with the cumbersome process of managing paper-based documents, creating administrative burden and distracting from the core responsibilities.
They turned to FieldCircle and after assessing the problem, our experts delivered a mobile-friendly platform that brought significant positive results, including a unified view of the complete process, fast and conflict-free scheduling, optimization of asset tracking process, and simplified order management. Last but not the least, it made our customer happy as the overall impact the mobile-based solution made was huge.
Enhanced Productivity
Coordination is the key for field technicians. The flow of information should enrich every single person so that there remains no knowledge-gap between the technicians. Improved communication and knowledge-sharing among these professionals allow them to work in coordination resulting in enhanced productivity. As all the technicians involved in any given piece of tasks are informed on the go, the overall productivity also increases.
When there were no mobile apps, laborious paper-based processes drained your workforce's productivity. However, mobile apps automated important processes, optimizing them and changing their character.
Mobile apps are thus a force multiplier for field service businesses. Field technicians can address more complaints in a shorter amount of time. The same number of technicians can service more clients each day, and the same number of inspectors can finish more duties in a day. The consequent rise in output gives you the time you need to help meet or surpass consumer expectations.
Better Customer Servicing
It's either an enterprise or a business, the need for serving the customers with the best resources is given the highest priority. Mobile apps are designed to perform in alignment with the business objective to achieve the scheduled target. The smooth process allows professionals to work in synchronization thus ensuring better customer servicing. This also results in minimal dissatisfaction from the client's side. Streamlined workforce also means there will be minimal delay in the scheduled work delivery.
To highlight our own experience once again, we bring you insights from our solution for a renowned power solution provider from the USA. Notably, the company provides a variety of power solutions for use in engineering processes, hospitals, analytics and scientific labs, CNC robotics automations, building systems, surveillance and IT, and other fields to markets in Asia, Africa, the Middle East, and European OEMs.
A significant issue it was dealing with was gathering service requests from multiple sources and storing them in one location to visualise the full-service journey of its customers.
Requested by the power solution giant, FieldCircle stepped in and optimized the service request process, remarkably improving service experience. With our mobile-based app, we facilitated teams' efficient task delegation and service request collection via a calendar-based scheduling system. Role-based permissions allow staff to monitor statuses at any time and from any location and to take action to hasten resolution.
Improved Inventory Management
Before we move on to understand how mobile apps bring turnaround in inventory management, let's understand how traditional inventory management processes, bereft of apps, posed challenges.
Manual inventory management was heavily susceptible to errors and time-consuming, often leading to incorrect estimates and poor inventory decisions.
Even if a field service manager had to forecast, he had no ready access to forecasting tools which would lead to overstocking or understocking, resulting in loss of revenue.
There was no scope of obtaining real-time insights into inventory levels, leading to delays in identifying stockouts.
Order fulfilment would suffer as lack of right insights resulted in delay in receiving shipments and high backorders.
How are mobile apps proving to be a boon for managing inventory?
Mobile Apps help field technicians know the real-time stock balance that they could check at any point of the day. The apps also notify the technicians about the material shortage, thus, offering them enough time to get the material in stock as soon as anything gets out of stock. We look at how apps are resolving the above bottlenecks.
Mobile apps allow businesses to track inventory in real-time using barcodes or QR codes, reducing the likelihood of human error.
Mobile apps embedded with advanced predictive algorithms come with strong capabilities to forecast demand and optimize inventory levels.
Providing real-time visibility into inventory levels is the most basic functionality of a field service mobile app. It triggers an alert when the inventory levels are about to dip below safety stock.
Apps automate the order fulfilment process and keeps the necessary metrics with their recent values at the fingertips of inventory managers.
Also Read: Top 10 Field Service Management Challenges and How to Address Them
Summing Up
Informed field service leaders are already striving to build mobile field service applications to exceed customer expectations by keeping field agents informed and connected to company information systems in real-time. They are using mobile apps to improve their field technicians' ability to act as the voice and face of companies
So, choosing a field service app may prove to be an impressive decision for companies, the implementation of the same in the business can give you some hiccups. And the concerns may range anything in between choosing the right features to build a scalable solution that could address all the business-related problems.
FieldCircle is into transforming how global enterprises manage their field sales and field service teams. Our comprehensive and easy-to-use field service management software helps enterprises leverage the power of cloud, enterprise mobility, IoT, business intelligence and data analysis to boost the performance of your sales operations.
Our intuitive field sales management software is tried, tested and trusted by numerous businesses around the world. Connect with our experts to know how the solution fits your needs.
Book a Personalized Demo
Learn how your businesses can use FieldCircle to achieve more efficient, transparent, and profitable service operations.
30 Days Free Trial
No Credit Card Required
By submitting your details, you agree that we may contact you by call, email, and SMS and that you have read our terms of use and privacy policy.