Top 11 Trends to Watch in Facilities Management in 2023 and Beyond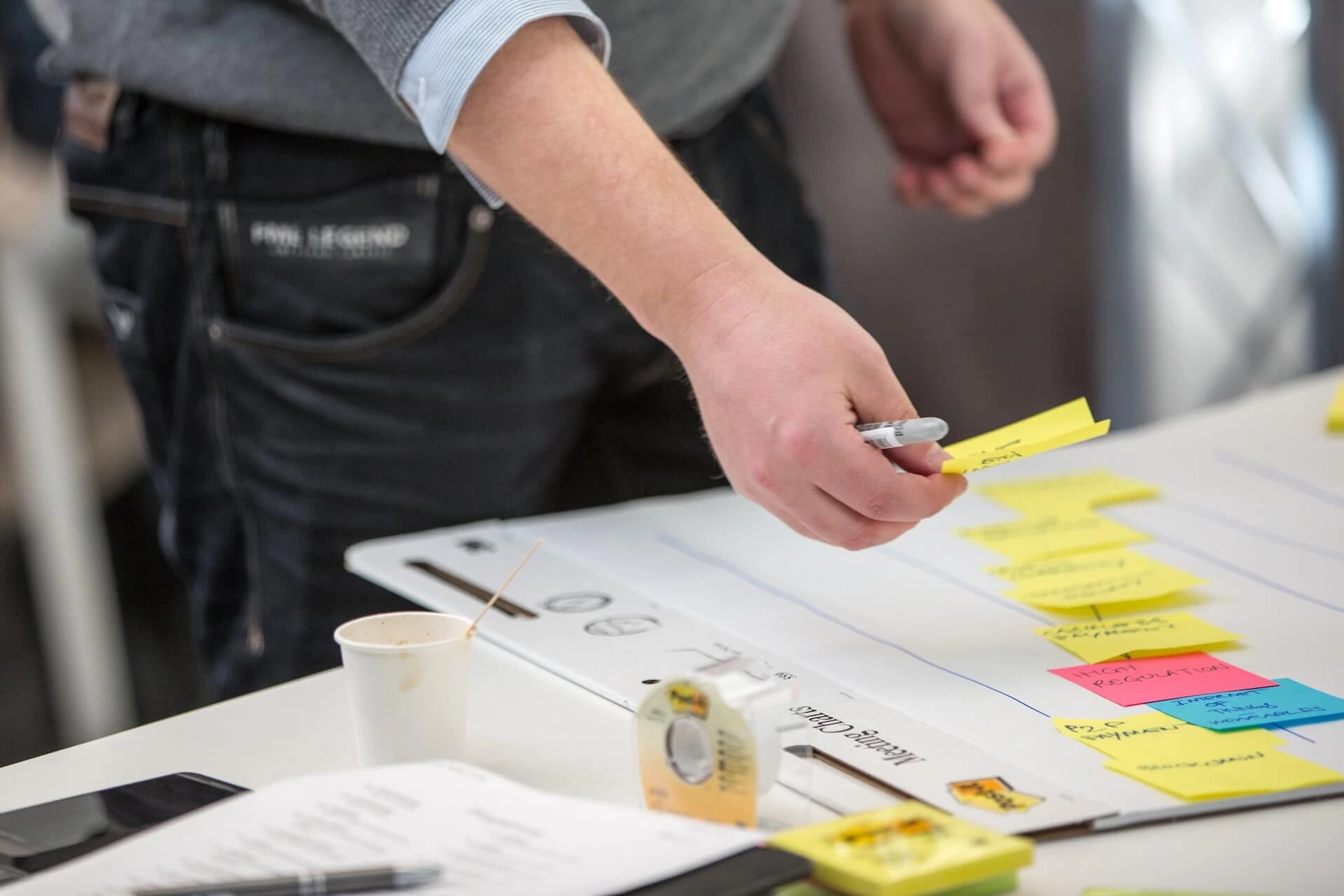 Evolving facilities management trends are bringing new dimensions to the FM industry as disruptive forces continue to shape and reshape the way enterprises think about technology adoption and conducting business. Explore what facilities managers can expect to adopt and embrace in 2023 and beyond.
Valued at USD 1239.99 billion in 2021, the facilities management industry is projected to grow to USD 1856.44 billion by 2029. This growth can be attributed to facilities management (FM) becoming a core part of business models across industries.
FM is now seen as a formidable function for business growth. It brings people and process efficiency, workplace productivity, and sustainability along the way, and dictates how businesses can work.
Amidst the shifts that the industry is witnessing, technology has emerged as the strongest transformation driver. The new paradigms of the Internet of Things (IoT) and data-driven operations are opening up new avenues to innovation. Facility managers are thus constantly vying to reinvent the wheel using these capabilities to improve performance, reduce cost, and enhance service quality.
However, as the journey to optimizing and innovation continues, the industry needs to harmonize the processes. Those who update themselves faster will emerge as winners in the race. There is more to adopt than just banking on technology. Trends are unfolding fast and some have already started penetrating the industry, only to dominate in forthcoming years. So, 2023 is going to be the year of the facilities management trends that we have rounded up here.
Top 11 emerging Facilities Management Trends
Facility management professionals have been constantly striving for improvement by adopting the latest trends. Here, in this article, we'll discuss the top 11 facilities management trends that will help businesses in bringing efficiencies.
Business Sustainability continues to rise in importance
"We need to tie sustainability to economic outcomes and put a dollar value on the high-impact actions a company takes to sustainable solutions," notes Terence Mauri, a leading business thinker and author.
Indeed, sustainability can be seen from two perspectives – how the business helps minimize the impact on the environment, and how it makes its own growth sustainable. Facility management has emerged as a facilitator in realizing these sustainability goals.
Despite understanding the importance of the notion, the FM community is still far from becoming fully sustainable. In terms of business sustainability, facility managers will be more focused on bringing manifold improvements in profitability, operational effectiveness, and team efficiency. We cover what will help them achieve this feat in the trends to follow.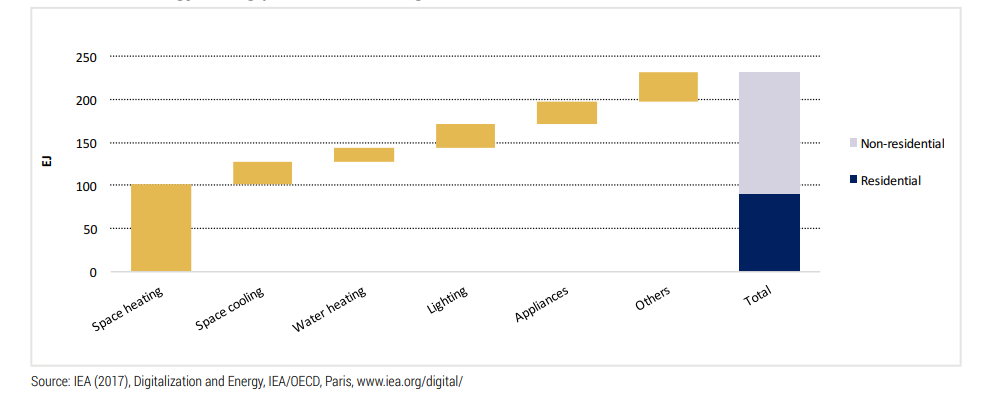 Energy saving potential from digitalization (cumulative, 2018-2040)
On the environmental sustainability side, the impetus will be on assisting businesses to save energy and reduce their carbon footprint. Findings reveal that in the US alone, the adoption of energy-efficient approaches can reduce GHG emissions by 10 percent per year. To contribute to such positive changes, apart from harboring environment consciousness, FMs will need to leverage tools like sustainability dashboards.
Digital Twin – the next big thing around the corner
"There is a wide range of information that I can collect and process with the twin (Digital twin). The twin plays an important role in task monitoring when machines talk to each other," opines Michael Grieves, who formalized the concept of  digital twin.
And when we cautiously interpret the veteran scientist's words, we realize the immense potential digital twins can have in FM.
Facility managers need to constantly deal with ever-changing demands and rising stakeholder expectations. For instance, to ensure consistent tenant experience, they need to constantly communicate with building occupiers.
Offering a seamless collaboration platform and in-time access to data, digital twin has emerged as a silver bullet for obtaining a holistic view of the facility. When the needs are fast changing, this will help managers with better space planning, maintenance, and with overall property portfolio management addressing unprecedented challenges like the need for social distancing or hybrid work shifts.
When governments across the world are increasing regulations on energy consumption, digital twin can allow facilities to achieve net-zero targets. It can help in identifying opportunities for lowering building emissions and reducing energy consumption. In fact, combined with IoT, digital twins can reduce maintenance and energy costs by up to 20%.
Efforts to resolve the IoT (Internet of Things) conundrum continue
IoT adoption across industries is gaining momentum as businesses cutting across industries are growing more inclined toward building connected ecosystems. As per Statista, now close to 10 billion, the number of IoT devices by 2030 will reach 29 billion.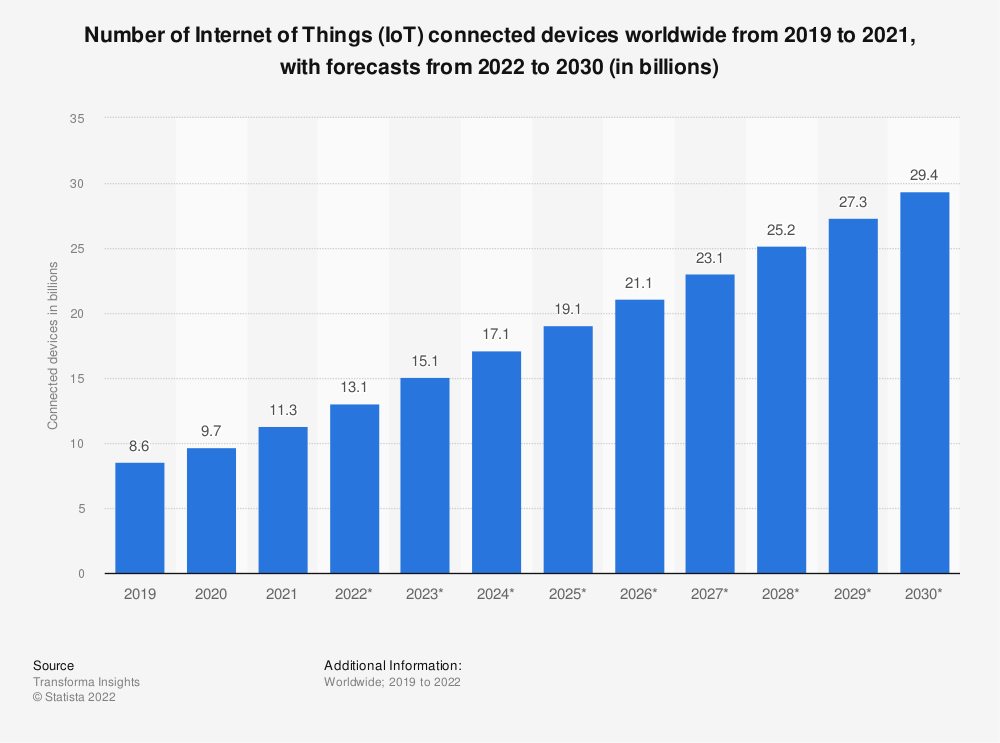 Facility managers can leverage the IoT potential for improved decision making and streamlining maintenance. By integrating it with business processes, service levels can be improved. So, IoT offers tremendous potential to revamp operational processes and overhaul the entire business value chain. Here are how matured facility managers have started using sensors:
Air quality sensors help gauge the difference between outdoor and indoor air quality, which help efficiently drive maintenance of equipment linked to AQI like HVAC.
Smart meters provide real time insights into energy consumption helping in variance analysis which can easily allow to identify resource wastage.
Smart water meters help in tracking the quality of water on a continuous basis, giving insights into contamination, leakages, and assisting in upgradation of water systems.
Readiness for unprecedented disastrous events
More than two years after the deadly pandemic hit humanity, the business world is still reeling under its impact. Disrupting the facility management framework, the COVID-19 outbreak resulted in a backlog of work and dealt a heavy blow by adding to the burden of facility managers.
However, it's not just another pandemic, but even a climate catastrophe, the danger of which looms large. This year, climate change made UK heat ten times more severe, fueling a blaze of blazes that kept London's fire service even busier than any day since World War II. Businesses had to take special steps to prevent damage to high-power computers and even shut down machines. Similarly, in China, scorching heat wave forced factories to shut down their operations for a week.
In the face of new challenges, facilities will have to be ready with plans to manage worst-case scenarios and climate change-resilient actions. Some of the areas where facility managers can display their readiness include:
Operations: Going contactless through contactless visitor management using smartphones, using RFID for employee tracking and contact tracing in emergency situations.
Climate Control: Leveraging sensors for auto emergency lighting and auto climate control (automatic cooling systems to regulate temperatures).
Space utilization: Optimizing workstations, office space design and layout. As per PWC survey, 31% of business leaders anticipate reducing their office space.
Safety policy: Some employees cannot work remotely, so facility managers must establish policies and be prepared for any contingencies like to contain the spread of infection.
Shift management: Splitting workforce into teams that work in different shifts. This will help FMs meet health and safety norms.
Communication: Establishing robust communication channels with all stakeholders so that FM managers are constantly aware of their expectations in turbulent times.
Democratizing automation to offset productivity constraints
"Automation is expediting business processes, creating faster pathways to innovation, and changing how we work. It is no longer a 'nice to have' – rather it's a critical component of modern business," says Ted Kummert, Executive Vice President, Products & Engineering at UiPath. This importance of automation is being increasingly recognized in facility management.
Robotic Process Automation (RPA) comes with a propensity to consistently improve and has already made its way into simpler functions like room booking, notification delivery, and performance reporting. Now, facility managers are striving for penetrating it into more complex business functions and leveraging it for sustainability and security advantages.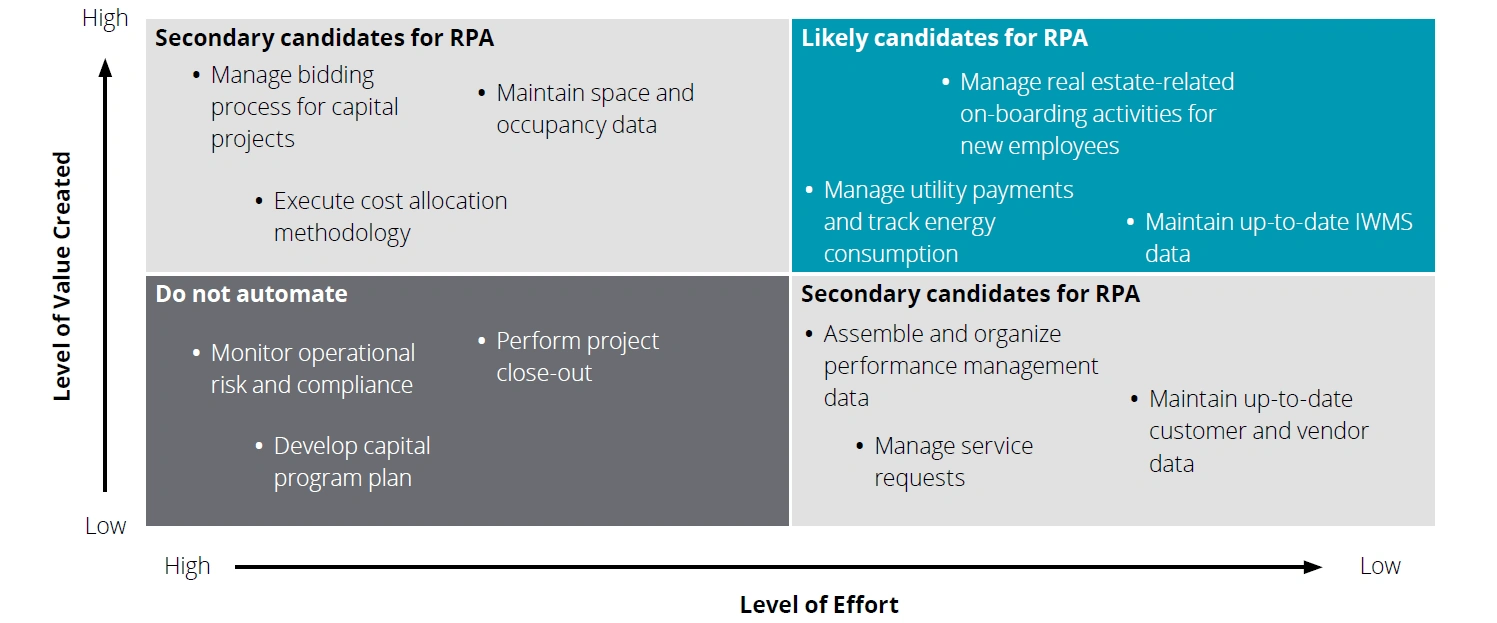 Source: https://www2.deloitte.com/content/dam/Deloitte/us/Documents/process-and-operations/us-rpa-benefits-and-adoption-journey.pdf
A couple of scenarios where robotic process automation (RPA) can prove useful in FM are:
In the manufacturing industry, bots can help in locating suspicious objects inside facilities and remotely report these to supervisors.
Virtual auto audits can inspect buildings, HVAC, fire, and electrical equipment at regular intervals to report on the safety status of a property.
IoT platforms can eliminate the need for maintenance staff to visit hazardous sites for equipment monitoring
A march towards completely data-driven ecosystems
Realizing the power of data-driven actions, a leading technical asset management company extracted data from more than 22K+ buildings they were servicing. From fault detection, chiller optimization to sustainability reporting, each aspect was brought under the data analytics framework. The initiative enabled them to adopt just-in-time strategies that significantly improved tenant and visitor experience in the retail facilities they were serving.
This is how data-driven facilities management is creating business value!
There is a real appetite to move towards data-driven actions in facilities management, as it can provide operational, financial and customer service benefits to businesses.
Data has emerged as the most crucial lever for augmenting the process transformation journey. Facility analytics is gaining currency and entering a more improved stage as sources of data have multiplied, thereby increasing the scope for facility managers to tap data insights.
Notably, data analytics in facility management is now shifting from commonplace implementations to applications of sophisticated tools, so that businesses can make use of data.
Need Help Drive Data-driven
Decision Making?
Increase Profitability
Reduce Costs
The focus shifts to Integrated facilities management (IFM)
Integrated facilities management (IFM) has arisen as a new approach to driving efficiencies in facility management. Focusing on bringing vendors, processes, and software systems under a common umbrella, IFM aims to simplify work life and streamline operations.
Facilities management can no longer afford to have a siloed operational framework, where functions operate as independent entities. IFM helps overcome these limitations by building a unified system for managing all strategies. The consolidation allows businesses to improve oversight and coordination, and reduce costs.
Some of the IFM transitions are being reflected in:
Partnering with a single vendor, who well understands the business's goals and missions, rather than engaging with multiple vendors and increasing spending on vendors.
Delegating oversight tasks to key members so as to consolidate management responsibilities and improve response times.
Empowering the workforce by equipping them with technology, so that consistent productivity levels are maintained.
Overcoming process redundancies by preventing building of silos amongst functions
Maintenance 4.0 is in the context
The advent of Industry 4.0 has brought forward the notion of Maintenance 4.0. Managers can no longer afford to jump into action only after encountering damages. They need a highly smart maintenance process to prevent equipment breakdown and optimize downtime so that facilities continue to operate seamlessly in optimal conditions.
The US Department of Energy's Federal Management Program has shown that predictive maintenance compared to preventive maintenance can save approximately 8%-11% and as much as 40% over reactive maintenance. Thus, aided by the assortment of Artificial Intelligence (AI), automation, and the Industrial Internet of Things (IIoT), facility managers are striving to quickly bring Maintenance 4.0 into practice. This notion of maintenance doesn't only align with Industry 4.0 but also applies to non-industrial sectors.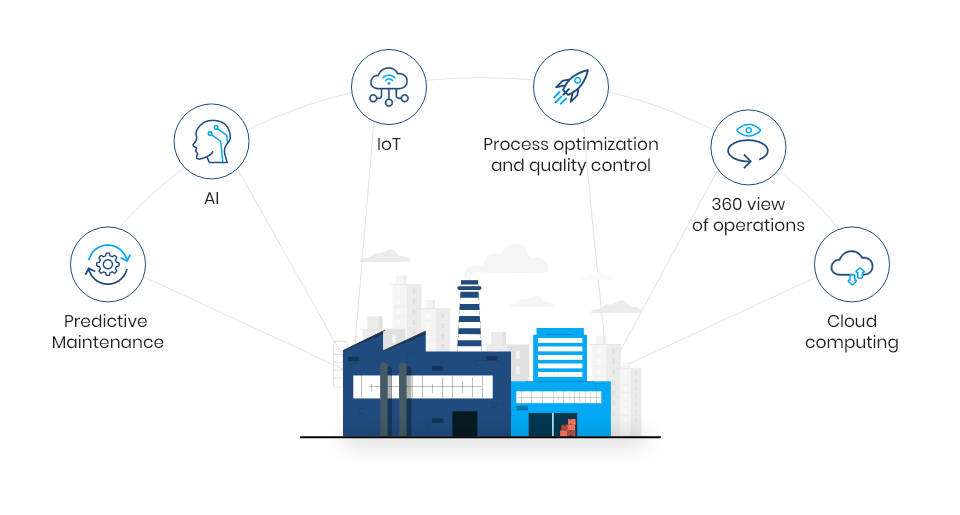 Seamless transparency continues to matter
Transparency has continued to remain an area of concern for facility managers. They have been focused on keeping themselves updated with granular details of the on-field operations, which is where the technology and analytics usage comes into the picture. Transparency holds a key to not just streamlining operations but also helping in mitigating risks.
Facility managers are well aware that not being transparent can backfire and bring disastrous outcomes. They, thus need to give a cautious eye to adopting the right facility management platform, to derive the full potential of field technicians and managed service providers, which will ultimately fetch them manifold benefits.
Increasing preference for mobile-based strategies
Convenience is one big factor that is drawing facility managers toward the decision of embracing mobile app-based operations. With inputs of IoT and analytics culminating in a mobile app, getting access to real-time facility data has become much easier. Mobile apps can thus allow managers to be better positioned for managing operations remotely.
Recently, Emrill, a leading integrated facilities management provider developed a smart cleaning robot, LeopMop to optimize cleaning efficiency and assure eco-friendliness. The robot can be operated using a mobile app that enables seamless efficiencies through intelligent mapping of areas. Using the mobile app, LeoMop keeps real-time updates, detailed reports, and notifications constantly at the fingertips of facility managers.
Facilities management app for mobile is thus the future and will form the crux of an ideal remote setup. From creating work orders, monitoring CO2 levels, analyzing temperature readings, and tracking the current status of field teams to allocating tasks, mobile apps have been revolutionizing facility management in many respects.
Safety Management to gain more prominence
Occupational health and safety (OSH) and facility management go hand in hand. Facility managers understand that they need to work in conjunction with safety managers to identify workplace hazards and prevent them. Businesses across industries like manufacturing, construction, oil & gas, and HVAC, have been spending quality efforts in building strong safety cultures by adopting safety norms and educating employees.
The unprecedented opportunity to ensure an ideal safe environment is offered by safety analytics, as there is a wider scope for facility managers now to make informed decision-making. With data flowing in from disparate sources, managers would be better equipped to monitor hazards and address safety incidents. All they would need is a quality safety analytics platform.
Takeaway
The sheer scale and complexity of facility management have been pushing businesses to drive innovation as these trends reflect. Revealing the importance of readiness to embrace an all-round approach to transforming, the trends highlight the significance of facility management in today's organizations' overall effectiveness. These trends, however, cannot be seen in isolation, and facility managers will need to adopt a holistic approach to practically streamline them.
With stiff competition and less time to experiment, facility management software (FMS) with strong analytics and mobile support can be a boon. Businesses are realizing this as shown by the global facility management software market size which is predicted to reach USD 3585.8M by the end of this decade.
Give us a shout out and lets schedule a call if you need to understand how leaders in the facility industry are using software or wish to discuss about the best facility management software that configures to your business's needs and helps you meet your strategic goals.
Need Modern CAFM Software
to Utilize These Trends?
Increase Profitability
Reduce Costs
Book a Personalized Demo
Learn how your businesses can use FieldCircle to achieve more efficient, transparent, and profitable service operations.
30 Days Free Trial
No Credit Card Required
By submitting your details, you agree that we may contact you by call, email, and SMS and that you have read our terms of use and privacy policy.