Maintenance Management Software
Maintenance Management Software to empower your maintenance team to perform their job efficiently and help ops managers to make the right decision.
30 Days Free Trial
No Credit Card Required
How FieldCircle Can Transform Your Maintenance Management Process
Our maintenance work order software has been designed after careful analysis of the challenges faced by maintenance companies in managing scheduling, tracking of service engineers when at client location, and handling quotes, estimates, and payment processes.
Booking Owner/Manager
Service Engineer
Accountant
Customer
Applicability and Benefits
Optimum utilization of staff through scheduling, attendance and timesheet management.
Schedule planning for service engineer at the individual level.
Tracking the pre and post record of service.
Easy management reporting about business metrics.
Easy sales and profit analysis of the business.
Tracking service engineer's performance is simple.
Analysis of customers' feedback.
Applicability and Benefits
Quick and easy communication and coordination with booking manager and customer.
Applicability and Benefits
Easy integration with other tools i.e. accounting tools.
Applicability and Benefits
Minimum turnaround time for jobs from service request till invoice generation.
Invoice generation at the customer site.
As one of the best maintenance scheduling software for maintenance and repair companies, FieldCircle empowers them to manage schedule, tasks, work order and invoices on the go, in-turn making them more efficient and profitable.
Get the Best Maintenance Management System Software For Your Business
FieldCircle is the best maintenance work order software designed to streamline your maintenance business activities. Using the software, you can select the machine that requires maintenance and decide the team and tools that would be necessary for the maintenance work. It can also create the invoice and generate information that could be used to create regulatory compliance policy.
Empower Your Maintenance Team with Maintenance Tracking Software
Maintenance tracking is essential to get asset details, engineering and preventive maintenance tasks, and create reports. FieldCircle's maintenance management software has a comprehensive dashboard that allows maintenance manager to get real-time updates on their field activity performance and cost so that they can take plug the loopholes and improve efficiency. The maintenance tracking software also provides checklists for quality execution of the assignment and integration with other departments.
Maintenance Management App: Go Beyond Managing Work
To succeed in the existing maintenance business landscape, managers must go beyond managing the daily tasks and run their business more efficiently than ever before. Our leading maintenance management app has been designed to cater all your preventive maintenance needs through automated scheduling, work order creation, dispatching, invoice generation, and compliance.
Read More
Maintenance Management Mobile App Solution
FieldCircle maintenance management mobile app is available on both iOS and Android (smartphones and tablets) and provides users on-the-go access to relevant modules based on roles and permissions.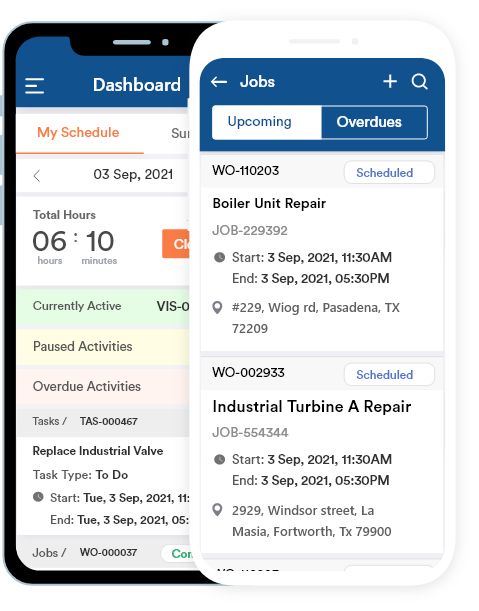 Controlled Access

Allowing employees to perform their field / non-field work activities on-the-go, on-time and smartly.

Geo-tagging

Geo-tagged clock-in/clock-out, work-orders / tasks etc.

Data Submission

Paperless submission of timesheets, job reports, payment info etc.

Collaboration

Instant messaging and alerts / notifications for various activities.

Online and offline support

App saves all the data when in remote or low reception areas and auto-syncs while having good connectivity; ensuring data security and integrity.
Why Choose FieldCircle
With its user-friendly web portal and mobile app, you could eliminate all the manual work and move to paperless reporting via managing customers, estimation, employee scheduling, invoicing, and analytics. It's all in there and much more.
All-in-one solution at your fingertips
Improved efficiency and revenue
Data security and protection
Book a personalized demo
Learn how other similar businesses use FieldCircle to win more customers and make their service team more productive.
30 Days Free Trial
No Credit Card Required
By submitting your details, you agree that we may contact you by call, email, and SMS and that you have read our terms of use and privacy policy.
FAQ
Why should I use maintenance management software?
For any asset-intensive service organization, improving maintenance practices to increase uptime and reduce operational cost is a continuous process. With the right maintenance management software, this process becomes easily achievable. It helps you implement a maintenance strategy that ensures optimum utilization of maintenance resources, including help adopt condition based monitoring practices and predictive maintenance which involves sophisticated analysis of asset data.
How does FieldCircle maintenance management software help my business?
FieldCircle maintenance management software enables you to manage multiple variables on a single platform for cost-effective management. You could easily adopt a predictive maintenance program to reduce the number of scheduled maintenance repairs, ensure judicious utilization of inventory (spare parts), and achieve higher OEE (overall equipment effectiveness). With FieldCircle, you could effectively reduce equipment breakdown, downtime, and cost of maintenance operations.
Why should we choose FieldCircle over other maintenance work order software?
FieldCircle is fully integrated with your organizational functions across systems. It is fully customizable to bring together your processes, data systems and human expertise, from maintenance to field service and HR to finance to follow a digitally connected approach.
Does FieldCircle have recurring jobs feature-most important aspects of maintenance scheduling software?
Yes, you can set your preferences to recur maintenance/preventive maintenance/inspection jobs and it would reflect in your calendar.
Does your maintenance software integrate/sync with QuickBooks?
Yes, we provide seamless integration with QuickBooks to keep your service departments and accounting team in sync.
Does your maintenance management software have integration or APIs available?
Yes, our team provides full integration support for systems, applications, and APIs to help you leverage the power of all-in-one service solutions for your business.
What time is the support team of FieldCircle available?
We are available from 6:00 am ET- 6:00 pm ET.