All-In-One
Maintenance Management Software
Maintenance Management Software to empower your maintenance team to perform their job efficiently and help ops managers to make the right decision.
No Credit Card Required
No Credit Card Required
30 Days Free Trial
No Credit Card Required
Unlock the Hidden Value in Your Maintenance Operations
Manage your maintenance operations in a more proactive and predictive way using FieldCircle's maintenance tracking software configurable to your business needs.
Booking Owner/Manager
Service Engineer
Accountant
Customer
Applicability and Benefits
Optimum utilization of staff through scheduling, attendance and timesheet management.
Schedule planning for service engineer at the individual level.
Tracking the pre and post record of service.
Easy management reporting about business metrics.
Easy sales and profit analysis of the business.
Tracking service engineer's performance is simple.
Analysis of customers' feedback.
Applicability and Benefits
Quick and easy communication and coordination with booking manager and customer.
Applicability and Benefits
Easy integration with other tools i.e. accounting tools.
Applicability and Benefits
Minimum turnaround time for jobs from service request till invoice generation.
Invoice generation at the customer site.
As one of the best maintenance scheduling software for maintenance and repair companies, FieldCircle empowers them to manage schedule, tasks, work order and invoices on the go, in-turn making them more efficient and profitable.
Get the Best Maintenance Management System Software For Your Business
FieldCircle is the best maintenance work order software designed to streamline your maintenance business activities. Using the software, you can select the machine that requires maintenance and decide the team and tools that would be necessary for the maintenance work. It can also create the invoice and generate information that could be used to create regulatory compliance policy.
Empower Your Maintenance Team with Maintenance Tracking Software
Maintenance tracking is essential to get asset details, engineering and preventive maintenance tasks, and create reports. FieldCircle's maintenance management software has a comprehensive dashboard that allows maintenance manager to get real-time updates on their field activity performance and cost so that they can take plug the loopholes and improve efficiency. The maintenance tracking software also provides checklists for quality execution of the assignment and integration with other departments.
Maintenance Management App: Go Beyond Managing Work
To succeed in the existing maintenance business landscape, managers must go beyond managing the daily tasks and run their business more efficiently than ever before. Our leading maintenance management app has been designed to cater all your preventive maintenance needs through automated scheduling, work order creation, dispatching, invoice generation, and compliance.
Read More
Maintenance Software with Features that Drive
Operational Excellence
A maintenance management software that has got you covered with all the features you will ever need.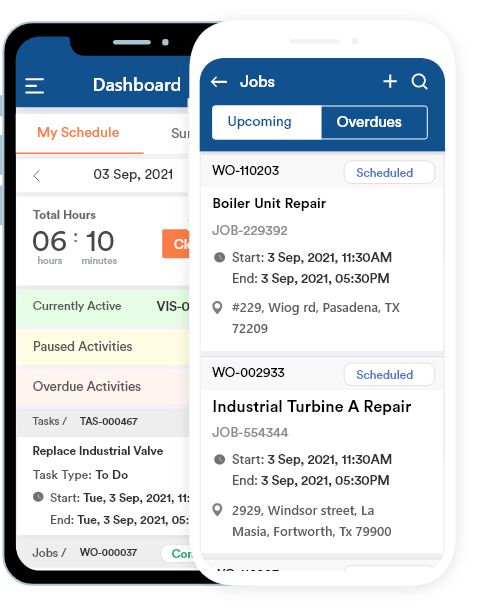 Controlled Access

Allowing employees to perform their field / non-field work activities on-the-go, on-time and smartly.

Geo-tagging

Geo-tagged clock-in/clock-out, work-orders / tasks etc.

Data Submission

Paperless submission of timesheets, job reports, payment info etc.

Collaboration

Instant messaging and alerts / notifications for various activities.

Online and offline support

App saves all the data when in remote or low reception areas and auto-syncs while having good connectivity; ensuring data security and integrity.
Why Choose FieldCircle
With its user-friendly web portal and mobile app, you could eliminate all the manual work and move to paperless reporting via managing customers, estimation, employee scheduling, invoicing, and analytics. It's all in there and much more.
All-in-one solution at your fingertips
Improved efficiency and revenue
Data security and protection
Book a Personalized Demo
Learn how your businesses can use FieldCircle to achieve more efficient, transparent, and profitable service operations.
30 Days Free Trial
No Credit Card Required
By submitting your details, you agree that we may contact you by call, email, and SMS and that you have read our terms of use and privacy policy.
FAQ
Why should I use maintenance management software?
For any asset-intensive service organization, improving maintenance practices to increase uptime and reduce operational cost is a continuous process. With the right maintenance management software, this process becomes easily achievable. It helps you implement a maintenance strategy that ensures optimum utilization of maintenance resources, including help adopt condition based monitoring practices and predictive maintenance which involves sophisticated analysis of asset data.
How does FieldCircle maintenance management software help my business?
FieldCircle maintenance management software enables you to manage multiple variables on a single platform for cost-effective management. You could easily adopt a predictive maintenance program to reduce the number of scheduled maintenance repairs, ensure judicious utilization of inventory (spare parts), and achieve higher OEE (overall equipment effectiveness). With FieldCircle, you could effectively reduce equipment breakdown, downtime, and cost of maintenance operations.
Why should we choose FieldCircle over other maintenance work order software?
FieldCircle is fully integrated with your organizational functions across systems. It is fully customizable to bring together your processes, data systems and human expertise, from maintenance to field service and HR to finance to follow a digitally connected approach.
Does FieldCircle have recurring jobs feature-most important aspects of maintenance scheduling software?
Yes, you can set your preferences to recur maintenance/preventive maintenance/inspection jobs and it would reflect in your calendar.
Does your maintenance software integrate/sync with QuickBooks?
Yes, we provide seamless integration with QuickBooks to keep your service departments and accounting team in sync.
Does your maintenance management software have integration or APIs available?
Yes, our team provides full integration support for systems, applications, and APIs to help you leverage the power of all-in-one service solutions for your business.
What time is the support team of FieldCircle available?
We are available from 6:00 am ET- 6:00 pm ET.
How can maintenance management software help your business?
Maintenance management software centralizes maintenance information, and service operations processes for greater visibility. A maintenance software is an essential tool to simplify the overall maintenance process by digitizing the process of tracking machine health and preventive maintenance scheduling to reduce downtime.
The key benefits of maintenance management software are:
Effective work planning and scheduling- Breakdown requests, preventive maintenance and work order management
Improved wrench time and more productive maintenance team
More efficient maintenance operations
360 degree visibility into your daily maintenance operations
More streamlined spare sourcing and spare parts management
Improved maintenance operations profitability
Fewer breakdown and more revenue opportunity
A maintenance management software and maintenance app acts as a collaboration and communication mechanism between teams that improve transparency and accountability across the organization. The tool organizes information regarding the condition of the asset and action taken on them to help asset managers better understand the overall health of the asset and operations and make smarter decisions.
What are the common features of Maintenance tracking software?
Asset tracking: Enables real-time tracking of assets and equipment across locations and allows maintenance teams to collect, analyze, and act on asset data, including requisition, acquisition, maintenance, and disposal.
Work order management: Provides a holistic view of work order lifecycle, facilitates the creation of digital work orders which enables faster allocation of resources for the jobs and easy tracking of work statuses in real-time.
Preventive maintenance scheduling: Schedule preventive maintenance jobs based on interval or time, set recurring schedules if required, and share job details with service teams on their Android or iOS mobile devices.
Maintenance management mobile app: Allows maintenance technicians to access job details, service contracts, warranty, and historically associated with the asset and perform the job on-the-go with their maintenance app and keep maintenance logs for validation of their work.
Inventory management: A maintenance management software acts as a single repository for all inventory items, including spare parts and tools across the locations, tracks stock-in, and stock-out levels, defines stock thresholds, and sets alerts for stock-out.
Analytics and reporting: Get real-time computerized maintenance management analytics and reports to make informed and faster decisions. Set maintenance KPIs such as Mean Time to Repair, Mean Time Between Failures, and Mean Time to Recovery and use analytics to see on what resources your money is spent.
What are the benefits of maintenance management software?
Maintenance management software finds extensive usage in oil & gas, energy, HVAC, agriculture, healthcare, heavy equipment, electrical, and electronics industries. Organizations in these industries use computerized maintenance management software systems to track assets, reduce downtime, and prevent productivity and profitability leakages. Key benefits of maintenance management software are:
Workflow improvements: Maintenance management software removes redundant elements from the process and streamlines it for smooth operations and faster turnaround time.
Reporting and insights: Maintenance system enables users to create, configure, and auto-generate reports, featuring all the KPIs you have defined in various formats.
Transparency and accountability: See what your team has done in the past and what items they are working on in real-time to assign responsibility and accountability. Keep track of system logs and historical data for transparency in the process.
More Control over Inventory: Get full visibility into what goes in and out of the warehouse for control over inventory, track usage patterns to analyze which items require more attention, and prevent inventory downtime.
Data insight: Generate data insight to make informed decisions about reducing operations cost, optimizing processes, and plugging productivity gaps.
Typical cons/disadvantages of using commercial maintenance management software?
Poor integrations: No software is absolute in itself. Integrations help them connect to various disparate systems and bring data on a single dashboard. However, poor integrations can do more damage than good by presenting a partial or inaccurate picture of the process.
Change management efforts: Any software implementation requires targeted change management efforts to increase adoption and optimal utilization. However, that requires significant planning and if not done well could lead to implementation failure.
What are the key criteria/factors to consider while buying maintenance management software?
Requirement prioritization: The best maintenance management software for your business is one that would address your most critical challenges while putting you on the track to achieve your long-term goals. An easy way to find the best maintenance software for your business is to prioritize your requirements by defining must-have, should-have, could-have, and won't have or wishes.
Automation: The level of automation you want is important to consider as it would help you save a significant amount of time and effort, including money spent on labour.
Employee experience: What works for asset managers may not work for your service teams in the field. A frictionless employee experience is necessary at all levels, so when buying the best maintenance management software for your business, make sure your employees at all levels love to use the product.
Technology stack: Think ahead in time. What happens if your business grows? Would the maintenance software be able to accommodate your new requirements? When buying a software product, make sure that it covers your present and future needs.
What are the top maintenance management software trends for this decade?
The conflation of technologies: In the coming decade, maintenance management will become a conflation of technologies such as the internet of things, powered by smart sensors and actuators, artificial intelligence, machine-to-machine communication, and industrial data analytics. These technologies will together be used to drive operational efficiency, productivity, and visibility to unprecedented levels.