Inspection Software
More efficient compliance and risk management- Paperless health, safety,
and quality audits and inspections management
No Credit Card Required
30 Days Free Trial
No Credit Card Required
Modern Inspection Software with Features that Empower
You to Drive Transparency
Configurable software that's feature-loaded to manage health, safety, environment, and property inspections in a more efficient and effective way.
Run your Inspections & Audits in auto-mode with more
Visibility and Control
Paperless operations to manage risk and compliances more effectively with our comprehensive inspection management software
Operational effectiveness with top-rated Inspection Management Software
Run paperless operations with custom checklists and form builders and achieve improved compliances with our field inspection software. Your health audits can be managed with a module of health inspection software, the safety audits with the module of safety inspections software, and property inspections with property inspection software module. FieldCircle's inspection management software helps you plan, create, schedule, and manage all types of inspection operations in a more streamlined way.
FieldCircle's Inspection Tracking Software Is The Best Of All
With FieldCircle inspection tracking software, you could keep track of everything happening in your business in real time. You could monitor and measure performance to find out bottlenecks in the process and plug-in profit leakages. The inspection scheduling software allows you to ramp up your scheduling processes so that your field teams can do more in less time.
Best Inspection App for Business Empowerment
Our site inspection solution is fully responsive i.e. easily accessible on any device. FieldCircle's site inspection app also allows easy reporting to the management with customized reports. This makes sharing site inspection reports easy with relevant stakeholders. Customized reporting also saves time and efforts stakeholders may require to do otherwise. Read More
Inspection App for Field Teams
Manage your health, safety and environment audits and maintenance and property inspections on-the-go with inspection mobile app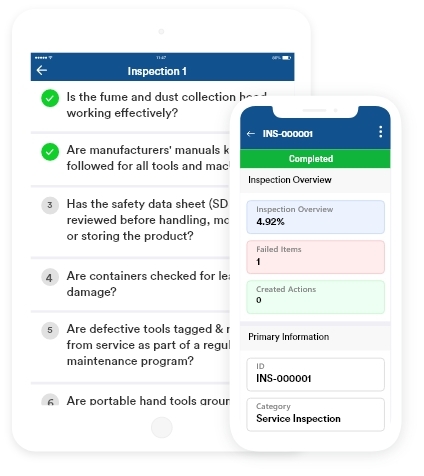 Connected and Empowered Worker

Equip your field workforce with relevant information at every stage of their work to perform more effectively and efficiently.

More Transparent Operations with Geo-tagging

Geo-tagged clock-in/clock-out, work-orders / tasks, etc. to bring better visibility at each activity level.

Digital Reports and Paperless Operations

Paperless timesheets, job reports, payment info, and customer sign-off.

Collaboration

Take notes, communicate with the office team via messages Instant messaging and alerts/notifications for various activities.

Online and Offline Support

The app saves all the data when in remote or low reception areas once the job has started and auto-syncs when it's back in the network; ensuring uninterrupted work.
Trusted by customers across the globe
Business from various industries rely on our top-rated inspection software to manage their audit and inspection processes more efficiently and transparently.
Why they chose us, in their words:
Highly configurable to our business processes
Simple and easy to use interface
Complete hand-holding in onboarding and importing data
Proactive and humble team that cares for our success
Blogs
Our featured blogs sharing insights on field force automation, applicability and latest trends in industries
+Show blog
Book a Personalized Demo
Learn how your businesses can use FieldCircle to achieve more efficient, transparent, and profitable service operations.
30 Days Free Trial
No Credit Card Required
By submitting your details, you agree that we may contact you by call, email, and SMS and that you have read our terms of use and privacy policy.
FAQ
Why should I use Inspection Software?
Inspection software makes it easy for you to manage every aspect of your business from one platform. You would be able to see what is happening in your business in real-time from field to back-office. A mobile inspection software would bring transparency and accountability in your process and you would be able to make more informed, evidence based decisions.
How does FieldCircle inspection software help my business?
FieldCircle inspection software connects your disparate systems to give end-to-end visibility into every account of your business. You could bring in your processes on a cloud-based platform and track and monitor operations, assets, and workforce on multiple aspects. Inspection tracking software allows you to determine the best response to service requests and reduce turnaround time to increase first-time fix rate and maximize productivity.
Why should we choose FieldCircle over other Inspection management software?
FieldCircle is fully customizable. You could pick and choose modules based on your business needs. They are easily configurable to your workflows that means your team gets everything streamlined without having to change the way they work.
Does FieldCircle have recurring jobs feature-most important aspects of inspection scheduling software?
Yes, you could set your preferences once in the system and the job would be reflected in the team's calendar as and when needed to be done.
Does your inspection software integrate/sync with QuickBooks?
Yes, QuickBooks integrations are two way, that means you could both import and export data based on your requirements.
Does your inspection software have integration or APIs available?
Yes, along with integration for all the popular APIs, our team also provides custom API integration solutions depending on your requirements.
What time is the support team of FieldCircle available?
We are available from 6:00 am ET- 6:00 pm ET.
How can inspection software help your business?
An enterprise-level inspection management software is designed to help businesses manage inspection checklists of material and facilities, schedule periodic inspections, collect and report inspection data, and track corrective actions to improve safety and compliance. Inspection management software digitizes the process of inspection, which makes keeping a record of inspection, collecting proof-of-work, and verification and validation of works more efficient and reliable.
What are the common features of inspection software?
Digital checklists: Risk assessment checklist with all components for successful completion of inspection are included. Mobile access for field teams with clear next-step instruction and easy submission to perform an inspection.
Pre-built forms and templates: Library of electronic forms and templates to standardize the inspection criteria, enable remote access, and maintain availability.
Scheduling management: Ability to visualize the entire inspection lifecycle on a single platform, schedule inspection based on interval or usage-based events, and assign inspection jobs to teams with inspection scheduling software.
Mobile inspection app: Mobile-first inspection software to help share inspection details with field inspectors, enable them to upload proof-of-work in the form of documents, videos, and images, track inspection status, and record and maintain logs.
Customer and location management: The inspection app helps in keeping all customer and inspection locations in one place and sharing efficient route updates with field inspectors.
Reporting and analytics: Inspection software with reporting capabilities provide 360-degree visibility into inspection performance and insight into compliance trends within the organization.
What are the benefits of inspection software?
Inspections management software is mainly used in the healthcare, construction, manufacturing, food safety, mining, oil & gas, energy, agriculture, mining, petrochemicals, retail, and transportation industries to enforce compliance. The benefits of using inspection software and app are:
Paperless operations: Mobile and web-based inspection software enable paperless inspection operations to increase efficiency, improve collaboration, reduce waste, and promote significant cost savings.
Streamlined inspection work order: Digital inspection management solutions streamline work order operations, providing end-to-end visibility into inspection lifecycle and removing redundant tasks from operations to accelerate the process.
Proof-of-work: It becomes very easy to collect documents, videos, and images from the inspection site using customizable mobile inspection apps. Verifying and validating work becomes easier, transparent, and efficient.
Increased accountability: Since the Inspection checklist application is designed to facilitate maintaining digital proof of the work done, it increases individual accountability towards tasks. Every individual feels more confident of their role in the organization.
Improved compliance: An enterprise-level audit and inspection software solution helps manage reports, compliance metrics, and KPIs.
Typical cons/disadvantages of using inspection software?
In-person meetings: Extensive use of automation can reduce in-person meeting requirements. In that case, if alternative measures are not planned to promote in-person communication, it can create a gap between teams.
Learning curve: While inspection apps are easy to use, lack of proper training could impede the learning curve.
Key criteria/factors to consider while buying inspection software?
MoSCoW Prioritization: MoSCoW method of prioritization is helpful in categorizing your requirement for smart investment. MoSCoW is an acronym for should-have, could-have, and will not have right now or wishes.
An effective quality control (QC) checklist: One of the key purposes of inspection is to ensure conformity to industrial compliances and regulations. The best inspection software for your business is one that lets you create, modify, and update inspection checklists to help you fulfill compliance requirements.
Level of automation: Check the amount of human effort required to perform the inspection. While high-end automation may look attractive, if it does not contribute to improving the quality of inspection, the inspection software may not be a great choice for your business.
Technology stack: Remember the IT industry is highly dynamic. It does not take too long for a software to become old and outdated. But often most recent technologies do not always have a strong community for IT support. So choose your stack wisely if you're going for enterprise-level inspection software.
Top inspection software trends for this decade?
AI driven visual inspection: Deep learning-based defect detection solutions are an aspect of machine learning technology backed by artificial neural networks. Deep learning algorithms would enable the machines to imitate human visual inspection by using labeled examples of specific data types to identify trends and patterns, anomalies, and characters.
Drones and Submersible based inspections- A lot of companies have started using drones, submersible and similar infrastructure, equipped with AI and ML technologies, to perform inspections and this space will be quite interesting to watch.
Robotic Inspections: This also has been gaining popularity and prominence especially in the manufacturing and construction space.