All-In-One HVAC Software
Maximize technician productivity, operational efficiency, and profitability with our HVAC Software and set the foundation for operational excellence.
30 Days Free Trial
No Credit Card Required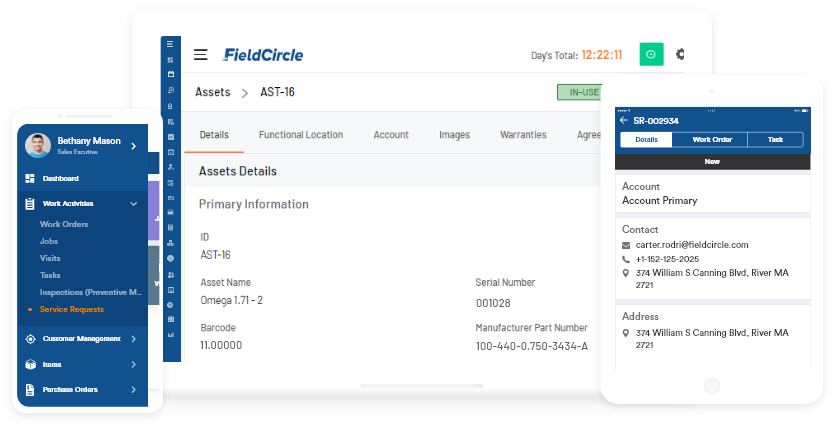 Empower Your HVAC Business
Take control of your service operations with automation
Capture service requests for break/fix issues online from multiple sources
Generate online estimates and share it with employees/ customers for e-sign offs
Create work orders out of service requests, route resources to complete the work order, and track updates in real-time.
Excellent service delivery at a lower operational cost
Schedule jobs online and dispatch service technicians with all the job details on their smartphone
Track and monitor inventory levels, send stock-in and stock-out alerts, and enable proper utilization of equipment.
Generate digital invoices, capture customer e-signature, process the invoice quickly for payment collection.
Make more informed decisions
Get full visibility into service lifecycle and turnaround time to identify and remove bottlenecks.
Track day-to-day operations data in real-time to deploy resources effectively.
Assess real-time performance of the service technicians and other aspects of business to make evidence-based, informed decisions.
HVAC scheduling software to improve service efficiency
Bring a pause to your HVAC contractor software search with FieldCircle's solution. From dispatching services to customer management concerns, our HVAC service software takes great care of your requirements at every front. The easy-to-use HVAC business software will make managing the business more efficient than ever before.
Track Your Billing Estimates Efficiently With HVAC Estimating Software
Your billing and invoicing concerns will get automated with our HVAC estimating software. HVAC management software makes it easy to track the details of employees working on the field with their specific working hours. This helps automate all the related procedures including service scheduling, billing, and everything in between.
Choose HVAC Work Order Software for Business Empowerment
FieldCircle's HVAC invoice software makes it easy to get complete visibility over crew scheduling. Our HVAC apps are another great offering for managers that offer easy and effortless access to the field reporting of employees. Tracking the status of employees and work orders also gets easier with HVAC work order software. Read More
Field Service Management App for HVAC Contractors
FieldCircle HVAC management and estimating mobile app is available on both iOS and Android (smartphones and tablets) and provides users on-the-go access to relevant modules based on respective roles and permissions.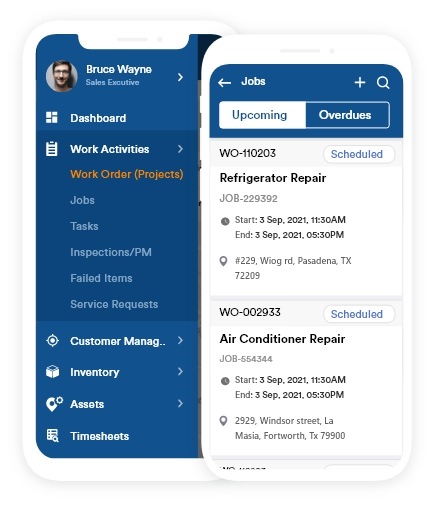 Assign technicians based on availability, priority, and skill, eliminate overlapping and duplication of tasks.
Track and recommend best routes, create optimal routes to minimize travel times and save fuel cost.
Simplify the process of inspection and reporting for service technicians, enable data upload and download anytime, anywhere.
Speed up the process of validation with paperless approvals, e-sign off, and time-stamped tasks and order management system.
Trusted by customers across the globe
Our top-rated web portal and mobile app field service management software
let you manage everything in one place.
Why they chose us, in their words:
Highly configurable to our business processes
Simple and easy to use interface
Complete hand-holding in onboarding and importing data
Proactive and humble team that cares for our success
Blogs
Our featured blogs sharing insights on field force automation, applicability and latest trends in industries
+Show blog
Book a personalized demo
Learn how other similar businesses use FieldCircle to win more customers and make their service team more productive.
30 Days Free Trial
No Credit Card Required
By submitting your details, you agree that we may contact you by call, email, and SMS and that you have read our terms of use and privacy policy.
FAQ
Why should I invest in HVAC software?
An HVAC software could ramp up your operational efficiency and increase your capabilities to deliver outstanding customer service. A software with powerful features would allow you to bring everyone from field techs to office and everything in between on one single platform. You could track, monitor, and measure your asset, their historical service data and adopt an integrated approach for condition monitoring and predictive maintenance to increase uptime, improve performance, and reduce cost.
How does FieldCircle HVAC business software help my business?
FieldCircle's HVAC software enables you to improve your maintenance practices and operational efficiency to increase ROI on every service request. It has all the tools essential for increasing the maturity of your maintenance practices and keeping your field teams and back-office in sync so that you can operate reliably and profitably.
Why should we choose FieldCircle over other HVAC Management software?
Our FieldCircle's HVAC software is focused on what a specific business needs instead of what we have to offer. Clearly, you can pick and choose the modules, automate workflows to your business requirements, and get the benefits of actionable data insight with a centralized dashboard.
Does FieldCircle have recurring jobs feature-most important aspects of a HVAC scheduling software?
Yes, it is very easy to schedule recurring maintenance/preventive maintenance/inspection jobs in FieldCircle. You could set your preferences once and it would reflect in your calendar without any additional manual effort.
Does your HVAC software integrate/sync with QuickBooks?
Yes, we provide seamless integration with QuickBooks to keep your service operations activities and accounting department in sync.
Does your HVAC software have integration or APIs available?
Yes, we provide full custom integration support for all the popular systems and applications to sync and access your data across platforms and devices, and also have APIs available for most of our modules.
What time is the support team of FieldCircle available?
We are available from 6:00 am- 6:00 pm EST.