All-In-One
HVAC Software
Maximize technician productivity, operational efficiency, and profitability with one of the best HVAC Service Software and set the foundation for operational excellence.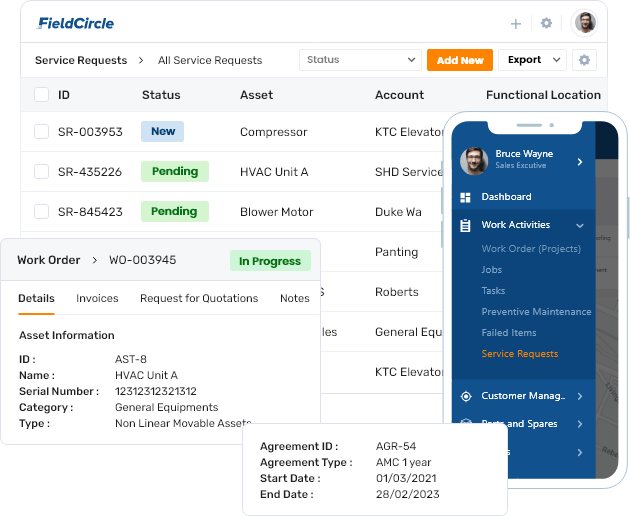 HVAC Service Software with Features that Drive Operational Excellence
An HVAC field service software that has got you covered with all the features you will ever need.
Unlock the Hidden Value in Your HVAC Business
Manage your HVAC service and maintenance operations in a more efficient, proactive, and predictive way using FieldCircle's HVAC contractor software configurable to your business needs.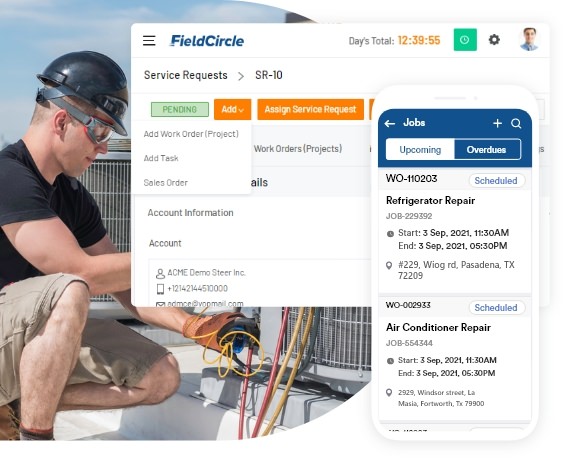 Take control of your HVAC service operations with automation
Capture service requests for break/fix issues online from multiple sources
Generate online estimates and share it with employees/ customers for e-sign offs
Create work orders out of service requests, route resources to complete the work order, and track updates in real-time.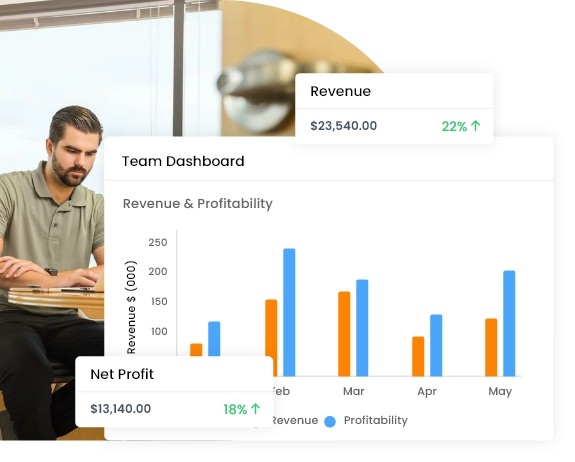 Excellent service delivery at a lower operational cost
Schedule jobs online and dispatch service technicians with all the job details on their smartphone
Track and monitor inventory levels, send stock-in and stock-out alerts, and enable proper utilization of equipment.
Generate digital invoices, capture customer e-signature, process the invoice quickly for payment collection.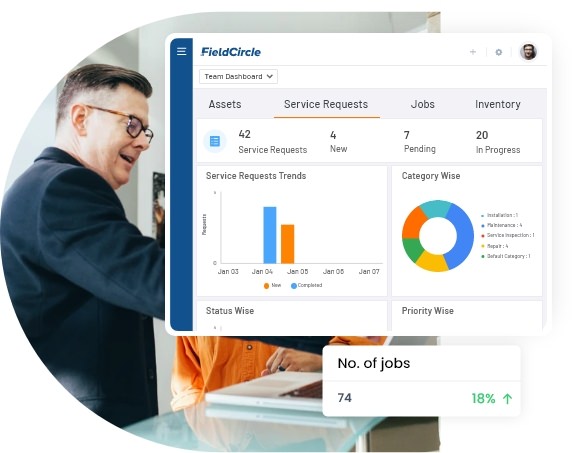 Make more informed decisions
Get full visibility into service lifecycle and turnaround time to identify and remove bottlenecks.
Track day-to-day operations data in real-time to deploy resources effectively.
Assess real-time performance of the service technicians and other aspects of business to make evidence-based, informed decisions.
HVAC scheduling software to improve service efficiency
Bring a pause to your HVAC contractor software search with FieldCircle's solution. From dispatching services to customer management concerns, our HVAC service software takes great care of your requirements at every front. The easy-to-use HVAC business software will make managing the business more efficient than ever before.
Track Your Billing Estimates Efficiently With HVAC Estimating Software
Your billing and invoicing concerns will get automated with our HVAC estimating software. HVAC management software makes it easy to track the details of employees working on the field with their specific working hours. This helps automate all the related procedures including service scheduling, billing, and everything in between.
Choose HVAC Work Order Software for Business Empowerment
FieldCircle's HVAC invoice software makes it easy to get complete visibility over crew scheduling. Our HVAC apps are another great offering for managers that offer easy and effortless access to the field reporting of employees. Tracking the status of employees and work orders also gets easier with HVAC work order software.
Read More
Achieve Next-level of Productivity with HVAC App
Drive operational effectiveness and achieve greater efficiency with our HVAC service app.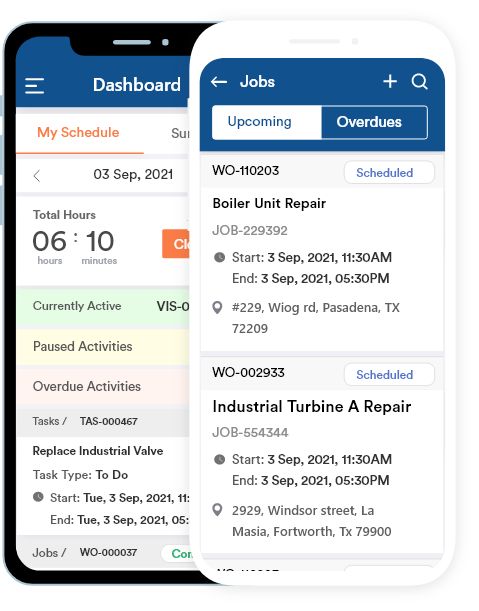 When your technicians are tech enabled, magic happens! Empower your technicians with an HVAC service app that will help you achieve improved revenue and higher profitability.
Help your HVAC contractors work on-the-go, with all the information they may need available in their mobile devices
Help HVAC service technicians make better decisions- from routing, nearest job to schedule updates using their HVAC service app
Get timecards via check-in, check-outs, break time and other details when your techs use their HVAC app
Create quotes and invoices on the go with FC's HVAC contractor app
Digitize the whole process with paperless reports and customer sign-offs.
An HVAC Software Our Global Customers Depend On
Businesses from various domains like commercial HVAC, OEMs, and contractors rely on our top-rated, best HVAC maintenance software to manage their maintenance operations more efficiently and profitably.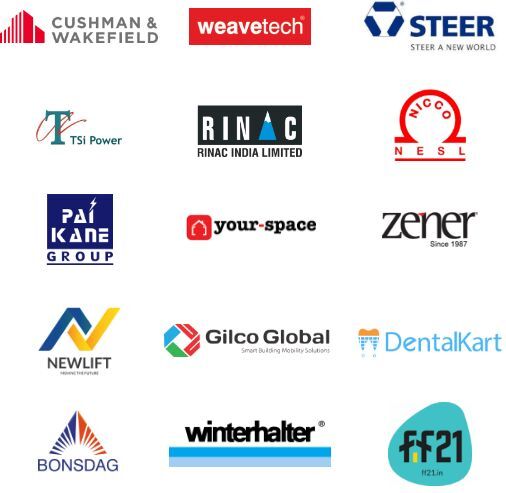 Why they chose us, in their words:
Winning customers' trust is difficult but we have been able to do that consistently in HVAC industry. Our customers trust our capabilities as a HVAC sercice software and HVAC service app for the following reasons
Highly configurable HVAC software that fits to our business processes and not the other way around
Simple and easy-to-use interface, intuitive design
Complete hand-holding in onboarding and importing data
Free training to our team helping us adopt to their HVAC business software
A proactive and humble team that cares for our success
Blogs
Our featured blogs sharing insights on field force automation, applicability and latest trends in industries
+Show blog
Book a Personalized Demo
Learn how your business can use FieldCircle's HVAC service software to achieve more efficient, transparent, and profitable service operations.
30 Days Free Trial
No Credit Card Required
By submitting your details, you agree that we may contact you by call, email, and SMS and that you have read our terms of use and privacy policy.
FAQ
Why should I invest in HVAC software?
An HVAC software could ramp up your operational efficiency and increase your capabilities to deliver outstanding customer service. A software with powerful features would allow you to bring everyone from field techs to office and everything in between on one single platform. You could track, monitor, and measure your asset, their historical service data and adopt an integrated approach for condition monitoring and predictive maintenance to increase uptime, improve performance, and reduce cost.
How does FieldCircle HVAC business software help my business?
FieldCircle's HVAC software enables you to improve your maintenance practices and operational efficiency to increase ROI on every service request. It has all the tools essential for increasing the maturity of your maintenance practices and keeping your field teams and office teams in sync so that you can operate reliably and profitably. The hvac service dispatch software will help you opimize HVAC contractor scheduling aspects while the HVAC service management component will help you manage PM, WO and other tasks.
Why should we choose FieldCircle over other HVAC Management software?
FieldCircle's HVAC software is focused on what a specific business needs instead of what we have to offer. Clearly, you can pick and choose the modules, automate workflows to your business requirements, and get the benefits of actionable data insight with a centralized dashboard with our hvac service management software.
That flexibility to choose what you need and most importantly, the flexibility to configure the HVAC maintenance system as per your process is what differentiates us.
Does FieldCircle have recurring jobs feature-most important aspects of a HVAC scheduling software?
Yes, it is very easy to schedule recurring maintenance/preventive maintenance/inspection jobs in FieldCircle's hvac dispatch software. You could set your preferences once and it would reflect in your calendar without any additional manual effort.
Does your HVAC service software integrate/sync with QuickBooks?
Yes, we provide seamless integration with QuickBooks to keep your HVAC service operations activities and accounting department in sync. Our HVAC field service software facilitates a 2 way syn with Quickbooks.
Does your HVAC software have integration or APIs available?
Yes, we provide full custom integration support for all the popular systems and applications to sync and access your data across platforms and devices, and also have APIs available for most of our modules.
What time is the support team of FieldCircle available?
We are available from 6:00 am- 6:00 pm EST to support our HVAC business software users.
How can HVAC Software help your business?
HVAC software helps you manage service operations with transparency, efficiency, and profitability. The tool enables you to maintain digital records of service calls, create work orders out of them, bring automation into job scheduling and technician dispatching, and ensure online approval on estimates and invoices.
The key benefits of an HVAC software are:
Effective preventive maintenance and breakdown request planning and scheduling
Improved wrench time and more productive HVAC service team
More efficient HVAC service operations
360-degree visibility into your daily HVAC operations
More streamlined spare sourcing and spare parts management
Improved HVAC service operations profitability
More revenue opportunities
Cloud-based HVAC software eliminates redundant processes from the service operations and drives efficiency by enabling faster mobilization of resources. The HVAC service software provides you full visibility into your HVAC business, enabling you to identify weak spots, reduce downtime, and maximize the productivity and performance of the service teams.
What are the common features of HVAC Service Software?
The key processes of a HVAC service operations are quoting, scheduling and dispatch, work order and PM, invoices and customer feedback. Now, depending on the process or use-case, the features could vary. Eg. a commercial hvac software will have features targeting HVAC service companies may not need payment collection while a home services business may need features like payment collection on the go.
The key features of a typical HVAC service software are:
Estimates and quotes: A key feature where you may use a variety of estimate templates for creating digital estimates and share with clients and vendors to accelerate the approval process with HVAC estimating software component.
HVAC work order management: Be it a commercial hvac software or other, this is a common feature. Create digital work orders, plan the schedul and assign to HVAC technicians, and track their statuses in real-time with HVAC service software and HVAC work order app.
Technician scheduling and dispatch: Schedule jobs to technicians with HVAC scheduling software component, set up recurring schedules based on requirements, share job details, and send notifications to HVAC technicians.
HVAC mobile app: An HVAC service app enables technicians to receive job notifications on their Android or iOS mobile devices, provide them 24X7 access to documents and historical data associated with equipment, perform jobs on-the-go and keep track of their field activity and logs in real-time.
Spare parts and Inventory management: Get 360-degree view of inventory and spare parts from purchase to disposal with HVAC inventory software and app keep purchase orders in place, track and control the usage of spare parts, and set alerts for stock-out.
What are the benefits of HVAC Software?
Boost HVAC Revenue: HVAC scheduling software helps you improve first-time fix rate, enabling your technicians to do more jobs in less time. You can focus on core service delivery and stay responsive to grow your HVAC business.
Maximize transparency: HVAC dispatch management software provides you full visibility and control over service teams to track their actions and hold people accountable for jobs.
Improved customer experience: You can easily improve your service response time with HVAC Software, track the quality of services delivered to each client, and make improvements for high customer satisfaction.
Typical cons/disadvantages of using commercial HVAC Software?
There are two big factors you should be concerned about when implementing an hvac service business software:
Steep Learning Curve and adoptability: It is possible that not every member of the service team is comfortable using HVAC apps or a web-based hvac software. It may take long for them to get acquainted with the same for maximized benefits.
Misinterpretation and miscommunication: While an HVAC service app or a software may help you optimize your ops, it leaves a lot of possibilities for data and communication misinterpretation. Be wary of that.
What are the key criteria/factors to consider while buying HVAC Software?
The biggest factors when buying a hvac field service management software for your business are your processes, team size, current technology adoption and the future business roadmap. Apart from these, some of the other factors are:
MoSCoW: Prioritize your requirements by defining: Must-Have, Should-have, Could-have, and Wishes or Won't have, aka MoSCoW prioritization. But before you jump into this activity for your HVAC service software features evaluation, make sure you have removed biases and opinions from the prioritization process and have given due attention to every team.
Employee experience: If your employees are not comfortable with the HVAC service software, they may not use it to the fullest extent, which might result in implementation failure. Therefore, be sure that software is easy-to-use and does not burden technicians to fill up unnecessary details.
Technology stack: It is a combination of technologies such as programming languages, frameworks, tools, and developers. If the technology stack of your software is complex or does not have a large community or is managed by a reliable vendor, you may face scalability issues in the future.
Use-case/Segment: Whether it's a commercial hvac software that you need to server commercial customer base or more feature rich residential HVAC program.
What are the top HVAC software trends for this decade?
HVAC industry is evolving and its moving from traditional systems to smart systems. The latest tech adoption has impacted the HVAC software evolution also. Most HVAC service software now a days are equipped with automation features and various types of integration to connect and speak with HVAC systems. Some significant trends are:
Digital zoning: The HVAC market will see a shift from "uniform temperature" to digital zoning. New products with smart programmable thermosetting will enable users to reduce the temperatures in less used spaces of the place, thus saving cost and reducing wastage. This trend will make HVAC service software to extensively integrate with HVAC infra.
IoT: IoT adoption will witness a steep rise allowing automated data collection and processing leveraging widespread network connectivity, smart sensors, and artificial intelligence and will take the current levels of hvac company software to the next level.
Compliance and its impact: We are already seeing a lot of government compliances on many aspects ranging from electricity consumption to heat to others, and these initiatives are leading manufacturers to build smart software for HVAC companies