HVAC Software
HVAC Software for HVAC Contractors and Companies to schedule, dispatch, and track service technicians, work order progress, and inventory status in real-time.
30 Days Free Trial
No Credit Card Required
How FieldCircle Can Transform Your HVAC Business
FieldCircle enables heating, ventilation, and air-conditioning HVAC companies to manage operations at reduced cost. The software integrates multiple processes in a single platform, which is accessible anywhere, anytime and generates relevant data for insightful information.
Service Owner/Manager
Sales Manager
Sales Executive
Service Engineer
Accountant
Customer
Applicability and Benefits
Monitor the service engineer working on field and moving from customer to customer.
Manager can easily manage the staff and the customer without disrupting the service.
Reporting to management is quick and easy through various customized reports on the basis of sales, revenue, customer, workforce and inventory data.
Business can fulfill the gap of supply and demand by analyzing the analytics to increase the business.
Applicability and Benefits
Easily monitor the sales activities from the initial communication with the prospect till converting it to customer.
Effectively manage sales team and can easily communicate across various departments.
Applicability and Benefits
Help in managing accounts of leads and prospects with the functionality of setting the reminder with follow up notes.
Sales team can easily communicate with the service team in real time for new system installation, regular maintenance and repair work.
Applicability and Benefits
Provide ease to service engineer by sharing with them details of the service, so that they can carry the necessary equipments for installation, maintenance and repair.
Service Engineer can update the status of the work from anywhere.
Applicability and Benefits
Effective management and analysis of sales, revenue, cost and payment history of the customer.
Maintaining data integrity by integrating the system with present accounting system.
Applicability and Benefits
Reduce Response time for customer by tracking the customer throughout the sales cycle and after sales service.
Set reminders for routine maintenance work of the system and send notification of the same to the customer.
Payment settlement is easy by generating the invoice at client site only.
As one of the best mobile field service scheduling management and work order management software for heating, ventilation air-conditioning HVAC companies, our solutions make roofers scheduling, work order management, customer management and invoicing process seamless.
HVAC Scheduling Software for Improving Sales Efficiency
Bring a pause to your HVAC contractor software search with FieldCircle's solution. From dispatching services to customer management concerns, our HVAC service software takes a great care of your requirement at every front. The easy-to-use software will make managing the business more efficiently than ever before.
Track Your Billing Estimates Efficiently With HVAC Estimating Software
Your billing and invoicing concerns will get automated with our HVAC estimating software. HVAC management software makes it easy to track the details of employees working on the field with their specific working hours. This helps automate all the related procedures including service scheduling, billing, and everything in between.
Choose HVAC Work Order Software for Business Empowerment
FieldCircle's HVAC invoice software makes it easy to get complete visibility over crew scheduling. Our HVAC apps are another great offering for managers that offer easy and effortless access to the field reporting of employees. Tracking the status of employees and work orders also get easier with HVAC work order software. Read More
HVAC Service, Scheduling and Invoicing Mobile App Solution
FieldCircle HVAC management and estimating mobile app is available on both iOS and Android (smartphones and tablets) and provides users on-the-go access to relevant modules based on respective roles and permissions.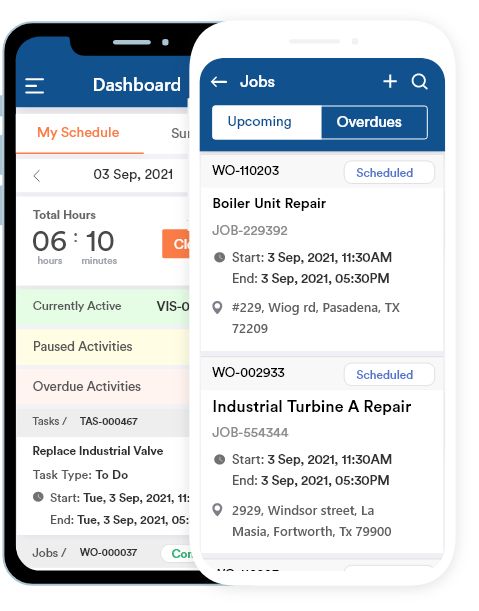 Controlled Access

Allowing employees to perform their field / non-field work activities on-the-go, on-time and smartly.

Geo-tagging

Geo-tagged clock-in/clock-out, work-orders / tasks etc.

Data Submission

Paperless submission of timesheets, job reports, payment info etc.

Collaboration

Instant messaging and alerts / notifications for various activities.

Online and offline support

App saves all the data when in remote or low reception areas and auto-syncs while having good connectivity; ensuring data security and integrity.
Why Choose FieldCircle
With its user-friendly web portal and mobile app, you could eliminate all the manual work and move to paperless reporting via managing customers, estimation, employee scheduling, invoicing, and analytics. It's all in there and much more.
All-in-one solution at your fingertips
Improved efficiency and revenue
Data security and protection
Book a personalized demo
Learn how other similar businesses use FieldCircle to win more customers and make their service team more productive.
30 Days Free Trial
No Credit Card Required
By submitting your details, you agree that we may contact you by call, email, and SMS and that you have read our terms of use and privacy policy.