Field Service Management Software
Achieve more efficient, transparent, and profitable
field service operations
30 Days Free Trial
No Credit Card Required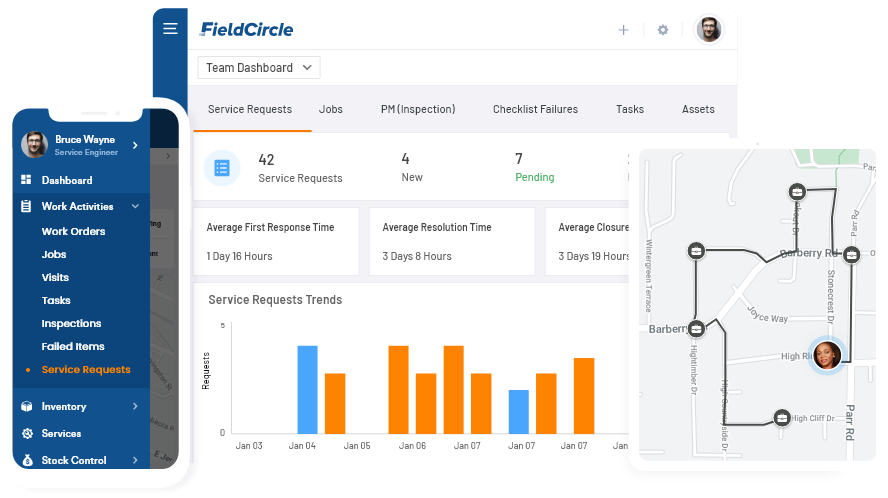 Features That Empower You to Drive Growth
Empower your team with technology and tools to do their job more efficiently and effectively with our field service management solutions.
How you may transform your business
with FieldCircle?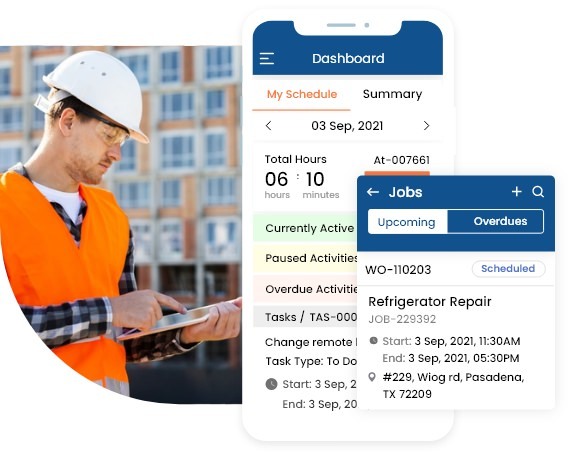 Increase Service technician's efficiency and operations transparency
Attain control and visibility of your team's field activities and take effective measures.
Effective utilization of your technicians' time leading to time-saving and more jobs.
Plan and utilize your resources in an improved way.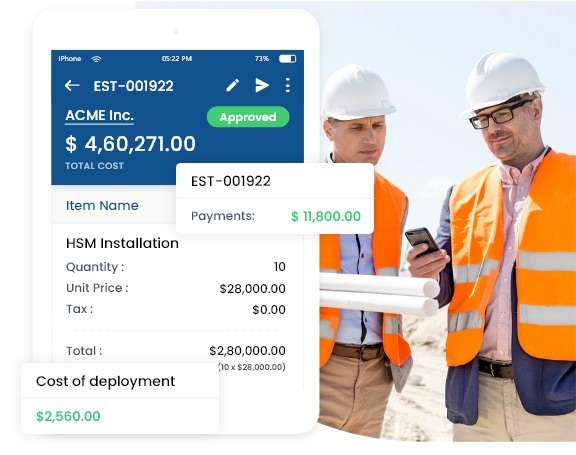 Empower your field service team
Mobile-enabled information and planning that helps the team plan the changes on the go.
Improved service effectiveness as the team knows what's important while going on a job.
Mitigate redundant tasks and drive real-time collaboration.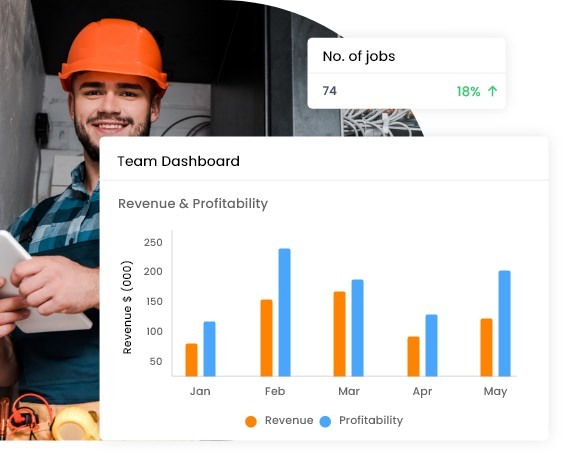 Drive revenue and profitability
Improved technicians' efficiency means they can attend more service requests which mean more revenue
Transparent operations help you address pilferages in fuel, claims, and reimbursement that leads to higher profitability.
Operational effectiveness and transparency mean less spend on back-office activities and record-keeping.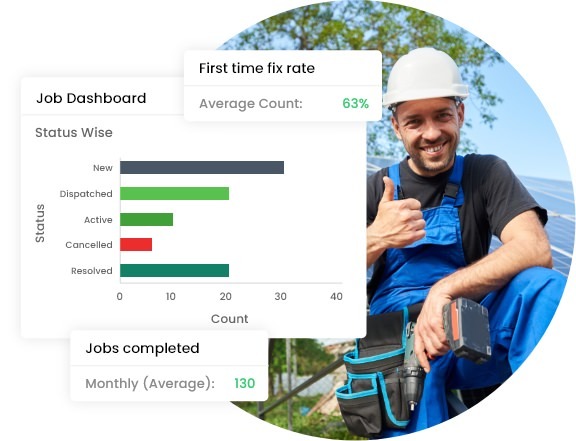 Achieve operational excellence
Effective scheduling i.e. the right technician at the right place at right time.
Time optimization of technicians leading to more service requests attended per day.
Control and visibility of field activities, work orders, and service requests.
All-in-one Field Service Management Software to Manage Your Operations Effortlessly
FieldCircle's field service software is an easy to use, all-in-one software package to manage your customers, employees, contractors, vendors, work orders, jobs, inventory, parts, invoices, and payments. You can schedule appointments with full visibility into jobs, dispatch field teams with information at fingertips, send notifications whenever required, enable them to access historical data in the field, and generate automated invoices to speed up the payment process. FieldCircle Field Management Software enables you to track ongoing field activity, add/edit information in the system in offline and online mode, and generate actionable data insight to make informed decisions.
Adopt a Proactive Approach for Facility Optimization With Best Field Service Management Software for small business
With FieldCircle software, you get a 360-degree view of inventory and assets for an actionable analytics—data, insight, and outcome. Instead of reacting to the operational issues, our field service management software allows you to track your asset data and identify patterns before they turn into a real-world problem. You get a deep understanding of your asset performance to fix the issues faster and help your organization succeed. Choose FieldCircle, one of the best field management software, enables you to create a conflation of asset data, maintenance data, and performance data to generate actionable insight for a better outcome.
Empower Your Field Service Technicians with Feature Packed Field Service Mobile App
FieldCircle makes it easier for your field service technicians to manage their tasks, whether it is on-site installation, repair, maintenance, or inspection. Our mobile field service management software enables technicians to view and manage their tasks online, access knowledge-base, service agreements, and payment related historical data anytime, anywhere, and provide dedicated support to the customers to their expectations. Both field and back-office teams can coordinate easily for any requirements a single field service management app and work efficiently to win more jobs and boost revenue.
Field Service Management Mobile App Solutions
FieldCircle field service management mobile app is available on both iOS and Android (smartphones and tablets) and provides on-the-go access to relevant modules to respective roles and stakeholders.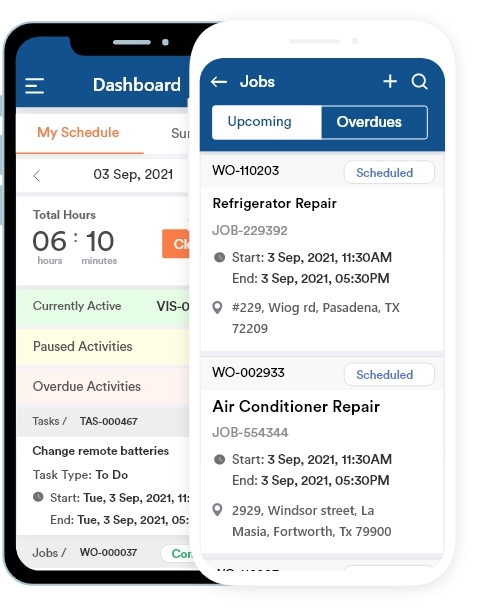 Controlled Access

Allowing employees to perform their field / non-field activities on-the-go, on-time and smartly.

Geo-tagging

Geo-tagged clock-in/clock-out, work-orders / tasks etc.

Data Submission

Paperless submission of timesheets, job reports, payment info etc.

Collaboration

Instant messaging and alerts / notifications for various activities.

Online and offline support

App saves all the data when in remote or low reception areas and auto-syncs while having good connectivity; ensuring data security and integrity.
Trusted by customers across the globe
Our top-rated web portal and mobile app field service management software
let you manage everything in one place.
Why they chose us, in their words:
Highly configurable to our business processes
Simple and easy to use interface
Complete hand-holding in onboarding and importing data
Proactive and humble team that cares for our success
Blogs
Our featured blogs sharing insights on field force automation, applicability and latest trends in industries
+Show blog
Book a personalized demo
Learn how other similar businesses use FieldCircle to win more customers and make their service team more productive.
30 Days Free Trial
No Credit Card Required
By submitting your details, you agree that we may contact you by call, email, and SMS and that you have read our terms of use and privacy policy.
FAQ
Why use FieldCircle's field service management software?
A typical service business comes with challenges like receiving all tickets and service requests at one place, checking technicians availability and then scheduling, managing assets and their warranties and agreements for preventive maintenance, generating job reports and reviewing the expenses and spare deployments etc. With FieldCircle, you may manage complete service management lifecycle while addressing these challenges, and increase operational efficiency, transparency and profitability.
Why should we choose FieldCircle over other field service management software?
One of the biggest challenges with off the shelf field service software are the set-up and configuring them according to your business processes. FieldCircle is highly configurable, can be set-up with your workflows and provides complete hand holding for setup and onboarding so that it doesn't feel alien when your team starts using it.
Does FieldCircle have Recurring jobs feature- most important aspects of a field service software?
Yes, recurring jobs and recurring preventative maintenance jobs/inspections can be setup very easily in FIeldCircle.
Does your field service management software integrate/sync with QuickBooks?
Yes, we have two way sync available with Quickbooks, and takes care of most data transfer and communication that are crucial when it comes to field service software integration with QuickBooks.
What time is the support team of FieldCircle available?
We are available from 6:00 am ET- 6:00 pm ET
Does your field service management software have integration or APIs available?
Yes. Apart from readily available integrations, our team collaborates with customers to do custom integration and provides API for the same.