Field Service Management Software
Achieve more efficient, transparent, and profitable field service operations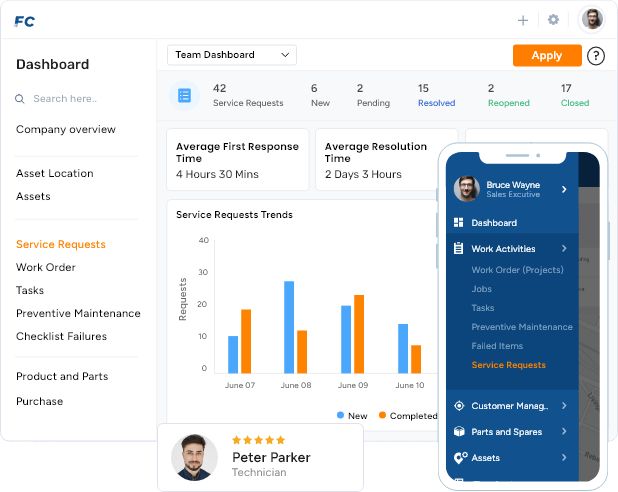 Maximize Your Growth with These Field Service Software
Powerful Features
A field service program that empowers your team to do more in less, achieve operational efficiency and productivity,
and reduce field service operations costs.
Drive the Field Service Transformation with Modern FSM software
It's common to get overwhelmed with field service management processes but not when you have service management software to help you keep a track of all the activities in real-time. From receiving customer requests to scheduling and dispatch and getting work done from technicians with a field service mobile app- everything becomes super efficient and seamless when you use a feature-rich field service automation software.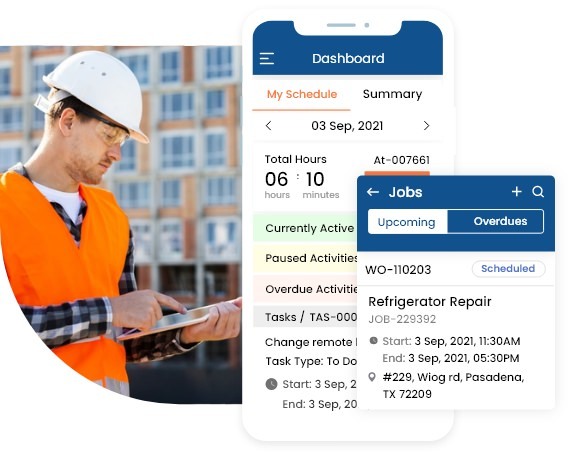 Increase technician efficiency and operational transparency
When you feel in control, growth happens. Gain control with our field service management solution to achieve transparency in your operations. From collecting service requests in one place to keeping a track of all the activities in real-time is what our field service management system can facilitate.
Attain control and visibility of your team's field activities and take effective measures.
Effective utilization of your technicians' time leads to time-saving and more jobs.
Plan and utilize your resources in an improved way.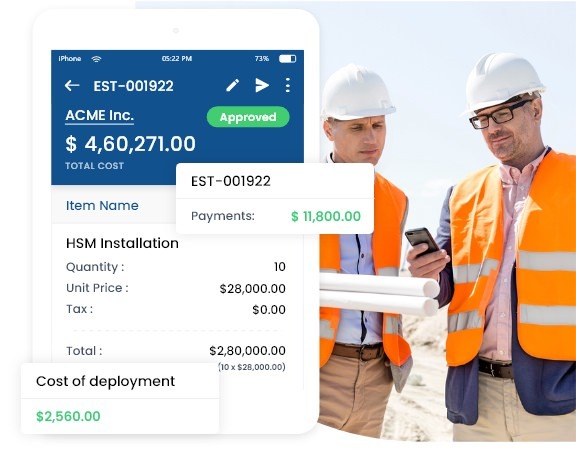 Empower your field service team
Help your business grow with technician enablement with our mobile field service software and field service app. While a field service tracking software can help you achieve live location visibility, growth will happen when efficiency and communication improves. That's what we help you achieve.
Mobile-enabled information and planning that helps the team plan the work on the go.
Improved service effectiveness as the team knows what's important when going for a job.
Mitigate redundant tasks and drive real-time collaboration and improved communication.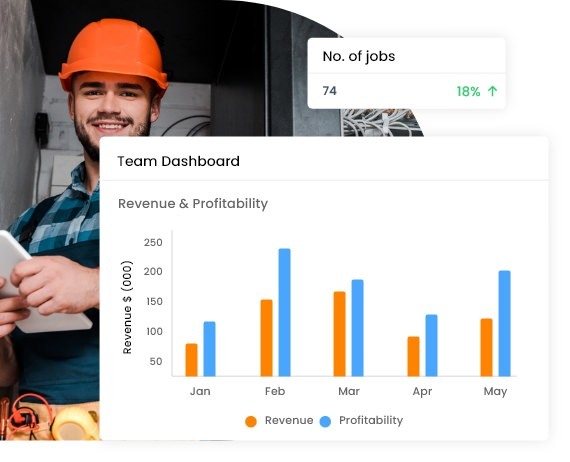 Increase revenue and profitability
High operations cost are a consequence of badly run field service operations. Get out of that vicious cycle by implementing a field service management system that can create a positive impact on process level. Once you do that, you will see a transformed business with higher revenue and lower costs
Improved technicians' efficiency means they can attend more service requests which mean more revenue
Transparent operations help you address pilferages in fuel, claims, and reimbursement that leads to higher profitability.
Operational effectiveness and transparency mean lesser spend on back-office activities and record-keeping.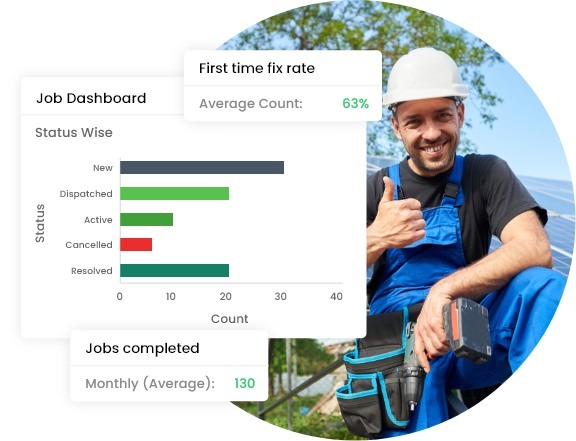 Effective Scheduling+Utilization= Operational excellence
Field service operations are a game of how effectively you plan your scheduling and technician utilization. With the right field service software and field service app, you not only can empower your office and field teams but also create a system that benefits your customers as well.
Effective scheduling i.e. the right technician at the right place at right time.
Optimizing utilization of technicians leading to more service requests attended per day.
Control and visibility of field activities, work orders, and service requests.
All-in-one Field Service Management Software to Manage Your Operations Effortlessly
FieldCircle's field service software is an easy to use, all-in-one software package to manage your customers, employees, contractors, vendors, work orders, jobs, inventory, parts, invoices, and payments more effectively. A service software you may use to receive tickets and service requests, create work orders and dispatch field service teams, enable them to access historical service and maintenance data in the field, and generate automated invoices to speed up the payment process. FieldCircle field technician management software enables you to track ongoing technician level field activity, add/edit information in the system in offline and online mode, and generate actionable data insight to make informed decisions.
Adopt a Proactive Approach for Field Service Optimization With Best Field Service Management Software for small business
With FieldCircle, one of the best field service software, small field service businesses get a 360-degree view of their service operations, inventory and assets for an actionable analytics—data, insight, and outcome. Instead of reacting to the operational issues, our field service management program allows you to track your asset data and identify patterns before they turn into a real-world problem. You get a deep understanding of your asset and equipment performance to fix the issues faster and help your business succeed. Choose FieldCircle, one of the best service management software for small business, that enables you to create a conflation of asset data, maintenance data, and performance data to generate actionable insight for a better outcome.
Empower Your Field Service Technicians with Feature Packed Field Service Mobile App
FieldCircle makes it easier for your field service technicians to manage their tasks, whether it is on-site installation, repair, maintenance, or inspection. Our mobile field service management software enables technicians to manage everything on-the-go using the technician field service app- anytime, anywhere. Both field and back-office teams can coordinate easily for any requirements a single field service management app and work efficiently to win more jobs and boost revenue. The result is more efficient operations, happy customers and technicians and most importantly higher field service operations profitability- all driven by a field service app.
Empower Your Field Team to Work Effectively Anywhere
with a Field Service App
FieldCircle's field service app is available on both iOS and Android and provides on-the-go access to relevant modules to respective roles
and stakeholders with our mobile field service management software suite.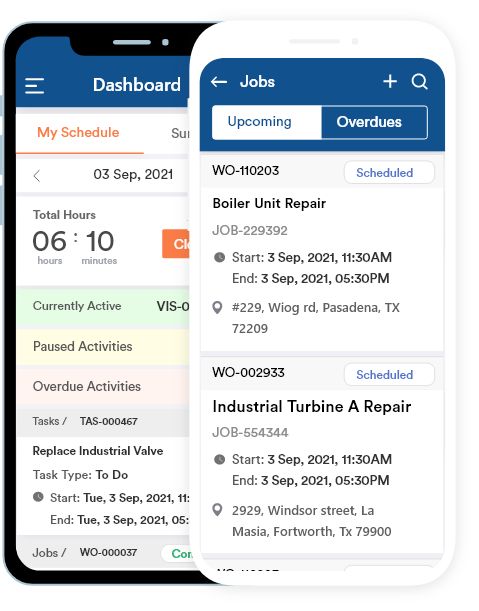 Connected and Empowered Worker

Equip your field workforce with relevant information at every stage of their work to perform more effectively and efficiently with our mobile field service software.

More Transparent Operations with Geo-tagging

Geo-tagged clock-in/clock-out, work orders with a field service management app to bring better visibility at each activity level

Digital Reports and Paperless Operations

Generate digital reports and get customer sign-offs on the go with our mobile field service management app

Seamless Collaboration

Take notes and communicate with the office team via messages Instant messaging, and alerts/notifications for various activities with your field service application.
Trusted by Businesses with Field Service Ops Across the Globe
Gain unprecedented control and insights into Your field service operations with our field service management system and app.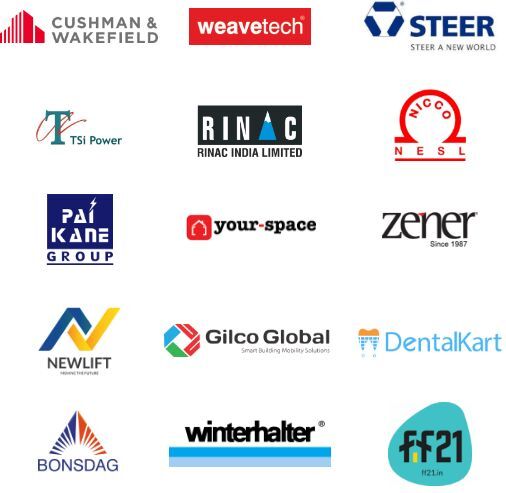 Why they chose us, in their words:
Our customers trust our capabilities as a field service software and field service app for the following reasons:
Highly configurable field service management system to our business processes
Simple and easy-to-use interface
Complete hand-holding in onboarding and importing data
Free training to our team helping us adopt their field service program
A proactive and humble team that cares for our success
Blogs
Our featured blogs sharing insights on field force automation, applicability and latest trends in industries
+Show blog
Book a Personalized Demo
Learn how your business can use FieldCircle's field service management software to achieve more efficient,
transparent, and profitable service operations.
30 Days Free Trial
No Credit Card Required
By submitting your details, you agree that we may contact you by call, email, and SMS and that you have read our terms of use and privacy policy.
FAQ
Why use FieldCircle's field service management software?
For a couple of reasons like-
If you are dependent on pen/paper or spreadsheets
Your team size is growing or has more than 3 members
If you want to increase your team's efficiency and perform more WO in same time and at lower costs.
If you want more visibility and transparency in your field service operations
If you want to improve first-time-fix rate and happier customers
A typical service business comes with challenges like receiving all tickets and service requests in one place, checking technician's availability and then scheduling, managing assets and their warranties and agreements for preventive maintenance, generating job reports, and reviewing the expenses and spare deployments etc. With FieldCircle's field service management program, you may manage the full service management lifecycle while addressing these challenges, and increasing operational efficiency, transparency and profitability.
Why should we choose FieldCircle over other field service management software?
Configurability! One of the biggest challenges with off-the-shelf field service software is the set-up and configuring them according to your business processes. FieldCircle is highly configurable field staff management software with all the features that you may need and can be set-up with your workflows.We provide complete hand-holding for the onboarding process, and provide free training so that it doesn't feel alien when your team starts using it.
Does FieldCircle's field service software has a recurring work order feature?
Yes, recurring jobs and recurring preventative maintenance jobs/inspections can be set up very easily in FIeldCircle's field technician management software.
Does your field service management software integrate/sync with QuickBooks?
Yes, we have two-way sync available with Quickbooks and takes care of most data transfer and communication that are crucial when it comes to field service software integration with QuickBooks.
What time is the support team of FieldCircle available?
We are available from 6:00 am ET- 6:00 pm ET to support your queries and help you achieve more effective field service operations.
Does your field service management program have integration or APIs available?
Yes. Apart from readily available integrations, our team collaborates with customers to do custom integration and provides API to integrate our field service software with their systems.
How can a Field Service Management Software help my business?
Field service management (FSM) software helps you streamline your service operations and achieve operational excellence.
The key benefits of FSM software are:
More productive field service and office team
More efficient service operations
360 degree visibility into your daily operations
Improved service operations profitability
More revenue opportunity
Field service management software saves time on scheduling, enables field service managers to locate teams by job, and allows field teams to access information associated with the job and equipment via a mobile app that leads to reducing technician downtime, improving first-time fix rate, and enhancing customer experience.
What are the common features of a field service management software?
Work order management: A full-cycle field service software allows you to keep a digital record of the service requests, generate work orders out of them, and track and monitor their statuses.
Scheduling: Use FSM software to enable automated scheduling to plan shifts, create schedules, avoid double-bookings, and prevent overlapping of events.
Dispatch management: Enable field teams to manage maintenance tasks on the go with FSM software and get 24X7 mobile access to job history, warranty terms & contracts, and SLAs associated with the equipment.
Quotes and estimates: Share digital estimates to customers using FSM software, generate proposals, and track the responses taken on them.
Invoice management: Manage invoice-to-pay process digitally with FSM software, integrate accounting software to import and export of data for greater visibility into finances.
Analytics: Ask right from the FSM software and get data insights to set a new course of action.
Key benefits of Field Service Management Software?
Field service management software is used in industries like HVAC, heavy engineering, construction, telecommunications, property maintenance, healthcare, and many other industries to leverage next-generation technologies for transforming field service and maintenance operations. Key benefits of field service management (FSM) software solution are:
Achieve operational excellence and increase operations profitability: Use FSM software to fast-track field service operations, streamline work orders, and maximize transparency and all these eventually lead to more efficient and profitable operations.
Improve scheduling accuracy: FSM software backed by a dynamic scheduling engine improves schedule planning and improves first-time fix rate.
Optimize resource utilization: Enable field service managers to track job statuses and field team activities online to take immediate action.
Increase compliance: Using a field service mobile app, allow technicians to upload proof of work, enable geo-tracking of mobile devices, and record logs of work orders, arrival and departure, and customer response.
Enhance customer experience: Ensure the right technician reaches the right location at the right time with the right tools to deliver the right solution with the help of FSM Software solution with an aim to enhance customer experience.
Typical challenges of using Field Service Management Software?
Like any software, from implementation to use- there are numerous challenges associated with field service management system. Followed are a few common ones-
Learning curve: While a typical field service software is easy-to-use; field service technicians might show resistance due to ineffective change management methods. Proper training to use the features of the FSM software is essential to achieving success.
Effective use of data: Service management software can collect a vast amount of data, however, companies must put the right practices in place to generate data insight and perform evidence-based analysis.
High-bandwidth communication between teams: Although mobile field service software that are equipped with a field service app improves team collaboration and communication, a lot of time there are chances of misinterpretation or miscomunicatuon. Also, the advancement of the software reduces the chances of in-person meetings leading to a low personal connection between teams.
Key criteria/factors to consider when buying Field Service Management Software
A field service management program may serve different use cases and may have different objectives for different organizations. Eg. for some, a field service mobile app's offline capability might matter more while for others it may not. Following factors may help you may a more informed decision when screening field service management solution:
Industry: An FSM software and field service management app designed for lawn care may not be the right fit for the heavy engineering industry. First off, direct your search for field service management software to solutions designed for your industry.
Business requirements: Carefully scan every bit of your field service operations, bring every stakeholder on the table right from field service technicians to IT staff, and consider their suggestions without bias to outline your FSM software requirement.
MoSCoW: When buying a field service management (FSM) software, categorize your requirements into must-haves, should-haves, could have, and will not have right now.
Ease of use: Remember that technicians (who must be traveling long distances and in tough terrains) are going to update the data in the system from the field that field service managers are going to utilize to make informed decisions. If it is too complex for technicians, there is no point in buying the software, no matter how cool it looks.
Some other factors could be- whether its a cloud based field service management software or can be hosted on your premises, or if it works as a field service tracking software capabilities or purely service management only etc.
Top Field Service Management Software trends for this decade?
Field service industry dynamics are changing dramatically and the use-case of field service software will see big changes in this decade. As one of the best field service management software, we work with some notable companies and expect following to make a dent in the industry-
Predictive maintenance: FSM software powered with advanced data analytics tools to monitor the condition of in-service equipment to reduce machine downtime and optimize equipment usage.
Digital twin: Create a virtual representation of the machine using field service tools to track and monitor the real-time performance of the machine and predict how it will perform in the future.
AR and VR for remote assistance: Tailored AR-based assistance to provide guidance to on-site teams from the office, increase safety and compliance, and maximize productivity.
Dynamic scheduling and dispatch: Field management software and field service management app integrated with a dynamic scheduling engine automatically assign field service tasks to technicians, optimize routes and schedules to increase efficiency, and reassign tasks during urgency.
We have written a detailed post on field service trends that you can read.