Facility Management Software
That delivers more transparent, efficient and profitable facility operations
30 Days Free Trial
No Credit Card Required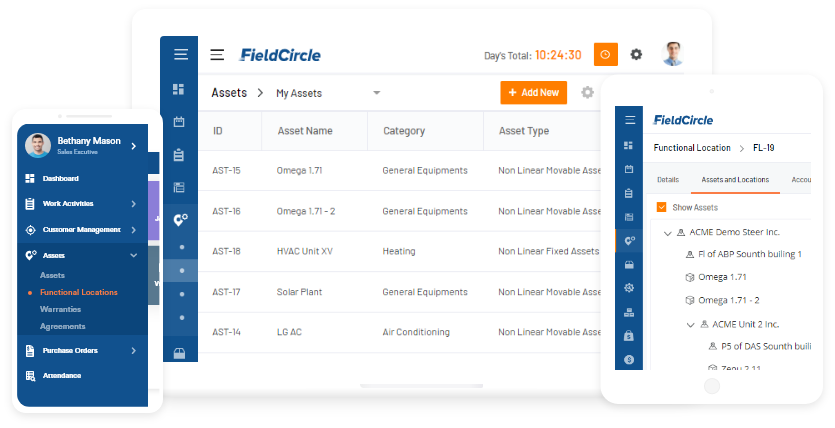 One software to manage it all
Improve Operational Agility by 30%
Optimize your scheduling and service operations
Get real-time data that help you improve service effectiveness
Manage assets, inventory and service contract more effectively
Reduce operational cost and pilferages
Manage customer experience and engagement
More streamlined invoice and payment management
Deep dive into data to make better decisions
Make better decisions with data insight
Make reporting easier, faster, and accurate with insights in 'What actually happened'?
Monitor and measure asset, customer, and employee performance to make informed decisions
Provide a role-based KPI dashboard ensuring effective visualization of every aspect of your facility management business
Enhance Workplace Collaboration with Cloud-based Mobile App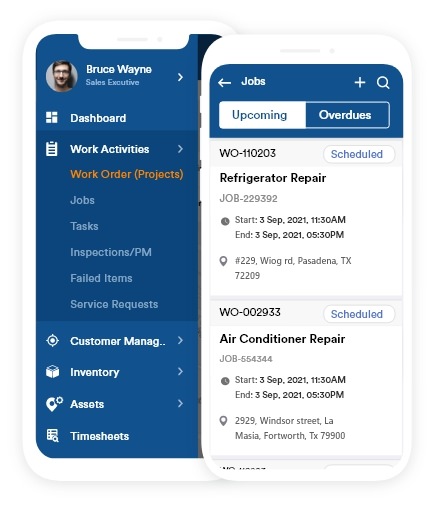 Let your teams manage mobilization of all the facilities, assets, and resources at their fingertips
Allows field teams to access information anytime, anywhere, check calendars and receive notifications and reminders on their mobile devices
Proper integrations enable your teams to manage invoices, billing, and payment on-site to speed-up approvals and validations on them
Enable employees to drill-down activity data and manage availability and locations to make informed decisions.
Comprehensive and Easy to Implement Facility Management Software
FieldCircle contains all the tools that help you manage single or multi-site facilities of any size. It provides you a complete perspective on everything happening in your business. You can create work orders and jobs in the system, schedule and assign tasks to field teams, dispatch teams with full details about the job on their mobile devices, set stock-in and stock-out updates, track the current status of the job, and initiate inspection for the completed job.
The facility management system enables you to visualize every aspect of the facility's operations in a single platform, which is essential for maintaining transparency and accountability within the organization. The best part is you get full decision support with its advanced data analytics capabilities. You can provide role-based authority to your teams to track data specific to their process and make informed, evidence-based decisions. It is highly configurable and has low operating cost. Besides, our consultants will provide you with end-to-end implementation support to let your team adopt the software easily and properly.
Save Time and Money with Facility Scheduling Software
FieldCircle software simplifies your complex operations, brings transparency and accountability into your processes, and helps you increase productivity and the bottom line. We have designed the software to make it work for modern businesses with single or multi-site facilities.
To begin with, FieldCircle's facility management app has advanced scheduling and dispatch management features that let your field service manager run job-skill-location match criteria to select the right person for the right job at the right team. It increases the scheduling accuracy, leading to an increase in productivity and improved first-time fixed rate. Your teams can complete more jobs in less time, which means overall reduction in operations cost.
Increase Operational Agility with Facility Maintenance Software
The FieldCircle software not only allows you to determine the best service response but also to increase the service response time. You can create work orders and approve tasks with a swipe on the screen of your mobile device. You can share job details and push notifications to technicians to send them reminders of the work. Simultaneously, your technicians can access service manuals and historical data associated with the task to determine the best service for the task.
The software fully supports your facility management program be it related to asset maintenance and tracking or operational productivity and agility. You get more control over activities happening in your business, with all the details into field activity, service request statuses, and workforce productivity and efficiency. It is one of the top facilities management software solutions that is configurable to your workflows and allows your team to work the way they want.
Read More
Trusted by customers across the globe
Our top-rated web portal and mobile app field service management software
let you manage everything in one place.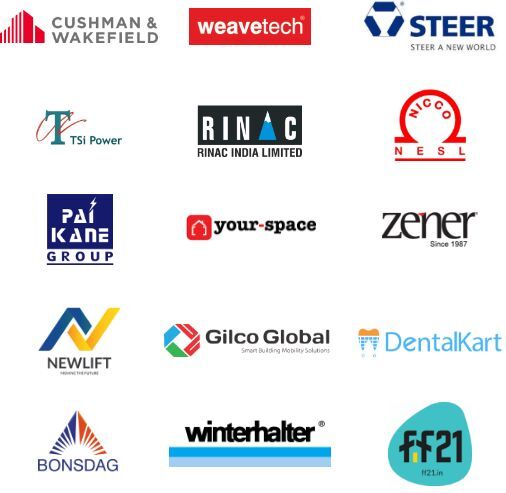 Why they chose us
Highly configurable to our business processes
Simple and easy to use interface
Complete hand-holding in onboarding and importing data
Proactive and humble team that care for their success
Blogs
Our featured blogs sharing insights on field force automation, applicability and latest trends in industries
+Show blog
Book a personalized demo
Learn how other similar businesses use FieldCircle to win more customers and make their service team more productive.
30 Days Free Trial
No Credit Card Required
By submitting your details, you agree that we may contact you by call, email, and SMS and that you have read our terms of use and privacy policy.
Facility Management Software FAQ
Do I even need a Facility Management Software?
If your typical operational challenges revolve around lack of transparency, visibility, and high cost of operations, a facility management software solution might help you overcome these challenges with ease while also improving on other aspects of operations such as speed of service response, data visualization, and documentations.
How does FieldCircle Facility Management Software help my business?
FieldCircle's facility management software provides you end-to-end visibility into your field operations. You can schedule and dispatch your field teams more efficiently, track and monitor every aspect of facility operations, and get relevant data insight to make informed decisions.
Why should we choose FieldCircle over other facility management software solutions?
FieldCircle is highly configurable to your workflows. It adapts to your existing processes so that your teams do not have to change the way they work.
Does FieldCircle have recurring jobs feature-most important aspects of facility scheduling software?
Yes, set your preferences for the job in the system for once and it would automatically reflect in the team's calendar on that specific time and date.
Does your facility management software integrate/sync with QuickBooks?
Yes, QuickBooks integrations are two way, that means you could both import and export data based on your requirements.
Does your facility management software have integration or APIs available?
Yes, along with integration for all the popular APIs, our team also provides custom API integration solutions fit to your business needs.
What time is the support team of FieldCircle available?
We are available from 6:00 am ET- 6:00 pm ET.