Facility Management Software
Plan more effectively and manage your facilities operations more efficiently with one of the best facility management software.
No Credit Card Required
30 Days Free Trial
No Credit Card Required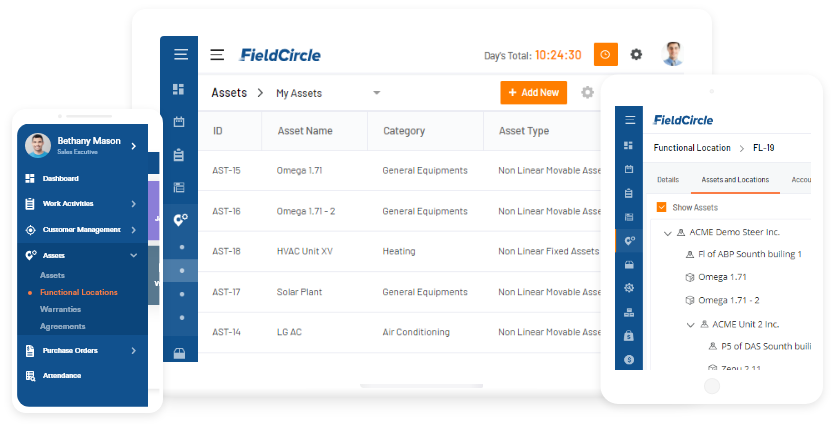 Facility Management Software with Features that Drive
Operational Excellence
A facility management system that has got you covered with all the features you will ever need.
Unlock the Hidden Value in Your Facility Operations
Manage your facility operations in a more proactive and predictive way using FieldCircle's facility management program configurable to your business needs.
Improve Operational Agility by 30%
Optimize your scheduling and service operations
Get real-time data that help you improve service effectiveness
Manage assets, inventory and service contract more effectively
Reduce operational cost and pilferages
Manage customer experience and engagement
More streamlined invoice and payment management
Deep dive into data to make better decisions
Make better decisions with data insight
Make reporting easier, faster, and accurate with insights in 'What actually happened'?
Monitor and measure asset, customer, and employee performance to make informed decisions
Provide a role-based KPI dashboard ensuring effective visualization of every aspect of your facility management business
Facility Management App – Achieve Next-level of Productivity
Digital, on-the-go operations with our Facility Maintenance iPhone/iPad and Android app- Improve team productivity and efficiency.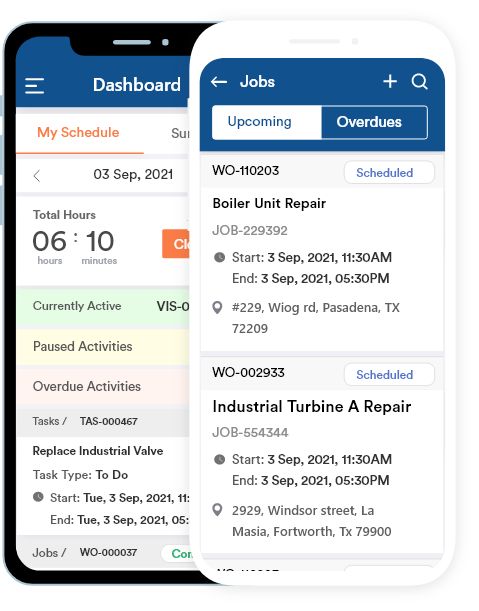 Let your teams manage mobilization of all the facilities, assets, and resources at their fingertips
Allows field teams to access information anytime, anywhere, check calendars and receive notifications and reminders on their mobile devices
Proper integrations enable your teams to manage invoices, billing, and payment on-site to speed-up approvals and validations on them
Enable employees to drill-down activity data and manage availability and locations to make informed decisions.
Comprehensive and Easy to Implement Facility Management Software
FieldCircle contains all the tools that help you manage single or multi-site facilities of any size. It provides you a complete perspective on everything happening in your business. You can create work orders and jobs in the system, schedule and assign tasks to field teams, dispatch teams with full details about the job on their mobile devices, set stock-in and stock-out updates, track the current status of the job, and initiate inspection for the completed job.
The facility management system enables you to visualize every aspect of the facility's operations in a single platform, which is essential for maintaining transparency and accountability within the organization. The best part is you get full decision support with its advanced data analytics capabilities. You can provide role-based authority to your teams to track data specific to their process and make informed, evidence-based decisions. It is highly configurable and has low operating cost. Besides, our consultants will provide you with end-to-end implementation support to let your team adopt the software easily and properly.
Save Time and Money with Facility Scheduling Software
FieldCircle software simplifies your complex operations, brings transparency and accountability into your processes, and helps you increase productivity and the bottom line. We have designed the software to make it work for modern businesses with single or multi-site facilities.
To begin with, FieldCircle's facility management app has advanced scheduling and dispatch management features that let your field service manager run job-skill-location match criteria to select the right person for the right job at the right team. It increases the scheduling accuracy, leading to an increase in productivity and improved first-time fixed rate. Your teams can complete more jobs in less time, which means overall reduction in operations cost.
Increase Operational Agility with Facility Maintenance Software
The FieldCircle software not only allows you to determine the best service response but also to increase the service response time. You can create work orders and approve tasks with a swipe on the screen of your mobile device. You can share job details and push notifications to technicians to send them reminders of the work. Simultaneously, your technicians can access service manuals and historical data associated with the task to determine the best service for the task.
The software fully supports your facility management program be it related to asset maintenance and tracking or operational productivity and agility. You get more control over activities happening in your business, with all the details into field activity, service request statuses, and workforce productivity and efficiency. It is one of the top facilities management software solutions that is configurable to your workflows and allows your team to work the way they want.
Read More
Trusted by customers across the globe
Businesses from various domains like colleges, schools, manufacturers, OEMs and contractors rely on our top-rated facility maintenance software to manage their facilities operations more efficiently and profitably.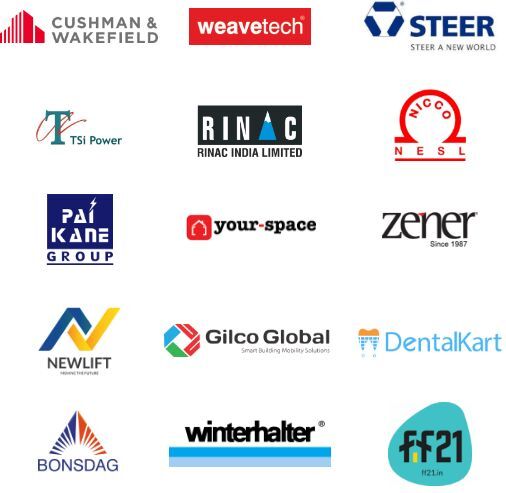 Why they chose us
Highly configurable to our business processes
Simple and easy to use interface
Complete hand-holding in onboarding and importing data
Proactive and humble team that care for their success
Blogs
Our featured blogs sharing insights on field force automation, applicability and latest trends in industries
+Show blog
Book a Personalized Demo
Learn how your businesses can use FieldCircle to achieve more efficient, transparent, and profitable service operations.
30 Days Free Trial
No Credit Card Required
By submitting your details, you agree that we may contact you by call, email, and SMS and that you have read our terms of use and privacy policy.
FAQ
Do I even need a Facility Management Software?
If your typical operational challenges revolve around lack of transparency, visibility, and high cost of operations, a facility management software solution might help you overcome these challenges with ease while also improving on other aspects of operations such as speed of service response, data visualization, and documentations.
How does FieldCircle Facility Management Software help my business?
FieldCircle's facility management software provides you end-to-end visibility into your field operations. You can schedule and dispatch your field teams more efficiently, track and monitor every aspect of facility operations, and get relevant data insight to make informed decisions.
Why should we choose FieldCircle over other facility management software solutions?
FieldCircle is highly configurable to your workflows. It adapts to your existing processes so that your teams do not have to change the way they work.
Does FieldCircle have recurring jobs feature-most important aspects of facility scheduling software?
Yes, set your preferences for the job in the system for once and it would automatically reflect in the team's calendar on that specific time and date.
Does your facility management software integrate/sync with QuickBooks?
Yes, QuickBooks integrations are two way, that means you could both import and export data based on your requirements.
Does your facility management software have integration or APIs available?
Yes, along with integration for all the popular APIs, our team also provides custom API integration solutions fit to your business needs.
What time is the support team of FieldCircle available?
We are available from 6:00 am ET- 6:00 pm ET.
How can facility management software help your business?
Facility management (FM) software helps organizations plan and manage facilities management operations including repair and maintenance of assets and resource and labor management that aids in extending asset lifecycle, reducing service response time, and significant saving in cost.
The key benefits of Facility management software are:
Effective management of facility asset records and their tracking
More effective work planning and scheduling: Preventive maintenance, breakdown requests, daily inspections and work order management
Improved team productivity and more efficient facility operations
360 degree visibility into your daily operations
More streamlined inventory management and sourcing
Improved facility asset maintenance operations profitability
A single source of truth that can help generate more revenue opportunities
An end-to-end facility management software solution makes tracking of tenants, visitors, and other resources a simple and secure process. Backed by powerful integrations, the software can help you implement a robust facilities management program for improved visibility and compliance.
What are the common features of facility management software?
Asset management: Keep all assets information in one place, manage overall asset lifecycle, and track their maintenance/repair done on them.
Work order management: Centralize all work orders information, create jobs out of them, assign jobs to service teams, and keep track of their current statuses.
Job scheduling and dispatch: Digitize scheduling of jobs on an interval or event basis, share job details with service teams on their Android or iOS mobile devices, and keep track of their logs to manage activities.
Facilities management mobile app: Integrated mobile app to keep field teams and office staff in sync and enable access to documents associated with equipment or tasks in the field.
Inventory management: Improve control on inventory and spare parts with full visibility into purchase to disposal process, identify equipment by their serial number, track their maintenance status, define inventory levels, and set alerts for stock-out.
Estimates and quotes: Use digital templates for estimates and quotes, share online with teams for approval, and track their statuses.
Analytics and reporting: Define APIs, generate automated reports in Excel or PDF formats, and react to maintenance, resource, and inspection requirements.
What are the benefits of facility management system?
Facility scheduling software is used in oil & gas, energy, HVAC, coliving, hostels, and property management industries. The software magnifies operational requirements to help facility managers identify value drains and make informed decisions to plug-in profit leakages. Key benefits of facilities management (FM) software are:
Full visibility: Get full visibility into "who is where doing what" in the present and the past to plan for the future. Manage routine activities with control over information and resources for effective deployments and optimal utilization.
Transparency and accountability: Increase transparency in operations with a facility management software solution that allows you to keep track of events, assets, and team activities in detail and in the real-time.
Increase scheduling effectiveness: Reduce time spent on scheduling with a calendar based system to schedule tasks with full visibility into availability of resources.
Reduce wastage: Keep track of every activity and resources, use analytics to see the health of facilities management operations, view asset and team utilization trends and informed decisions to fill productivity gaps.
How can facility management software for small businesses benefit them?
Facilities management (FM) software is designed to remove complexity from operations management, streamline processes, and prevent profit drains. Use of FM software and facility management app can help businesses manage their operations with transparency, convenience, and compliance. 3 ways facilities management software benefit small businesses and enterprises:
Significant saving on cost: Track every activity to find out what is affecting the health of operations, be it huge maintenance cost or ineffective utilization of teams or assets. Identify profit-leakages in any part of the operations and take steps to curb them.
Extend asset lifecycle: See what part of maintenance is consuming the time of technicians and figure out alternatives for example purchase new equipment or spare parts to extend the life of the asset.
Optimal utilization of team: You get to see who is working on what at what time for better resource planning. With the facility management scheduling software, make sure that the right person is working on the right task at the right time.
Typical cons/disadvantages of using facility management software?
Reduced in-person meetings: If not managed well, reduced in-person meetings could lead to poor work culture and lack of trust within teams.
Learning curve: Every software has some learning curve, however, poor change management efforts worsen the matter for people not comfortable using smartphones or mobile apps.
What are the key criteria/factors to consider while buying facility management software?
Operations: Check whether your operations are asset-centric or people-centric or both. Every facility management software comes with specific features to address these challenges. You must be sure of how effectively the FM software addresses your most critical challenges.
MoSCoW: It is a prioritization method that works by defining Must-have, Should-have, Could-have, and Won't have or wishes. You may use this method to lay out your requirements and choose the best facility management software for your business.
Technology stack: Having the right combination of technologies such as programming languages, frameworks, analytics tools, and developers also impacts how easily you can scale the software when your facility management business grows.
What are the top facility management software trends for this decade?
Distributed teams: Get ready to see fewer people in the meeting rooms and more people on Zoom. With time, the distributed workforce would not be a Covid-mandate but a cost-effective way to bring in and manage talented people in the team.
Smart building technology: IoT and AI-driven smart building management tools will enable facility management companies to operate on the outcome as a service model, making customers pay only for what they use.
Communities There will be more focus on building communities for specific facilities and drive engagement and create the next level of belongingness.