Construction Management Software
Construction management software to schedule maintenance tasks, track the movement of workers and inventory, and automate invoicing & payment process.
30 Days Free Trial
No Credit Card Required
How FieldCircle Can Transform Your Construction Related Operations
Our work order management software for construction companies provides multiple solutions such as field engineer tracking, streamlining communication and documentation necessary for increasing project efficiency, cost tracking in real time to make instant adjustments, and billing and invoice creation.
Service Manager
Service Engineer
Worker
Supervisor
Contractors
Accountant
Customer
Applicability and Benefits
Managing customers and jobs and keeping track of it at a centralized location.
Managing staff schedule, job schedule and timesheet.
Easily getting real time job updates from field staff.
Easy reporting to management and staff.
Get better insights through intuitive analytics.
Applicability and Benefits
Effective communication without missing any relevant information provided to the people at various roles i.e. worker, manager or supervisor etc. at the job site.
Locating customer through route mapping in less time.
Applicability and Benefits
Easy reporting to the supervisor.
Better coordination among other staff members.
Applicability and Benefits
Using barcode reader to manage inventory and stock of material, tools and equipment used in the service.
Tracking supplies to manage stocks of equipments and tools.
Applicability and Benefits
Provide and get real time updates of the work in progress.
Applicability and Benefits
Easy integration of the system with existing ERP system or accounting system.
Budgeting and accounting made easy with this simultaneously analyzing the loopholes.
Applicability and Benefits
Track progress of work and give on site feedback.
On time service delivery due to no time loss.
With our extensive field engineer tracking and work order management software for construction companies, they can manage their business processes, workers, and contracts in a more organized and efficient way.
Construction Management Software for Improving Sales Efficiency
Get your field and office teams connected with FieldCircle's construction management software. Our task-driven construction estimating software ensures that technicians employed on a single project remain on the same page by keeping them informed of every critical information about of the on and off side requirement. The software program keeps resources optimized for next movement.
FieldCircle Construction Scheduling Software – All-in-one Business Solution
FieldCircle's construction scheduling software keeps the team connected on core use cases that includes plan viewing, scheduling, and reporting. The modules are easier to use that also makes the information available for all the members in any particular team. Our construction CRM software is all about effortless resource allocation and task implementation for the entire team.
Choose Construction Management App for Business Empowerment
Invest in the most efficient construction scheduling app from FieldCircle for getting an edge when you need to schedule and track employees' performance on a daily basis. Optimizing tasks and technician's role for on-field jobs becomes easy when you have an accurate picture of what is actually happening on the field.
Read More
Construction Scheduling and Management Mobile App Solution
FieldCircle construction management mobile app is available on both iOS and Android (smartphones and tablets) and provides users on-the-go access to relevant modules based on roles and permissions.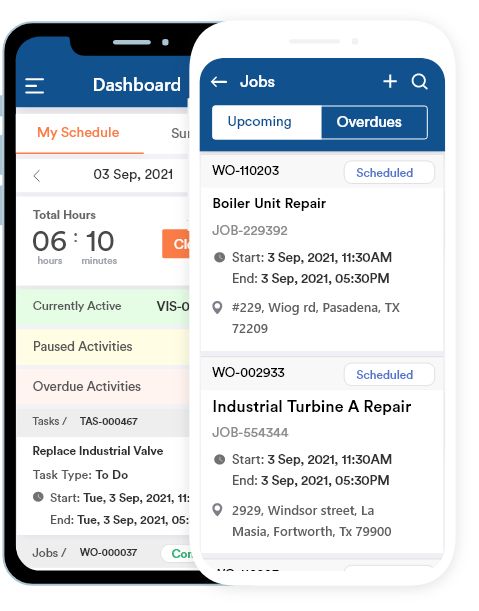 Controlled Access

Allowing employees to perform their field / non-field work activities on-the-go, on-time and smartly.

Geo-tagging

Geo-tagged clock-in/clock-out, work-orders / tasks etc.

Data Submission

Paperless submission of timesheets, job reports, payment info etc.

Collaboration

Instant messaging and alerts / notifications for various activities.

Online and offline support

App saves all the data when in remote or low reception areas and auto-syncs while having good connectivity; ensuring data security and integrity.
Why Choose FieldCircle
With its user-friendly web portal and mobile app, you could eliminate all the manual work and move to paperless reporting via managing customers, estimation, employee scheduling, invoicing, and analytics. It's all in there and much more.
All-in-one solution at your fingertips
Improved efficiency and revenue
Data security and protection
Book a personalized demo
Learn how other similar businesses use FieldCircle to win more customers and make their service team more productive.
30 Days Free Trial
No Credit Card Required
By submitting your details, you agree that we may contact you by call, email, and SMS and that you have read our terms of use and privacy policy.