Cleaning Business Software
Empower your company with cleaning business software that drives operational excellence and growth, and positive experiences for your customers.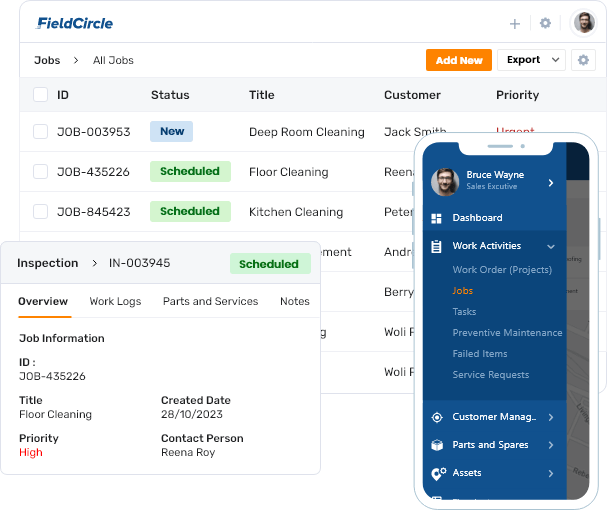 Improve operational efficiency, save time and
achieve higher profitability
Comprehensive features that one of the best cleaning business software can offer.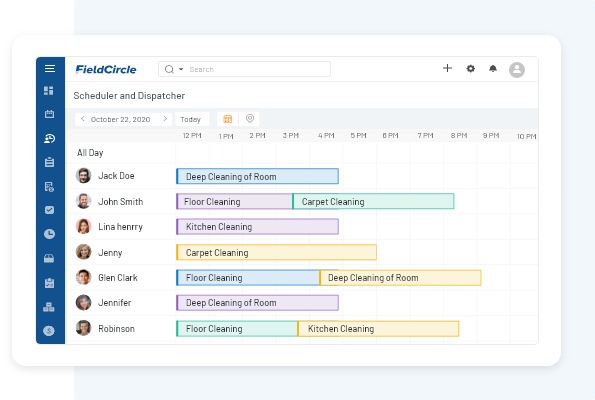 Evolve into a paperless cleaning business
Bring your scheduling and dispatch process online
Quickly schedule jobs to your field reps based on availability and location
Manage documents online and speed up information access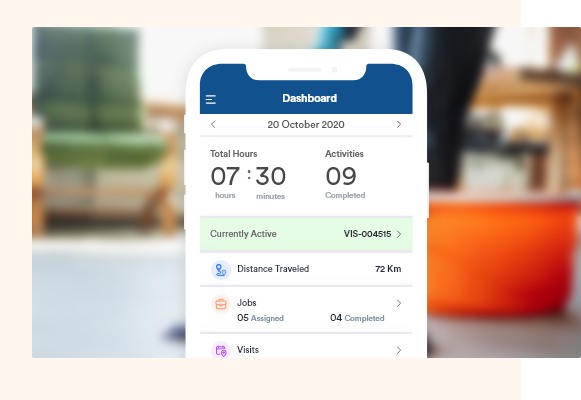 Define standards and track & measure every metric in real-time, such as
First time fix rate
Repeat visits
Average time to complete entire job cycle, and more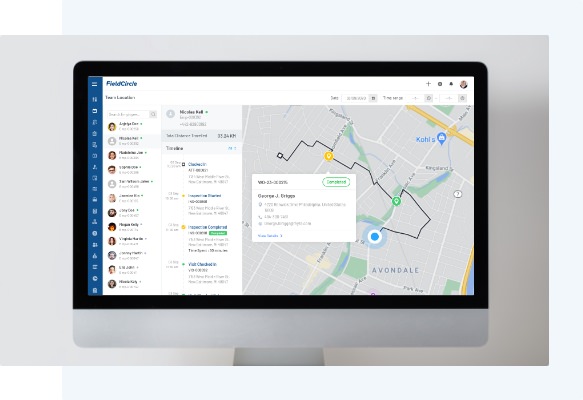 Spend less and make more money
Optimize routes, prioritize schedules, and book more meetings
Increase customer experience and reduce churn out
Visualize data efficiently to scale daily customer visits
FieldCircle cleaning business app's features that provide you control over your processes
Cleaning Service Mobile App Solution
FieldCircle cleaning business mobile app is available on both iOS and Android (smartphones and tablets) and provides users on-the-go access to relevant modules based on roles and permissions.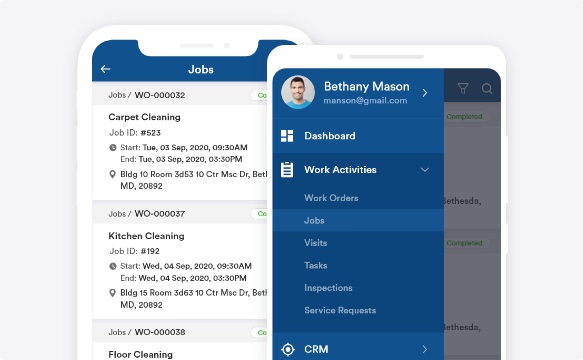 Let your field workers track and manage their day with just one app
View meetings, customer information, and generate invoices
Enable upload & download of data, and access information anytime, anywhere
Equipped with geofencing capabilities allowing managers to track and monitor on-field activities
Run your business in auto-mode with top-rated cleaning business software
Heading a cleaning business means being always on the move. A large part of managing the business goes into scheduling tasks for the cleaning staff, dispatching, and generating invoices, which can be automated through our cleaning company software. Try cleaning management software exclusively designed by us for modern cleaning companies who like to keep every information on their fingertips.
Transform Your Business with Cleaning Service Scheduling Software
If you are looking for powerful software for cleaners, then you are in the right place. Our custom cleaning service scheduling software helps you organize your schedules, track time to complete the tasks, generate invoices, and make payments anywhere using your mobile device. Whether you are an industrial cleaning company or residential cleaning company, our cleaning company scheduling software has the feature to manage all types of work orders to make your business more efficient and organized.
Cleaning Business Software: Stay On Top of Your Schedule
Make your cleaning business organized with FieldCircle—one of the best cleaning business software & app available on the market. The software has features to automate every task in work order, from organizing a schedule to dispatching, and invoice creations to signature capture. Sending reminders and encouraging prompt client communication are the features for which our software is highly appreciated.
Learn how YourSpace grew its revenue by 28% with FieldCircle
Why they prefered us
Simple and easy to use interface
Complete hand-holding in onboarding and importing data
Proactive and humble team that care for their success
Over 200 customers trust us to drive revenue growth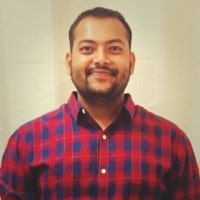 Sandeep Aggarwal, Director and Co-founder
Dentalkart
Achieved 35% increase in revenue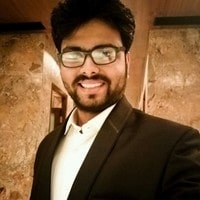 Dhiyavasu Bhadauria, CEO
EventGraphia
Increased team productivity by 22%
Book a Personalized Demo
Learn how your businesses can use FieldCircle to achieve more efficient, transparent, and profitable service operations.
30 Days Free Trial
No Credit Card Required
By submitting your details, you agree that we may contact you by call, email, and SMS and that you have read our terms of use and privacy policy.
FAQ
Why should I use a cleaning business software?
A cleaning business software could help you operate at maximum efficiency and achieve the best outcome for your organization. You can manage your entire operations from one platform, automate key processes like scheduling and dispatch, and invoice and payments, and get a real-time view of work order, job statuses, stock-in and stock-out and field team activities. Your field workforce and back-office teams can access information 24×7 to speed up the validation/approval processes and reduce the turnaround time to resolve service requests.
How does FieldCircle cleaning business software help my business?
Not only does FieldCircle help you simplify your operations, it helps you increase profit margin per job. You could save cost on each job by increasing the speed and accuracy of scheduling and dispatch processes, improve route planning and execution to curb unnecessary travel, and lower your storage cost by tracking inventory to determine the best time to reorder an equipment. Your teams can manage appointments effortlessly, win more jobs, and boost revenue and profitability on each job.
Why should we choose FieldCircle over other cleaning business software?
We know that your cleaning business operates in a certain way, which your teams find easy and are comfortable with. FieldCircle software adapts to your requirements, letting you dictate how your processes and activities should look like. It is highly configurable to your workflows and has customizable modules which scale with your growing business. You also get a dependable technical support team to help you with training and onboarding to make your team utilize the full value of software from day one.
Does FieldCircle have recurring jobs feature-most important aspects of a cleaning business software?
Yes, FieldCircle cleaning business software helps you cut down the manual work for repeat jobs with recurring jobs features. You can create recurring jobs in the FieldCircle software and it will show up in your calendar and a notification will be sent to the concerned team and individual with job details.
Does your cleaning software integrate/sync with QuickBooks?
Yes, FieldCircle provides integration with QuickBooks to make it easier for your teams to access data such as contact details, invoice associated with the contact, and payment history. It is a two way sync that means you can export and import data to and from QuickBooks into FieldCircle when needed.
Does your cleaning software have integration or APIs available?
Yes, we provide integration solutions for all popular and custom solutions and APIs to connect your field workforce with other teams across your organization. Our integration specialists will collaborate with your business analysts to determine your needs for one or more business processes and implement all the functionality required to support the integration solution.
What time is the support team of FieldCircle available?
We are available from 6:00 am ET- 6:00 pm ET.