Cleaning Business Software
Cleaning Business Software to schedule jobs, track field force on the move, monitor jobs in real-time, and create and resolve service requests quickly.
How FieldCircle Can Transform Your Cleaning Business
With FieldCircle, cleaners and facility management companies can manage scheduling, work order, and invoices in a single platform. They can ensure hassle-free scheduling, send text & email reminders, track the movement of field force, create invoices in simple clicks, and manage customer information in one place.
Service Manager
Supervisor
Worker
Accountant
Customer
Applicability and Benefits
No delays in service due to accuracy and integrity of data.
Monitoring field worker and their work order assignment.
Optimum allocation of work order to workforce based on their availability and location.
Easy way to deal with customer queries.
Easily reviewing the work records of maintenance, service, installation and invoicing.
Auto generated daily, weekly, monthly and yearly reports.
Help in making better business strategies.
Applicability and Benefits
Easy way to keep an eye on ongoing of job updates by workers, managers and customers.
Easily managing invoices by generating invoice at the customer site and updating the payment status in real time.
Tracking inventory supply and demand.
Help in reaching at customer location by directing worker through exact and shortest routes.
Applicability and Benefits
Better collaboration among team members.
Easily communicating any service hurdles to the supervisor.
Applicability and Benefits
Analyze statistics for making business strategies and budgeting.
Applicability and Benefits
Get better work quality.
Less response time to resolve queries.
Our field service scheduling management software for cleaners and facility management companies makes them manage scheduling, work order, invoices more efficiently.
Powerful Cleaning Business Software for Cleaning Businesses
Heading a cleaning business means being always on the move. A large part of managing the business goes into scheduling tasks for the cleaning staff, dispatching, and generating invoices, which can be automated through our cleaning company software. Try cleaning management software exclusively designed by us for modern cleaning companies who like to keep every information on their fingertips.
Transform Your Business with Cleaning Service Scheduling Software
If you are looking for powerful software for cleaners, then you are in the right place. Our custom cleaning service scheduling software helps you organize your schedules, track time to complete the tasks, generate invoices, and make payments anywhere using your mobile device. Whether you are an industrial cleaning company or residential cleaning company, our cleaning company scheduling software has the feature to manage all types of work orders to make your business more efficient and organized.
Cleaning Business Scheduling Software: Stay On Top of Your Schedule
Make your cleaning business organized with FieldCircle—one of the best cleaning business apps available on the market. The software has features to automate every task in work order, from organizing a schedule to dispatching, and invoice creations to signature capture. Sending reminders and encouraging prompt client communication are the features for which our software is highly appreciated.
Read More
Cleaning Service Mobile App Solution
FieldCircle cleaning business mobile app is available on both iOS and Android (smartphones and tablets) and provides users on-the-go access to relevant modules based on roles and permissions.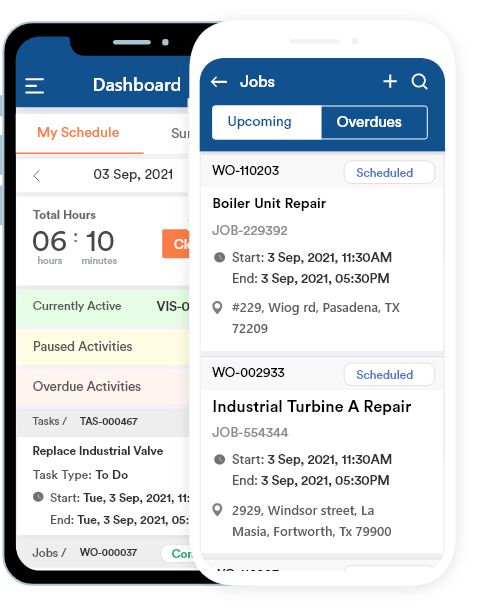 Controlled Access

Allowing employees to perform their field / non-field work activities on-the-go, on-time and smartly.

Geo-tagging

Geo-tagged clock-in/clock-out, work-orders / tasks etc.

Data Submission

Paperless submission of timesheets, job reports, payment info etc.

Collaboration

Instant messaging and alerts / notifications for various activities.

Online and offline support

App saves all the data when in remote or low reception areas and auto-syncs while having good connectivity; ensuring data security and integrity.
Why Choose FieldCircle
With its user-friendly web portal and mobile app, you could eliminate all the manual work and move to paperless reporting via managing customers, estimation, employee scheduling, invoicing, and analytics. It's all in there and much more.
All-in-one solution at your fingertips
Improved efficiency and revenue
Data security and protection
Schedule Demo
Drop your details and we will be in touch for a personalized demo.