How HVAC companies can use work order and field service software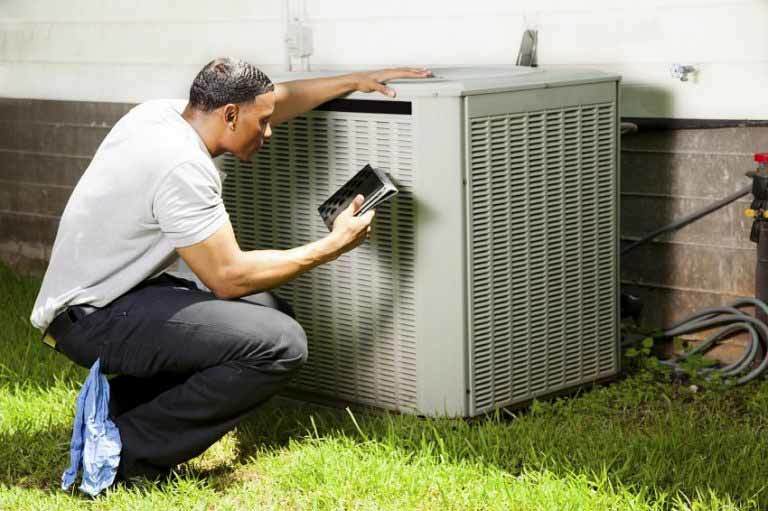 Business organizations are always striving to identify new methods to improve their work processes. Taking advantage of only one opportunity can place a company in a better, more competitive position on the market. One of those opportunities stands in the form of the work order and field service software.
HVAC companies, being categorized as field service companies, can also reap a variety of benefits by using work orders and field service software. This software provides yet another opportunity for HVAC companies to become more competitive in the already oversaturated and volatile market.
Looking at it from an Operations Manager's, Business Owner's, and Technician's point of view, this is a smart investment that can lead to improved output. This is simply because installing HVAC systems is a complicated task, especially because each HVAC system is custom-tailored for each customer to get the best possible results. Plus, during any project, things can change very quickly and the HVAC company must be able to react accordingly.
There are numerous people involved in the process of HVAC system installation, specification, and maintenance. Building service designers, mechanical engineers, building services, and contractors must be consulted and on board before a HVAC system can be implemented.
Keeping track of all documentation, customer support, installed systems, and managing maintenance can become a daunting task. This is where field service software becomes the most valuable asset benefiting not only the company who uses it, but also the customers who are served by it.
Let's look on how HVAC companies can use work order and field service management software.
Overview of Field Service and Work Order Management Solution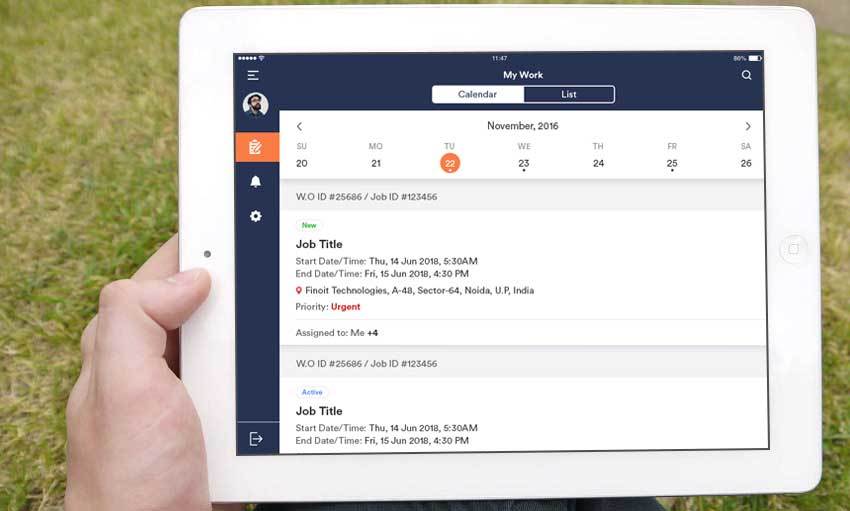 Here is a list of work order and field service software features:
Real-time scheduling of tasks
Workforce management
Real time electronic processing or field team and customer actions
Reports & Analytics
Built-in messaging app, Alerts & Notifications
Electronic Invoices and Quotes
Capturing Customer Feedback
Attendance Management.
Field service and work order management software is a versatile solution that simplifies the field process of HVAC management by only increasing the quality of the service. The most advanced software in this category has many features and can be utilized in various scenarios. It is built to help managers easily handle tasks and dispatch resources to the location of the customer in just a few clicks. There are also tracking features that help the management have an insight into how many work hours have employees spent trying to fix or install the HVAC system. Operations and project managers use this software to track expenses and to know the status of all company's resources and assets at all times.
Field service and work order management software is an easy-to-use tool with a simple and intuitive interface. It is designed so that users don't need to have any technical knowledge. Besides, it's hardware requirements are kept at a bare minimum, so that it can work on laptops, desktops, smartphones, and tablets. This significantly increases the agility of HVAC companies, as field teams can receive and respond to work orders on the go.
This type of business software comes with built-in features, such as work order creation, scheduling, reporting, and approval tools. Each of these is designed to be very functional and easy to use, so that managers, field workers, and customers can easily come on board.
The work order feature refers to an order that specifies a task that needs to be carried out by the field team (resolving issues or installing new systems). This order can be placed directly, by a customer or manager, with specific privilege rights to use the software. The work order tab includes all the necessary information a field team must know before they start to work on the task (customer name, the manager of the project, the number of work orders, what must be serviced/installed, the name of the assigned employee, report date, the status of the work order, the summary, the service delivery deadline, the needed resources for the completion of the task).
The software also supports adding customer-related information to the work order, such as previously provided services history, contact information, and address. The software support adding multiple customers and adding them to the work order by selecting them from a drop-down menu or by entering the name in the required field (depending on the software vendor).
The software can also be used to generate reports. It can be set to automatically generate invoices and send them to customers. The scheduling calendar serves as a dashboard that displays real time information about teams deployed in fields, all resources being spent, and the time window for task completion.
How HVAC companies can use the software
Each stakeholder of a HVAC company can benefit from using this software. Let's see all the roles FSM software can play.
HVAC companies can use work order and field service software to completely streamline the work process. Since as per these stats latest versions of this software are cloud-based, companies do not need to invest into their infrastructure in order to use it. It really complements the new BYOD industry trend.
As soon as a company implements this software, Customer and Human Resource Managers can use it to build customer and employee databases. Operations Managers can then use this database to create work orders more smoothly by choosing a client and field team in the work order creation window. Work orders are being distributed to employees in real time so that they can start to work as soon as the work order gets approved by managers.
Project managers can also benefit from using work-order software. They will have a real-time insight into all used resources and all field team that are deployed. Some work order and field service solutions even have a scheduling board designed using the Gantt chart specification. It displays start and finish dates of tasks and all elements related to the project in question.
Team Leaders can check the analytics to see how effective their teams are. Identifying the task that takes more time to be resolved helps team leaders provide better estimates to customers, thus increasing customer satisfaction and loyalty.
The Team Dispatch Officer can base decisions on exact the GPS location of field teams to minimize the customer wait time and travel expenses.
While on the one hand, this software makes the life of managers and field teams easier, on the other hand, it provides so many valuable insights to all stakeholders of HVAC companies. Many companies use CMMS software also to manage maintenance operations and plan preventive maintenance where extensive field ops aren't involved. Financial Managers and Quality Assurance officers can get precise reports on budgeting, cash management, territory management, service profitability analyses, IFF, SLA, financial gains and losses estimates, and more.
Relying on this software's reports, CEOs of HVAC companies will no longer have to base their investment decisions on reports based on incomplete data or human errors. Calculating the ROI becomes very easy when one has a detailed financial report flawlessly generated by software that takes all ROI metrics into the equation.
Work order and field services software can be integrated with 3rd party solutions. For instance, you can enable you clients to make online payments for your company's services and greatly speed up the sales cycle. This way, work processes in accounting departments become more streamlined.
HVAC companies can use this software to take full control of their day-to-day operations. It becomes possible to squeeze more jobs into the workday and to reduce the downtime of your workforce to a minimum. With access to a detailed schedule, employees of any HVAC company can easily make every second of their work time count.
Benefits of using such solutions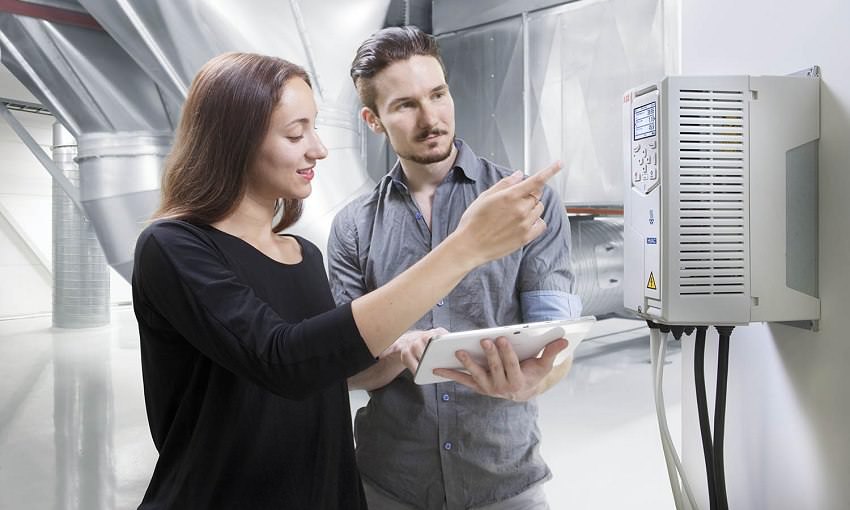 Here are the top 5 ways how HVAC companies benefit from using field service or HVAC software–
Easier Task Coordination
Work order and service management software is a dynamic and transformative platform that can work as an all-in-one software especially when a component of job scheduling software is part of the product. It can be used to improve the efficiency of planning and scheduling which includes dozens of scheduling variables and execution dependencies.
The accounting department can also benefit from this software. Cost management and invoicing can be managed through this software, as well, but of course, with better speed and accuracy.
The coordination of all things related to the field service lifecycle is also enhanced with this software. Managers can have an insight into the equipment, service parts, warranties, returns, contracts, and work orders.
Increased Productivity and Profits
One of the benefits that has a direct impact on increased profits is resource optimization. Team leaders will be able to use resources and deploy field technicians in a smarter way. With minimized driving times and as many jobs completed as possible in a day, an HVAC company that implements this software will usually have a lot more insights on the most important field service KPIs and thus benefit immensely on top-line and bottom-line due to additional visibility.
Increased Efficiency
All the communication between company headquarters and field technicians is done via this software accessible on mobile devices. When the field team gets all the information related to the project they have been assigned to, they will also get the closest route to the customer.
When technicians complete their tasks, they can simply check them off and project managers and planners will always be informed of the current status. Since the software removes the need for any paper-based activity, all departments will become more efficient.
Reduced Costs
Field service software minimizes the risk of oversights and renders an organization more agile and reactive. Project plans carved in stone simply don't work in a field where anything can change in a second.
Since HVAC companies depend on efficient coordination with their customers, office, dispatch staff and field technicians, they can capitalize on information technology.
Improved Customer Loyalty and Satisfaction
Field service software has a positive impact on your customer base. It significantly reduces the customer wait time because technicians can make a new work order while standing with the customer. Plus, field service reps armed with this software and GPS will know the exact time of arrival and can easily inform the customer.
Better communication with customers and not making them wait around all day dramatically improves loyalty and satisfaction rates. Besides, by using this software, field service reps can obtain any necessary information on site.
Work order and field service software is a very powerful solution. It has proved to be very beneficial to companies basing their operations on field service. The HVAC company, being the one that falls into this category, is certainly one that can experience many benefits.
After a company implements this software, stakeholders of HVAC companies will have precise reports in their hands, and will be able to make smarter investments, managers will easily delegate task and better use assets and resources, while the field teams will become more effective.
FieldCircle is into transforming how global HVAC businesses transform their HVAC operations. Our HVAC customers use FieldCIrcle to leverage the power of cloud, enterprise mobility, IoT, business intelligence, and data analysis to drive operational effectiveness and drive growth.
Book a Personalized Demo
Learn how your businesses can use FieldCircle to achieve more efficient, transparent, and profitable service operations.
30 Days Free Trial
No Credit Card Required
By submitting your details, you agree that we may contact you by call, email, and SMS and that you have read our terms of use and privacy policy.