No executive in today's field service landscape could deny the constant pressure to increase operational efficiency. This pressure makes them look for underperforming resources from time to time to replace them with more efficient alternatives.
One of the key places to look at in field service operations is scheduling and dispatch processes. As these processes serve as the first point of interaction between the field service techs and back-office teams, an analysis of how resources are allocated could be useful in identifying the gaps in the service delivery process and determining the right measures to increase individual output and save time and money.
For instance, what happens when you have 80 jobs to be distributed amongst 15 techs?
What are the key variables that play a role in such a case?
Some of the common variables would be:
Technicians availability
Skills and past experience of techs
Distance from the job site
Customer availability
Routing to optimize travel time and cost
How accurately you consider all these variables during field service technician scheduling determines the scheduling effectiveness, which impacts utilization of resources, first-time fix rate, and cost of operations. Lack of visibility into these variables at the time of scheduling could cause conflicts leading to reduced productivity and efficiency and increased frustrations in team and customers.
Here take a detailed view of scheduling and dispatch challenges faced by the field service organizations and the measures they take to overcome them.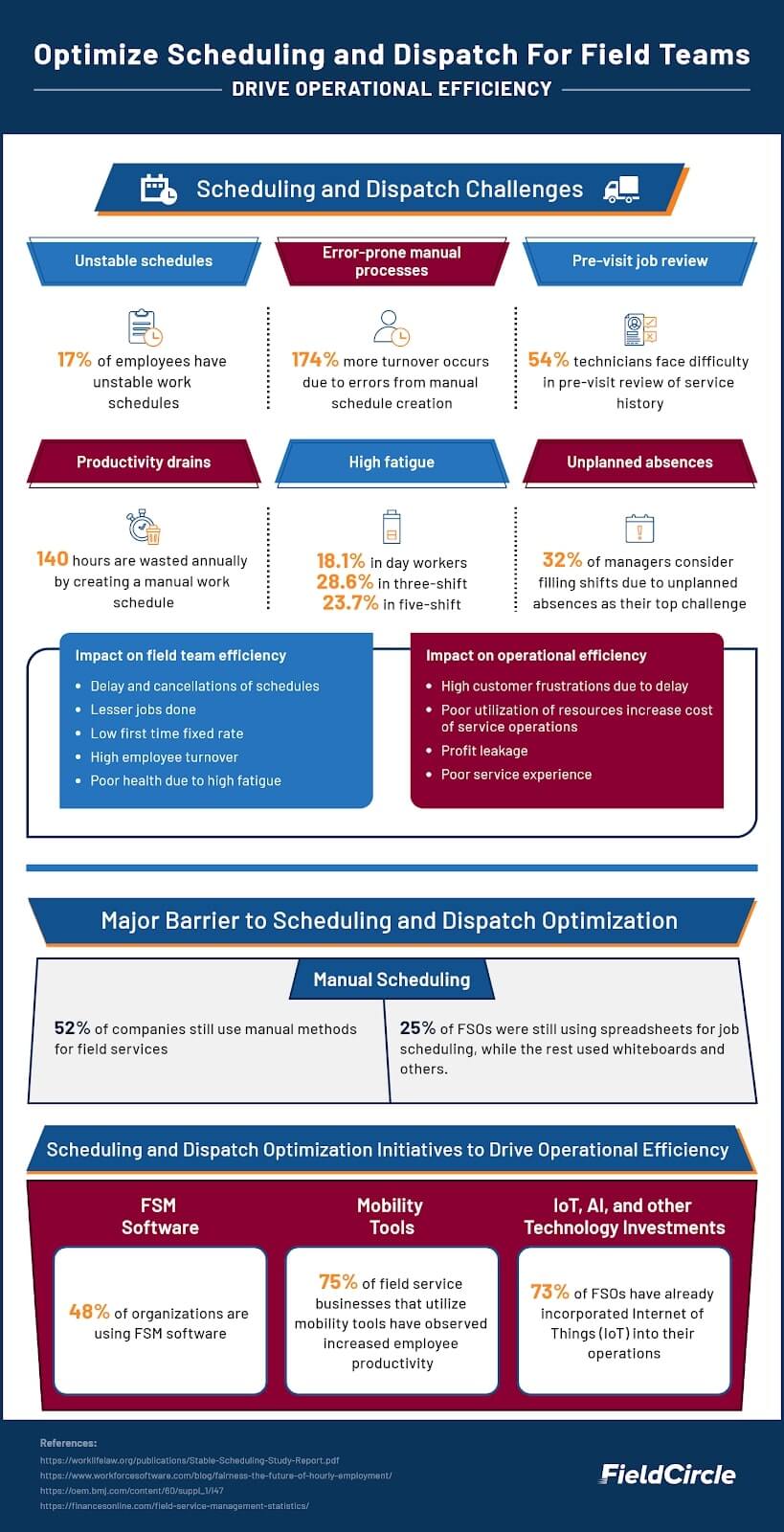 Effective scheduling and field service dispatch goes beyond simple mix and match. The complex nature of the task and ensuring the availability of the most suitable technician and appropriate tools and spares for the job makes the whole process time-consuming and error-prone, especially when done manually.
According to Alberto Rodriguez, Director of operations at ESCFederal with over 20 years of experience in operations management- Manual scheduling is the option when you are receiving only 3-4 calls a day, but when you are running big operations, you need digital tools to maximize operational efficiency. In a discussion with FieldCircle, he said that for managing operations with "multiple service calls, you need a software that will help you schedule those calls to make sure the efficiency of your operation is maximized."
Depending on the size of operations, scheduling challenges can be addressed using:
A simple calendar-based scheduling
A more sophisticated dispatch management software that runs various algorithms in the background and does matching on multiple criteria
While the calendar-based scheduling system works best for simpler operations with fewer jobs per day, it is not effective when jobs are complex in nature or the number of jobs to be assigned are high.
Auto schedulers are more useful for complex scheduling needs. Usually, it comes with a rich set of functions that simplifies the management and planning of tasks, ensuring most routine scheduling occurs with the least manual interventions.
How Can Auto-Schedulers Help?
Auto-schedulers enable field service and office managers to plan, manage, schedule, and dispatch field service technicians with greater accuracy while consuming less time. Most times, such schedulers are integrated with AI and location-intelligence technologies to run technician-job-location matches on criteria such as skill, availability, historical performance, customer grading, distance, and time. Most FSM software or CMMS tools have in-built dispatch features and you can use these auto-schedulers to:
Schedule jobs based on events
The most basic function of an auto-scheduler is to enable you to schedule jobs based on current events and time. You can create and schedule new jobs to be performed at a specific time and at a specific location. The scheduler would run algorithms to find out the best technician available for the job which would reduce completion time and enhance the first-time fix rate. As you assign the job, it would be reflected in their calendar with all the relevant details.
Schedule recurring jobs
You could set your preferences for recurring jobs or preventive maintenance in the system that must be completed at a particular date and time. Set it for once and forget about it! The job will be reflected in the technician's calendar on that specific time and date and the technician will be shown occupied for that timeframe to prevent double-booking.
Track and monitor jobs
Most often smart schedulers are integrated with GPS and other location intelligence technologies. They enable you to check the availability of the nearest technician with relevant skills and plan routes to minimize pilferages and increase response time. You could track and monitor routes, arrival/departure time gap, off-loading time, visit-in and visit-out time of technician in the location, and the current status of the completed job.
Auto-scheduling brings much-needed accuracy and transparency to the scheduling and dispatch processes to ensure optimal utilization of field resources and it will reflect in not only in your service and maintenance KPIs but also employee satisfaction. With effective scheduling, you could reduce travel time and associated costs, improve turnaround time, and accelerate your journey to achieve operational effectiveness.
Schedule a demo to learn how FieldCircle can help you increase operational efficiency by 30%
Book a Personalized Demo
Learn how your businesses can use FieldCircle to achieve more efficient, transparent, and profitable service operations.
30 Days Free Trial
No Credit Card Required
By submitting your details, you agree that we may contact you by call, email, and SMS and that you have read our terms of use and privacy policy.