Top Signs Your Plumbing Business is Leaking Profit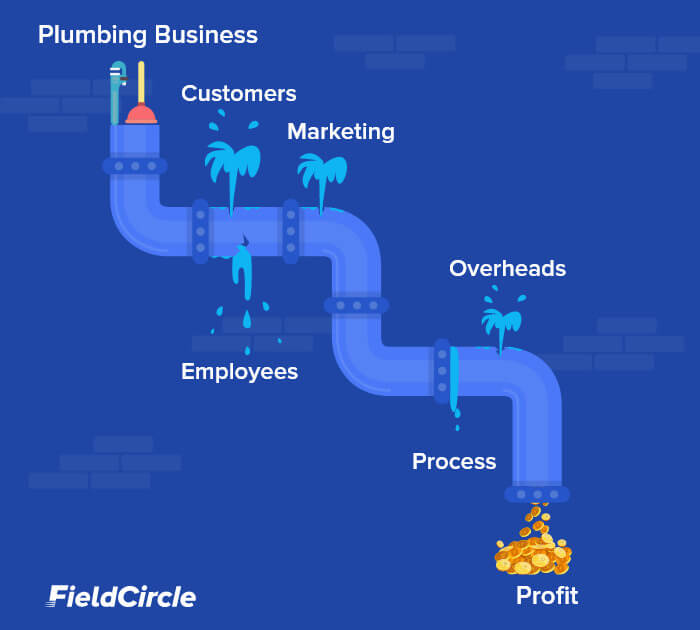 Running a plumbing business but not realizing expected outcomes? Here we bring you key signs that indicate what causes leaks in plumbing business profitability.
As an entrepreneur, when you decided to build your own plumbing business, you might have surely come across these common questions:
How to start a plumbing business with no money
How to run a plumbing business
How much is my plumbing business worth
These three questions would have followed in order and you might have found answers for them.
However, today, when you overview your plumbing business, everything seems fine. You are getting a fair number of inquiries. You have the best plumbers on your team. They work hard—attend to a lot of service requests.
But still, the profit does not increase.
It means your plumbing business is leaking profit. So, now, you need to consider another important question – how do I identify leaks in my plumbing business?
There could be many reasons for profit leakage and you have to find the exact cause to fix the problem.
Detecting profit leakage in your plumbing business may be daunting but it doesn't mean you can't deal with it. You need to scrutinize the business processes, employees, and customers on multiple aspects and find out the elements that might be affecting your profits.
Below are the 5 signs that your plumbing business is leaking profit. These signs will help you determine the elements contributing to the profit leakage in your plumbing business.
You are not able to generate good leads
Bad leads mean you are not able to attain marketing effectiveness.
You may have been investing in some form of marketing to generate leads. And if you are getting bad leads that means your marketing campaigns are not hitting the right audience.
Result—a waste of money and valuable time.
Plumbing service providers usually target the client from nearby locations. Although the competition may not be fierce, it is generally tough. Having a team of skilled plumbers is not enough. You have to build a smart marketing strategy and system that when a customer is dealing with an emergency, they automatically call you up for fixing.
For generating good leads, you have to think from two perspectives:
Plumbing is an emergency business: People usually don't call when things run smooth. To handle a distressed customer, you need a ready-to-dispatch team empowered with tools and information about tasks to be done. Using plumbing scheduling software for scheduling and dispatching plumbers, anytime, anywhere can help you handle emergencies well.
Marketing campaigns that drive results: Build campaigns that drive results. To effectively check on which platform most of your customers are active, you will be needing the help of analytics and marketing tools.
Explore the tools and choose the one that integrates with your existing systems.
You are not able to handle customers effectively
As a plumbing business owner, are answers to the following questions at your fingertips?
Your customer lifetime value?
Average number of service requests from the same customer per year and over the lifetime?
Average service request revenue per customer?
Answers to these questions in the negative means you need to reinvent your customer handling strategy. Any business usually handles a customer at three levels—onboarding new customers, retaining existing customers, and maximizing the benefits from customers in the form of referrals and new services.
Inability to handle customers makes them seek solutions from your competition and steadily your customer base begins to weaken. As a result, you must evaluate:
Is your business able to handle the customers at all three levels?
The last two levels are the most challenging, but if the concerns are addressed well, you will not only be able to plug up the leaks in your profitability, but also generate more revenue. To do that, you have to understand the lifetime value of every individual customer and sense the new customer acquisition cost as well as their lifetime value.
Here are important signs that reveal you are not able to handle customers effectively.
You don't have clarity on what your customers want
You are not able to keep in touch with your clients on a routine basis
You are not able to push new services to your existing customers
You are not getting enough referrals from your existing customers
You are not able to deal with difficult clients—the panicked customer with a burst pipe or large and complex underground pipe repair and maintenance.
What would you need to better manage your customers?
In the digital era, there is nothing that you can't handle. Get assistance from digital tools and technologies like plumbing software or a field service software and app that would enable you to get a real-time status of your service delivery, customers and the ability to track their response to your services and marketing activities, thus removing the guesswork from your system.
Your greatest resources — employees – are not performing
In the plumbing business, skilled plumbers are your most valuable resource. To provide better service, you need to empower them with the right plumbing tools to perform the task efficiently.
From receiving an inquiry from the client to sending the skilled plumber for the job with the right tool, at the right time involves a series of process that needs to be done immediately. In doing so, if you are facing these challenges, one of those might be the reason behind profit leakage.
Poor plumbing job scheduling, planning, and work order management
Plumbers are not equipped with the right tool when they reach the location
Unable to track the location of plumbers and how well they have performed the task
The discrepancy between invoice generated by the plumber and the actual invoice
No recruitment or training strategies in place
Seek support in technology to resolve the issues and improve your process efficiency.
You don't have clarity on how effective is each of your revenue sources
Two quick questions:
Are you aware of where you are making the most of your money in real time?
Do you think you have priced your services the right way?
If the answer is yes, then it might not be the reason for profit leakage. Skip to the next sign. And if no, review your processes and work on the following factors:
Build an information structure that captures every revenue stream of your plumbing business
Embrace automation by using plumbing service software for effective management of your revenue streams; the one that can provide you with real-time status and help you generate insight into the revenue streams.
Make sure you have a system in place to manage the influx of new inquiries, sales, and services.
You don't have a list of your expenses at your fingertips
In many respects, a plumbing business cannot distance itself from suppliers. Although plumbers in cities have the benefit of digitalization of purchases, plumbing companies in semi-urban areas don't have such benefits. They have to keep the stock ready for urgent demand, which means buying new equipment and tools along with timely maintenance and repair of existing tools is expensive.
Besides, traveling is an indispensable part of a plumber's job to which a cost factor is involved considering the distance.
A plumbing company can deal with such scenarios by using effective vendor management and route optimization solutions, which could provide them insight into the expenses so that they can make better decisions.
If you are unable to do so, you are letting your money slip between your fingers.
Expenses can result from any possible source and eat away your profits. Going unmonitored, the following sources of expenses can affect your plumbing business's bottom line.
Equipment and tools: Plumbing tools are expensive and with lack of maintenance can require businesses to frequently buy new tools.
Vehicle Expenses: Unnecessary vehicle movement increases cost of fuels and increases frequency of vehicle service.
Insurance and Legal fees: Essential to keep an accurate record of how you are spending on insurance and other compliance procedures.
Taxes and Licences: You cannot be oblivious of how much you pay for your taxes and licenses periodically.
Marketing: You must ensure that you are not overspending on your marketing activities.
Rent and Lease: For equipment storage and office, when you rent space, remain abreast of how much of your total spending is going for these activities.
While it is inevitable to spend on these activities, what is important is that you must stick to the allocated budget for each activity. The need to overspend should call for a careful analysis of which elements prompted the allocated sum of budget.
Adopt Sustainable Solution to Plug the Profit Leakage
As a plumbing business head or owner, if you are seeing the above-discussed signs, it is time for you to empower your decision-making, set short-term and long-term goals. Next, review the digital applications and tools that could help you achieve those smart goals for plumbing business.
When it comes to having a high-performance plumbing software application, FieldCircle is an easy-to-use plumbing company software that helps you manage your employees, customers, and processes in a manner that every information is available right at your fingertips.
You can schedule appointments, track your on-field plumbers, optimize routes, and generate invoices. Through its in-built analytics tool, you can get a deep insight into your processes so that you can make better decisions to plug profit leakages.
Book a Personalized Demo
Learn how your businesses can use FieldCircle to achieve more efficient, transparent, and profitable service operations.
30 Days Free Trial
No Credit Card Required
By submitting your details, you agree that we may contact you by call, email, and SMS and that you have read our terms of use and privacy policy.