Asset Management Software
Manage complete asset lifecycle- from sourcing to deployment, and asset service & maintenance operations with FieldCircle's EAM
No Credit Card Required
30 Days Free Trial
No Credit Card Required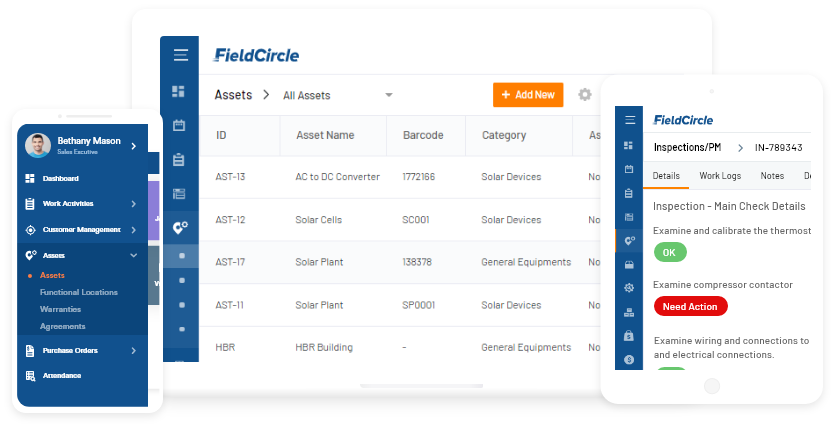 Transform How You Manage Assets and their
Service Operations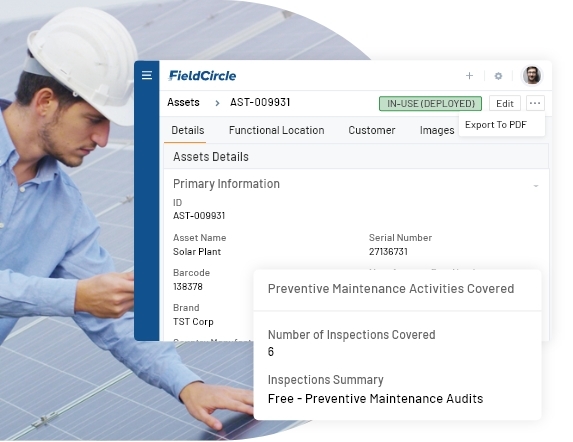 Improved visibility and efficient asset management
Manage entire asset lifecycle on a single platform- from sourcing to deployment, and listing
Visualize everything: assets/equipment, service activity on assets, spare movement and asset warranty and contracts
Track asset movement and historical logs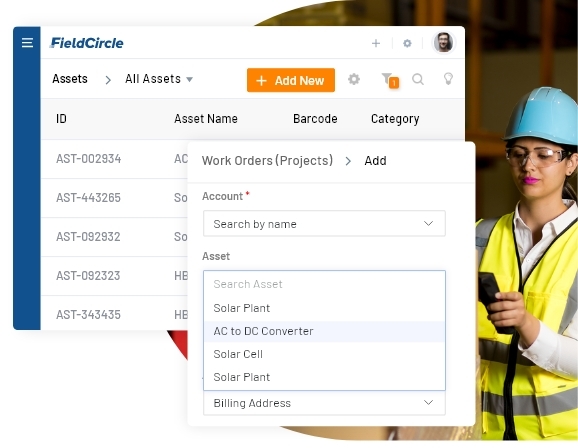 Increase operational efficiency and team productivity
Save time in data entry and redundant activities with single platform to manage all the assets and their service ops
Conveniently manage asset movement and check all historical logs, and save time in running between the systems
Equip and improve productivity of your service team with better visibility of asset data, contract details and spare needs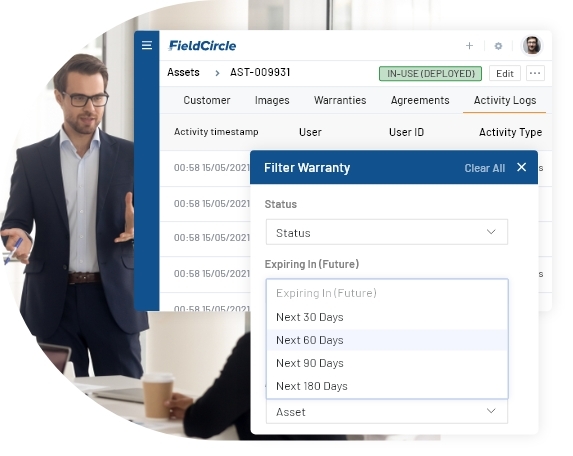 Make more informed decision with data insights
Allow access to data about warranties, service contracts and service history to field teams to validate info on the go and prevent service revenue leakage
Drive comprehensive reporting of work orders, preventive maintenance and failed items on every assets to get clear picture of the operational performance
Get dashboard with KPIs that enables evidence-based analysis of asset and their service data to make more informed and better decisions
Drive Operational Effectiveness with
Asset Management App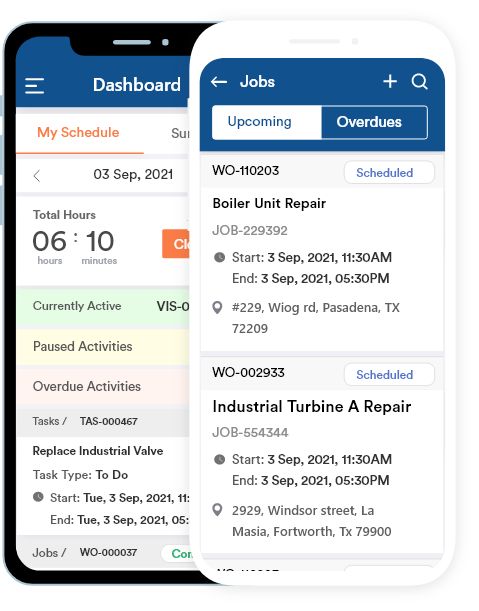 Manage all your assets and create work orders for assets
Check warranties and contract details on the go
Create work orders, preventive maintenance and let your technician and service engineers perform the jobs using app
Enable your field teams to track their schedule, job and customer details, and receive notifications on their mobile device
Get more visibility in asset service operations that will help your business excel
Trusted by customers across the globe
Attain more visibility and control in your asset operations with our top-rated enterprise asset management software.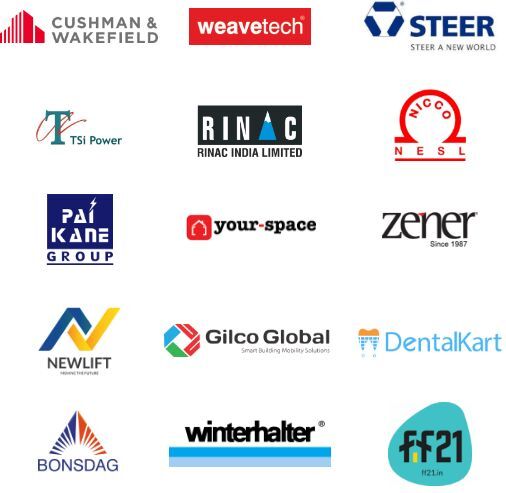 Why they chose us, in their words:
Highly configurable to our business processes
Simple and easy to use interface
Complete hand-holding in onboarding and importing data
Proactive and humble team that cares for our success
Blogs
Our featured blogs sharing insights on field force automation, applicability and latest trends in industries
+Show blog
Book a Personalized Demo
Learn how your businesses can use FieldCircle to achieve more efficient, transparent, and profitable service operations.
30 Days Free Trial
No Credit Card Required
By submitting your details, you agree that we may contact you by call, email, and SMS and that you have read our terms of use and privacy policy.
FAQ
How can Asset Management Software help your business?
Asset management software simplifies planning, tracking, and management of assets and their service operations in a more efficient and transparent way. An Asset management system enables you to digitize workflows to drive collaboration at every stage of the asset lifecycle, automate administrative and service tasks, and identify trends in asset utilization and operational activities.
The key benefits of asset management software are:
Effective asset records management and tracking
More productive asset service team
More efficient asset service and maintenance operations
360 degree visibility into your daily operations
Improved asset service operations profitability
Lesser breakdown and more revenue opportunity
One of the primary functions of asset tracking software is to help you keep track of assets throughout their lifecycle. The right asset management solution enables you to extend asset life via. condition monitoring, streamline daily operations to improve efficiency, save time and enforce compliance on scheduling and maintenance service delivery, and gain actionable insights to optimize processes and reduce cost.
What are the common features of Asset Management Software?
Asset lifecycle management: FAMS (Fixed Asset Management System) enables asset lifecycle management from procurement to disposal, keeps teams updated on asset conditions, and helps enforce compliance.
Maintenance Management: Cloud-based asset management system is designed to streamline maintenance work orders, keep track of repair tickets on an ongoing basis, and monitor the current status of the work orders and action taken on them.
Inventory management: A typical asset management suite provides much-needed control over warehouse operations, including a centralized view of the inventory across multiple locations, channels, and devices and valuable insight on a real-time basis.
Vendor management: With the right asset management program, you can keep all your vendor-related information in one place, view, share, and manage quotes and estimates, and track data to make smart decisions.
Scheduling and dispatching management: For assets deployed in the field that need service and periodic maintenance, an asset management system allows you to schedule jobs, assign technicians to the jobs and enable them to reserve repair tools, track historical maintenance data, and get efficient route updates via. mobile app.
Warranty and contract management: Most times, assets involve keeping a track of warranties and contracts, and generally an enterprise asset management software will have features to cover these aspects of asset management and maintenance operations.
Performance tracking and reporting: Measure progress and effectiveness of the process, generate reports, and optimize operations with valuable insight provided by asset management tools.
What are the benefits of Asset Management Software?
Enterprises with asset-centric operations in industries such as manufacturing, oil & gas, transportation, construction, and facilities management use asset management software to monitor, assess, and maintain critical assets (equipment). The key benefits of enterprise asset management (EAM) system are:
Understand OEE (Overall Equipment Effectiveness): An Enterprise asset management software enables asset managers to track the complete lifecycle of assets, including all the information associated with them to make smarter decisions in everyday operations.
Maximize asset performance: Leverage the use of technology to enhance reliability, availability, and uptime of physical assets with top asset management software.
Reduce maintenance cost: Implement strategies for condition monitoring and predictive maintenance, engage in real-time data collection and use historical data to predict equipment failure and plan maintenance to reduce downtime.
Enforce compliance: Remove expectation vs. reality gaps and increase regulatory compliance with the EAM program. Asset managers use EAM software to manage warranty and eliminate over-usage of licenses and perform compliance reviews.
Drive productivity: Enable greater collaboration across teams by automating communication and administrative tasks. Remove redundant tasks from the processes to increase efficiency using enterprise asset management software.
Typical cons/disadvantages of using Asset Management Software?
An asset management solution comes with many benefits, however, you must evaluate your requirements to choose the best asset management software and app for your business. Things may go south if you have not carefully considered key aspects, leading to problems such as:
Integrations: Make sure that the asset management software supports popular integrations to get a 360-degree view of your business on a single platform.
Scalability: Your business needs might change tomorrow, and your mobile and web-based asset and inventory tracking software program must be built to accommodate your future requirements.
Learning curve: Who are your target users? Asset managers, maintenance professionals, field service technicians…bring everyone to the table and make sure that each of them finds the EAM software easy-to-use. Also, lay out a proper change management plan to help accelerate the team's learning curve.
Key criteria/factors to consider when buying Asset Management Software?
Industry: The best asset management system for you to track physical assets and manage maintenance operations is not flashy, feature-loaded software but one that is designed in line with your industry and business. Eg. An EAM software for a manufacturing business might not be the best fit for fleet management companies.
MoSCoW: Bring in every stakeholder to the same table, carefully assess requirements according to the business functions, and then categorize your needs to MoSCoW: must-haves, should-haves, could have, and will not have right now.
Deployment: Choose between cloud, on-premise, and hybrid deployment options for your fixed asset management software considering factors such as cost, IT infrastructure requirements, maintenance support, and control over data.
Onboarding and training: Having smooth and streamlined onboarding and training programs are integral to successful EAM software implementation.
Top Asset Management Software trends for this decade?
Integrated platform: The trend is developing to facilitate asset performance insights as a part of the core asset management offering to provide real-time asset performance monitoring and health data. IoT and digital twins integrations are playing a big role in this transition.
Sustainable offerings: In the years to come, it will be the top priority of asset-intensive industries to achieve climate and sustainability goals. Asset management solutions that help companies enforce compliance with ever-changing and complex regulations will certainly be in high demand.
Dynamic data-centric model: Fixed asset management software solutions will enable enterprises to adopt a more flexible, responsive, and adaptable operations model leveraging analytical tools.
Fix value drains: With insight generated from data, asset managers will take the lead to fix value drains in asset management before they hurt the bottom-line, increase asset utilization, reduce downtime, and maximize productivity.