8 Steps to Ensure Transition to a New Facility Management Vendor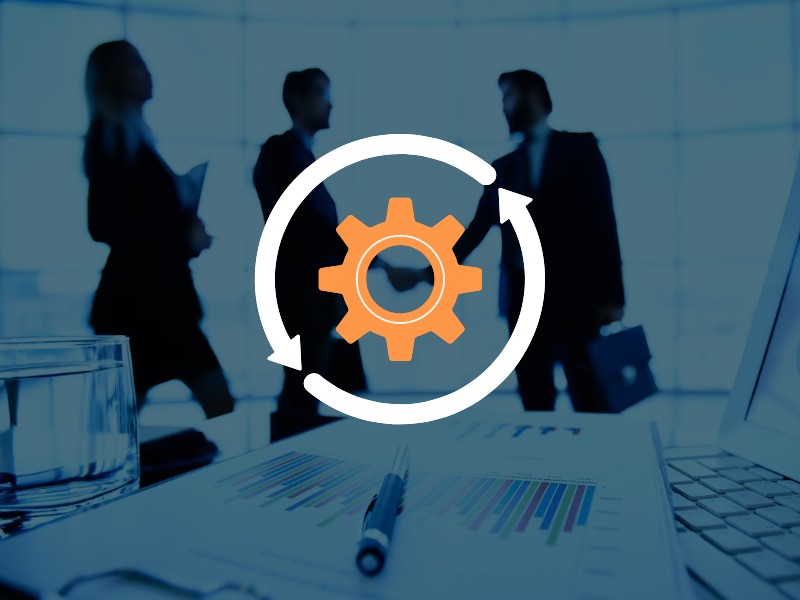 What if we say that 80% of the vendors agree that ease and speed of onboarding are essential for a successful and smooth vendor transition. The fact is actual, according to a study by McKinsey. If you are looking for a new vendor and have yet to finalize a vendor, wouldn't you agree on the same? Onboarding new vendors or switching from one vendor to another can seem complex and time-consuming for many. However, it does not necessarily have to be overwhelming, especially if you opt for a vendor like Field Circle, which can provide end-to-end streamlined assistance with facility management.
Things can become complex when transitioning to a new facility management vendor, especially when providing services across multiple countries, jurisdictions, or legal entities. However, this process does n0t necessarily have to be complicated. By taking sufficient time to plan, allocate resources, and ensure the safety of your transition process, you can avoid potential challenges in the future, such as compliance issues, billing errors, and security breaches.
A Use Case:
We have crafted a fictional use case for you to understand the situation better:
Case Study Background
A large organization is planning to transition to a new facility management vendor. The current vendor has been providing services to the organization for the past 10 years, but the organization is not satisfied with their performance.
Goals
Ensure an effortless seamless transition to the new vendor.
Mitigate any risks or disruptions to the organization's operations.
Improve the overall quality of the facility management services.
Roadblocks
Lack of communication: The organization may not provide the new vendor with the information they need to do their job. This could cause delays and confusion.
Different systems and processes: The organization and the new vendor may use different methods and techniques. This could lead to miscommunication and errors.
Employee resistance: The organization's employees may be resistant to change and unwilling to work with the new vendor.
Data loss or corruption: Data loss or corruption is risky during the transition. This could impact the organization's operations.
Equipment downtime: There is a risk of equipment downtime during the transition. This could impact the organization's productivity.
Unexpected costs: There may be unexpected costs associated with the transition. This could impact the organization's budget.
Legal issues: There may be certain legal issues associated with the transition. This could delay the process or impact the organization.
Roadblock mitigation strategies
The following mitigation strategies can be used to address the roadblocks identified above:
Communication: The organization should regularly communicate with the new vendor and provide them with all the necessary information.
Systems and processes: The organization and the new vendor should agree on systems and processes. This will help to avoid miscommunication and errors.
Employee resistance: The organization should communicate the transition benefits to its employees and address concerns.
Data loss or corruption: The organization should have a plan to prevent data loss or corruption during the transition. This could include backing up data regularly and using secure methods to transfer data.
Equipment downtime: The organization should have a plan to minimize equipment downtime during the transition. This could include having backup equipment available or staggering the transition across multiple locations.
Unexpected costs: The organization should budget for unforeseen costs associated with the transition. This could include fees for training, travel, or equipment.
Legal issues: The organization should consult legal counsel to ensure the transition complies with all applicable laws and regulations.
The transition process can be challenging; nevertheless, with careful planning and execution, you can ensure a seamless transition to a new vendor with minimum disruptions. The following part of the article discusses some essential steps that will help you with this streamlined transition.
8 Key Steps for Smooth Facility Management Vendor Transition
1. Define Your Enterprise's Objectives and Expectations:
To successfully handover your organization's facility management contract to a new vendor, it is crucial to establish your organization's objectives and expectations. Determine the services you need, your performance expectations, and your budget. This will help you zero down your potential vendors and select one that aligns with your vision. Clarifying your needs and goals is the key to finding the right vendor.
2. Conduct a Thorough Vendor Selection Process
Choosing the right facility management vendor is critical to ensuring the success of your transition. To do this, you should follow these steps:
Conduct Market Research: Look for potential vendors in your area or industry with a proven track record, positive references, and experience in managing facilities like yours.
Create a Detailed Request for Proposals (RFP): Develop a comprehensive RFP that outlines your specific requirements, expectations, and evaluation criteria. This will assist you in comparing potential vendors more objectively.
Conduct Vendor Interviews: Shortlist the vendors that meet your requirements and conduct interviews better to understand their capabilities, approach, and organizational culture. Pay attention to their communication skills and willingness to adapt to your needs.
Check References and Case Studies: Request references and case studies from previous clients to assess the vendor's reliability and performance.
3.Plan and Optimize Workforce Transition
Recognizing their training needs to prepare the workforce for managing the new facility is essential. This includes training on building systems, applicable codes and regulations, building familiarization, emergency procedures, and vendor contact information. The staffing requirements should be based on best practices for organizational processes and maintenance procedures, considering reliability goals, response times, maintenance levels, preventive maintenance frequencies, and predictive maintenance practices.
On opening day, it is essential to have a fully staffed response team to quickly address any requests related to the occupant's comfort, such as air quality, noise, and odor. It could negatively impact the customer or user experience without addressing these concerns. To limit risks associated with workforce preparation, the staff should be trained in awareness of locations for critical spare parts, scenario planning and testing of emergency procedures, and wayfinding. By doing so, chaos can be avoided, and the facility can operate smoothly from day one.
4. Prioritize Asset Management in Facility Transition Planning
To ensure the successful transition to a new facility, it is essential to prioritize asset management during the planning, design, and implementation phases. Often, the primary focus remains solely on the physical construction of assets due to the pressures of adhering to schedules and budgets. However, the oversight of asset management during this critical phase can result in a transition from construction to occupancy that is less efficient and effective.
Transforming vendor management process necessitates a series of validations to verify that building systems and equipment function as intended and within the desired efficiency parameters. A building monitoring system provides valuable insights into overall performance and efficiency. This allows for fine-tuning and adjustments during the system stabilization period. Involving engineering and maintenance teams in these performance validations offers early training opportunities and a comprehensive understanding of any systems requiring additional monitoring and adjustments.
A seamless handoff during the commissioning and stabilization phase ensures that the facility management team does not struggle to balance building systems when customers, visitors, or staff are present. Ideally, every team should be fully trained and competent in operating the facility before the construction and commissioning teams relinquish site control.
A transition that seamlessly integrates facilities and operations with a focus on asset management yields several benefits. It reduces startup costs and provides a higher-quality experience for occupants and users from the very beginning. A well-defined plan addressing organizational needs for asset information and the implementation of business processes sets the stage for a successful transition, improving reliability and maintainability. Shifting the focus to long-term maintainability and asset management early in the design and construction phase leads to cost reductions throughout the facility's lifespan. It facilitates a smoother transition from construction to asset management.
Engaging operations and support teams, including security, environmental health and safety, facility management, engineering, and maintenance, through a unified facility maintenance software adequately prepares them to assume full operational and maintenance responsibilities while transitioning to a fully functional facility. This proactive approach creates a productive and safe environment for the owning organization and its staff, ensuring a successful and sustainable transition to the new facility.
5. Create a strong communications Plan
To ensure a smooth transition, we develop and execute a well-thought-out communication plan that anticipates and addresses key concerns. During the transition to a new facility management vendor, it's normal for FM associates and other stakeholders to have questions. Whether your FM vendor involves many or few employees, it's essential to prevent negative perceptions from detracting from the overall experience. Your newly selected vendor should know that we value their expertise and will work towards recruiting them to continue working on your campus.
Leveraging our experience with numerous transitions, Field Circle can assist you in developing a concise set of messages to provide all stakeholders with accurate information at all stages of the process.
An effective communication plan on our behalf will include:
Key messages in case of media inquiries or internal rumors
Coordinated communication roll-out to all stakeholders as the sourcing relationship becomes official
Opportunities for facility management vendors to discuss their concerns through individual meetings with your facility leadership
Critical communications as needed for your unique environment
6. Transference Of Relevant Facility Asset Information
Responding quickly to unplanned events depends on accessible, reliable, and accurate information about the building, including as-built plans, building systems information, and real-time system performance.
Additional information, such as warranty documentation, performance specifications, inspection records, permits, critical spare parts, manufacturer make and model, year of installation, and expected life cycle, are valuable attributes to proactively manage the building assets through the use of an integrated work management system (IWMS) or a unified facility management software
Establishing a document library early in the process that organizes and tracks information received throughout the construction and commissioning process will help to identify any documentation gaps at the final acceptance of the new facility. This process can be streamlined by pre-determining relevant information for the facility and systems that must be captured during the design, construction, and commissioning phases.
Suppose an enterprise asset management system (EAMS) manages the building portfolio. In that case, data can be mapped for direct transference from the design and construction software, such as building information models, CAD tables, progress photo databases, inspection reports, commissioning data, etc.
7. Successfully Transfer of Crucial Facility Asset Data
Having readily accessible, dependable, and precise data concerning the building is crucial for responding swiftly to unforeseen incidents. This includes as-built plans, details about building systems, and real-time system performance.
Additionally, valuable data such as warranty documentation, performance specifications, inspection records, permits, essential spare parts, manufacturer details (including make and model), installation year, and projected life cycle plays a pivotal role in the proactive management of building assets through the utilization of an integrated work management system (IWMS).
It is prudent to establish a comprehensive document repository early in the process to ensure a seamless flow of information. This repository should be designed to organize and monitor the information received throughout the construction and commissioning phases.
Such an approach helps identify any gaps in documentation when final acceptance of the new facility is at hand. Streamlining this process involves pre-determining the information required for the facility and its systems, which should be captured during the design, construction, and commissioning stages.
For organizations that employ an enterprise asset management system (EAMS) to oversee their building portfolio, data transfer can be facilitated by mapping it for direct importation from design and construction software sources. These sources may include building information models, CAD tables, progress photo databases, inspection reports, commissioning data, and more.
8. Be Scalable and Agile
Last but not least, be prepared to adapt to changing needs in the evolving field of facility management. Stay flexible in your vendor relationship and be open to making necessary adjustments.
Experience a Seamless Transition to a New Facility Management Vendor
Transitioning to a new facility management vendor is a complex process that requires careful planning, communication, and collaboration. By following the steps outlined below and focusing on your objectives and expectations, you can ensure a smooth transition that enhances the efficiency and functionality of your workplace while minimizing disruptions. Remember that a successful change can lead to long-term benefits for your organization.
One of the primary goals of implementing a step-by-step transition plan is to understand the service delivery and quality standards that the new customer expects. This helps to assess and meet the customer's needs and expectations, building trust and strong relationships from the beginning of the project.
To ensure a seamless transition, it is essential to clearly understand the services to be delivered by the new vendor. This will help minimize disruptions and ensure business operations continue without interruption. If you want to learn more about our services and how we can help you with your facility management needs, please schedule a demo or contact us at info@fieldcircle.com.
Book a Personalized Demo
Learn how your businesses can use FieldCircle to achieve more efficient, transparent, and profitable service operations.
30 Days Free Trial
No Credit Card Required
By submitting your details, you agree that we may contact you by call, email, and SMS and that you have read our terms of use and privacy policy.