Driving Customer Engagement in Field Service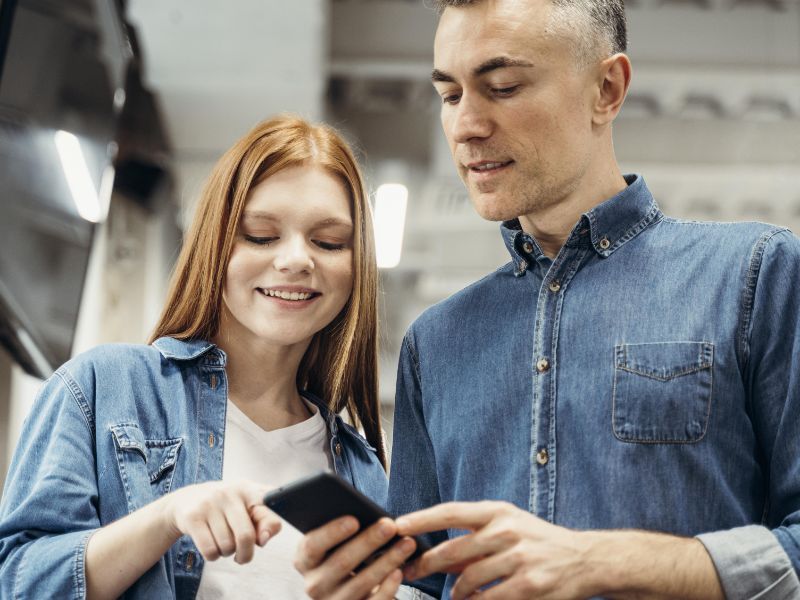 Your business wants to make customers happy with great field service. But with so many field service providers competing, it can be challenging, as other businesses out there are trying to do the same thing. So, how can you stand out and build strong connections with your customers?
Esteban Kolsky, a user advisor, found out that 67% of customers switch to different brands just because they had a bad experience with customer service.
Customer engagement serves as a lynchpin to building strong relationships with customers. However, driving customer engagement requires your field service staff to interact with customers seamlessly, consistently, and effectively. So, apart from delivering quality services, there are multiple elements that you need to consider when engaging with customers. At times, it can turn out to be a challenging process.
But don't worry because where there are challenges, there are also tremendous opportunities for you to grow and succeed.
In this article, we'll discover how your business can build remarkable strategies for your field service and help you create unforgettable experiences for your customers.
Begin by understanding the customer journey
Understanding the customer journey is like using a map to help customers in the best way. It allows field service providers to build strong relationships and retain customers. Two essential steps are mapping the journey and understanding customer needs.
Mapping the customer journey
Mapping the customer journey is like making a treasure map to find what makes customers happy.
According to the CX Benchmarking Report 2020, 43.9% of experts believe that connected customer journeys are one of the critical factors that will transform the CX industry. While Mckinsey has found that businesses that use tools like customer journey maps see revenues increase as much as 10 to 15 percent while reducing their service cost by 15-20%.
Initially, businesses don't know much about what customers like and want, but when they map the customer journey, they gain insights into what they like and dislike.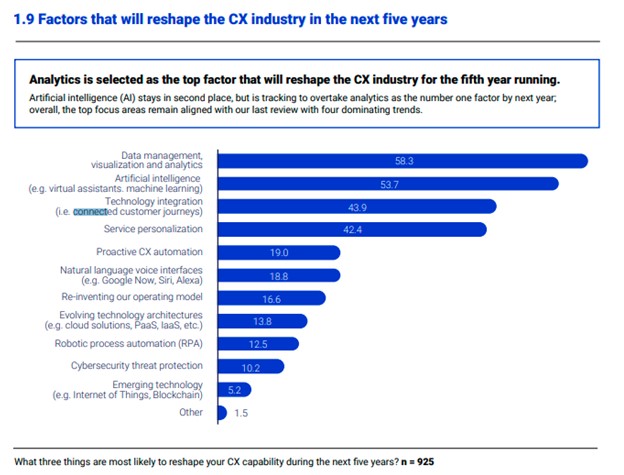 Source: CX Benchmarking Report
The statistic from the CX Benchmarking Report further emphasizes the benefits of using tools like customer journey maps, such as increasing revenues and reducing service costs.
To map the customer journey effectively:
Identify touchpoints: List customers' stages, from initial contact to issue resolution.
Assess expectations: Put yourself in their shoes and understand what they expect at each stage.
By understanding the customer journey and using tools like customer journey maps, businesses can enhance their performance and deliver exceptional customer experiences.
Analyzing customer pain points and needs
But mapping the customer journey is more than plotting these touchpoints on a diagram. It requires a deep dive into understanding customer expectations at each stage. For example, you can ask questions like:
What are they hoping to achieve when they first reach out for assistance?
What are their desires and pain points as the service is being delivered?
What are the common challenges faced by customers in field service?
Is it the long wait times, lack of transparency in service updates, or difficulty scheduling appointments?
To create exceptional experiences, we need to understand what customers want. We do this by listening to their feedback and insights. Surveys, interviews, and social media help us gather important information.
By genuinely hearing our customers, we learn their needs and desires. This knowledge guides us to provide exceptional field service.
Strive to build a customer-centric culture
Building a customer-centric culture within an organization is crucial for delivering exceptional field service experience. Service providers can cultivate lasting relationships and drive customer engagement by aligning internal processes with customer needs and fostering a customer-focused mindset. Here's how:
Building a customer-focused attitude within the organization
While service providers often believe they deliver exceptional customer experiences, the reality may differ according to customer perceptions. A survey conducted by Bain & Company shed light on this disparity, revealing that 80% of businesses perceive themselves as providing excellent service. However, a mere 8% of customers share the same sentiment, as depicted in the graph below.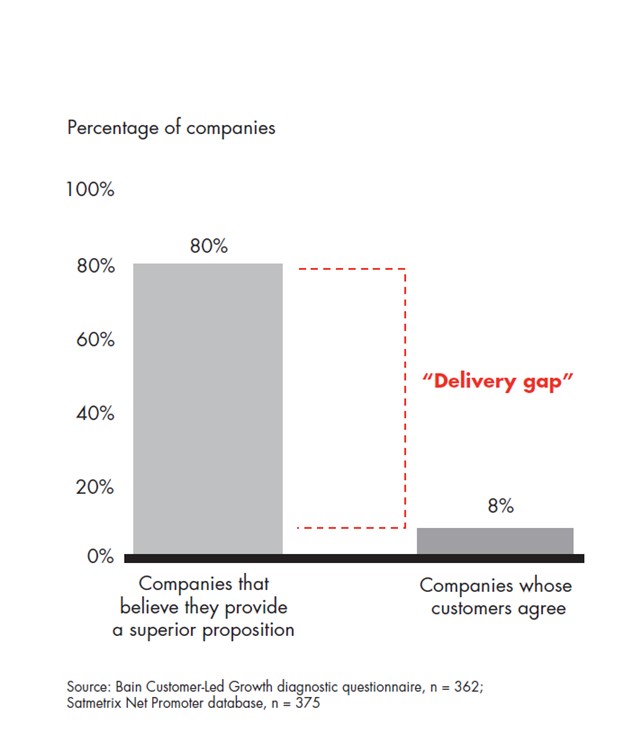 Source: Bain & Company
This notable discrepancy emphasizes the importance for service providers to enhance their understanding of customer expectations and take proactive steps to narrow the perception gap. By doing so, they can effectively ensure genuine customer satisfaction and deliver experiences that align with customer needs and preferences.
So, these service providers must listen to their customers, understand what they like, and make changes if needed. This way, they can make customers happy and provide the best service possible. There are two ways you can ensure you build a customer-focused mindset:
Training and empowering employees:
Field service providers teach their workers how to do a good job. They train them on using tools and talking to customers. When workers feel confident, they can make customers happy with excellent service.
Action item: Implement comprehensive training programs covering technical and soft skills for employees. Empower employees by granting decision-making authority and autonomy. Provide regular feedback and performance evaluations, and promote a culture of continuous learning.
Encouraging empathy and active listening:
When employees listen and care about how customers feel, they can understand their problems better. This helps them find helpful solutions and make customers happy.
As highlighted by A.G. Lafley, ex-CEO of Procter & Gamble. Lafley stated, "I am a broken record when it comes to saying, 'We have to focus on the consumer.'…I don't think the answers are just in the numbers. You have to get out and look."
This quote highlights the importance of prioritizing customers over more than just numbers. Actively listen, empathize, and observe their needs. Use feedback to improve and ensure customer satisfaction.
Align internal processes with customer needs
Aligning internal processes with customer needs in field service involves implementing strategies such as streamlining communication channels, enhancing transparency and accountability, and understanding the customer journey. We explore more about them below.
Streamlining communication channels:
Simplifying and integrating communication channels involves various strategies to ensure a seamless and customer-centric experience. This includes aligning the front-stage channels, on-stage activities, and back-stage capabilities.
| Parameters | Description |
| --- | --- |
| Front-stage Channels | Streamline communication channels such as phone, email, live chat, and social media for customer interactions. |
| On-stage Activities | Synchronize processes and activities that directly impact the customer experience, including employee training and standard operating procedures. |
| Back-stage Capabilities | Align internal processes, systems, and resources that support the customer experience behind the scenes, such as inventory management and supply chains. |
Enhancing transparency and accountability:
As the CEO of FieldCircle, Yogesh Choudhary, says, "Being transparent means being honest and open. In field service, it means showing and telling customers everything they need to know. When we're transparent, we build trust and make sure everyone is happy and involved."
When service providers are transparent, it means they are honest and show everything to their customers. This helps them trust the service providers and have a good relationship. It also helps the service providers get better and do a good job all the time.
Leveraging Technology for Enhanced Engagement
Using technology in field service can make customers happier. However, As Jeremy Julian, an expert in the field, points out, "Technology for technology's sake is worthless. Once you've defined who your consumer is and what your brand is, that's when you start to layer on technology. Ultimately, it's all about the experience and making sure the customers have the experience they're expecting."
We will explore leveraging technology for enhanced engagement, focusing on two key strategies: utilizing mobile apps and self-service portals and implementing customer relationship management (CRM) systems.
Mobile apps and self-service portals
Using mobile apps and websites can make it easier for customers to get help when they have a problem. Around 71% of customers like using these apps to solve their problems as per American Express study. It's important for companies to have these special apps and websites so that customers can get help quickly and easily.
Field service mobile apps and self-service portals also give customers easy access to information, services, and help. They can use these digital tools to check out products, buy things, track orders, and get assistance when they need it. By having these options, customers don't have to rely on calling or emailing for help all the time.
They can find answers and solutions on their own, at their own speed. It makes things more convenient for customers and gives them more control over their interactions with businesses.
Let's take a detailed look at this through the table below that summarizes the benefits of both self-service portals and mobile apps: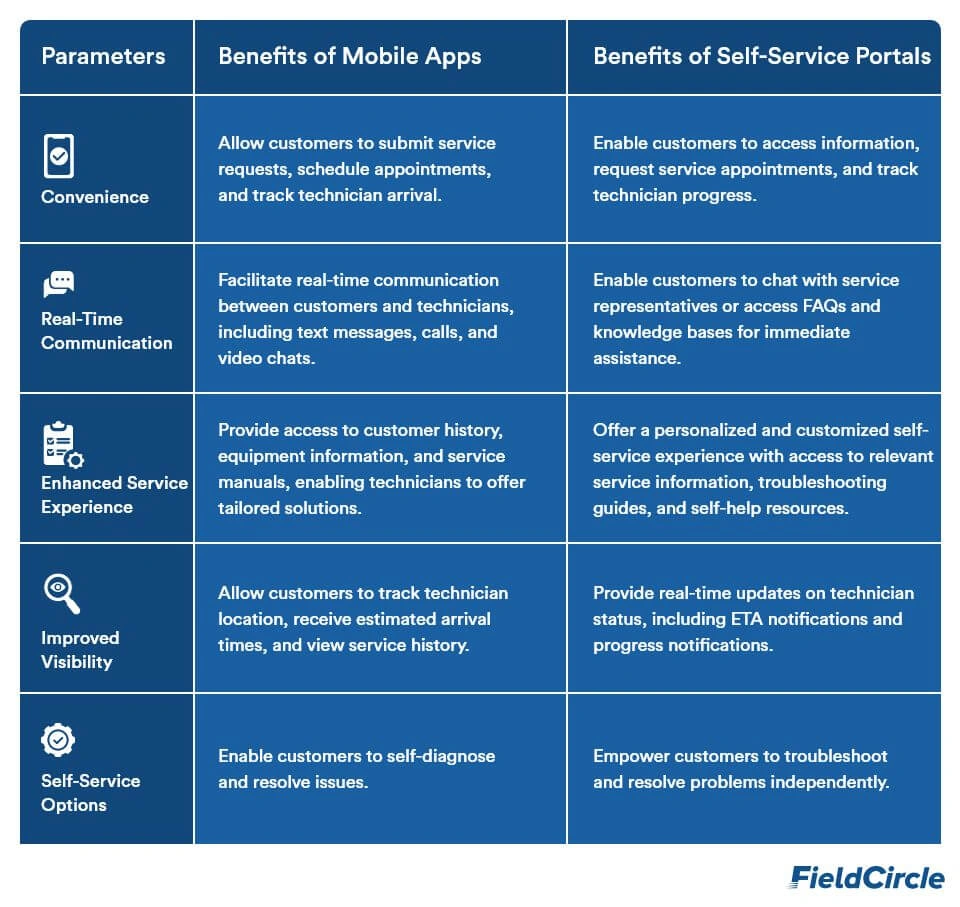 These benefits highlight the advantages of a self-service portal and a good field service app in enhancing customer engagement and improving the overall field service experience.
Customer relationship management (CRM) systems
Field service providers use special systems to keep track of important information about their customers. This helps them provide better service and make customers feel special through two major features:
Tracking customer preferences and history: Service providers store what customers like and need, such as equipment or communication preferences.
Personalizing service based on CRM data: Using this information, service providers provide tailored service that makes customers feel special and meets their specific needs.
Engaging Through Proactive Communication
In the field service industry, effective communication is crucial in driving customer engagement and satisfaction. By establishing clear and timely communication channels, field service providers can proactively connect with their customers and provide a seamless experience.
Establishing clear and timely communication channels
Establishing clear and timely communication channels is vital for driving customer engagement in field service. Customers expect prompt and effective communication throughout their service experience, from initial contact to issue resolution.
According to a SuperOffice study, nearly half of all customers (46%) expect companies to respond to their messages in less than four hours. This statistic underscores the importance of timely communication in meeting customer expectations. Field service organizations need to prioritize responsiveness and ensure that customer inquiries and messages are addressed promptly.
By meeting these expectations and providing timely responses, field service organizations can effectively engage customers and demonstrate their commitment to customer satisfaction. Effective communication not only resolves issues promptly but also builds trust, fosters long-term relationships, and positively impacts brand perception.
Promoting proactive customer engagement initiatives
Being proactive is essential for field service providers to enhance customer service experiences. Proactiveness helps in responding faster to requests and sustaining relationships with customers.
Action Item: Implement personalized follow-ups, surveys, and loyalty programs.
Send personalized follow-up messages: Thank customers for their business and ask if they're happy. This shows you care and want to get better.
Use customer surveys: Ask customers how they feel about the service. Learn from their feedback to improve and fix any problems.
Have loyalty programs: Give rewards to loyal customers like discounts or special treatment. This makes them feel appreciated and keeps them coming back.
By implementing these proactive customer engagement initiatives, field service providers can enhance customer relationships, improve service quality, and foster long-term loyalty.
Conclusion
Field service customer engagement is more than just a buzzword; it's the lifeline of your business. Understanding its importance can make a world of difference. By prioritizing customer engagement, you show your clients that their satisfaction matters.
It's about creating connections, going the extra mile, and providing a personalized experience. Remember, it's not just about completing a job; it's about leaving a lasting impression. Remember that every interaction is an opportunity to build trust and loyalty.
Listen attentively, be responsive, and consistently deliver exceptional service. By keeping customer engagement top of mind, you'll forge meaningful relationships that drive your business forward.
Book a Personalized Demo
Learn how your businesses can use FieldCircle to achieve more efficient, transparent, and profitable service operations.
30 Days Free Trial
No Credit Card Required
By submitting your details, you agree that we may contact you by call, email, and SMS and that you have read our terms of use and privacy policy.