CMMS Software for Maintenance Excellence
Effectively align assets, workforce, and operations to lower the service operations cost and maximize equipment uptime with FieldCircle CMMS software.
30 Days Free Trial
No Credit Card Required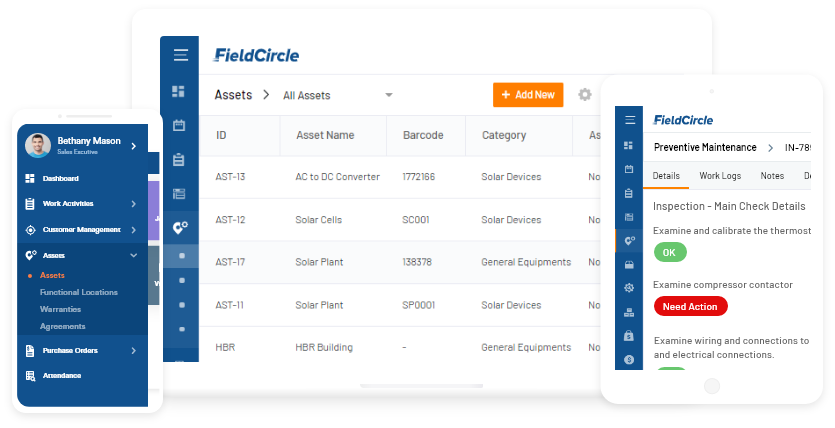 Boost Operational Resilience and Drive Productivity
FieldCircle facilitates a holistic approach by customizing its CMMS solution to a customer's needs and by handholding them throughout predictive maintenance software development and integration within the company lifecycle. Followed is the methodology we follow:
Digitize Operations, Reduce Downtimes
Standardized digital workflow to speed up turnaround time
Schedule preventive maintenance tasks on-the-go, monitor progress, and make adjustments
Collect and manage asset and repair data to accelerate problem resolution
Improve Visibility and Team Productivity
Get stock and parts visibility across all inventory locations
Centralize repair/inspection data for instant access to information
Track and monitor team activities in real-time to drive productivity
Data Insight to Make More Informed Decisions
Set up performance benchmark and generate on-demand reports
Get intuitive data displays of asset performance on multiple criteria
Use actionable insight to optimize operations and manage resources efficiently
CMMS Software Features that Empower You for More Efficient Operations
FieldCircle is a computerized maintenance management software (CMMS) solution that could assist businesses worldwide to manage enterprise assets, streamline workflows, track inventory and schedule preventive asset-health checkup and take proactive actions based on automated triggers.
Computerized Maintenance Management with FieldCircle
No more reactive maintenance. With our advanced CMMS software, you can easily adopt a proactive approach to maintenance. You can track work orders, generate precise and well-organized reports, and track and provide preventive maintenance solution to your customers. Our uniquely designed top CMMS software for small business not only enhance asset lifespan but also help organizations reduce cost and plug profit leakage.
Simplify Maintenance Process with Our CMMS Maintenance Software
Our CMMS app—FieldCircle is easy-to-use. As we have experience of working across industries, we understand the workforce capabilities very well. Our designers and developers have built the CMMS software to be used by field technicians of diverse domains, after carefully analyzing their field requirements with an objective to simplify the maintenance process.
Plan and Manage Maintenance with Our Advanced Computerized Maintenance Management System Software
From enabling you to respond to on-demand work orders instantly to performing a routine inspection of assets, our CMMS Maintenance Software adds to your potential in the most prolific way. The best CMMS software automates the entire work order thus allowing the maintenance manager to select the equipment, check recorded asset history, assign technicians with the right skill set to perform the task, schedule appointments, and get a notification when the task is done.
Read More
On-the-go Maintenance Management with Our Mobile CMMS app
FieldCircle CMMS mobile app is available on both iOS and Android (smartphones and tablets) and provides on the go access of relevant modules to respective roles and stakeholders.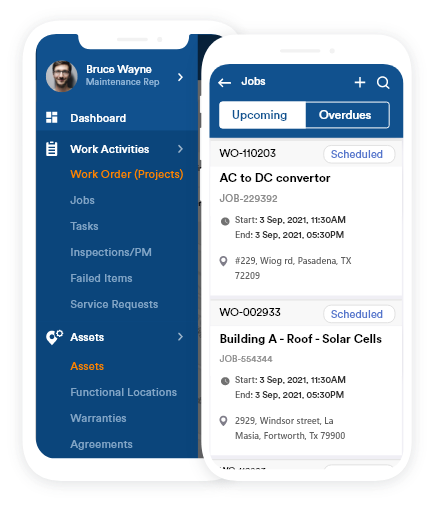 Make technicians arrive fully informed and properly equipped with mobile access to schedule and job details
Get round-the-clock access to historical data about asset, customer, and payment in-the-field
Locate document quickly and safely from any device
Save time on validation and approval processes with pre-approved automated templates
Trusted by customers across the globe
Why they chose us, in their words:
Highly configurable to our business processes
Simple and easy to use interface
Complete hand-holding in onboarding and importing data
Proactive and humble team that cares for our success
Blogs
Our featured blogs sharing insights on field force automation, applicability and latest trends in industries
+Show blog
Book a personalized demo
Learn how other similar businesses use FieldCircle to win more customers and make their service team more productive.
30 Days Free Trial
No Credit Card Required
By submitting your details, you agree that we may contact you by call, email, and SMS and that you have read our terms of use and privacy policy.
FAQ
cmms software, computerized maintenance management system, best cmms software, computerized maintenance management software, computerized maintenance management system software, top cmms software
Do I even need a CMMS Software?
CMMS software, also known as Computerized Maintenance Management System, provides you a platform to manage every aspect of maintenance processes on a single platform. You get deep visibility into everything happening in your business so that you can make more informed decisions. And since every activity is recorded on the platform, it improves collaboration. Your teams can take quick action on service requests, measure performance, and improve planning and management effectiveness.
How does FieldCircle CMMS software help my business?
FieldCircle CMMS software has all the modules that support planning, management, and monitoring of asset service operations on a single platform. From data collection to data exchange between fieldforce and back-office teams, FieldCircle is power-packed with features and integration support to improve your operational performance, maximize technician productivity, and enhance profitability.
Why should we choose FieldCircle over other CMMS software?
FieldCircle is highly configurable to your workflows. You could absolutely at all the levels determine how your teams should operate to achieve maximum productivity.
Does FieldCircle have recurring jobs feature-most important aspects of CMMS software?
Yes, it is very easy to set a job to recur in FieldCircle. Set up preferences for once in the software and the schedule would reflect in the technician's calendar.
Does your CMMS software integrate/sync with QuickBooks?
Yes, QuickBook integration is bi-directional in FieldCircle. You could export and import data between FieldCircle and QuickBook to keep your fieldforce and accounts teams in sync.
Does your CMMS software have integration or APIs available?
Yes, we provide full integration support for all the popular systems and applications to sync and access your data across platforms and devices.
What time is the support team of FieldCircle available?
We are available from 6:00 am ET- 6:00 pm ET.