Maintenance Excellence with top-rated
CMMS Software
Maximize maintenance efficiency, and reduce downtime and maintenance costs with FieldCircle's CMMS software.
No Credit Card Required
30 Days Free Trial
No Credit Card Required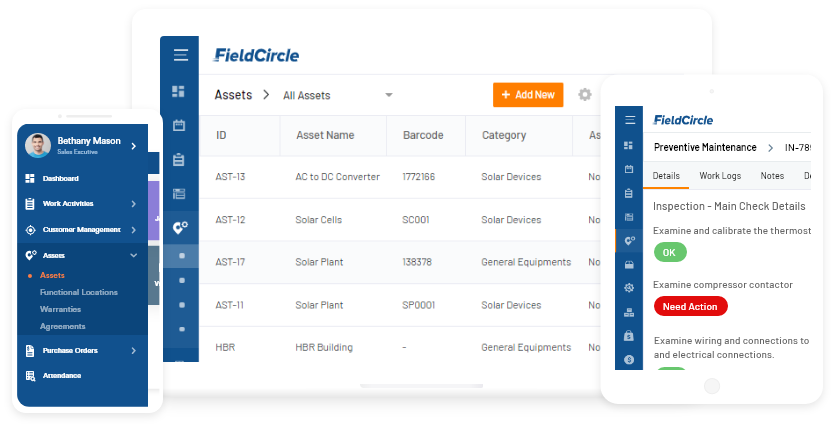 Empower Your Maintenance Operations with Feature-rich CMMS Software
From manage equipment and assets to scheduling PM, Work order and inspections and taking proactive actions based on automated triggers to managing vendors and PO- One comprehensive CMMS software solution to manage it all.
Elevate Your Maintenance Operations with Auto-mode CMMS Program
Manage your asset maintenance operations in a more proactive and predictive way using FieldCircle- a CMMS maintenance software configurable to your business needs.
Digitize Operations, Reduce Downtimes
Standardized digital workflow to speed up turnaround time
Schedule preventive maintenance tasks on-the-go, monitor progress, and make adjustments
Collect and manage asset and repair data to accelerate problem resolution
Improve Visibility and Team Productivity
Get stock and parts visibility across all inventory locations
Centralize repair/inspection data for instant access to information
Track and monitor team activities in real-time to drive productivity
Data Insight to Make More Informed Decisions
Set up performance benchmark and generate on-demand reports
Get intuitive data displays of asset performance on multiple criteria
Use actionable insight to optimize operations and manage resources efficiently
FieldCircle's CMMS Software Solution
No more reactive maintenance! With our advanced Computerized Maintenance Management Software, you can easily adopt a proactive approach to maintenance. Create preventive maintenance schedules, generate work orders, track spares and inventory and generate precise and well-organized reports. Our feature-rich, best CMMS software for small business not only enhance asset lifespan but also help organizations reduce cost and plug profit leakage.
Simplify Maintenance Process with Our CMMS Maintenance Software
Our CMMS app—FieldCircle is an easy-to-use, intuitive cmms app. As we have experience working across industries, we understand the workforce capabilities very well. Our designers and developers have built the CMMS software to be used by technicians of diverse domains, after carefully analyzing their field requirements with the objective to simplify the maintenance process.
Plan and Manage Maintenance with Our Advanced CMMS System Software
From enabling you to respond to on-demand work orders instantly to performing a routine inspection of assets, our Computerized maintenance management system adds to your potential in the most prolific way. The best-in-class CMMS software automates the entire work order thus allowing the maintenance manager to select the equipment, check recorded asset history, assign technicians with the right skill set to perform the task, schedule appointments, and get a notification when the task is done.
Read More
On-the-go Operations Management with CMMS App
Drive operational effectiveness and achieve greater efficiency with iOS and Android CMMS mobile app.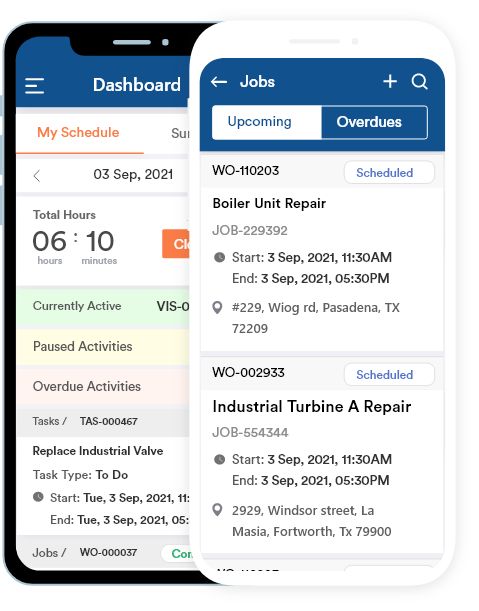 Make technicians arrive fully informed and properly equipped with mobile access to schedule and job details
Get round-the-clock access to historical data about assets, customers, and payments in-the-field
Locate document quickly and safely from any device
Save time on validation and approval processes with pre-approved automated templates
Trusted by customers across the globe
Businesses from various domains like OEMs, manufacturers, and facilities rely on our top-rated CMMS maintenance software to manage their maintenance operations more efficiently and profitably.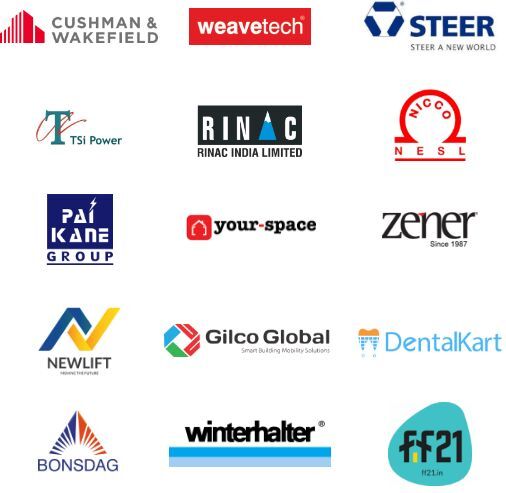 Why they chose us, in their words:
Highly configurable to our business processes
Simple and easy to use interface
Complete hand-holding in onboarding and importing data
Proactive and humble team that cares for our success
Blogs
Our featured blogs sharing insights on field force automation, applicability and latest trends in industries
+Show blog
Book a Personalized Demo
Learn how your businesses can use FieldCircle to achieve more efficient, transparent, and profitable service operations.
30 Days Free Trial
No Credit Card Required
By submitting your details, you agree that we may contact you by call, email, and SMS and that you have read our terms of use and privacy policy.
FAQ
Do I even need a CMMS Software?
CMMS software, provides you with a system to manage all the aspects of maintenance processes on a single platform. You get deep visibility into everything happening in your business so that you can make more informed decisions. And since every activity is recorded on the platform, it improves collaboration. Your teams can take quick action on service requests, measure performance, and improve planning and overall maintenance effectiveness.
How does FieldCircle CMMS software help my business?
FieldCircle Computerized maintenance management system is affordable and has all the modules that support planning, management, and monitoring of asset service operations on a single platform. From data collection to data exchange between fieldforce and back-office teams, FieldCircle is power-packed with features and integration support to improve your operational performance, maximize technician productivity, and enhance profitability.
Why should we choose FieldCircle over other CMMS software?
FieldCircle is highly configurable to your workflows. You could absolutely at all levels determine how your teams should operate to achieve maximum productivity.
Does FieldCircle have a recurring jobs feature- the most important aspect of CMMS software?
Yes, it is very easy to set a job to recur in FieldCircle. Set up preferences for once in the software and the schedule would reflect in the technician's calendar.
Does your CMMS software integrate/sync with QuickBooks?
Yes, QuickBook integration is bi-directional in FieldCircle. You could export and import data between FieldCircle and QuickBook to keep your maintenance and accounts teams in sync.
Does your CMMS software have integration or APIs available?
Yes, we provide full integration support for all the popular systems and applications to sync and access your data across platforms and devices.
What time is the support team of FieldCircle available?
We are available from 6:00 am ET- 6:00 pm ET.
How can CMMS software help your business?
CMMS System helps you plan, track, and manage maintenance operations with transparency and efficiency. A CMMS software streamlines work order management, automates preventive maintenance scheduling, and enables measuring performance metrics and maintenance KPIs.
The key benefits of CMMS software are:
Effective planning and work management: Preventive maintenance and break-down requests planning, team scheduling and work order management
Improved wrench time and more productive maintenance team
More efficient maintenance operations
360-degree visibility into your daily operations
More streamlined spare sourcing and spare parts management
Vendor management, purchase requisition and PO management
Improved asset/equipment maintenance operations profitability
Fewer breakdown and more revenue opportunity
CMMS program facilitates a centralized view of data associated with assets, materials, and resources. You can visualize data in multiple formats in CMMS to better understand overall equipment effectiveness (OEE) and operational activities to make informed decisions about increasing physical asset availability, enhancing team productivity, and reducing operations costs.
What are the common features of CMMS software?
Work order management: One of the primary features of a CMMS, work order enables maintenance teams to visualize the entire work order cycle on a centralized platform and pull up any work order on their devices based on number, description, or personnel assigned.
Asset/Equipment: CMMS systems generally have an enterprise asset management module to organize information about assets in various hierarchies, provide insight into asset conditions, locations, and channels, and enable granular reporting with KPIs.
Preventive maintenance and Work order management: As a solution, CMMS triggers preventive maintenance work orders based on calendar-based interval or usage-based events and automates PM scheduling, sending push and email notifications, maintaining asset and maintenance logs, and sequencing of PM work orders.
Mobile CMMS app: Enables maintenance teams to access CMMS data via mobile app from Android or iOS devices, view assigned jobs and PM schedules, receive information via. email and push notifications, and access knowledge base, service manuals, historical data, and other documentation associated with the asset and repair job in the field.
Spare parts inventory management: Enable automation to submit, approve, and send POs, RFQs, and RFPs, set minimum stock quantities and receive alerts and notifications when stock levels reach the set threshold, add and update spare parts, receipts, and POs from work orders and cycle counts, and manage and locate inventory and spare parts at different sites.
Resource and team management: Keep a list of maintenance technicians, categorize them by territory or crew, manage their shifts, and timesheet with CMMS software.
Reporting, analysis, and auditing: Create custom KPIs, automatically generate and update reports based on metrics, and view and download reports in Excel or PDF formats for analysis and audit purposes.
What are the benefits of CMMS software?
CMMS systems are used to manage maintenance, repair, and operations (MRO) in manufacturing, oil and gas, energy, construction, transportation, HVAC, and other asset-centric industries. CMMS solutions expand to various segments of asset management including condition monitoring, asset lifecycle management, asset performance management (APM), and enterprise asset management (EAM). The benefits of CMMS include:
Increased visibility: CMMS centralizes maintenance, team, and inventory information to facilitate a 360-degree visibility into the utilization of critical resources such as assets and people, providing a bigger picture of what is happening in the business within a time frame.
Standardized maintenance operations: CMMS enables digitization of workflow aligning processes, procedures, and resources, which helps in achieving clarity and consistency in the maintenance operations and improves the adoption of guidelines and best practices.
Extend asset lifespan: CMMS helps asset managers keep all information about assets at different sites in one centralized platform, perform condition monitoring, and schedule preventive maintenance visits to prevent unplanned breakdown.
Optimize schedules: CMMS System enables maintenance managers to use asset utilization data to fine-tune preventive maintenance scheduling, which reduces the wastage of resources and increases overall equipment effectiveness.
Control costs: CMMS helps in controlling cost in 2 ways: the first is by providing a centralized view of the resources to visualize every aspect of the process, allowing you to plan more effectively to reduce overspending; the second is through automation of tasks, which increases efficiencies, thus allowing teams to do more in less time leading to time and cost both saved.
Maximize workforce productivity: Automation and standardization of processes achieved through CMMS software help in removing redundant tasks from the processes, enabling teams to collaborate more effectively to prioritize tasks and accelerate time to completion.
Increase compliance: Enforcing compliance with CMMS becomes easy as processes are standardized and digitally documented for on-time reporting. This also facilitates 24X7 accessibility to warranty, service manuals, and contracts for fact-checking and the next-step support.
Improve health and safety standards: CMMS promotes a safer work environment by allowing technicians to pull safety checklists from the system, track guidelines, and create safety reports.
Typical cons/disadvantages of using CMMS software?
A CMMS software that provides high visibility generates accurate insight, enables automation, and leads to significant savings on cost requires careful considerations of processes, people, and tools for successful implementation, falling short of which the software fails to deliver its full benefits. Few factors that may impede CMMS deliver its benefits are:
Data integration: Accuracy of insight generated from the CMMS system depends on how well the data from disparate sources is combined into a single dataset. Often poor planning and incorrect methods for determining the right duration and frequency of data collection, formats, and outdated and duplicate data in the system lead to poor insight.
Infrastructure requirements: Not giving due attention to factors such as security, scalability, and customization from a long-term technical standpoint since the beginning might lead to CMMS project failure.
Implementation: A key factor of successful implementation is ensuring the right mix of quantity and quality of resources involved in the project, and that project is treated at all levels as an operational project and not an IT project. Many make the mistake of overwhelming themselves with the latest technology instead of focusing on how the solution will resolve their business problem.
Onboarding and training: Often objectives of onboarding are not clearly defined, as a result, the collaborations between departments that are required for successful implementation goes missing. Similarly, the absence of key users in onboarding sessions may cause delay and data integration problems.
Change management programs: The problem with the change management program is that many top-level managers are not ready to accept resistance. Since there is no acceptance, they lack the strategy to deal with it. Resistance to change is real and proper adoption of CMMS software requires serious behavior changes among users.
Key criteria/factors to consider while buying CMMS software?
Industry: A CMMS designed to manage the maintenance operations in the oil & gas industry may not deliver the same value to the heavy electrical industry. Start off your search for a CMMS with solutions that are specific to your industry; one that is adaptable to your business workflow.
MoSCoW Prioritization: Use the MoSCoW method to prioritize your requirements. The acronym represents four categories of requirement considerations: must-have, should-have, could-have, and will not have right now or wishes.
User experience: Features that are important for top-level managers might not provide much value to the service technicians in the field. However, it is those technicians that collect critical data into the software and make it worth for analytics tools to generate insight out of them. When it comes to user experience, think from the perspective of a technician in the field and give importance to their convenience as well.
Technology stack: It is not necessary for you to choose the most recent technology stack for your business. You may choose basic but scalable with a large community, as IT support would be easily available for you.
Top CMMS software trends for this decade?
IIoT: The combination of the Industrial Internet of Things and CMMS is the new face of maintenance service. Of late would see increased advancement in the interconnectivity of physical assets embedded with sensors, software, actuators, and network connectivity to enable smart machines and real-time analytics, helping companies to pick on value drains, productivity gaps, and profit leakages.
AI: AI may take a leap from narrow intelligence and would minimize human interventions to a great extent. Even if it may not improve its "learning" as predicted, certainly, it will at least improve to speed up data collection from sensors, monitor anomalies, spot patterns, and report for corrective actions.
API: APIs will further transform a CMMS into a fully unified system by facilitating back and forth communication between software systems within the organization.
Digital Twins: While IoT facilitates data visibility, the FieldCircle team believes that every asset/equipment in the future will be smart assets and most of them will have a digital replica. As more and more machines start becoming smarter, their digital twins and applications will be widely adopted.