CMMS Software
A solution that Drives Productivity
FieldCircle is a powerful computerized maintenance management software (CMMS) that enables organizations to manage everything related to maintenance tasks in one place, on a digital platform.
30 Days Free Trial
No Credit Card Required
How we approach
FieldCircle facilitates a holistic approach by customizing its CMMS solution to a customer's needs and by handholding them throughout predictive maintenance software development and integration within the company lifecycle. Followed is the methodology we follow:
Identify & Define
the problem
Devise
Solution
Hardware
Selection
Customize
FieldCircle
Test and
Implement
Support
and Improve
A CMMS Software that Delivers
FieldCircle is a computerized maintenance management software (CMMS) solution that could assist businesses worldwide to manage enterprise assets, streamline workflows, track inventory and schedule preventive asset-health checkup and take proactive actions based on automated triggers.
Consult
Develop
Implement & Evaluate
Problem Identification and Definition
FieldCircle collaborates to understand and evaluate the problem/pain areas and their impact on business, tech, and customer perspective. Accordingly the solution is devised and mapped with FieldCircle's predictive maintenance software.
Future Ready

Devising solution to derive long-term solution

Business Centric

Evaluate business impact, and define and align IoT strategy

Customer Centric

Identifying customer problems and solution mapping while focusing on customer experience and cost factors
Process Deliverables
Problem (process issues/pain areas) identification and definition
Industry best practices and solution mapping
Project roadmap with respect to IoT role, hardware evaluation and expected outcomes
MVP roadmap to get started with FieldCircle
Customize and Implement Solution
IoTize the machine/assets, customize FieldCircle to generate and evaluate data and integrate business processes to deliver meaningful, actionable insights.
IoTize

Empower assets to sense, network and communicate the data between devices and the Cloud.

Customize FieldCircle

Customize Cloud powered FieldCircle to receive, uniformalize and analysis of data.

Evaluate

Build and integrate apps and analytics to evaluate the data to capture business insight and refine assets.
Process Deliverables
IoTization i.e. review and seletion of hardware, connectivity, security and communication
Existing platform customization to store data and manage devices
Application development for data visualization and analytics
Customize the Solution and Implement Requirements
Implement the solution, evaluate performance and train all the stakeholders to supports IoT initiatives across organization processes.
Device and Platform

Our support team ensures smooth operations with maintenance services for device and platform management. They are availabel for bug fixes, upgrades, demo and smoother transformation. Data

Data Analysis and Evaluation

We assist in data accuracy and performance evaluation, and support in data clean-up, monitoring and reporting.
Process Deliverables
Review, evaluate and report.
Identify risk patterns and mitigate.
Refine and clean data.
Train all the stakeholders on how to manage the data.
Support and maintenance services.
Computerized Maintenance Management with FieldCircle
No more reactive maintenance. With our advanced CMMS software, you can easily adopt a proactive approach to maintenance. You can track work orders, generate precise and well-organized reports, and track and provide preventive maintenance solution to your customers. Our uniquely designed top CMMS software for small business not only enhance asset lifespan but also help organizations reduce cost and plug profit leakage.
Simplify Maintenance Process with Our CMMS Maintenance Software
Our CMMS app—FieldCircle is easy-to-use. As we have experience of working across industries, we understand the workforce capabilities very well. Our designers and developers have built the CMMS software to be used by field technicians of diverse domains, after carefully analyzing their field requirements with an objective to simplify the maintenance process.
Plan and Manage Maintenance with Our Advanced Computerized Maintenance Management System Software
From enabling you to respond to on-demand work orders instantly to performing a routine inspection of assets, our CMMS Maintenance Software adds to your potential in the most prolific way. The best CMMS software automates the entire work order thus allowing the maintenance manager to select the equipment, check recorded asset history, assign technicians with the right skill set to perform the task, schedule appointments, and get a notification when the task is done.
Read More
CMMS Mobile App Solution
FieldCircle CMMS mobile app is available on both iOS and Android (smartphones and tablets) and provides on the go access of relevant modules to respective roles and stakeholders.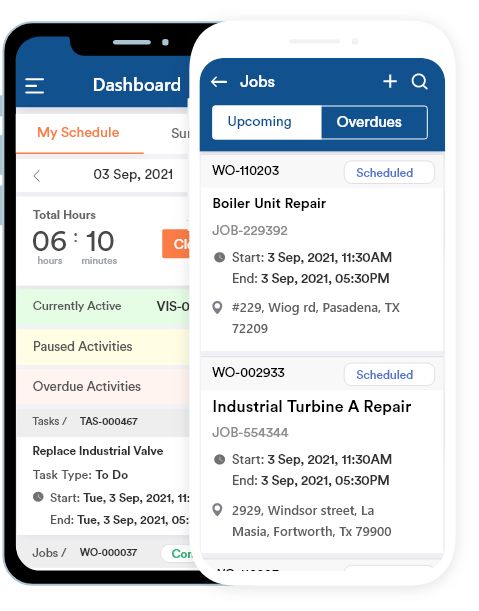 Controlled Access

Allowing employees to perform their field /non-field tasks on-the-go, on-time and smartly.

Geo-tagging

Geo-tagged clock-in/clock-out, work-orders / tasks etc.

Data Submission

Paperless submission of timesheets, job reports, payment info etc.

Collaboration

Instant messaging and alerts / notifications for various activities.

Online and offline support

App saves all the data when in remote or low reception areas and auto-syncs while having good connectivity; ensuring data security and integrity.
Why Choose FieldCircle
With its user-friendly web and mobile portal, you could eliminate all the manual work and move to paperless reporting via managing customers, estimation, employee scheduling, invoicing, analytics. It's all in there and much more.
All-in-one solution at your fingertips
Improved efficiency and revenue
Data security and protection
24/7 support and maintenance
Book a personalized demo
Learn how other similar businesses use FieldCircle to win more customers and make their service team more productive.
30 Days Free Trial
No Credit Card Required
By submitting your details, you agree that we may contact you by call, email, and SMS and that you have read our terms of use and privacy policy.
FAQ
cmms software, computerized maintenance management system, best cmms software, computerized maintenance management software, computerized maintenance management system software, top cmms software
Do I even need a CMMS Software?
CMMS software, also known as Computerized Maintenance Management System, provides you a platform to manage every aspect of maintenance processes on a single platform. You get deep visibility into everything happening in your business so that you can make more informed decisions. And since every activity is recorded on the platform, it improves collaboration. Your teams can take quick action on service requests, measure performance, and improve planning and management effectiveness.
How does FieldCircle CMMS software help my business?
FieldCircle CMMS software has all the modules that support planning, management, and monitoring of asset service operations on a single platform. From data collection to data exchange between fieldforce and back-office teams, FieldCircle is power-packed with features and integration support to improve your operational performance, maximize technician productivity, and enhance profitability.
Why should we choose FieldCircle over other CMMS software?
FieldCircle is highly configurable to your workflows. You could absolutely at all the levels determine how your teams should operate to achieve maximum productivity.
Does FieldCircle have recurring jobs feature-most important aspects of CMMS software?
Yes, it is very easy to set a job to recur in FieldCircle. Set up preferences for once in the software and the schedule would reflect in the technician's calendar.
Does your CMMS software integrate/sync with QuickBooks?
Yes, QuickBook integration is bi-directional in FieldCircle. You could export and import data between FieldCircle and QuickBook to keep your fieldforce and accounts teams in sync.
Does your CMMS software have integration or APIs available?
Yes, we provide full integration support for all the popular systems and applications to sync and access your data across platforms and devices.
What time is the support team of FieldCircle available?
We are available from 6:00 am ET- 6:00 pm ET.