6 Benefits of Using A Scheduling and Dispatch Software That You Cannot Ignore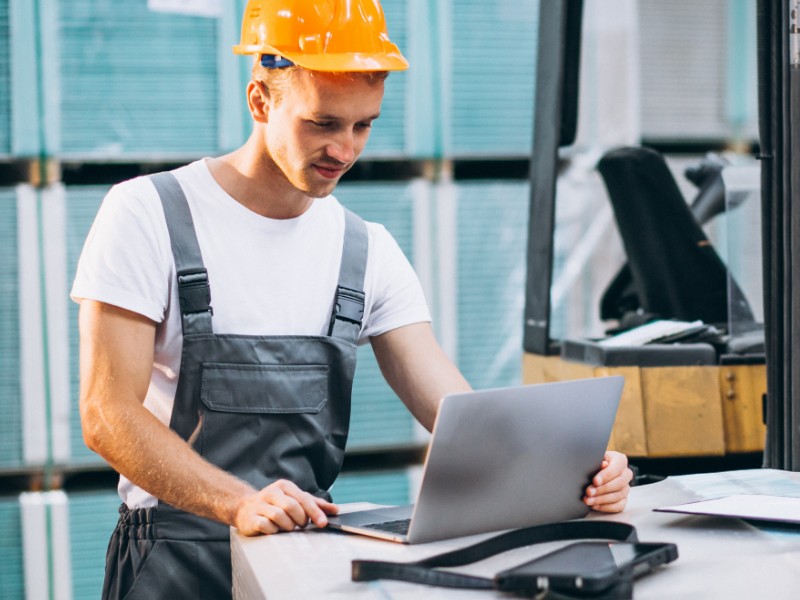 Scheduling in field service operations can sometimes feel like a tricky balancing act, especially when planning tasks and assigning resources. It's a complex process, prone to errors, and can consume a lot of time.
As Mckinsey states "Optimizing schedules is one of the most challenging of all optimization problems. Extreme variability—in workforce types and operations, as well as across sectors and businesses—makes these solutions hard to standardize."
Things can get even worse with any last-minute alterations or unexpected absences that can send this precarious house of cards crashing down, taking your team's morale and productivity with it. It feels like a never-ending cycle that's hard to escape, even for the most seasoned business operators.
Factors such as job stages, crew allocation, demand type, shift type, and mobility are key factors to solving scheduling problems. Culminating in complex mathematical relationships, these can be better accommodated only through a good scheduling and dispatch . The tool can help service business owners eliminate the need for complicated manual planning with automatic, efficient scheduling.
Optimizing the entire workflow, a scheduling plateform offers guaranteed improvement as highlighted by its following major benefits.
No more haunting from conflicts and manual discrepancies
The most common form of impediment to streamlined scheduling , scheduling conflicts can disturb the entire sequence of events. In the long run, these conflicts prove detrimental to productivity and consume time and cost.
Conflicts, however, are more likely to occur where businesses still rely on manual approaches. The process to allocate tasks to technicians without leaving a chance for conflict becomes daunting. In fact, it is always highly unlikely that managers can achieve the objective with a manual process.
Scheduling brings a complete turnaround to the process, helping overcome the most pressing issues associated with conflicts, by
Ensuring that no event overlap ever occurs (No two events are in the same time slot)
Booking slots based on technician availability and task importance
Identifying probable discrepancies that may arise as a result of allocation
Carrying out allocation against unprecedented factors such as backing out by Employee's unexpected absence at the last minute due to sickness, emergency, etc.
The most important question here remains what is it that the software takes into consideration for building conflict-less schedules? Improving the accuracy of scheduling is a continuous process. As a professional vendor, we keep enhancing the capabilities of our scheduling and dispatch by refining the algorithms that make the schedules. These algorithms capture minute elements like travel time, route details, vehicle age, technician expertise, experience, etc. to build conflict-less schedules.
Readiness to respond with confidence
Any service business has a wide spectrum of roles that various technicians lead, which focus on delivering in-time services to customers. The efficiency of the response mechanism matters a lot to keep the response times low. As a hallmark of service quality, response time helps build an image amongst customers.
In his recent study, The Time to Win, Jay Baer, a renowned customer service expert, discusses the impact responsiveness can make on the experience and loyalty of customers towards a business. Baer's findings reveal that two-thirds of customers consider speed as important as the price.
So, if your technician is not able to make it on time, then the implications won't be promising for your business. Conversely, you can set a highly positive impression by starting to use a scheduling and dispatch, which can assist in countless ways, such as:
Assigning tasks to technicians who are closest to the site, considering skills, experience, and suitability to the problem
Prioritizing requests for key tasks
Setting deadlines for technicians to accomplish tasks so that they can swiftly move on to the next one.
Offering buffers to accommodate delays
As three important KPIs viz. First Response Time (FRT), Average Handling Time (AHT), and Ticket resolution time, make the overall service response time, tracking each of these KPIs for various service request categories is important to optimize the overall response time.
The good part is that a scheduling dispatch will give you direct insight into these KPIs. For service categories with higher numbers, you can identify the root cause, initiate steps to optimize processes, and reduce response time.
Conquer routes and navigation with precision
"The shortest distance between two points is a straight line," said Archimedes centuries back. But the shortest distance will not always be a straight line for your field technicians. Imagine them travelling to customer sites in New York, Chicago, or Houston, where there are multiple routes to reach the destination site.
All you need is an opportunity to identify the most cost-effective route, as the words of Thomas Edison summarize: "Good fortune is what happens when opportunity meets with planning." A good field service scheduling software brings fortune and opportunity together by building the most efficient route plans for your field technicians.
Mckinsey in its study reported that smart scheduling reduced job delays per week by a whopping 67% and increased the jobs completed by 6% from 2021 to 2022. A scheduling can make such improvements possible through its various features.
Scheduling dispatch can analyze traffic patterns, road conditions, and other variables to suggest the most efficient routes. As a result, businesses can save fuel costs and reduce vehicle wear and tear by minimizing travel time. So, if your technicians were to drive 15 hours per week or 80 miles, with optimized routes, they would have to travel 12 hours, covering 65 miles. The example signifies how even a modest reduction through route optimization adds significantly to your annual savings.
Technically, the software uses highly complex mathematical models such as a two-level optimization model or time-constrained process network synthesis to develop plans. Supported by the models, the plans improve iteratively until we get the best version.
Serving as a go-to guide for route planning, the tool creates a transportation blueprint where field technicians have the most optimal routes at their disposal. Less travel time results in more service requests, doesn't lead to frustration among technicians and creates a sense of happiness among customers.
Upgrade real-time decision-making standards
"Too often we forget that genius, too, depends upon the data within its reach, that even Archimedes could not have devised Edison's inventions. We also forget that genius is not genius all the time, although it is superior all the time," once mentioned by Ernest Dimnet, the author of The Art of Thinking.
And however smart a scheduling manager might be, he can never be a genius without real-time data.
Is it scheduling that brings the geniuses?
Indeed, yes.
A scheduling and dispatch app paves the way for informed decision-making by providing a holistic view of the staff and operational activities. You can track the current status of work and identify probable scheduling moves, which helps in rightly driving technician movement. Continuous update through live status helps ensure transparency in operations. So, you can make your technicians committed to their work through the program.
A centralized database allows you to extract crucial insights, allowing you to make scheduling decisions quickly and accurately. Using the analytics capabilities of the system, you can easily get real-time insight into:
Current number of technicians working in the field
Overtime status (hours, number of shits, reasons for overtime)
Available technicians who can be utilized to address unexpected requests
Shifts that are suffered due to understaffing/overstaffing
Attendance (presence/absence)
Unlock Seamless Communication and Collaboration
86% of leaders cite lack of collaboration as the top reason why initiatives fail. Field operations cannot fall outside the purview of this fact.
Right communication is the key to perfect collaboration, but surprisingly, this can be hard for many field service businesses. Factors like constant growth, and complex organizational structure that continue to grow more and more complex can make it difficult for managers to ensure that each member is connected.
A scheduling application eliminates the communication gap between managers and technicians as well as amongst technicians. When schedules are changed, technicians receive an alert about the change in shifts or assignments. These schedules are accessible to the team over mobile devices 24/7, which empowers managers to keep the team ever-informed about work changes. In a similar way, technicians can manage their schedule through a dedicated functionality to:
Mention their availability
Bid on available shifts
View shifts that have been scheduled
Show readiness for overtime
Identify tasks that provide early release
Request shift exchanges
Overall, the scheduling and dispatch keeps the entire field staff on the same page, where a transparent view is possible and technicians have the flexibility to communicate.
Sail through Compliance Complexities
Adhering to labor laws and regulations is as important as delivering seamless service. In countries like the USA with a federal structure, each state can frame its own laws for overtime and worker exhaustion, and building schedules that don't violate norms can be ridden with many complexities.
For thousands of workers with various skills and shift schedules, managing the maximum hours worked and consecutive shifts is difficult. As a result, you need an adaptable scheduling to meet your firm's peculiar needs.
A scheduling program tailored to your company's policies assures adherence to the workforce or overtime restrictions and notifies you when overrides or exceptions are necessary.
Here is a case in point: Encountering compliance challenges, energy and petrochemical giant, Shell implemented a scheduling and dispatch system. The tool used smart logic to automate and guarantee adherence to company-driven standards and American Petroleum Institute (API) fatigue management recommendations (RP 755). As a result of the implementation, soon, Shell saw their compliance process getting streamlined, as it could easily adhere to all regulatory requirements.
Conclusion
Unprecedented occurrences such as emergency requests and last-minute calls can spoil your plans and disturb the schedules. In the wake of these challenges, a dispatch and scheduling serves as your trustworthy companion, offering limitless benefits.
So, take time to analyze your current scheduling process and to reengineer it by applying different scheduling features that FieldCircle's Scheduling offers. With us, you can smooth out your scheduling process and speed up service delivery.
Automate Your Scheduling
and Dispatch Process
Increase Profitability
Reduce Costs
Book a Personalized Demo
Learn how your businesses can use FieldCircle to achieve more efficient, transparent, and profitable service operations.
30 Days Free Trial
No Credit Card Required
By submitting your details, you agree that we may contact you by call, email, and SMS and that you have read our terms of use and privacy policy.