Top Sales KPIs Field Sales Leaders Follow to Force Growth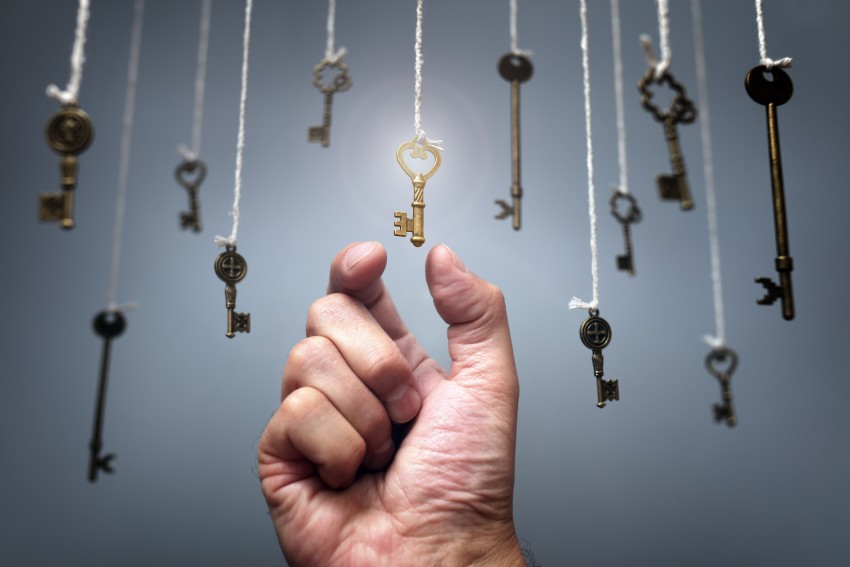 The star performers, the rookies, the efficient but not as effective lot, another that is exactly opposite, and the underperformers—together forms a picture of the sales rep performance profile in any sales team.
No matter how vigilant you are in hiring the best salesman for your team or how extraordinary are your sales leadership skills, creating a picture only with "star performers" is nearly impossible.
But if the product is lying on the shelf for a long time and there are not enough of right opportunities in the sales pipeline, you might need to do some alterations in the picture to supercharge your sales engine and drive growth.
The Beginning—The Place to Start
It begins with some serious introspection within the field sales team—do they even know what the company is trying to achieve and what is expected from them? Seems like starting from the very beginning. After all, it is a "very good place to start."
In the sales world, everything begins at setting clearly defined, measurable, and attainable KPIs (Key Performance Indicators) for every member. KPIs work for field sales representatives in two ways:
It paves the way for them. Representatives get to know about short-term and long-term targets and sales activities that are crucial and define their success in the organization.
With clearly defined metrics, they can measure and validate their performance in the organization. See, every salesman has their own plan—a selling technique that they believe works for them. KPIs enable them to test their "technique."
And as heavyweight boxing champion Mike Tyson has said "Everybody has a plan until they get punched in the mouth;" the result of the test might act as the "punch", which inspires them to get rid of biases and do the job differently.
As for field sales managers, KPIs help them to "gauge performance" and "measure effectiveness" of the sales activities. With the insight in hand, they can make informed decisions, do away with irrelevants, and evolve with new business requirements.
Below are the 13 top Sales KPIs that business leaders find extremely helpful in improving sales team's performance and driving growth:
1. Total Idle Time in the Field
If there is some truth in "time is money" then poor time management is going to give sales reps a run for their money.
Consider this— a typical field sales representative makes 13 trips per week of 25 minutes each. It amounts to 5.4 hours every week in the field. These 5.4 hours are the result of the time spent on extensive planning (approximately 5% of total time) and prospecting (30-40% of their time in a week), excluding the efforts of the marketing team.
Do you know how your field sales reps utilize this time?
Measuring how your field sales reps use these 5.4 hours in a week, including time spent on travelling and the idle time, you can assess their in-the-field productivity levels.
Well, the objective of measuring idle time is to increase the sales productivity, and not micromanaging or nit-picking. Leverage technology and right tools because even 20 minutes saved per day for a team of 40 members means 800 minutes per day or almost 2 reps working extra for you a month. It matters. Matters big time!.
2. Time Spent with Prospects
Have you ever evaluated, typically how much time your reps spent with each prospect? Are you aware of the average time a rep needs to spend with prospects to close sales?
Tracking the meeting duration of outside sales reps not only helps in validation of whether and where the meetings took place but over time, you may identify the sweet spot for meeting duration.
Although meeting time and performance outcome have many variables, including rep's competency and skills, analyzing the patterns of time spent with the prospect may indicate the training or other assistance the rep on the lower side of the sweet spot may need.
As tracking actual time spent with prospects for evaluation is quite difficult, you might need to take help of tools that allow you to track check-in, arrival time at the client location, and check-out time. It may look something like the following: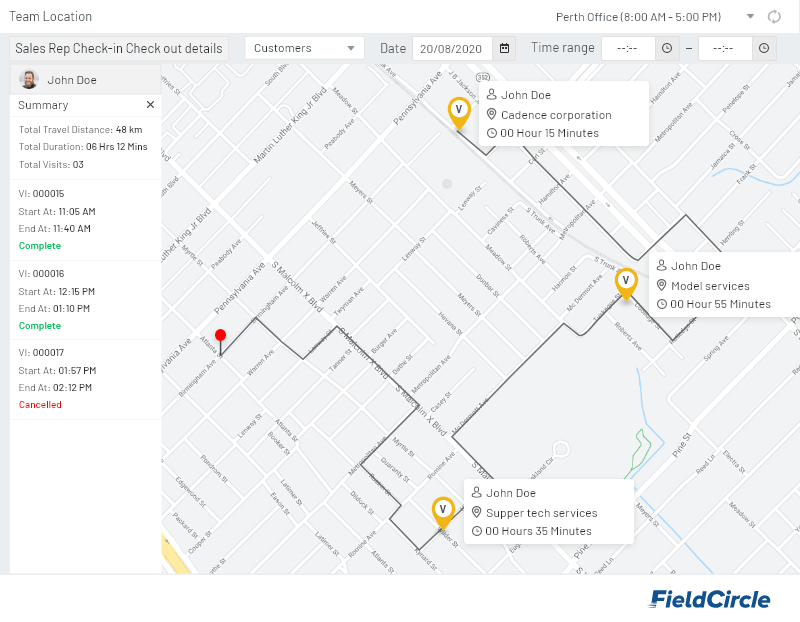 3. Meeting and Appointments in a Day
Do you experience wild fluctuations in sales— that either it is feast or famine?
A possible reason could be missing the ground work i.e. inconsistency in the number of meetings and appointments sales reps perform in a day.
Often the sales reps become laid back and reluctant as they mistake the sales pipeline activity with actual sales and thus reduce their efforts in prospecting.
But when on an average, a company loses its 10% to 30% of customers each year, there should not be any inconsistency in prospecting, regardless of what is happening in the sales pipeline.
This makes the number of meetings and appointments done in a day a straightforward and standard KPI. On one hand, this KPI reflects the reps' competency in effective planning, on the other hand, it pushes for increased conversion.
You can level up the KPI by adding the validation of meetings done in a day. It would bring transparency in the sales process and simultaneously encourage the field sales reps to improve their skills.
4. Cancellation Rates
Here is the kicker: if the prospects do not show after 10 minutes when they were supposed to join the meeting, it is likely that you have been "no-showed."
How often your rep is being no-showed or getting canceled before the meeting?
While the number of meetings performed indicates the competency of the salesman, number of cancelled meetings reflect:
Either the targeting or the type of leads being focused on is not right
The prospect is not being communicated the value of product and services properly
Both the information is crucial to the success of your sales strategy.
Cancellation rate: No. of meetings cancelled/No. of meetings scheduled
This is an important metric and the best way to use it is to figure out the causes of cancellations and find out ways to improve on.
5. Call to Meeting Ratio
Some field sales managers directly measure call-to-conversion ratio. But it may not be a true reflection of the performance because a number of variables impact the conversion rate. And chances are a lot of small details may get overlooked if one is not observant.
If we break down the entire process into small milestones, we could get a closer view of the conversion process crucial to identify red flags.
For example, the number of total calls, the number of positive calls, the number of meetings scheduled, the number of warm responses who asked to connect in the future etc. cumulatively define the quality of the calling practice and may be the foundation of good conversion.
The first and important milestone in the context is the call to meeting ratio. Setting up this as a sales KPI that a specific number of positive and warm calls have to be made in a day that led to meetings would keep field sales reps on their toes.
Call to meeting ratio: No. of positive calls(Meetings)/No. of total calls
It would encourage them to focus on the right persona and build the right story around them to establish a connection with clients on every call.
6. Average Talk Time Per Call
This is again a rarely followed metric. Most sales driven organizations review the total number of calls but only a handful of them track total talk time or time spent on calls with leads.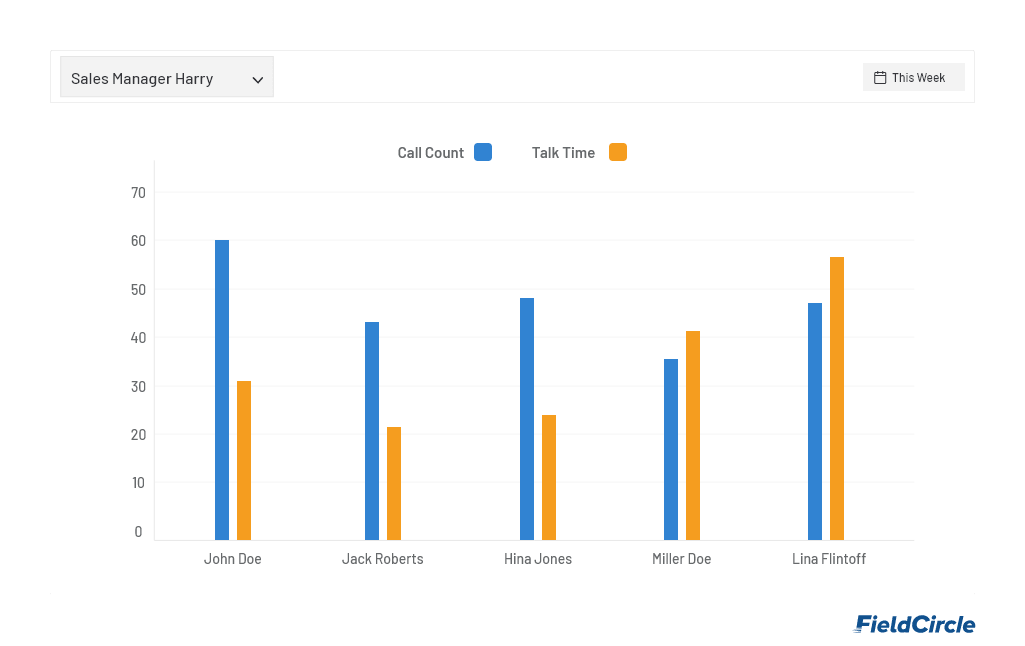 Here it is not necessary that the sales rep who has made maximum calls in a day has also spent much time on the calls or vice-versa. But that does not also mean that the rep who has spent more time on calls has worked efficiently or delivered better results.
This metric becomes valuable when you evaluate others metrics along with it such as call to meeting ratio and meeting to win ratio.
For example, when you start observing this metric, the next thing you observe is what time of the day most positive calls happen and what day in the week it happens. Generally, it varies from industry to industry and thus can pave the way for adopting right calling practices that deliver great results.
7. Meeting to Win Ratio
The final milestone in the call-to-conversion process; it reflects the competency of the sales representative. Field sales managers can further dig into the details to figure out what worked for the sales rep by adding the right context to the data. For example, they can evaluate the related data to identify:
How many calls and meetings led to the conversion
Scope of improvement for the reps and the process
Customer expectations and overall gaps in the pitch used by the sales team
Areas of improvement in the sales meeting best practices followed throughout the organization
Quick fact—50% of won opportunities have two or more meetings. It clearly shows that the more you meet with the prospect, the more likely you are to close the deal.
8. Average Deal Size
Most businesses focus on cracking deals with a specific size but a lack of focus on average deal size almost always makes the reps stay over-excited and focused on deals falling out of that range.
Let's say your average deals are sized at 10 lakh and your reps have a couple of opportunities in their funnel sized 35-40 lakhs, and since we always have a positive bias towards such higher sized deals, your reps will give these deals all the attention.
Result- they end up missing out on smaller deals in the range of 8-12 lakhs.
That's one of the important reasons to measure average deal size as a metric. While it's great to have some good big ticket deals in the pipeline, they should be taken as red flags and never be a distraction that makes you lose focus on your sweet spot.
9. Rejection Rate and Reasons of Rejection
Sales rejections are tough to handle. Even the thought of losing an opportunity is terrifying.
But why did the prospect reject the product?
In order to find the reason, set this as a sales KPI that must be measured and investigated thoroughly.
See if a certain sales representative is falling behind the number, then there is nothing to be worried about. You can provide the training to improve the sales skills or lookout for some stern measures in the context.
But if the average rejection rate for every sales rep is high then it sets alarm bells ringing. A higher rejection rate implies that there is an intrinsic problem in business and its product than in the process and people.
Following are some of the factors you might need to evaluate:
Product-market fit
Persona fit
Sales rep competency or misfit
Competitive disadvantages
Rejection rate: No. of rejections/No. of proposal sent
10. Sales Cadence and the Follow-up Rate
Process has always been given the highest importance by successful leaders across the industries. Setting up the right sales process and ensuring it is being followed is the key contributors to the sales performance.
On an average, a sales rep happens to generate 2-3 positive responses per day. At the end of the month, he will have 60+ positive leads to follow-up and that's increasing every day.
How many do you think happen to get lost due to the lack of right process and follow-up monitoring?
Setting a right follow-up cadence eg. a 1-2-2-3-2 with
Day 1: email
Day 3: Follow-up warm call
Day 5: Follow-up email
Day 8: Follow-up call
Day 10: Follow-up email and conclusion
and a proper monitoring with reminders for follow-up always seem to have work wonders in conversion.
A sales cadence may have any number of steps depending on the type of business and the target audience.
You may measure follow-up rate with-
Follow-up rate: No. of follow-ups done/No. of non-responsive leads
Having a proper sales cadence and automated tracking mechanism in place can help managers derive great results with limited but focused efforts.
11. Customer Engagement and Selling to Existing Customers
Your existing customers are your closest allies.
They can buy more from you. Refer a prospect to you. Recommend you. Promote you on social platforms.
Just engage them properly with few, simple measures and see the difference.
Customer engagement has been a highly talked about topic but rarely implemented one. Let us see how you fare in this segment. For say, how many times you have:
Called or texted a customer to ask them about their experience of using the product or of the buying process? Not automated forms, you, personally?
Made efforts to remain in contact with, like greet on various occasions of their life such as birthdays, anniversaries?
Opened up with them about how they perceive your industry, your competitors, where your team lacks etc. to understand their perspective and learn from it?
Sort of stayed in touch with them without the greed for up or cross selling at the back of your mind.
If you didn't score well, time to plan and track how your sales reps maintain relationships with the customers. The slightest effort in this direction reaps great benefits and increases the frequency of sales to the same customer and the customer lifetime value.
12. Average Sales Cycle
Most sales leaders are aware of the average no. of days/weeks it takes to win deals in their industry and organization. But most of them are clueless about the average sales cycle of individual reps. Simply because they don't measure.
Variation in sales cycle can be for a number of reasons but if there are big variations from rep to rep especially when lead quality, lead qualification process, product and pricing remain the same- it is alarming and should be paid attention.
In most cases, the reason for such variations are process related and once looked into, improves the average sales cycle and the overall performance significantly.
13. And, Of Course, Quota Attainment
This remains to be and will always be the holy grail of the KPI for sales performance measurement. There might not be any business that is not monitoring and measuring the sales metric.
However, like all great results are an outcome of the efforts that go into it, good numbers on this KPI are a consequence of meticulous planning and measuring other factors that impact the overall performance of the team.
If the foundation i.e. the process and focus on associated KPIs is laid properly, the outcome will almost always be great. Move away from normal a bit and adopt these new KPIs in your dashboards and you will find a reinvigorated and transformed sales team at your disposal.
Learn how you can make your field sales team a sales machine. Schedule a demo.
FieldCircle is into transforming how global enterprises manage their field service operations. Our comprehensive and easy-to-use field service management software helps enterprises leverage the power of cloud, enterprise mobility, IoT and data analysis to boost the performance of your service operations.
Book a Personalized Demo
Learn how your businesses can use FieldCircle to achieve more efficient, transparent, and profitable service operations.
30 Days Free Trial
No Credit Card Required
By submitting your details, you agree that we may contact you by call, email, and SMS and that you have read our terms of use and privacy policy.