Challenges in Pharma Sales Ops: How Pharmaceutical Sales Leaders Can Achieve Sales Effectiveness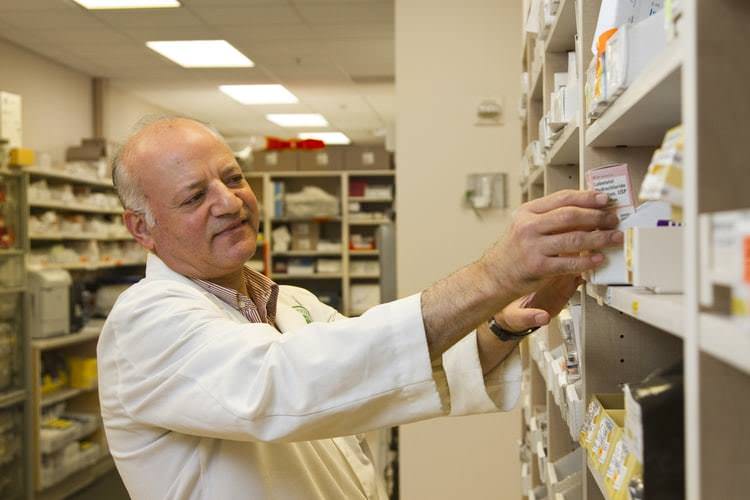 The success of any functional unit or SBU depends on three key factors—Process, People, and Infrastructure. And the same applies to pharma companies as well. Though it is difficult to achieve excellence in all the contributing factors in any given time, the aim should be to create a balance, ensuring each factor complement the other in order to drive revenue growth and profitability.
Often it has been observed that pharma companies invest in the sales process, people, and tech-based sales enablers (infrastructure) and yet they are not able to increase the sales effectiveness.
While working with many leaders of pharmaceutical sales companies, we got a chance to uncover the layers of their sales process. The underlying issues we identified and that most of the companies shared with us are:
1. Real-time visibility
In business, there is no point being wise after the event. Till the time you learn about the incident and take preventive measures, the damage has already been done. Therefore, it is essential for the pharma companies to empower their sales leaders with tools that facilitate them to oversee every action in the real-time, identify the patterns and red flags, and take decisions based on real-time information.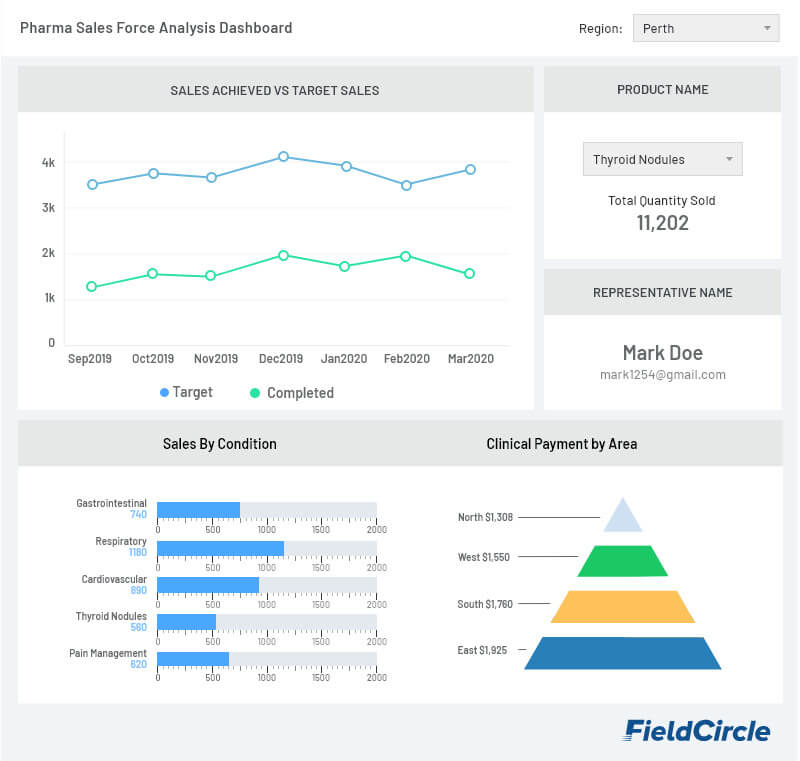 The powerful intuitive dashboard can provide you at-a-glance information of every activity happening in real-time so that you can segment, target, and approach. Besides, by keeping a track of every activity, you can identify the patterns and decide what is working and what is not, in order to eliminate the irrelevant and promote growth.
2. Individual pharma sales reps are working but not productive
A usual day of pharma sales reps is a juggle between multiple tasks such as travel, administrative work, sending customers the quote, planning, prospecting, and relationship building.
How much time is left for face-to-face selling?
According to Oliver Wymen, a global consulting firm, "less than 13% of total time" is spent on face-to-face selling. The figure is not surprising when sales reps have so many things on their plate.
The problem is, pharma sales representatives are the key link between a pharma company and the physician/doctors. They hold the on-ground insight, which people in operations and decision-making need for strategic oversight of the sales scenario, and when these reps do not use their time effectively and efficiently(Most don't), it leads to consequences like lesser appointments and in-turn lower revenue.
3. Overlapping territories
Usually, pharma companies create "micro-territories" in which one rep is assigned all the contacts for that specific region. Often the territories get mixed up among two sales professionals (Different product ranges but the same customers) that cause conflict when it comes to assigning physicians and sales quota.
Effective sales territory management strategy is necessary to ensure that pharma sales reps are not competing for the same set of physicians or a physician is contacted by more than one sales rep of your company. Effective territory management requires information on-the-fly so that the account managers can:
Categorize the territories of reasonable size with good potential
Sort and filter clients by territories
Assign and redistribute pharma sales reps as and when needed
An effective categorization of Pharma Sales Reps—based on their ability to handle customers (some reps are better able to handle high valued customers) and creating a "factored value" for physicians in every territory can help pharma sales reps boost their sales effectiveness.
4. Breaking into a corporatized healthcare structure
The new corporate structure imposes "care by protocol" which hinges upon physician discretion and restricted pharmaceutical sales representatives policies.
According to a poll conducted by Decision Research Group, only 54% of physicians confirmed that they have met with pharmaceutical sales representatives in 2019, as compared to the 64% reported visits in 2018.
The figures might worry the pharma leaders but the fears can be overcome by the right sales approach. In order to create a new approach, we have to recognize the problem better, which in this case seems to be lack of time with the physicians as well as their inhibitions to meet reps as meetings could result in conflicting professional values. Pharma sales leaders can mitigate these challenges by:
Creating information excellence: Having an actionable insight into physician behavior, affiliations, risk levels, and requirements can help companies measure the impact of sales technique.
Build an integrated, cross-functional team: Build a team that can boost a collaborative, cross-functional approach to perform a range of field-based functions in order to serve the B2B2P (business to business to physician) ecosystem.
Enhance ability to engage diverse stakeholders: One of the strongest trademarks of a corporate structure is the involvement of C-level executives in decision-making. Pharma sales reps must be empowered with appropriate value proposition material including right content and tools to be relevant to a number of stakeholders and corporatized groups.
In order to break into a corporate healthcare structure, pharma sales leaders are required to do away with antiquated selling techniques and adopt a selling approach that enables reps to target with a set of strategic priorities for every stakeholder, who are more informed than ever before.
5. The missing "Act-Now" approach
No matter how good you plan, if your sales reps are unable to implement those plans in the field, you are far from achieving the top-line numbers. Until the resources are aligned and pharmaceutical sales leaders are confident that every sales rep is exactly where they should be, you cannot turn your plans into reality.
Using an online route planner can help pharma leaders to categorize and assign productive sales territories to reps specialized in handling high-valued clients and plan the best routes and schedules to maximize the utilization of face to face selling time.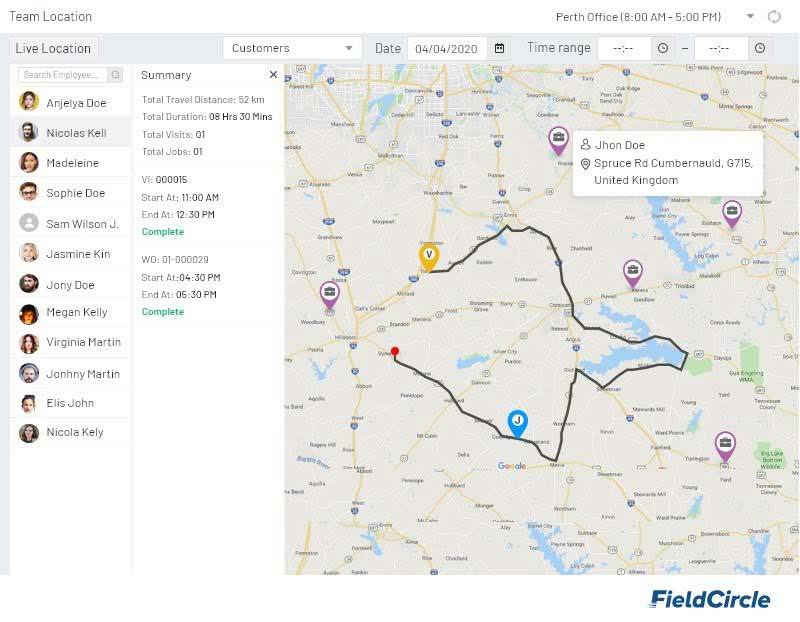 Online route planners can help you in three ways:
Align non-deployment levers such as skills, information, and tools with respective field resources
Ensure the best utilization of time and resources by balancing between insight and segmentation
Enable the "Act Now" approach within the organization to enhance access and influence
There is no dearth of route optimization tools in the market, however, while selecting the one for your pharmaceutical sales operations, make sure it can be cut to your specific requirements.
6. Record and use information on-the-fly, anywhere, anytime
We already know that physician-access is declining, so when a pharma sales rep gets the opportunity to meet a physician, they must make the most of every meeting. Pharma sale leaders have to come with ways to empower sales reps with a range of information that a physician might be interested in.
There are two key benefits of having information anytime, anywhere mode:
Increased confidence: with information on-the-fly, pharma sales reps can feel more confident in every meeting.
Strengthen decision making: sales reps can provide only that specific information which interests the physicians.
Using a web-based or mobile-based platform as a knowledge-center can help pharma sales reps in engaging the physicians and ensure tactful selling. These platforms should also enable reps to record information instantly and share it with other members of the team.
7. Unrefined pharma sales rep deployment model
In the modern pharma sales landscape, real-time visibility into employee management and work order management systems is a much-needed capability to adopt a disciplined, effective sales rep deployment model. For instance, you don't have to deploy a highly-qualified, highly-trained, and highly-paid rep for all the physicians. The deployment should be based on best-fit.
The layering of account managers needs to be perfectly done for physicians in designated geographies. It is the job of the account managers to ensure that the team of representatives is properly scheduled with all the relevant information for an effective b2b interaction.
In order to support the account managers, sales leaders must empower them with an advanced scheduling system that provides information about every employee and also prevents common scheduling conflicts.
8. Unexplored multi-channel opportunities for a higher reach
Consumer behavior is changing across all the industries and pharma and healthcare are no different. From your sales reps to physicians, everyone is using technology to interact with one another or gain information. Pharma leaders need to make incremental innovations in the processes to use multichannel offers to boost sales.
For example, physicians may not respond to a product push, but while seeking knowledge, they willingly consume information which they find more relevant and interesting.
With proper and well-directed marketing strategies in place, pharma sales leaders can create hooks in order to reach the physicians thereby moving beyond the boundaries of traditional sales models and gain the ability to tap hard-to-serve segments. You need to know where your physicians spend their time online and plan on strategies to offer them more useful insights.
9. Integrated platform for better visibility
Pharma companies are no stranger to technology. Most of the companies we work with use a range of tools, from Pharma CRM software to Field Sales Scheduling Software. They have data but as platforms are not integrated with each the desired data and analytics capabilities cannot be built.
Modern sales practices require pharma companies to have a sales funnel and sales pipeline integrated with marketing, training and incentives and gamification processes.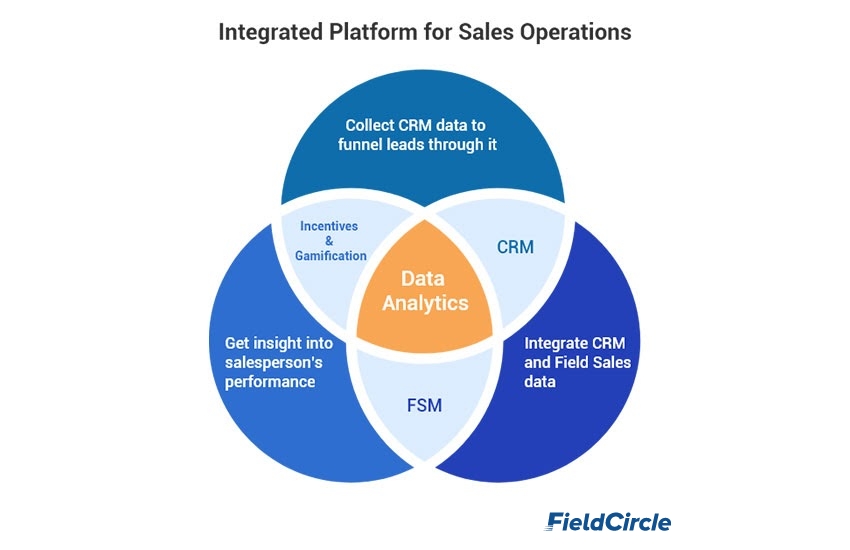 By having an integrated tool, sales reps can better synchronize customer records, match the field resources to targeted territory and build highly effective sales pipelines that prioritize high-potential physicians, ensure sophisticated support operations, and reduce operations cost.
10. The great "frustrations"
As the pharma sales process is evolving, leaders in the business must be aware of the frustrations of the people in the sales cycle within the organization. Often the disparate training techniques and poor approval system for rewards and reimbursement destroy the motivation of sales reps.
Using a system which is easily adopted by the sales rep team and the professionals in operations can help streamline many processes. The system has to be fast enough to enable reps to access information quickly, coordinate with each other on and off the field, and allow account managers to approve rewards and reimbursements quickly.
Conclusion
Selling in a strictly regulated industry which is facing coverage restriction is already a challenge. Driving the pull-through efforts requires an integrated approach, strategic planning, and visibility into the processes.
Learn how FieldCircle can help create an integrated approach for selling, increase rep productivity, and reduce sales ops cost up to 12-18% with more transparent operations.
Book a Personalized Demo
Learn how your businesses can use FieldCircle to achieve more efficient, transparent, and profitable service operations.
30 Days Free Trial
No Credit Card Required
By submitting your details, you agree that we may contact you by call, email, and SMS and that you have read our terms of use and privacy policy.