Role of and the 5 Biggest Benefits of IoT in Field Service Industry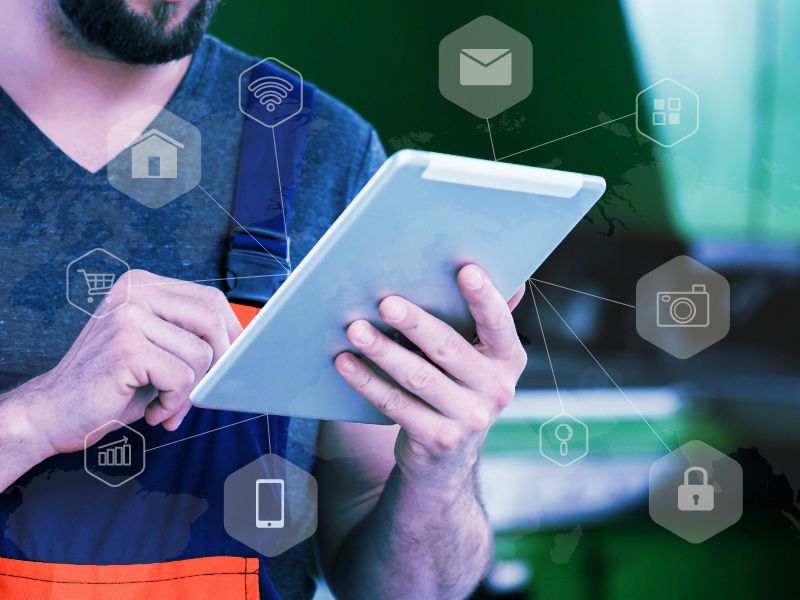 The Internet of Things (IoT) is rapidly transforming field service management (FSM) by significantly improving efficiency and productivity. Here are the 5 important ways in which IoT is enabling this revolution.
The Internet of Things (IoT) is predicted to have 75 billion linked devices by 2025, and its exponential growth rate shows no signs of stopping. Mordor Intelligence study has found that 73% of field management businesses have already implemented IoT in their workflows, while IFS's most recent research reveals a 30% rise in the utilisation of IoT to enhance asset performance management.
Prior to IoT, lack of context and poor communication would result in delays and consumer annoyance. However, with the advent of IoT, the dynamics of field service has changed. Field service firms can now offer proactive support, ensure optimum uptime and customer satisfaction.
In addition, field service businesses are using IoT to address some pressing issues the industry has been grappling with. This includes ensuring quicker resolution of issues, reducing process waste, reducing fuel consumption, and making strategic decisions.
With the data produced by the IoT, field service firms have got an opportunity to drastically change their business model. By essentially switching from being reactive responders to proactive partners and advisors in the life cycle of connected equipment and devices, with IoT, they can now support the next service standard.
So, there is little doubt that IoT is revolutionising service and setting the course for the future of field service. Below, we learn more on how IoT is transforming the field service space.
5 ways IoT is transforming Field Service Management
Since its arrival in the field service management (FSM) space, the internet of things (IoT) has begun offering several benefits and changing it in numerous ways. Of this, here, we look at 5 ways through which IoT has been able to create the biggest impact on the field service industry.
Renewed character of maintenance process
McKinsey's research shows that when driven by IoT, maintenance cost goes down up to 40 percent. So, the internet of things (IoT) is bringing some tangible change in the maintenance process. With respect to field service management, traditionally, technicians would visit locations to carry out maintenance operations. However, with the integration of field service IoT, machines and equipment are now connected to the internet, and this has revolutionized the maintenance process.
Today, industrial-grade IoT sensors quickly detect incidences of fires, heightened air pressure, and increased humidity. Based on their readings, technicians can start a safety routine if necessary. These procedures often involve raising the alarm, notifying the appropriate parties, and sending your specialists to the location. It thus does not take longer to find and rectify them.
IoT has thus given a new character to the predictive maintenance process. Without IoT field service solutions, it would be impossible to forecast system failures, which would force operations to halt while maintenance was carried out. Perhaps even worse, it might have precipitated a catastrophe. With IoT integration, the maintenance process has reached an advanced stage where technicians can address the issues immediately.
Heightened health and safety standards
IoT technology has also made it easier for businesses to monitor and track worker safety. Wearable technology, such as smartwatches or safety vests equipped with sensors, can monitor worker location, heart rate, and other vital signs to ensure they are not in danger. This information can also be used to identify potential safety hazards and prevent accidents from occurring.
Another benefit of IoT field service solutions is the ability to use predictive analytics to anticipate safety issues before they occur. By analyzing data on worker behavior, equipment usage, and environmental conditions, businesses can identify potential safety hazards and take action to prevent accidents, thereby reducing the risk of accidents and injuries.
Remote offerings opening new possibilities
IoT has made it possible for FSM teams to remotely monitor equipment and systems, reducing the need for technicians to physically travel to the location, thereby saving time and money. With remote monitoring, FSM teams can quickly diagnose and resolve issues without having to dispatch a technician.
Service teams have real-time data from sensors and devices at their disposal, allowing them to identify trends and patterns in equipment performance, and address issues before they escalate into major breakdowns. This has been a breakthrough in maintenance monitoring enabled by IoT.
An IoT sensor is often mounted on a device that connects to a hub device, to which all IoT devices are connected. Remote access to this hub allows technicians and business owners to view information about the linked devices. With this information, technicians can diagnose any issues with their equipment and rather easily spot any unexpected activity. So, field service IoT gives a complete view of the state of each device, and thereby massively optimizes the service efforts.
Reengineered access management
A field service firm must also maintain high standards of data security. Here, IoT is allowing field service staff to ensure that only authorised individuals have access to data collected that the devices in the IoT ecosystem themselves collect.
As against traditional physical keys or access cards, IoT-enabled locks can be controlled remotely through a centralized platform allowing managers to grant or revoke access permissions in real-time. This eliminates the need for physical keys and access cards, which one can lose, leading to potential security risks.
IoT sensors can automate the check-in and check-out process for visitors and contractors. Instead of relying on manual sign-in sheets, visitors and contractors can use a mobile app to check-in and receive access permissions.
Increased operational transparency
With IoT, equipment in field service is equipped with sensors that record a wealth of performance and usage information. This raw data that is collected by the entire IoT ecosystem is a potent tool as it allows managers to keep a track of each field service staff member. Data visibility provides a consistent view of workforce as well as asset performance to the field service team as well as the customer.
Transparency in field service is essential as customer loyalty thrives on it. With IoT field service solutions, customers get an unbiased view of their equipment and assets as well as have a constant insight into how the field service is serving them. Here, having a customized field workforce management software integrated with IoT significantly can be a great step.
Operational transparency serves as a win-win for both, the field service providers as well as the customers. Transparent operations allow customers to establish their faith in the field service provider and can extend the partnership, eliminating the need at their end to search for a new partner. While for field service providers, it is an opportunity to offer improved service offerings.
Conclusion
At a time when the field service management industry is striving to embrace advanced technologies to improve efficiencies and boost ROI, IoT comes as the foremost choice. It is assisting field service management in making the transition to more productive and remote working methods.
By incorporating IoT into your field service company, you can also help your field service staff to remain safe while maximising their performance by making data-driven decisions.
If you are looking to have a high-performance application, FieldCircle can assist you with its custom SaaS solution for field service management. Combined with IoT, our offering can be a real value addition to your field service business.
Transform Your Field Service
Operations and Drive Growth
Increase Profitability
Reduce Costs
Book a Personalized Demo
Learn how your businesses can use FieldCircle to achieve more efficient, transparent, and profitable service operations.
30 Days Free Trial
No Credit Card Required
By submitting your details, you agree that we may contact you by call, email, and SMS and that you have read our terms of use and privacy policy.