Reopening Guide: How Businesses are Managing Worker Safety in COVID-19 Crisis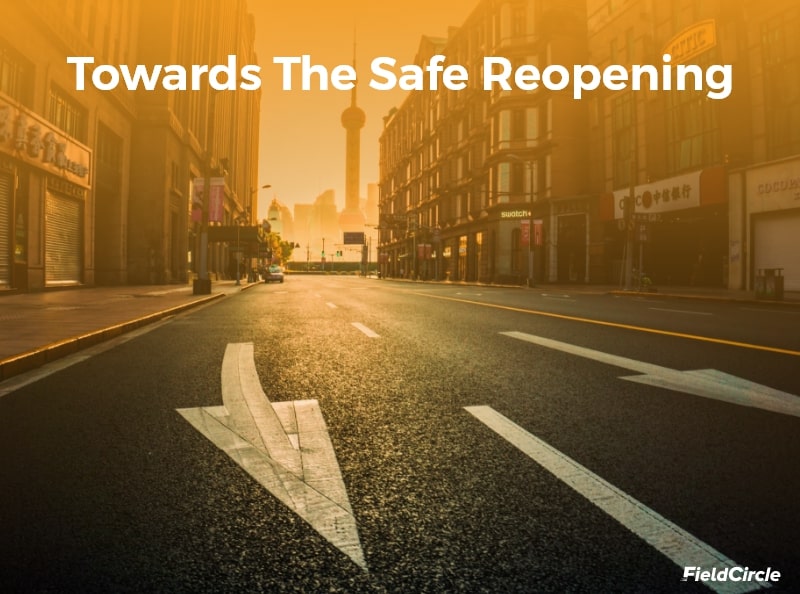 Businesses around the world are pushing ahead with reopening plans. Around 20% of the businesses that were closed in April have reopened as the lockdown eases in many states, according to a report published on MarketWatch, a US-based financial information website. Well, seems like businesses are moving over wait-and-see approach, but the grim reality of surge in new coronavirus cases, uncertainty around vaccine, and a constant reminder from the public health institutions that "the worst is yet to come" is enough to instil fear in millions of people who want to return-to-work. Not surprising that a poll conducted by Qualtrics indicated that "two out of three workers do not feel comfortable" returning to the workplace. While reopening businesses is imminent in the current economic scenario, employers face the challenge to win the confidence of workers with a COVID-safe workplace, which requires a higher level of commitment—commitment being a concerted effort, time, and price for worker safety and continued operations. As a technology enabler, we interacted with business leaders across the industry to understand their concerns of reopening safely, which usually begins with risk assessment, utilization of technology to achieve a safe and healthy workplace, and ends at a continuous cycle of listening, learning, reassessing, and developing action plans. Based on our discussions, the following is how most businesses are addressing these challenges.
Managing Social Distancing at the Workplace
At the moment, organizations need some exceptional space management skills to ensure appropriate distance among every worker in the workplace—the 2 meter rule. Recently, many health experts have challenged the effectiveness of this rule, which is precisely the problem with health directives issued in the pandemic—the recommendations are evolving with new discoveries about COVID-19. Most of these health directives such as living in isolation if one gets infected or maintaining the specified distance have psychological implications. So when they are challenged or any new information comes that highlights the precarious situation of the coronavirus outbreak, employers feel the pressure whether to implement the new practices or suspend business activities. Businesses need tools that help them build resilience against any change in preventive measures. Key tools that companies are using to get support in managing social distancing among employees at the workplace and drawing up an action plan are:
Mobile Apps
Mobile apps are programmed to scan the other mobile devices via. Bluetooth within the radius of 2 meters. Such apps are helpful in monitoring the distance between two people and sending alerts when anyone comes close to the minimum distance mark. Typically, employees of the organization register themselves on the app. When any of the two registered members come in contact with each other within the radius of 2 meters, the app sends proximity alerts to the concerned employees. Businesses can opt for packaged COVID-19 software suite that could be customized for their specific businesses requirements with additional features to deploy COVID-19 collective precautionary measures such as staggered scheduling for using cafeteria, entry and exit points, and bathrooms and changing rooms and keeping the unavoidable contacts for less than 15 minutes.
Wearables
Commonly, wearable devices come in a bracelet or a ring design to be worn comfortably. The devices are programmed to send alerts to employees if they get within 2 meters or 6 feet distance. Some employees might prefer wearable devices over Smartphone apps due to privacy concerns, as app technologies can access contact history of users and other information, although, it can be prevented. When it comes to wearables devices, data collected from the devices can be prevented from being stored in the central repository and deleted once the infection window, usually of 14 days, is closed.
The Camera System
As Amazon refers it— the "Digital Assistants" are usually for high-traffic areas such as warehouses or production floors. It provides feedback in real-time if someone flouts the social distancing guidelines. Basically, the camera is connected to a monitor and a local computing device integrated with software that uses machine learning models and depth sensor data to measure the distance between two workers in a surrounding. Many large-scale retailers are also relying on AI cameras to track social distancing. Depending on your workplace requirements, you can choose one of the digital tools to help you maintain safe distance among employees.
Workforce Planning
There are two key aspects of workforce planning: perform only priority tasks for the time being and resume operations in phases. Workforce allocation is already a tricky business, even in the normal days. During the pandemic, it has become all more complicated. And the most problematic areas are determining the most urgent priorities and what should be put on the backburner. Business leaders from various departments need to determine key tasks that could keep the operations up and running to an extent that essential requirements are fulfilled. From this perspective, most of the businesses are operating on only 20-50% capacity, at the premises. For example, in some states, movie theaters have been allowed to operate with 20% capacity, whereas retailers can operate with 50% capacity. Secondly, as a part of focusing on business continuity, companies are resuming operations in phases, depending on the COVID-19 crisis in specific locations, as remobilizing employees has associated cost with respect to COVID-19 preventive measures. Companies are using digital tools such as cloud-based platforms to bring transparency and visibility into the workforce allocation process. Using such tools, decision-makers are prioritizing tasks across departments, organizing shifts for employees, preparing and pushing guidelines for each department functional in different locations, restricting the movement of third parties within premises, and planning the recruitments.
Employee Assessment
COVID-19 prevention is a common cause. In essence, the employers have the responsibility to mitigate COVID-19 risk in the workplace, while employees must assume the responsibility to provide accurate health and travel details, not to hide any COVID-19 symptoms, and follow the guidelines. Most of the companies are already using COVID-19 self-assessment tools that are usually integrated with the in-house HR systems with features to track the employee health along with availability and attendance. If you are planning to use one such
Covid-19 employee screening software
, make sure it has common features such as:
Employee survey consisting of comprehensive questions that furnish critical details about employees' health
Time-stamped temperature reading and its record-keeping capabilities
Analysis of employee's health based on the response
In-built reporting capabilities for workplace health index calculation
Integration with in-house systems for seamless information flow
Besides, since the COVID-19 self-assessment tool has to be used by employees of all sections, you must ensure that it is simple to use and easy to deploy.
Internal Sanitization and Associated Inspections
Based on the current information we have for coronavirus infections, proper cleaning and sanitation of contaminated surfaces can reduce the risk of its transmission. Companies that have reopened post lockdown are strictly following cleaning and disinfection recommendations as a best practice measure for preventing the virus from spreading. Some of the key measures include:
Regular cleaning and disinfection of areas such as office, shared equipment, and restrooms
Focused and periodic cleaning of the high-touch surfaces such as doorknob, keyboards, countertops, and more
Ensure proper ventilation in the rooms to increase air circulation
Appropriate eye and skin protection for potential splash hazards
Use good quality sanitizers and diluted cleaning solutions for proper cleaning of the surfaces
In these uncertain times, simply laying out the guidelines for cleaning, disinfection, and sanitization is not enough. Proper inspection should be done to ensure that guidelines are strictly followed. Companies cannot risk human errors at the time, and so most of them are using digital inspection tools integrated with mobile devices. Such tools are helpful in:
Sending personalized, task-based alerts to individual cleaning staff member for the cleaning of particular area at a specific time
Image based validation of the cleaning process from authorized personnel
Integrated complaint management system to address employee's concerns and provide them information about regular cleaning measures being implemented to boost their confidence in the workplace
Regulatory Compliances
According to an EY report, 100+ countries have issued approximately 350 regulatory notifications to tackle COVID-19 transmission and infection, wherein, non-compliance could lead to trade restrictions and forced shutdown of business operations. In order to address regulatory compliances arising out of COVID-19, companies have built their COVID response team that navigate through the compliance challenges and help in developing action plans to resolve them. The COVID response team is empowered to address threats, risks, and concerns associated with regulatory compliances and in line, most of them are seeking support in digital tools for following the compliances properly. Although, state and local regulatory compliances may vary for each country, here are some key considerations:
All kinds of material disclosure essential for reopening and continued operations
The ability to identify, schedule, and isolate infected person from the workplace
Proper workplace health and safety practices checklist, such as mandatory preventive care measures, no use biometrics for employees, arrangements for employees affected with quaraniting, and channels of communication for COVID related announcements.
Any health insurance coverage for infected employees, if required
If you have plans for reopening in upcoming days, you must begin with building a highly empowered team for crisis management to fulfil obligations towards employees. The next is to create and maintain records and compliance-related proofs in order to respond to COVID-19 from a regulatory perspective.
Looking Ahead
For a safe reopening, every business has to make different calculations, depending upon their employee strength, location, and business functions. Right now there is an impulse to return-to-office as but in that case, every move should be analytical rather than instinctive. Following the same, you need to build resilience so that you can quickly adjust to the new guidelines and at the same time, improve your understanding of the impact of COVID-19 on operations to manage through the new challenges.
Book a Personalized Demo
Learn how your businesses can use FieldCircle to achieve more efficient, transparent, and profitable service operations.
30 Days Free Trial
No Credit Card Required
By submitting your details, you agree that we may contact you by call, email, and SMS and that you have read our terms of use and privacy policy.